Think Rancho La Puerta is like every other spa you've been to?
Think again. Not only do you have the opportunity for massage and facials, meditation and yoga, you can also workout using traditional methods like pilates, circuit training, hiking and tennis.
Rancho La Puerta Activities
However, if that isn't enough for you, why not try these alternative activities that will keep your week interesting.
Cardio Drumming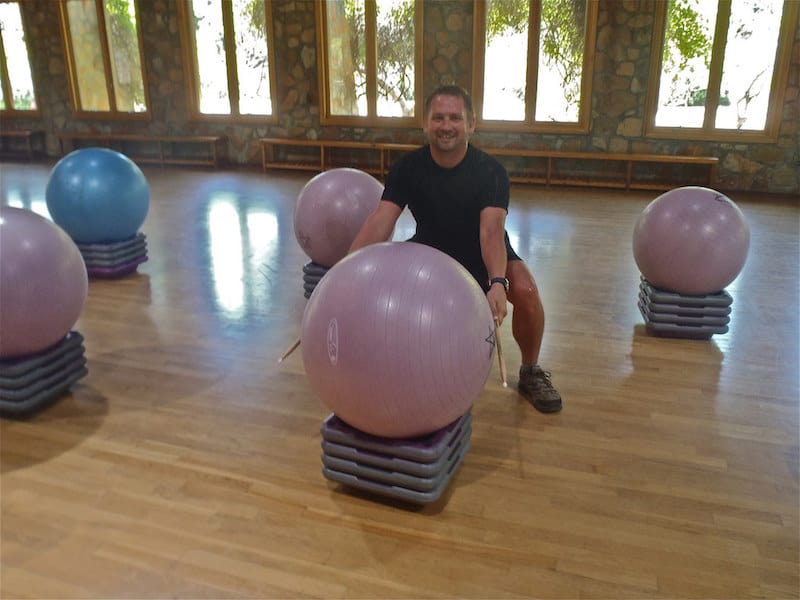 The minute we saw this on the schedule, Dave and I both signed up for Cario Drumming. Dave used to be a drummer in a band and I am always seeking out exciting new ways to exercise. This workout was by far the most fun we had at the ranch all week.
Taking two drum sticks, some workout balls and a choreographed routine by ranch favourite Manuel, we pounded out a beat and found our rhythm to the high energy mix. We were so pumped by the end of class that we all wanted to perform at the final dinner happening in the main dining area that night.
Hoola Hoop
But it all comes back to you the minute you start to shake those hips.
The hoola hoop has come a long way baby. It's not just a child's toy anymore, highly trained artists use the hoola hoop for spectacular routines in Cirque du Soleil and the Shanghai acrobats. How can a person not melt away excess belly fat while working out on the hoola hoop?
This class was so much fun, I had a silly grin on my face for the entire 45 minutes. There won't be any circus auditions in my near future, but it will be something that I will add into my workout routine when I find myself at home again. I am so glad that Beth of Wanderlust and Lipstick told me she was taking the class. I almost didn't go because even we had to rush out right afterwards for a tour of Rancho La Puerta's charity project.
Labyrinth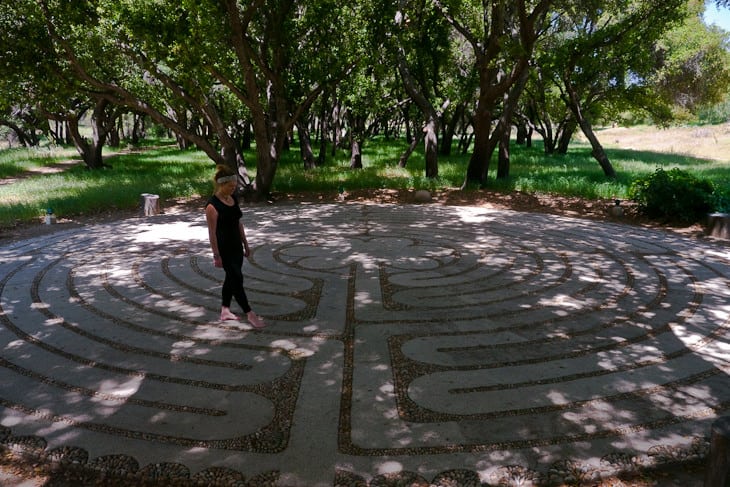 Cardio Boxing
A few days into our trip she told us she had been walking the Labyrinth every day. After she and Rancho La Puerta founder Deborah Szekely explained its powers and purpose, I had to give it a try. Labyrinths have been around for over 4000 years. I envisioned manicured hedges forming a maze like in The Shining, but a labyrinth is not that at all.
Walking along a smooth cement path, I followed my route to the centre of the design. At first I didn't know what to expect, but as I walked slowly and with purpose, I became relaxed and at peace. I can understand why thousands of people follow this practice each day. It is a walking meditation with a guide to the centre of your universe.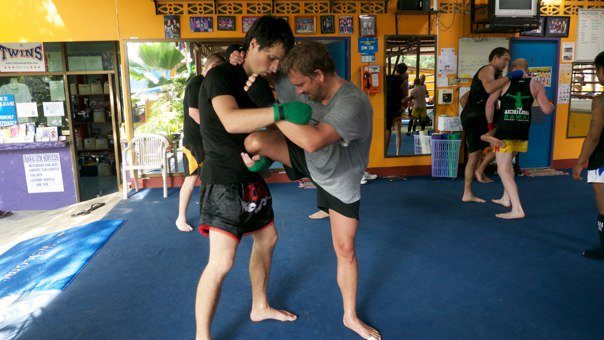 We spent two weeks in Thailand kickboxing. It was one of the toughest two weeks of our lives. Boxing is an intense workout and Rancho la Puerta doesn't wimp out when it comes to boxing classes like other spas would. They let you put on pads and spar with your partner.
One would think that a luxury spa would be more dainty when it comes to its workouts, but not Rancho La Puerta. If you want to work hard, you can work hard. The cardio boxing was a superb workout that lets you get a real feel for what a full on boxing class would be like.
Dance Nia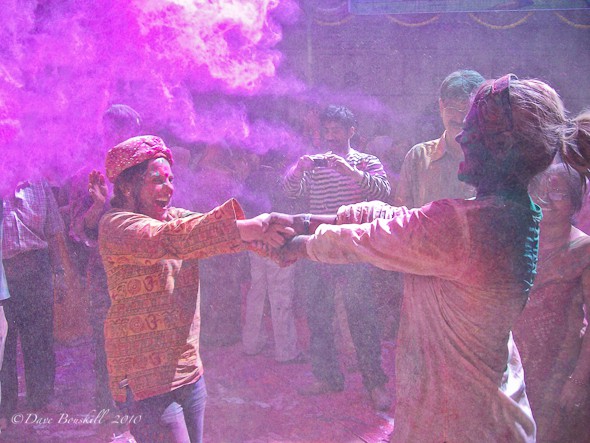 During our travels, I have watched tribes and cultures completely let go of their inhibitions. I have watched them let out primal screams and jump and dance with pure joy to the beat of a drum as they explore their inner animal during ceremonies and celebrations. I have been fascinated with their connection to the earth and wondered why we don't have that in modern society.
Nia allows you to do this in the safety of a classroom. To really get the benefit, you must let go of all insecurities. It is about finding your own movement and feelings. You may be acting like fire or wind or be crawling like a cat or chirping like a bird. It is a very freeing experience. Nobody is judging you in the class and you are encouraged to be accepting and free.
Silent Dinner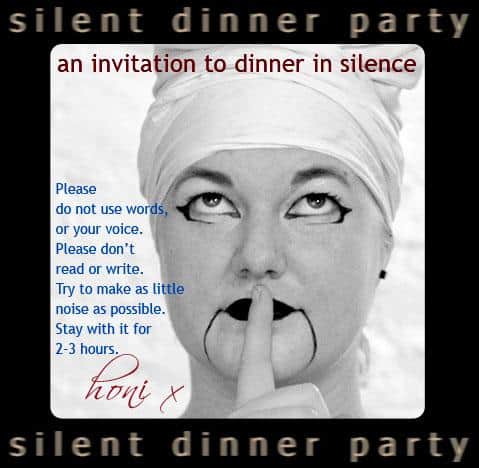 The Buddhists believe in eating in silence, and you can give it a try at Rancho La Puerta. This dinner last for 90 minutes as you chew and eat your meal in without saying a word. We didn't take part in this one, but I wish we were organized enough to have signed up for it. It is important to connect with your food every once in a while.
It helps in digestion, it helps with weight control and it helps you to appreciate each bite that you take. It is difficult for me to keep my mouth shut for any length of time, but I think this would be a good exercise for me to try one day. Who knows Maybe tonight will be the night for me to eat my meal in silence.
Visit the Museum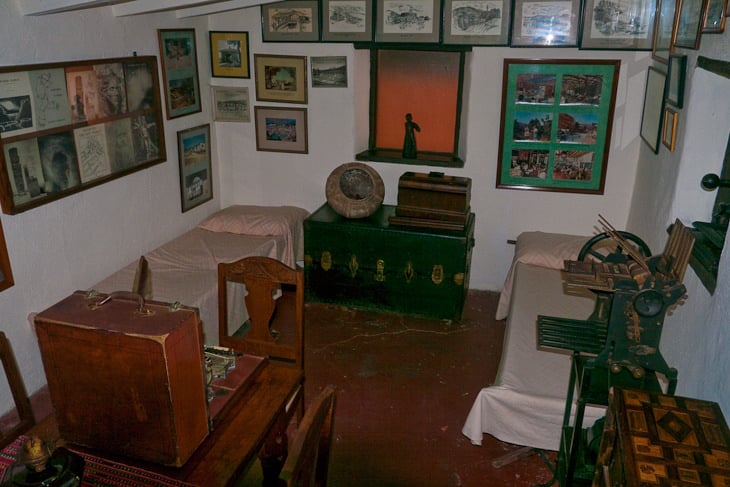 The history of Rancho La Puerta is fascinating. It started in 1940 by Edmond and Deborah Szekely. In its early days guest visited for 17.50 per week and brought their own tents.
Back then there wasn't a swimming pool or gym, but people hiked up Mount Kuchumaa and swam in the river. Even in the 1940's they ate organic food and vegetarian meals. They were pioneers in health retreats and fitness gaining in popularity over the years to what it is today.
Morning Hikes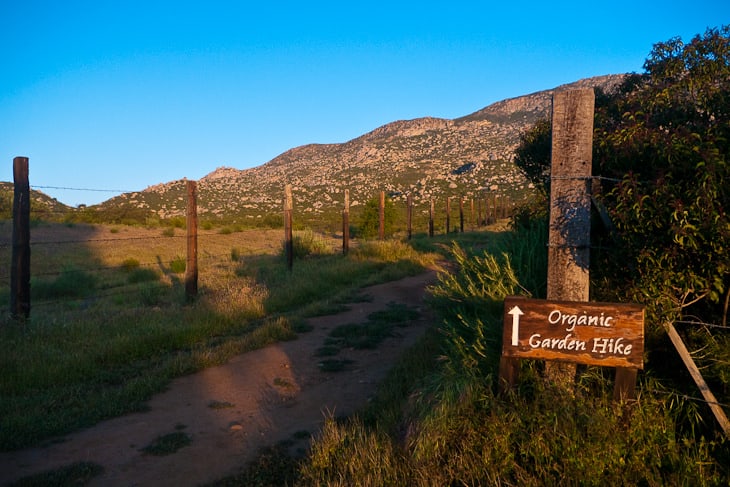 There are hikes to suit every need at Rancho la Puerta. From 2 mile easy hikes to a rigorous 5 mile run. Sacred Mountain aka Mount Kuchumaa stands over Rancho La Puerta and makes for an inviting sunrise walk.
We were still suffering from jet lag having just arrived from New Zealand, but we did manage to get ourselves up for the organic garden hike and breakfast one morning at 6:00 am. Rancho la Puerta is located in a beautiful setting offering gorgeous panorama views of Tecate and Tijuana Mexico.
For more in our time at Rancho La Puerta see
---
Read More
Top Things to do in La Paz, Mexico
Rancho La Puerta, A Fitness Resort Like No Other
10 Must-Visit Places in Mexico
SaveSave
SaveSave
SaveSave