When Marriott Resorts invited us to join nine other Bloggers to Blog from nine different Caribbean destinations, they couldn't have sent us to an island more suited to our travel style.
Limin' at St. Kitts
St. Kitts is one of those Islands that still has that Caribbean flavour and laid back feel.
Tourists mingle with the locals and the government is doing everything in its power to keep the culture and island vibe alive.
Even the Marriott, St. Kitts' only branded organization makes sure to encourage its patrons to get off the resort and check out the local hangouts.
That is why we spent a Sunday afternoon at Cockleshell beach. Also known as Reggae Beach, it is the islands most beautiful and popular local hangout spot.
Cockleshell Beach is a favourite for families and friends to come out on Sunday afternoons to picnic, have fun in the sun and enjoy the crystal clear and calm water in the bay.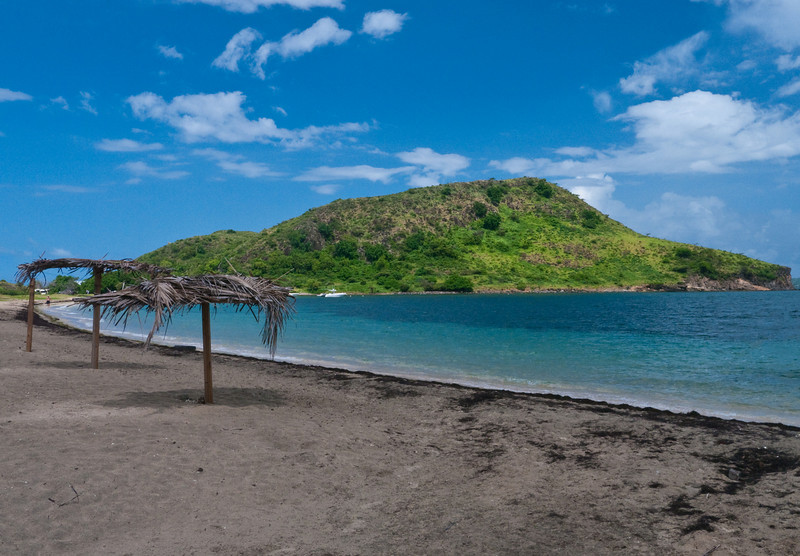 With perfect views of neighbouring island Nevis, Reggae Beach houses small locally run eateries and bars, most notably Reggae Bar. Home to the resident giant pig Wilbur was born in 2002 and has been living in pig heaven for eight years. Wilbur is a local celebrity yet all he does is eats, sleeps and baths in the Caribbean Sea.
He be Limin' all day long.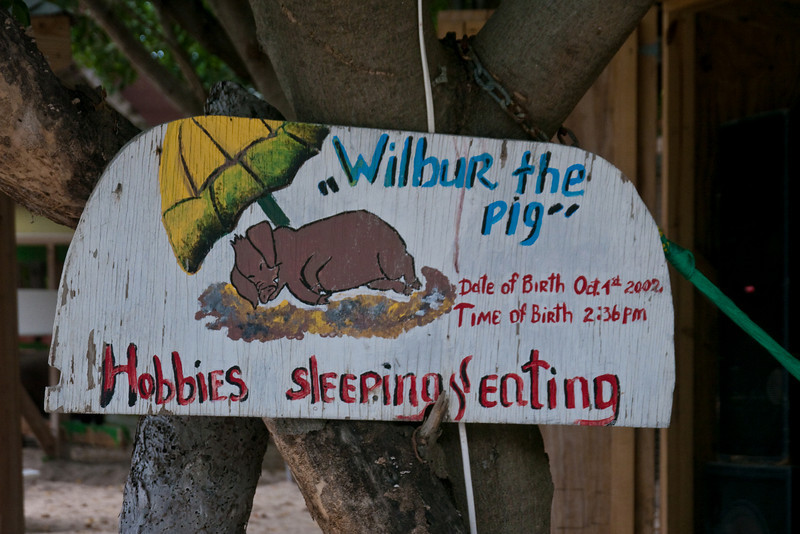 Yes, when a person comes to St. Kitts they learn the art of "limin' quickly. Limin' is a Kittitian (pronounced Kishian) term for chilling out on Island time. When you plan to meet friends for a night out in St. Kitts, you say, "we're goin' limin tonight"
The Reggae bar is a rustic shack serving fresh grilled Mahi Mahi and Ting with a Sting while Jimmy Buffet blares from the speakers. It isn't long till you be limin' like the locals, as that sting in the Ting is quite potent.
One drink is all it takes to make you feel very happy.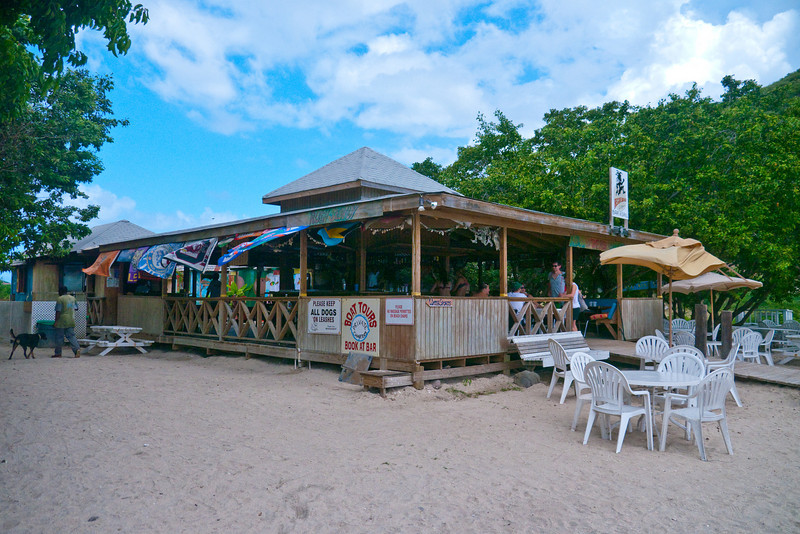 Farther down the beach is the more upscale Spice Mill. It was here that we enjoyed a Sting Ray while a twenty minute downpour blew in from nearby Nevis. The stingray is another local favourite with white rum, coconut rum, melon liqueur and various spices and juices.
Needless to say, we were feeling fine by the time we returned to the Marriott.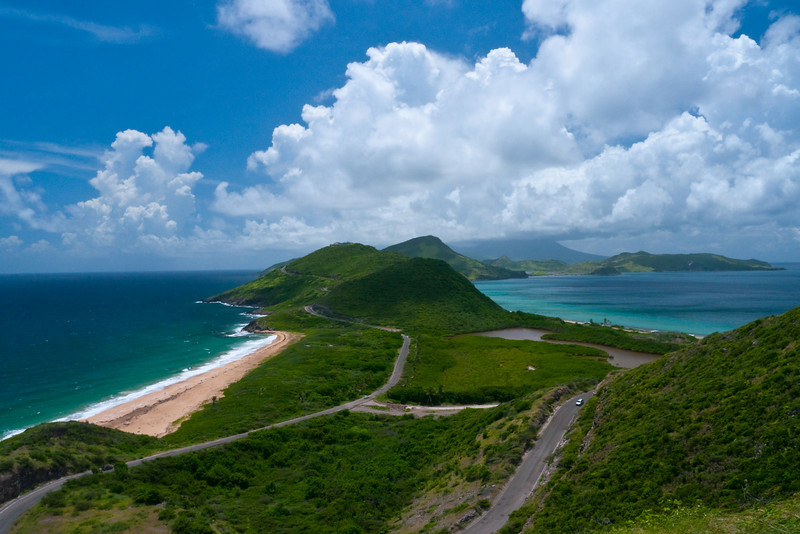 On the way back to the hotel, we stopped to enjoy a stunning view of North and South Fire Beaches. It is here that the island narrows and you can see both the Caribbean Sea and the Atlantic Ocean just meters apart.
St. Kitts is a small treasure on the far side of the Caribbean
Known as Sugar City, it was once a large sugar producer and exporter. The sugar industry eventually ran its course and the last Sugar Mill was shut down in 2005. Tourism has taken over as the main economy of the island and it won't be long until the world embraces this tiny island nation.
Already signs of development are popping up. A large marina that will hold yachts up to 70 metres in length is being dredged in the harbour, The Park Hyatt is building a 5-star resort near Cockleshell beach and several private villas are springing up along the coast line.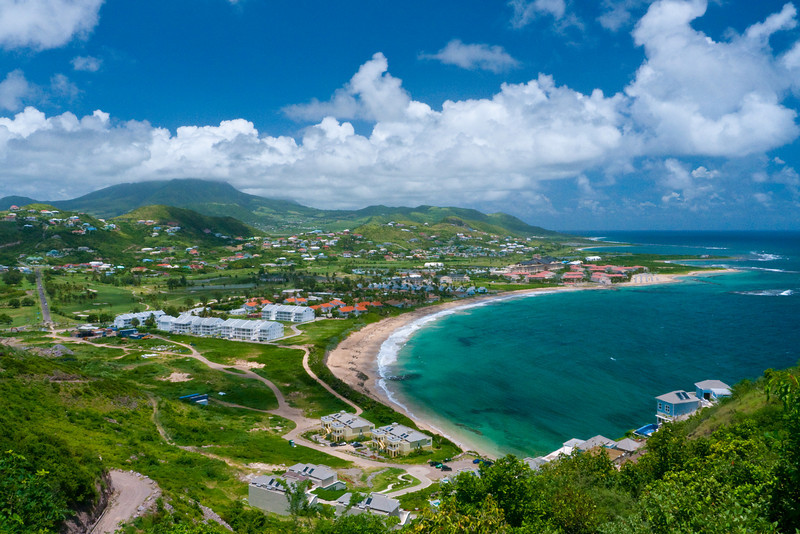 I can't help but wonder what St. Kitts will be like in a few short years. With Resorts and spas lining Cockleshell Beach, will there still be room for the family run huts and quiet beach beds that are scattered on the beach? Will locals be able to drive their cars to Cockleshell beach and enjoy an afternoon get together?
I think there just may be hope.
The saving grace for St. Kitts is that there is a law that all beaches are public. Nobody, no matter how big of a corporation they may be is entitled to own a beach. The people of St. Kitts have seen the problems that have occurred in other Caribbean nations and they are working hard to not repeat them.
With a little care and foresight, it just may be the success that every developing nation will be able to model themselves after.
Read More
Fraser island tour, You'll Love this Unique 4WD Adventure
Dive In: 9 Must Try Caribbean Watersports
Carabao Island – Why it is Not Just a Boracay Island Side Trip