It was time to say goodbye to Southern Thailand and head north to meet Scott from Smiling Albino.
Smiling Albino is an adventure travel company and our host for our Great Thailand Adventure courtesy of The Tourism Authority of Thailand and they put together an itinerary to end all itineraries for anyone visiting Thailand seeking something a little different.
Motorcycle School in Northern Thailand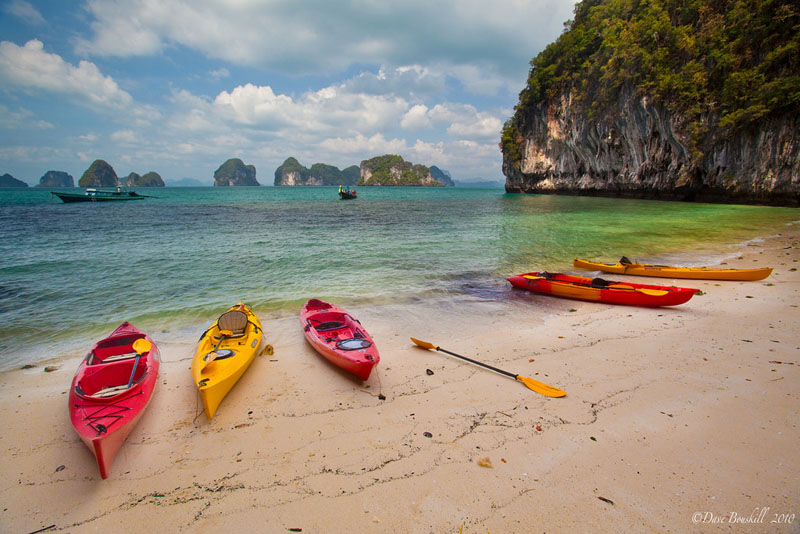 This past week has been unimaginably perfect. From kayaking through tidal sea caves to camping on our own private island and rock climbing on the spectacular cliffs of Railay in Krabi Province.
It has been an adventure of a lifetime and the perfect way to reignite our love for Thailand, the country that sparked our entire travel career way back in 2000.
Legend Resort
It certainly can. We hopped our Thai Airways flight to Chiang Rai where Scott met us and took us to yet another spectacular resort.
Legend Resort is located right on the Mae Kok River and I could imagine spending a week here relaxing by the pool, eating the scrumptious buffet dinners and enjoying their relaxing spa and massage.
But we were here for Adventure and after enjoying a great meal at a local shop downtown Chiang Rai we turned in early to prepare for our day of motorcycle school.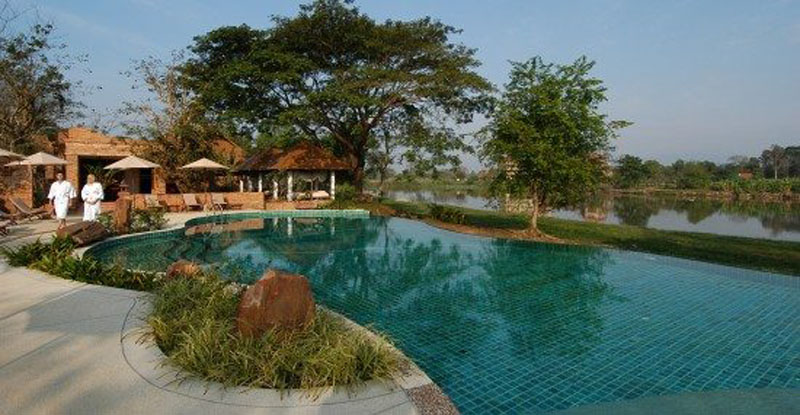 Kho Samui
In 2000 Dave and I were young and quite frankly stupid, when we rented a motorcycle to drive ourselves around Kho Samui in Southern Thailand.
It was at the end of our day when we crashed our bike and burnt our legs pretty bad. Dave burnt his on the exhaust and I had my calf scorched by the spinning tire when Dave revved the engine as we went down.
Thinking we could take care of it ourselves, we went to the pharmacy to get some aloe and alcohol. Well, within 2 days our legs were infected and turning green. Especially Dave's.
Long Story short, we ended up at the hospital where Dave had his infected burn scraped clean by a straight razor while he bit on a wet towel to bear the pain.
After it was cleaned raw, they poured pure iodine on it and wrapped his leg up with instructions to come back every day for the next week to change our dressings. We vowed to never rent a motorbike again.
Cut to 2011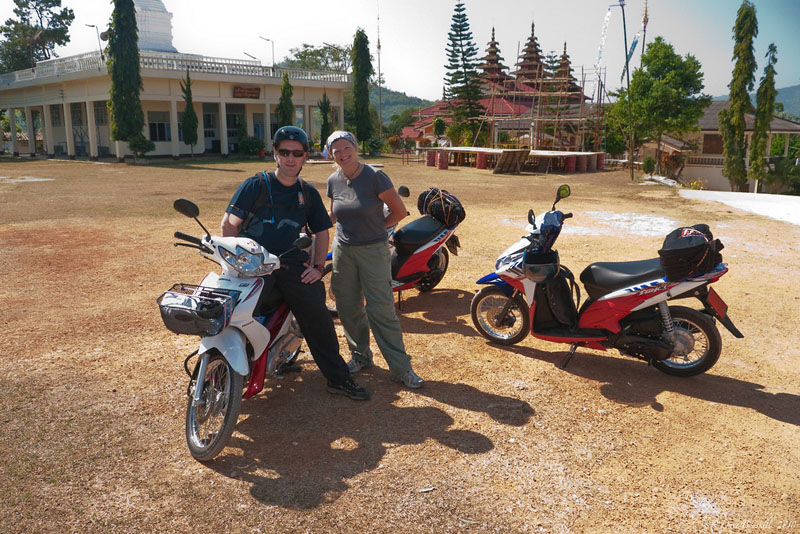 When Smiling Albino asked us if we would mind riding a motorbike to take a tour around Northern Thailand we hesitated.
But they assured us that riding up north is much simpler than in the south and that they give an extensive course on how to drive before we even leave on our adventure.
If they feel that we aren't ready or if we feel unprepared, they will call a truck to take us on the tour. But they emphasized that we should give it a try, it is a memorable way to travel through the mountains.
Fine by us, we'll try anything once. Or in the case of driving a motorcycle in Thailand…twice.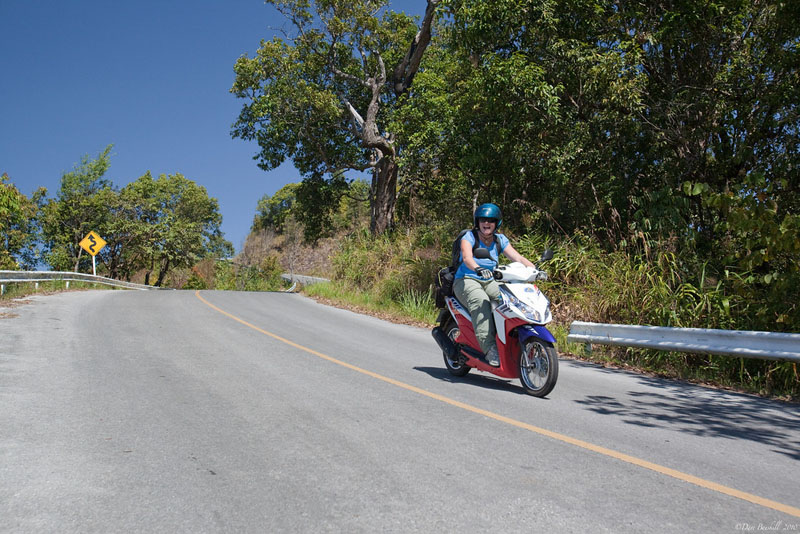 The day was glorious as we met Scott bright and early in the parking lot of Legend.
Our shiny new bikes were waiting for us to hop on. Motorscooters have come a long way over the years and our bikes even had automatic transmissions and looked really cool.
We set up on a quiet street where Scott led us through the basics of riding. We started with signalling, honking the horn, turning the bike on and off and finding the kickstand.
Before we even started to ride, we learned to become comfortable with all the instruments before even beginning to ride.
After we felt okay, it was time to drive. Not very far though. Our lesson was to drive 500 metres and stop, do a U-turn and then drive 500 metres back to our starting position.
We did this several times until we could do our U-turns effortlessly. Dave caught on way quicker than I did. I was surprised just how awkward I was at first when I tried my first U-turn. I did exactly what Scott told us not to do.
I revved my engine too much as I headed straight for the fence. I can see how accidents happen so easily with newbies. My instinct was to rev with my right hand while squeezing the brake at the same time.
It is not the right thing to do. Luckily, we had enough static training, that I had the sense to take a breath let go of the gas and gently squeeze the brake before hitting anything. A few more tries and I was finally doing smooth Uturns.
Driving the Motorcycles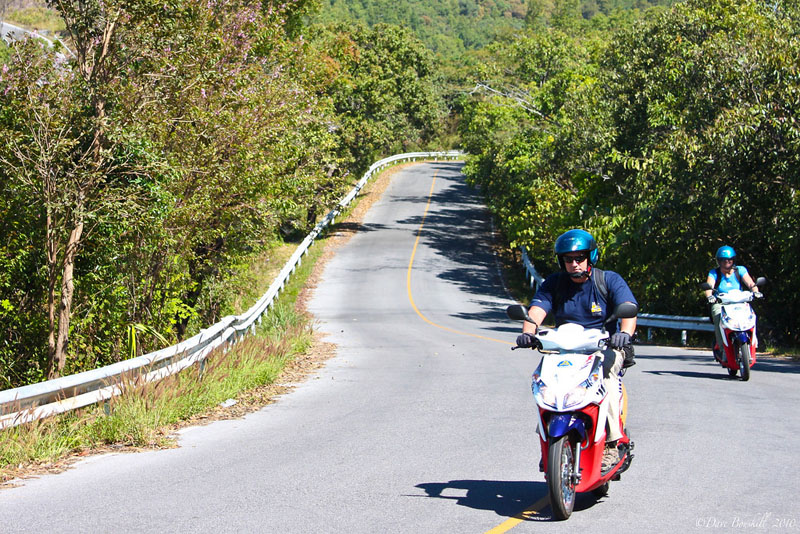 After we felt confident with our U Turns and stops, it was time to follow Scott through the streets of Chiang Rai.
He took us through back streets and to a park where we practiced turning and doing circles and weaving through obstacles. We kept the driving slow at first at around 40 km per hour.
Once we felt comfortable doing left and right turns and doing U-turns in both directions, it was time to speed things up a bit.
We went to another location that had a long stretch of road where we could let her rip.
We had to get used to going at the speed of traffic and we would be driving on a highway on our way to Mae Salak so we better feel confident going fast.
We practiced doing "S" turns down the road at higher speeds and getting the feel of slowing down and weaving out of the way of different obstacles that get in our way.
Feeling Confident
After we learned all of our skills and practiced our exercises, it was time for our final test. We had to drive down the road, do a tight U-Turn onto a narrow road leading up a very steep hill. Once we passed that test, we could move on and start our motorcycle adventure.
By this time, both Dave and I were feeling really confident.
We both felt that our cycle through Africa made our time on the motorcycle more comfortable.
In Ethiopia, we reached speeds up to 80 km per hour on our skinny bicycle tires as we raced down mountains.
We were used to riding in a peloton in speeds up to 35-40 km per hour with the wind at our backs and we had ridden through crazy traffic of Egypt, Addis Ababa and Cape Town.
If we didn't have that experience, we may have been timider on the bike. Well, I would have been timider, Dave isn't timid in anything he does. I have never met anyone so fearless.
Time to Ride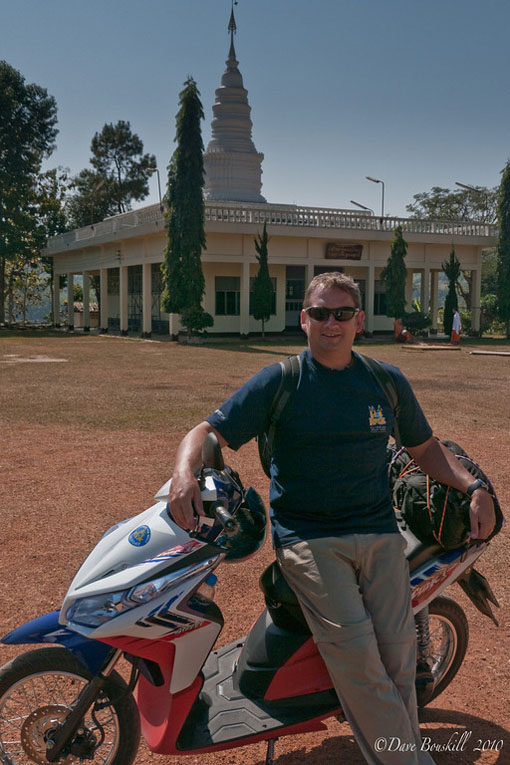 Our lesson was done and we passed the final test. There was nothing left to do now but drive.
The next 4 days are going to be an incredible biking adventure and we can't wait to drive through the winding mountains of Northern Thailand.
We're making our way to the Golden Triangle and the Burmese border where we will be stopping in at places to enjoy kayaking, hiking, mountain biking and good eats.
Stay tuned for more on Dave and Deb's Excellent Thailand Adventure.
Read More
Bikes, Boats and Elephants Adventures in Chiang Mai, Thailand
Tea Terraces in Thailand, An Alternative to the Opium Trade