It seemed that we had taken a wrong turn. We were somewhere in Ukraine trying to make our way to Odessa. The highway looked nice, but our gps was telling us that we had to take a right and get on the sideroad.
Random Road Moments
We followed Bonnie trusting her every move. As the roads got smaller, we wondered? Can this be right?
Eventually the road ran out and it was covered with what looked like a small river. That's when we decided to turn back.
We watched in awe as a man and his horsecart charged through at high speed. He bounced his way across, but made it. Our little Nissan Almera had no way of making that bump in the middle and the water would have come up to the door panels.
We went around.
We turned around and made our way back to the highway where we did a little detour through the wet and bumpy village. After nearly completely a big square, we were back on track and had bypassed the massive water crossing. Instead, we only had to cross a small pond in the middle of the road.
Everyone got out of the car to lighten the load as I drove through the puddle not knowing just exactly how deep it was. But we made Rick walk through it to be safe first.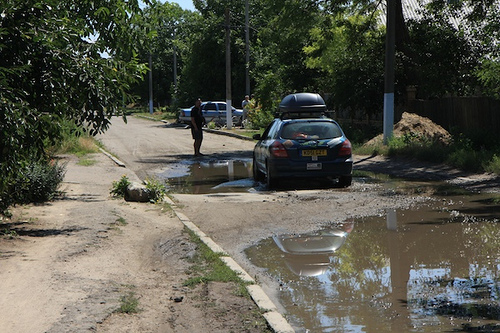 Horse Cart
The car went through with ease and within a few minutes we caught up to the guy on the horse cart.
He beckoned us closer and motioned for one of us to join him on the cart. Sherry jumped at the chance and as I drove along, Dave and Rick took video and photographed the moment.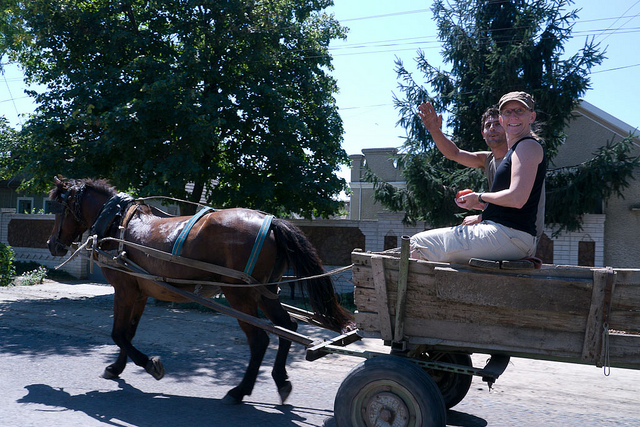 It wasn't long until Dave was on board and going along his merry way as well. Rick and I were a little envious as Sherry and Dave both said that the ride on the cart was much more comfortable than the "Hot Box" and the suspension was way better. They didn't feel a bump on the plush padded seat.
Following Blindly
We couldn't communicate with the nice man, he just kept asking for Russian Vodka and motioning us to follow him. We weren't quite sure if he was inviting us back to his house for Vodka, if he wanted us all to go to a bar together (even though it was only 10:00 am) or just wanted us to go to the store and buy him a bottle.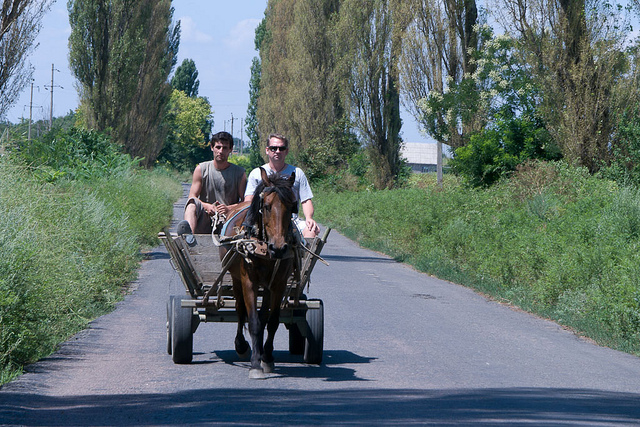 We never did find out because we couldn't understand a word he said and eventually he grew tired of trying to get us to understand. We gave him a Social Media Syndicate sticker to put on his cart and Shery was even nice enough to put it on for him!
We said our goodbyes and off we drove never to see him again. But we've come away with a memory to last a lifetime.
Oh, and just to let you know, our GPS, Bonnie, didn't lead us astray, we were on the right road and eventually made it to Odessa. How Odessa went? Well that's another story.
Read More
The Proud Eagle Hunters of Kyrgyzstan
Mongol Rally – A Year in the Making
You Might Also Enjoy