Unlike New York or San Francisco, people don't automatically picture all the cool things to do in Milwaukee. There are so many other American cities to visit first right?
Well, we are about to change your opinion and show you why you should visit Milwaukee!
There are so many unique things to do in Milwaukee that make it a perfect holiday for anyone planning a city escape.
Things to do in Milwaukee
We had heard that Milwaukee was a cool town, but we didn't know anything about it other than from Happy Days and Laverne and Shirley.
Once we arrived, our idea of Milwaukee immediately transformed from 'little known city in the United States' to "Why hadn't we come here sooner?"
Located on the convergence of three rivers and Lake Michigan, Milwaukee just might be the coolest town in America.
We are going to share all of the best things to do in Milwaukee from taking part in its awesome annual events, to finding a hidden speakeasy.
So sit back and enjoy our tour of Milwaukee.
1. Harley Davidson Milwaukee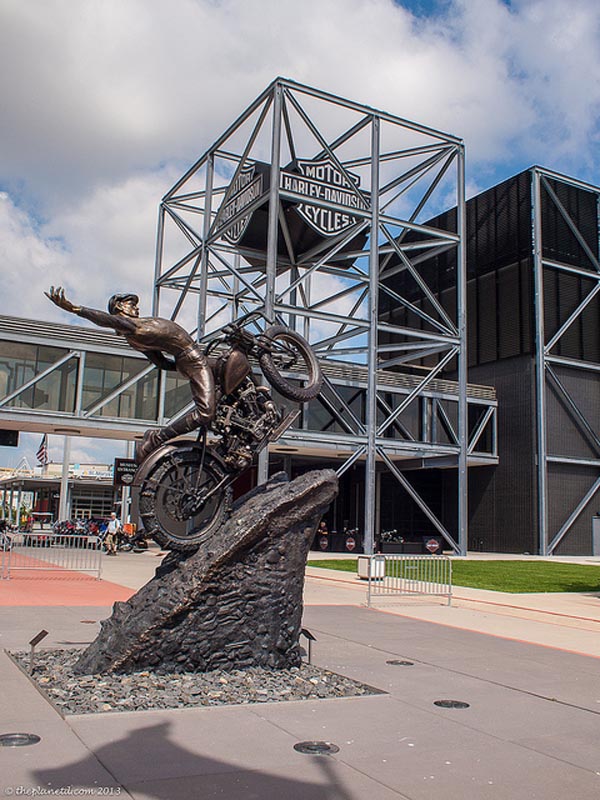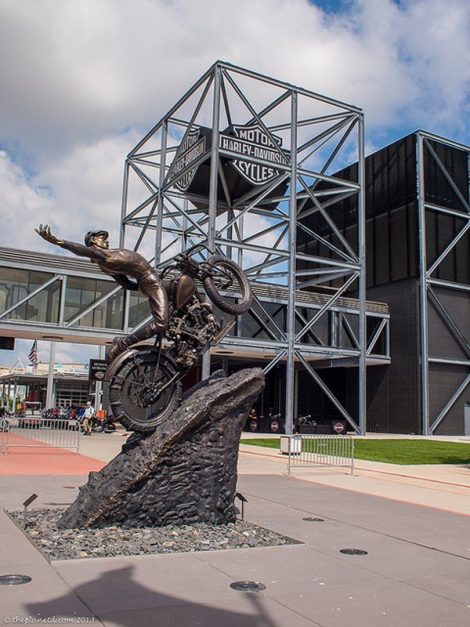 No trip to Milwaukee would be complete without touring the Harley Davidson Museum.
Founded in Milwaukee, Harley Davidson has been around for more than a century and is on every motorcycle lovers list of dream machines.
This museum traces the history of Harley Davidson from its humble beginnings of William S. Harley and Aruthur Davidson working on their bikes in a machine shop to becoming one of the most sought after motorcycles on the planet.
Interactive Displays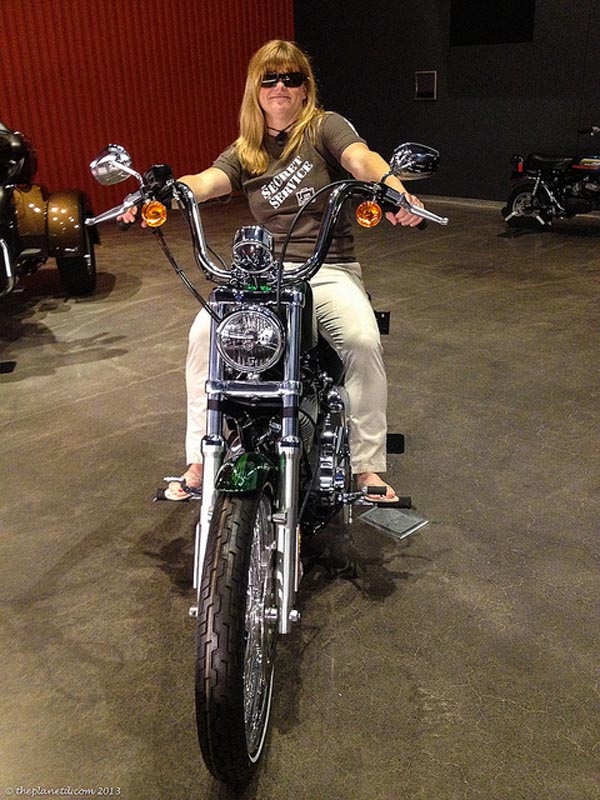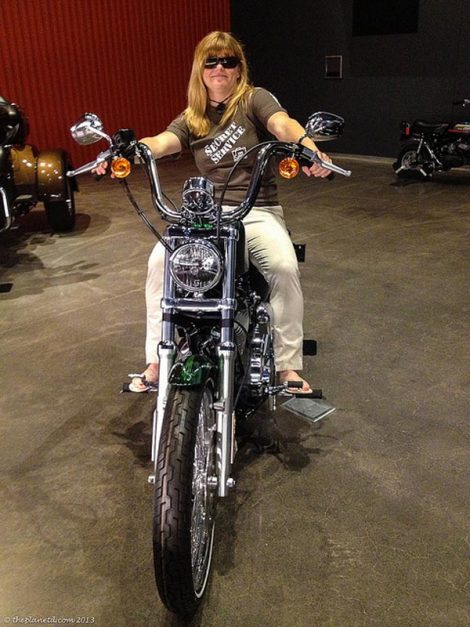 You can even Jump Start a Harley Davidson motorcycle just outside the museum to see what it feels like to ride your own.
The Harley Museum is filled with interactive displays like the virtual ride room where we took some shots of ourselves sitting on a hog and the Evil Knievel video game where we failed miserably jumping the shark.
Tickets are $18 for more information visit the Harley-Davidson Website
2. The Milwaukee Art Museum

The Milwaukee Art Museum is a spectacular building overlooking Lake Huron.
When you enter the museum, you will walk into Windhover Hall, a magnificent room with a 30 metre (90 foot) high glass ceiling.
In truth, the entire building was impressive.
While others were looking at the art, we were busy looking at the design.
How can you not take notice when the building was designed by famed Spanish architect Santiago Calatrava who designed the Olympic bridge for the Barcelona Summer Olympics in Spain.
3. Watch the Sails open from Reiman Suspension Bridge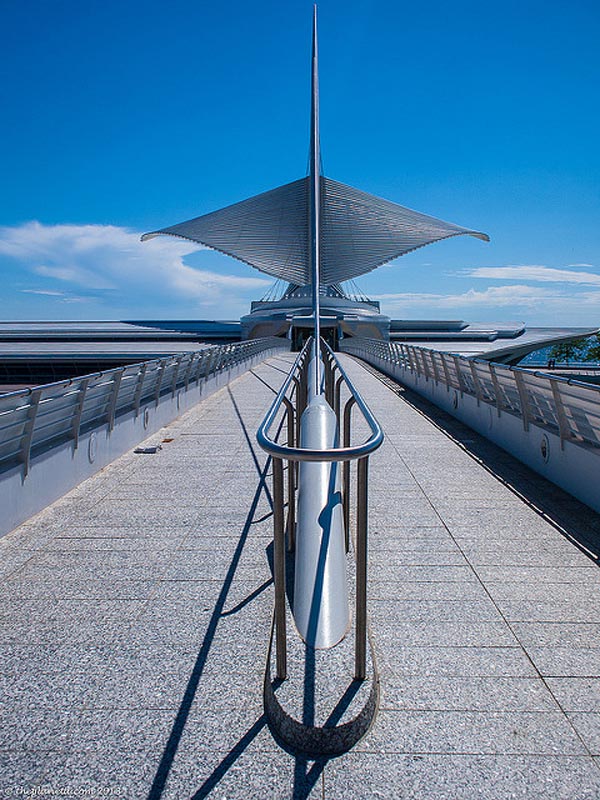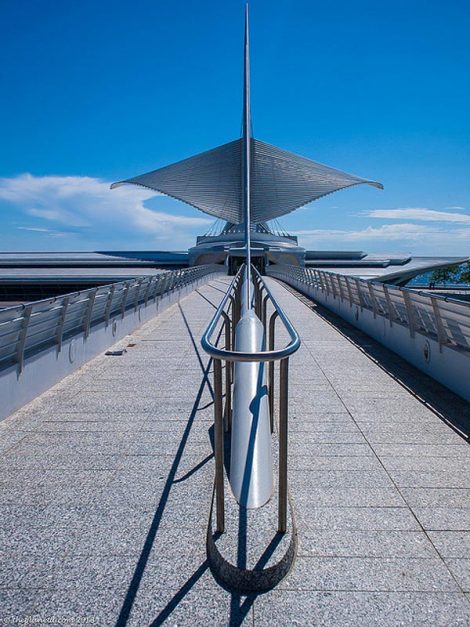 Be sure to get to the waterfront at 10:00 am sharp to watch the sails of the Museum open up.
The Burke Brise Soleil has a wingspan of a Boeing 747 and to watch it open up is magnificent.
It opens so gracefully and effortlessly that you almost don't even notice until it is too late.
Make sure to stand in the centre of the Reiman Suspension Bridge that connects the museum to the city of Milwaukee to capture it's beauty.
See more at the Milwaukee Art Museum website
4. Summerfest in Milwaukee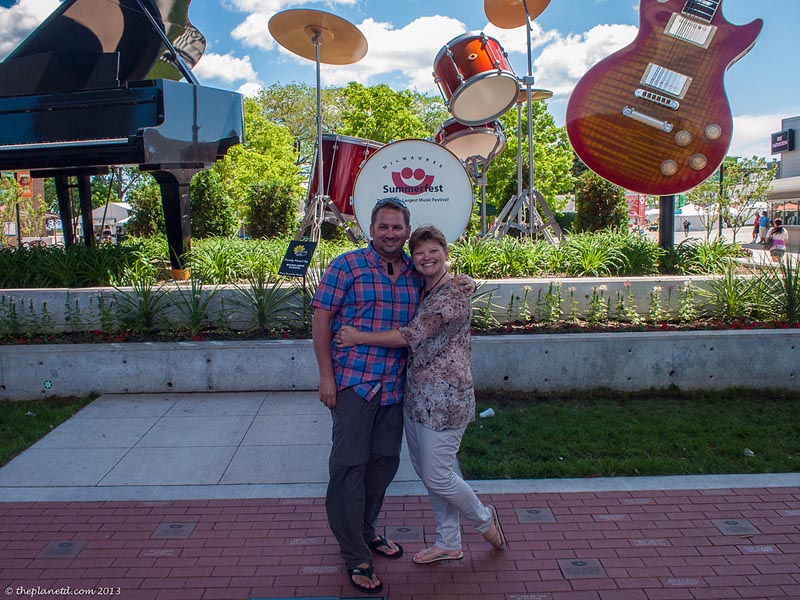 You may have heard of a little thing called Summerfest? Well it's the largest music festival in the world that happens every June.
This annual event is held at the Henry Maier Festival Park and is the best festival in the US to catch live music.
It takes place on 11 stages over 11 days and has been continuously running for 42 years!
The Milwaukee Summerfest has grown so much, that top acts like the Foo Fighters, Kanye West and Katy Perry have headlined it.
Milwaukee has so many festivals throughout the year, it has been named the
5. Riverwalk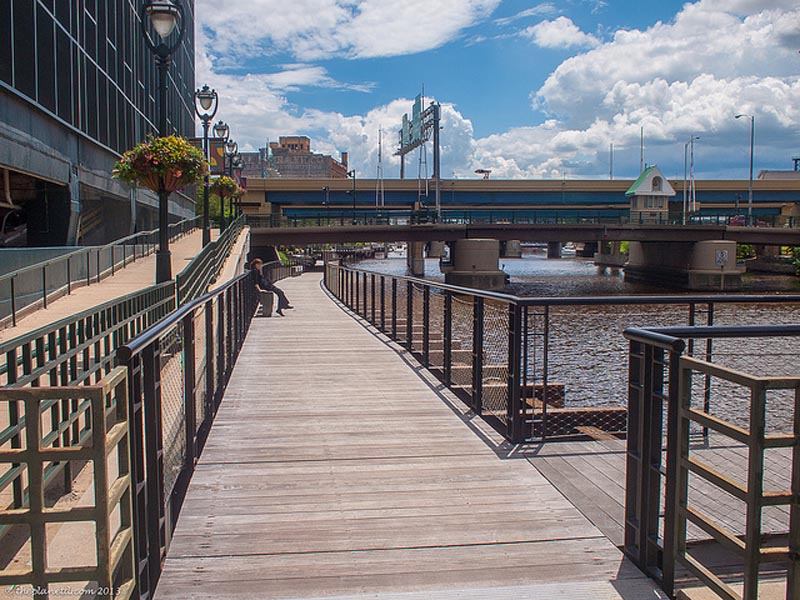 I wish Canada had more Riverwalks.
The Milwaukee Riverwalk is a beautiful boardwalk that winds right through the heart of downtown Milwaukee.
Winding along the Milwaukee River, the Riverwalk goes on for 20 city blocks.
Keep an eye out for the outdoor gallery showcasing various sculptures.
They seem to be all the rage in the USA. Cities built on rivers have created interesting walks along the rivers with restaurants and cafes.
While walking along the river, you can hob on one of the many boat tours for a historic view of the city.
6. Say Hello to the Bronz Fonz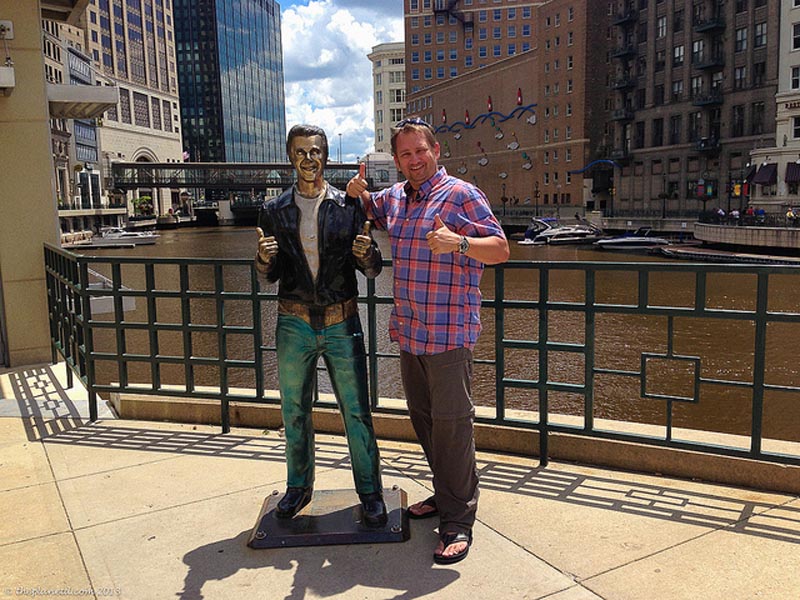 While strolling along the downtown RiverWalk, we happened upon the Bronz Fonzie statue paying homage to Happy Days.
The nostalgic TV show put Milwaukee on the map and Fonzie is the most enduring character from this iconic sitcom.
The Bronz Fonz is a popular attraction and we weren't the only ones who stopped by for a snapshot.
7. Milwaukee Food tours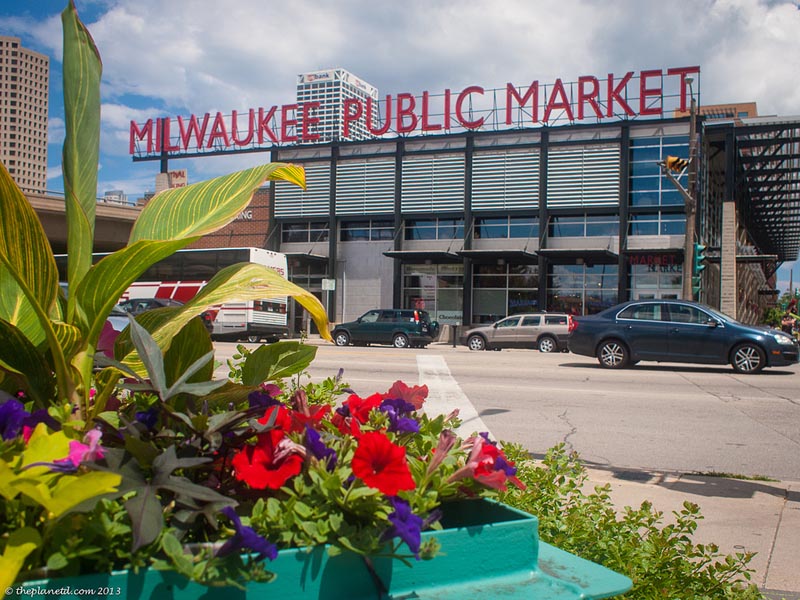 We also took a walking tour on the Riverwalk with Milwaukee Food Tours.
This lovely afternoon took us through the history of food and drink in Milwaukee sampling cheese, microbrews, German food, and the famous Usingers Sausage.
The history of Milwaukee food is amazing.
Settled by Europeans, this is a town that has held on to it's heritage and kept the old world traditions alive.
If you want a quick and easy lunch option, the Milwaukee Public Market is nearby.
Browse the different stalls for a rich and creamy soup and sandwich before taking your stroll on the Riverwalk in search of The Fonz.
For more information on tours around Milwaukee visit the Milwaukee Food Tours website to book your tour.
8. Great Lakes Distillery Tour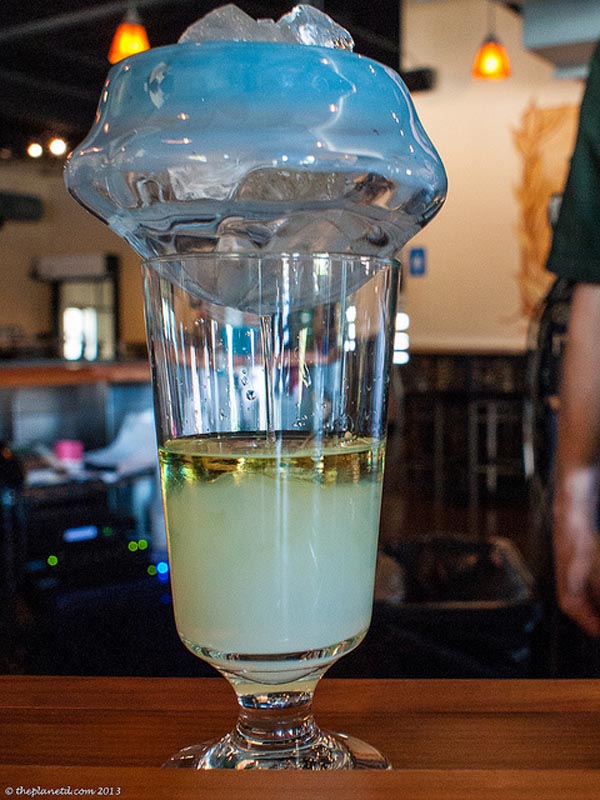 The Great Lakes Distillery Tour is a unique tour that is definitely worth visiting.
It was here that I learned the proper way to serve absinthe should be filtered through ice when served and you do not need to add sugar contrary to popular belief.
The Great Lakes distillery makes hand-crafted Rehorst Premium Milwaukee Vodka, Gin, and Whiskeys that you can taste in-house after the tour.
They use fresh local ingredients like basil and ginseng for gin, real citrus fruit and pure Wisconsin honey for vodka.
We learned how they use mountain stream water distilled to perfection taking out chlorine and fluoride to a pure and smooth finish.
9. Micro Brewery Tours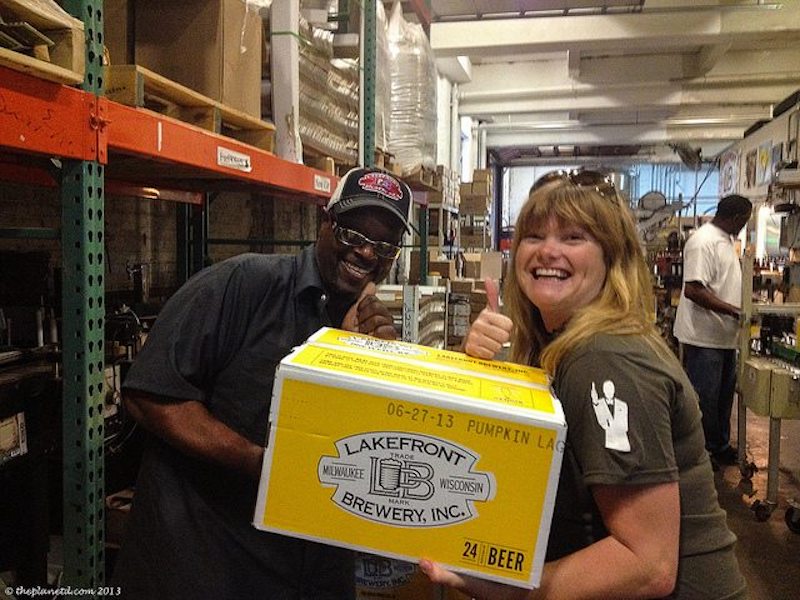 It is said that there are 30 things to do in America before the age of 30 and one is to have a beer in Milwaukee.
Known as the Brew City, Milwaukee is the place in America to go on a brewery tour.
Drinking a beer at a local brewing company is like having clam chowder in Boston or cheesesteak in Philly.
If you decide to do a brewery tour in Milwaukee, may we suggest the Lakefront Brewery?
It was one of the most entertaining brewery tours we've ever taken in this racy, comedic tour.
We also learned a lot about the process of brewing beer as well.
We won't go into detail because we wrote all about it in our Drinking and Dining through Milwaukee post, but for those of you who haven't read that yet, check it out!
10. Miller Park
Continue with the Brewing Tradition and catch a ball game at Miller Park, home of the Milwaukee Brewers.
The main sponsor of the stadium in the Miller Brewing Company. It's one of America's largest brewers and its located in Milwaukee!
There's nothing more American than watching baseball in the Midwest.
11. Potawatomi Hotel and Casino
A Steak dinner at Dream Dance Steak House before hitting the tables at the Potawatomi Hotel and Casino will keep you going all night long.
It is run by the Forest County Potawatomi Peoples.
Our five-course dinner consisted of signature Wisconsin Cheese curd fritters, fresh salad, kangaroo, and filet mignon for me.
Chef Matt Baier and the Dream Dance sommelier are top notch offering a world class fine dining experience for everyone to enjoy.
12. Visit Milwaukee for the Food and Drink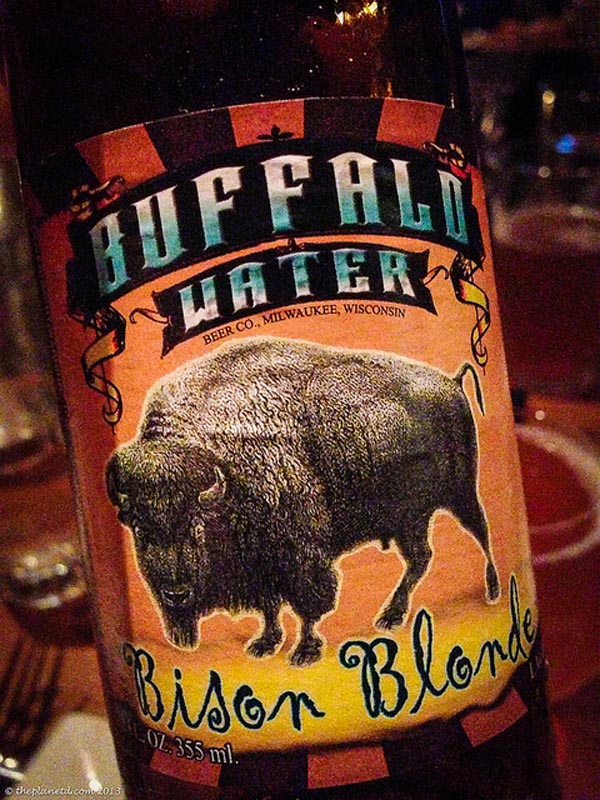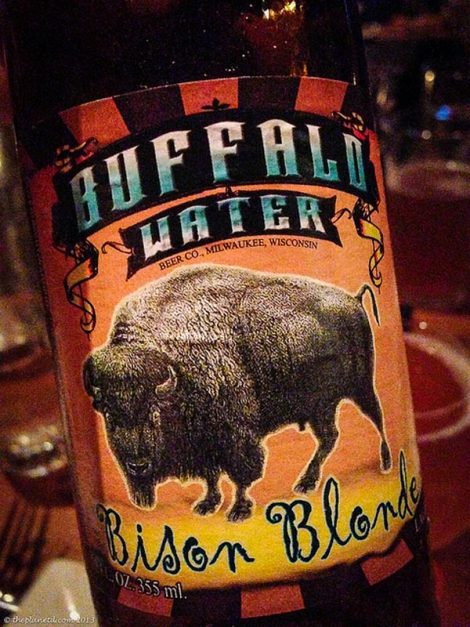 As we ate at the different restaurants downtown Milwaukee, all I could think of was how cool this city is. There are so many world-class bistros and cafes.
Milwaukee is a place that has a speakeasy, cocktail lounges, boutique hotels with regionally inspired foods, beer halls, gourmet roasted coffee.
There are so many cool eateries in Milwaukee, we felt like it was America's boutique dining capital.
Brady Street in Milwaukee's East Side is a popular spot for bar hopping and dining.
Bay View is another popular spot for nightlife located just south of downtown.
13. Safe House Speakeasy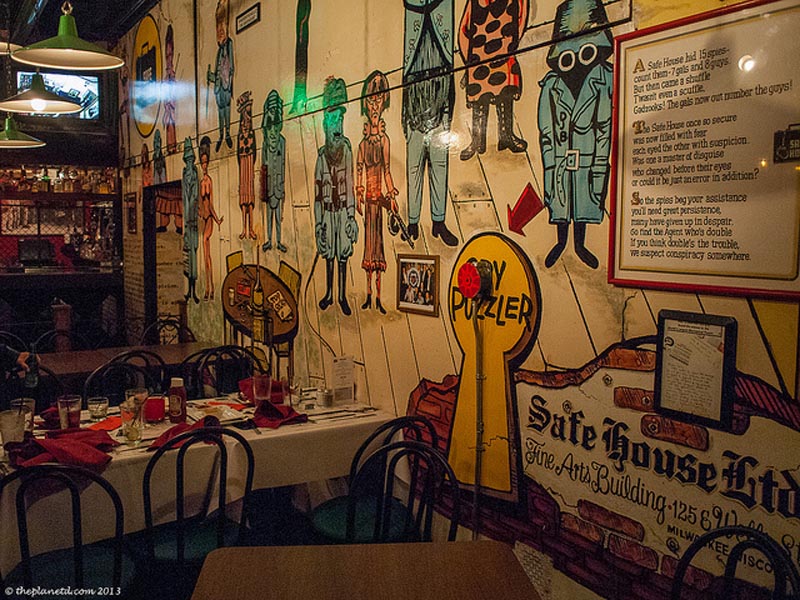 Half the fun of going to the Safe House, is trying to find it.
Once you do, you have to tell them the secret password to get in.
This Milwaukee Speakeasy will have you entertained all night long with its Spy themed decor.
There are trap doors, swinging walls, and giant puzzles to keep people entertained.
The night ends with trying to find the secret exit.
14. Milwaukee Press Club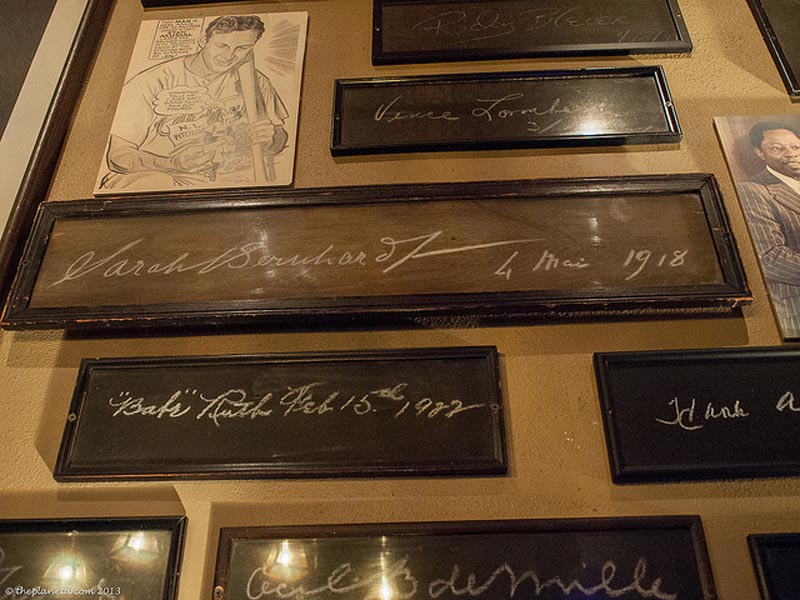 The Milwaukee Press Club is another facsinating place to visit.
This historic bar has attracted journalists and celebrities from around the world for since 1882!
It's the oldest continously running press club in North America.
Be sure to browse the chalkboard walls covered in historic signatures s from visitors such as Barak Obama to Babe Ruth!
15. Bryants Cocktail Lounge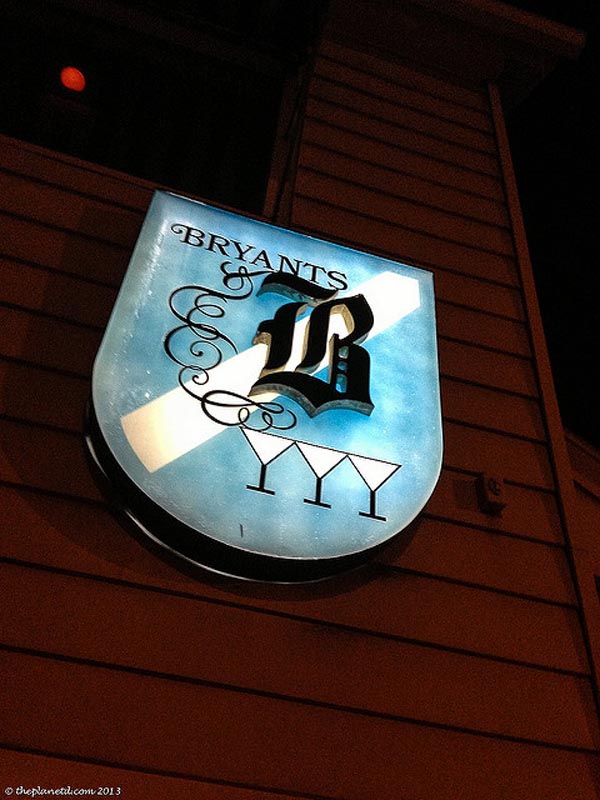 Bryants Cocktail Lounge doesn't have a menu but instead has 400 specialty craft cocktail which are chosen for you by letting your server choose for you.
When you order your drink, let your server know your mood and interests. They will then create something to suit your taste.
Bryants Cocktail Lounge feels as if it should be set in the 1960's Las Vegas instead of suburban Milwaukee.
16. Pabst Mansion
One of the most popular brews is to visit the Pabst Mansion.
Home to the pioneer of Milwaukee Breweries, the Pabst Mansion is a historic monument and museum.
Here you can learn about the Pabst family and Milwaukee's Brewing History.
17. Historic Third Ward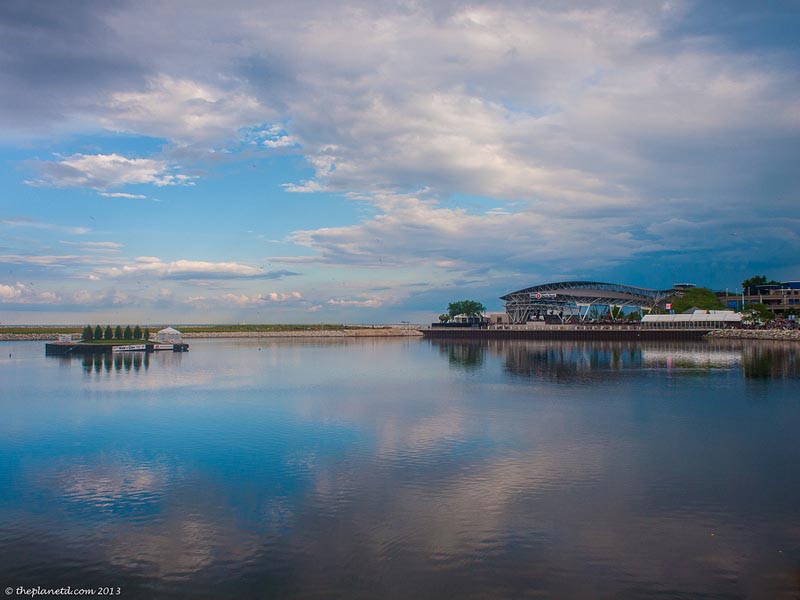 Milwaukee's Historic Third Ward is the city's thriving arts and entertainment area. There are more than 20 galleries and studios.
This revitalized warehouse area is filled with restaurants, galleries and bars.
Have a drink outside on a patio where award-winning restaurants have created signature cocktails and upscale dining.
Take in the views of the Milwaukee waterfront. Or do some shopping at one of the many trendy boutiques.
18. Laverne and Shirley in Milwaukee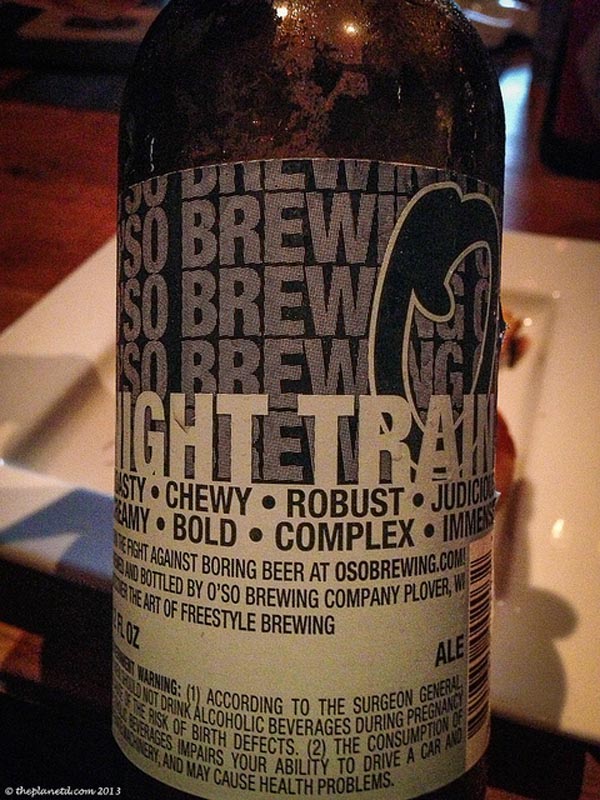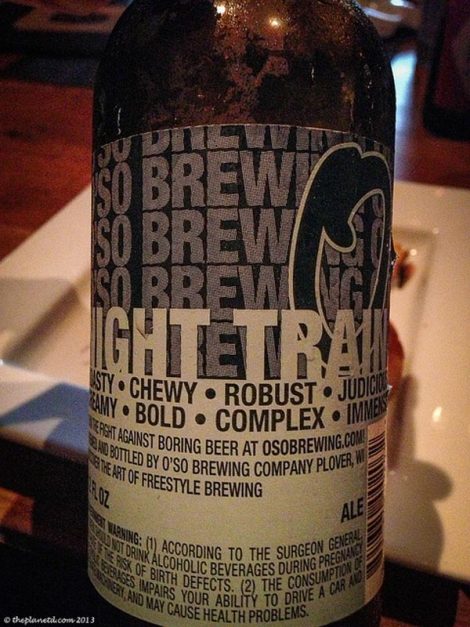 There are several micro brew tours around the city.
Dave and were hoping to reenact the Laverne and Shirley opening at the bottle factory, but unfortunately, we never found that tour anywhere.
We still put on our best "Schlemeil, Schlimazel, Hasenpfeffer Incorporated!"
Since visiting Milwaukee, we have found the Lavern and Shirley City Tour.
It starts at the Lakefront Brewery which we can attest is the best Brewery tour in Milwaukee.
The tour takes you bowling, and Pepsi and milk sampling.
19. Other Milwaukee Museums
Discovery World – If science is your thing, Discovery World Science and technology museum is fun for the whole family.
Milwaukee Public Museum – Wisconsin's natural history museum is a great place to hang out on a rainy day.
We really loved our time in Milwaukee. Even though Milwaukee is becoming a contemporary city with some funky destinations, they still have that welcoming vibe that will never go away.
That's what we love about Milwaukee, it's got an urban refinement with a small town feel.
There are so many things to do in Milwaukee, we look forward to going back again.