We've all seen them. The groups of motorcyclists riding together on a sunny day.
Meet the Motorcycle Gang, Our First Group Ride
Well, now we've joined the club! Meet our motorcycle gang! Mike, Ginny, Dave and Deb. We're now a part of those two wheel riders feeling the wind in our hair and looking badass on a bike.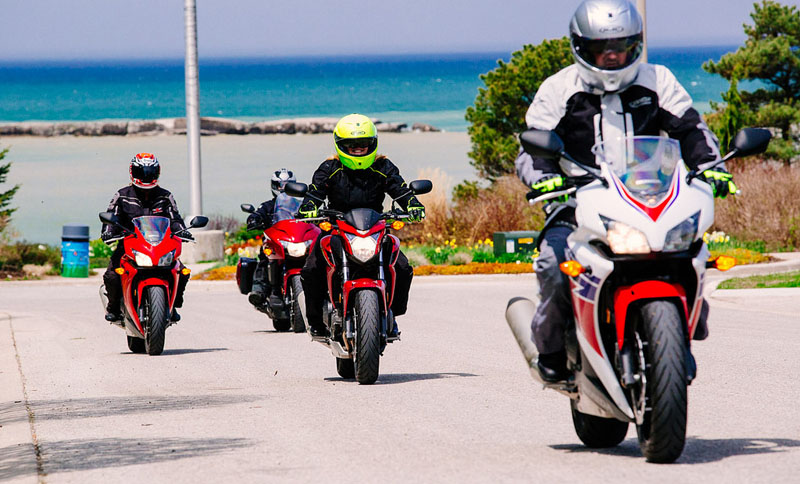 We hadn't been on a bike since our class with Motorsoul Riding School in April. Nearly a month later, we finally got some bikes from Honda to go our very first practice ride after receiving our license.
We were excited to spend three days exploring the coast of Lake Huron in Grey and Bruce Counties in Ontario Canada.
See what it's like in motorcycle school
Ginny of Motorsoul came along for the ride to make sure we were safe and comfortable and it was amazing to have her there. Owner and operator of Motorsoul Riding School based out of Toronto, Ginny goes to great lengths to make sure her students are ready and able to ride on a bike.
With 17 years of riding experience, she knows bikes inside and out and gave us pointers and tips throughout our three-day ride.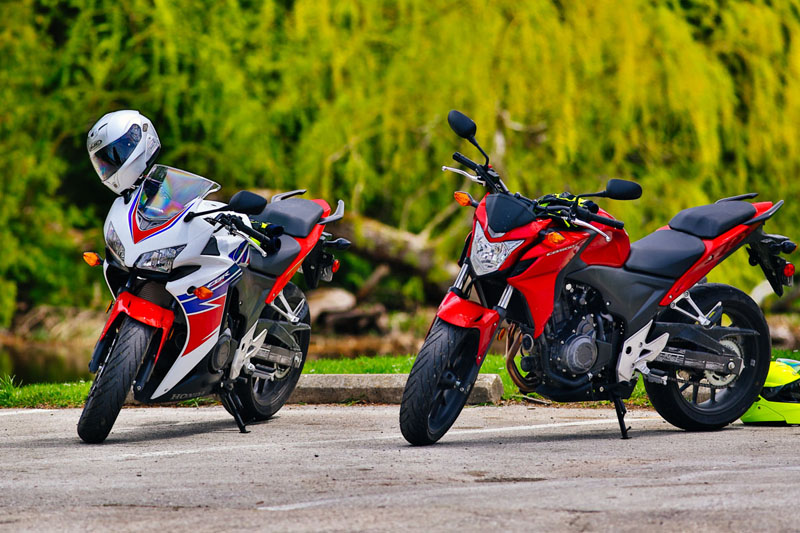 What a Ride showed up on a grey afternoon with our Honda 500cc bikes in the back of a giant trailer. We were the talk of the town as they unloaded the bikes and filmed every minute of the process.
Before taking off for the first leg of our 800km ride, Dave and I took a ride around the block with Ginny to re-familiarize ourselves with the bikes.
I was a bit nervous about the 200+ km ahead this afternoon, but I thought, "there's no better way to get used to riding than jumping in head first, right?"
Ready to Ride
After a quick turn around the block, we were off and running.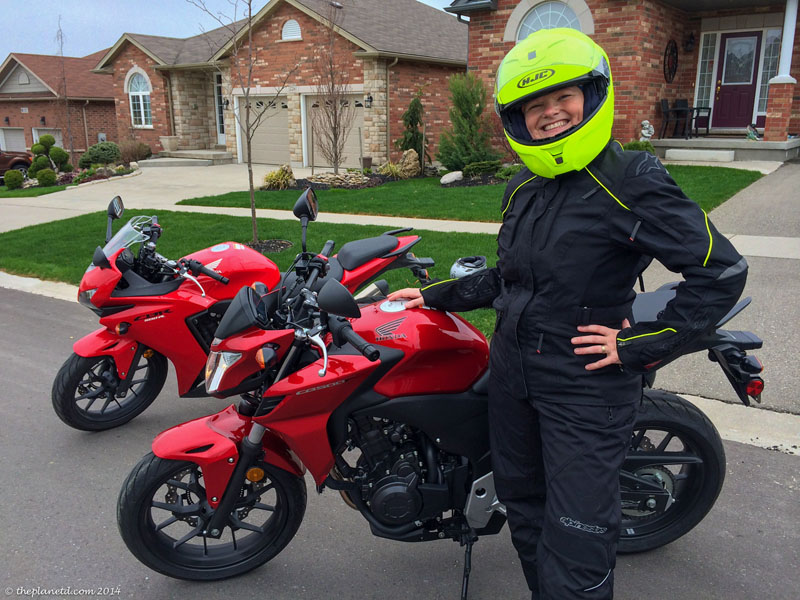 Mike of What a Ride lead the way, Dave and I placed ourselves in the middle of the pack and Ginny brought up the rear keeping a close eye on us. Within minutes of our first left hand turn out of my parents subdivision, we were up to speed. 80km per hour in no time!
It felt amazing.
I thought I'd be more afraid of the speed or timider of the ride, but it all came together with ease. Everything we learned in class popped into my mind and I concentrated on making sure I didn't develop any bad habits early on.
So when stopping, I geared down while flicking the breaks. When taking off, I made sure to have my feet on the pegs, not dragging on the ground and I left a lot of room between myself and the vehicles ahead.
Dave looked like a natural on the bike and as we drove along the back roads of Ontario, I said to myself, I can't believe that this is my job!
We are so lucky to be able to take part in these adventures and we are so excited to be able to share our riding ups and downs with everyone this summer.
We drove in the staggered format with the lead bike in the blocking position of the lane and each rider falling into place on the opposite side of the lane from the rider ahead of them. It felt safe and comfortable in this position and I understood why riders are required to ride this way.
You can see what is ahead of you and you have room to navigate should anything go wrong.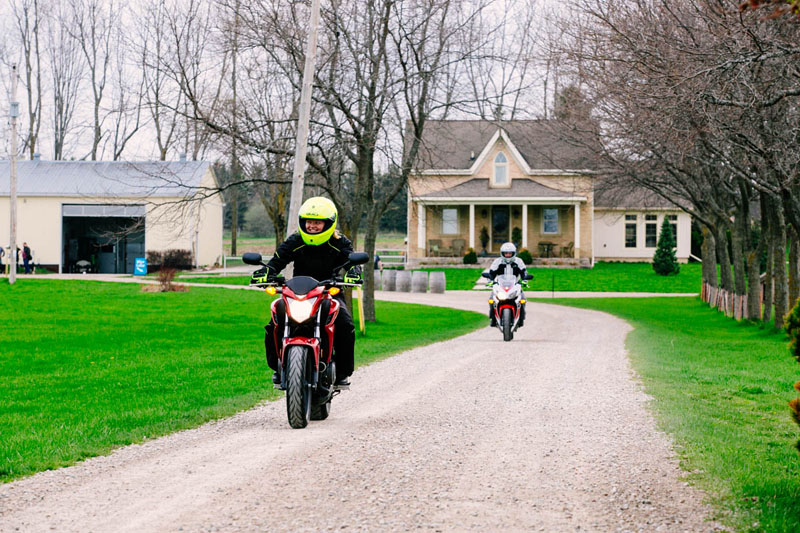 The biggest problem that both Dave and I had during our ride was switching off our turn signals after making our turn.
Lucky we had a group with us to remind us with hand signals and horns. We also found that wind was a bit of a challenge. When you are up to higher speeds, traffic in the other direction – especially transport trucks can really create a backdraft blowing you off the road.
We had to hold on tight and pay attention when we saw any trucks coming our way.
Stopping and Starting
Stop signs and traffic lights always caused a bit of a problem. We found that the group would spread out too much with the front of the pack taking off quickly and leaving others behind. We had to learn to slow down and wait for each other.
Ginny called it the accordion effect. When someone drives off from a stop sign, they need to let up a bit to allow the next people to catch up.
Also, if possible, it's a good idea to let traffic go and try to take off when it is all clear and there's enough time for everyone to stay together.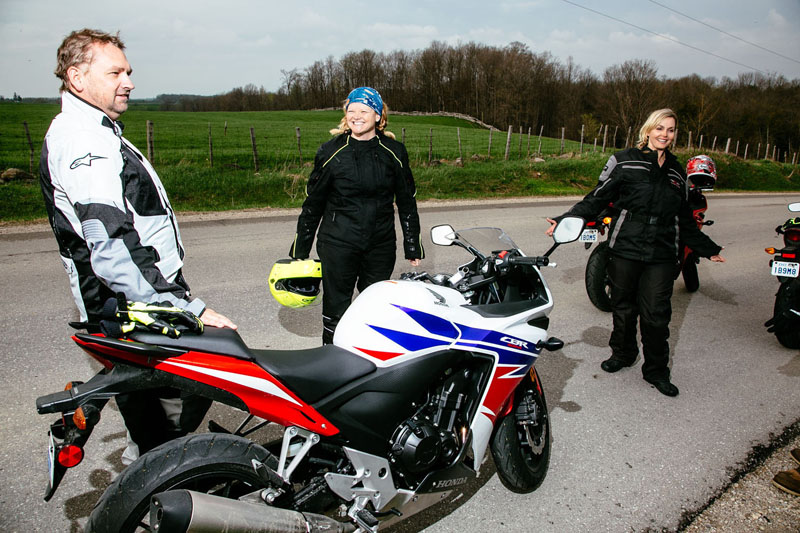 I always had trouble gearing down all the way, especially on the first day.
I would find that I'd be sitting at the stop sign in either in neutral or second gear causing me to stall. Therefore it made a gap in the group.
Day Two Was Better
By the second day I did much better though after our instructor Ginny reminded me to tap the gears with my foot to make sure that I was in first gear. It was a simple piece of advice, but one I hadn't thought about the day earlier.
There are so many things to think about when you are a new rider.
Dave remarked that his mind was fatigued thinking about everything that it takes to ride safely. There's a lot more going on than when you drive a car. You are more exposed on a bike and you have to constantly keep a look out for obstacles and to make sure people see you.
The number one cause of collisions with a motorcycle is that many people in cars claim that they didn't see the bike. It's our job to make sure that they do see us or to make sure that we have enough space around us to keep out of harm's way.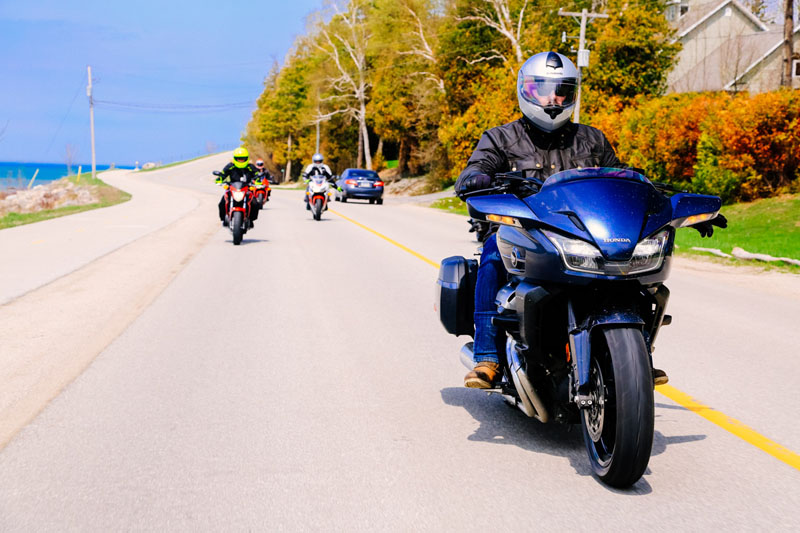 By day two and three we were feeling comfortable cornering, making tight turns and getting up to speed quickly. Bikes have a lot of power and once I felt my comfort zone, I realized that I could get up to the speed limit in mere seconds.
It is a wonderful feeling of freedom.
Riding a bike is a blast, I can understand why so many people love it. I have to admit, that whenever we stopped to check out a view or explore a sight, I didn't want to.
Maybe it was the new rider in me, but I just wanted to keep on cruising down the highway.
Motorcycles courtesy of Honda Canada
MotorSoul Driving School runs motorcycle training courses for all skill levels all summer long.
All motorcycle gear provided by Parts Canada – the national distributor of aftermarket parts and accessories for the Canadian power sports industry. They are exclusive to many brands including our HJC helmets and Alpinestars boots, pants, jackets and gloves.
Read More
The Drama Taking a Motorcycle Exam
The Long Way Around, our Epic Summer Journey