When we first arrived in Girona, Spain, our friend Jaume from Costa Brava Tourism told us that he was going to make us his signature gin and tonic drink. Dave's eyes lit up, he loves a good old G&T. It was his drink of choice when we met in college but I never developed a taste for it. Gin is not my favourite spirit, and for the record, I can't stand tonic water. But in Spain, they take the drink to a whole new level.
Jaume disappeared for a good 20 minutes to mix our drinks while we sat on his balcony with Micheal of the travel blog, Go See Write. The night was brisk and the sky was clear as we overlooked the twinkling lights of Girona, but we had red wine and good company to keep us warm. When Jaume came out with a tray filled with giant heavy duty wine glasses filled with ice and gin and tonics, I that this was going to be something special.
Gin and Tonic, Spanish Style
I can't tell you his exact secret recipe, but it involves a rare stone found in the Pyrenees mountains, premium gin and premium tonic and instead of a lemon or lime garnish, he made a cucumber infused refreshing treat.
I was converted!
After one sip, I knew that this was not my grandmother's gin and tonic or something that old men sip while sitting on leather chairs by the fireplace while smoking cigars. This is a hip, cool drink of the new millennium.
The rest of our time in Spain we reminisced about Jaume's G&T's as we stopped at various locations throughout the Costa Brava region. We were never without Spain's prize cocktail for long though as different chefs and restaurants all had their very own signature gin and tonic.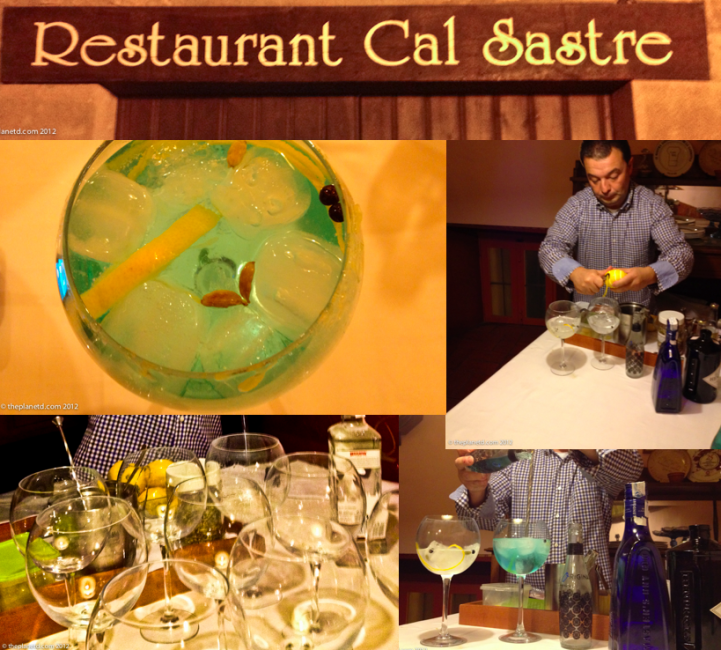 Our first stop was at Hotel Cal Sastre in Santa Pau, where we had our favourite meal in Spain. Sure, we ate at Michelin Star restaurants and had gourmet meals all around the countryside, but the Hotel Cal Sastre in San Pau was incredible. The atmosphere was inviting with dim lights, mellow 80's pop music sung in Spanish lyrics, a large square table for talking to the entire party, and an energetic host serving the most delicious six course meal. It was topped off with a unique gin and tonic for all.
Different gins were brought out on the cart with an array of garnishes and tonics. The key to the gin in Spain is the glass, Gin and tonic is served in an oversized heavy duty wine glass known as a balloon glass. They are chilled and filled with rock ice. The gin is poured slowly down a long twisted spoon so that the alcohol can breathe and then garnished with everything from cranberries and herbs to vegetables and fruit. I went for the fruity G&T while Dave opted for the more classic blend.
Gin and Tonic Part 3
A couple of days later we found ourselves at one of the popular gin and tonic bars that are springing up around Spain. In the municipality of Ribes to Freser, we enjoyed an afternoon learning about and drinking several types of gin and tonics at El Cacadors Hotel.
It was here that we learned that there are three things that make a Gin and Tonic great.
The Glass – it has to be a big party glass that allows for the aromas of the gin, tonic and garnish to infuse letting the aromas rise from the glass.
The Ice – the Ribes de Freser region is known for it's mineral water so they stress that the ice is important. The cubes must be large, there must be a lot of them and the water that they are made from must be pure.
What you like – What you like comes in two parts, the drink and the company.


The Drink: When it comes to gin and tonic in Spain, there is no right or wrong. If you like it fruity, than a fruity drink is for you, if you like it bitter, bitter is the way to go. You get to choose your gin and like it just the way it is.
The Company: The most important part of enjoying any cocktail is the company. Drink it with people you like and you can't go wrong.
Gin and Tonic Bars
Gin and Tonic Bars are becoming very popular in Spain and El Cacadors is one of the best.  Our host and owner Ramon Pau had the bar stocked with different gins. His family has run it for four generations and he and his siblings have upgraded it to modern hotel/bistro with a hip urban feel. The bar holds gins ranging from the very basic to brands like Fever Tree and Edinburg Gin. He even had several types of tonic. Did you know there is such thing as a premium tonic water?
It was a private tasting for our party and we all felt quite happy by the time we left the bar. Lucky for us, we had a bus driver to take us to the spa where we had just enough time for a dip in the pool before heading off to one of Spain's epic four hour dinners. When you travel through Spain be prepared for more culinary delights than you can imagine. It's all about food and drink and hanging out with good company. I always thought Spain was only about wine and sangria, but it's true drink of the nation has clearly become the gin and tonic and they do it up right.
We were invited to explore the Pyrenees region of Spain with the Costa Brava tourism board. For more things to do in the Pyrenees and the Northern Spanish Coast at the Costa Brava website