As some of you may recall, we wrote a post the other day about the Swiss and their obsession with being on time. Dave and I didn't fare well with all those half minute increments and countdowns to when we had to meet up or catch our train, but we did manage to make it through most of our time in Switzerland unscathed.
Read more of our time story at Time Keeps on Ticking and We take a Licking
That is until we took the train from Lucerne to Zurich to pick up our car.
Swiss Rail Travel
After our debacle of having our car rental cancelled due to showing up late for our pickup, we decided to rebook for the following day at 10:00 am. So we hopped on the 8:08 am train to the Zurich train station to give ourselves plenty of time. All went well. We used our Swiss Rail pass to relax in first class and enjoyed our personal mifi to catch up on work and attempt to answer our 100+ emails that had piled up over the past week.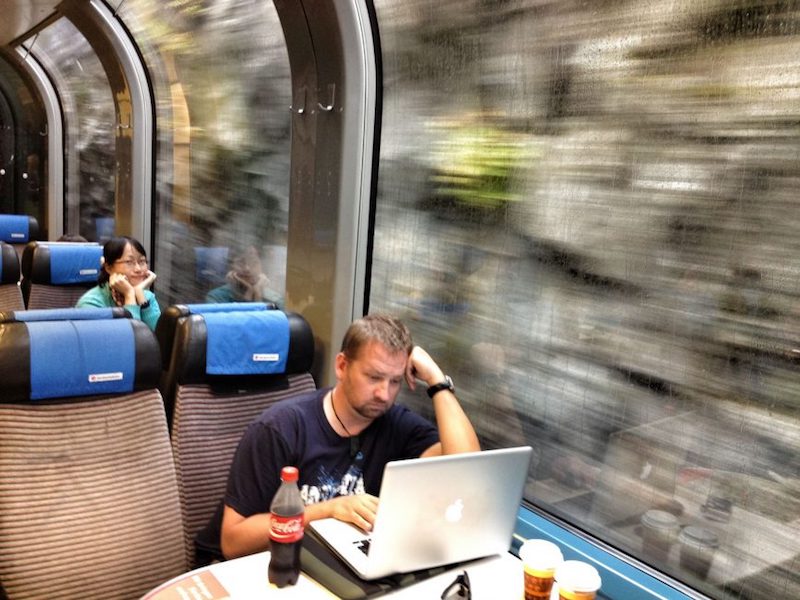 Our train arrived in Zurich on time (of course) and we decided to let everyone out ahead of us because we had quite a bit of luggage. After attending four different conferences you pick up a lot of swag so we used one of the duffel bags that we received during the Adventure Travel World Summit to pack our excess gear in. Between that and our backpacks and carryon luggage, we were pretty bogged down.
Anyway, I grabbed my bags and heard Dave say something but I thought he was right behind me. As I stepped onto the platform and turned around, I saw the door close behind me. I tried to push the button to open it again for Dave but didn't realize that as I was pushing it, the train was moving ever so slowly. I looked up and caught Dave's face…Shock and Awe describe it best.
His eyes were wide and his mouth formed the words "what's going on?" As he pulled away from the station, I mimed, "I'll wait right here!"
The Dave and Deb Travel Story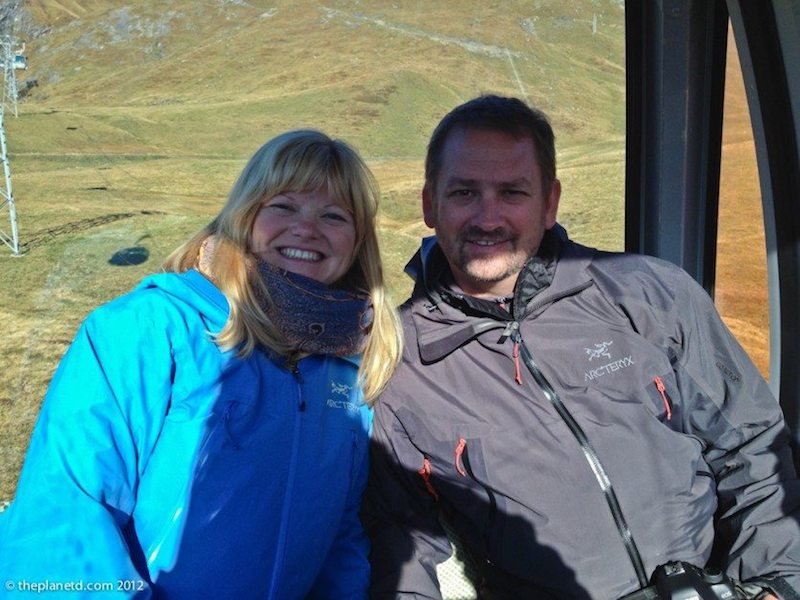 Dave and I always joke about how I carry everything when we travel. It's a little ridiculous but Dave doesn't carry a wallet. We have one iPhone between us which Sherry Ott (our Mongol Rally Teammate) can attest to – we always lose it. (note to self, we're buying another one when we get home) I carry the passports and all our identification too. When we're in transit, Dave has nothing to worry about but his camera gear and his computer.
I had no idea where that train was going. We thought the airport was the end of the line so for all I knew, he was being transported to the shipping yard.
Swiss Train Platforms
As I stood on the platform waiting for Dave, I realized that there are about 10 different platforms that he could show up on so I had better go upstairs. As I took the escalator up, everything went through my mind. He didn't have his Swiss Pass, so he was riding the train illegally.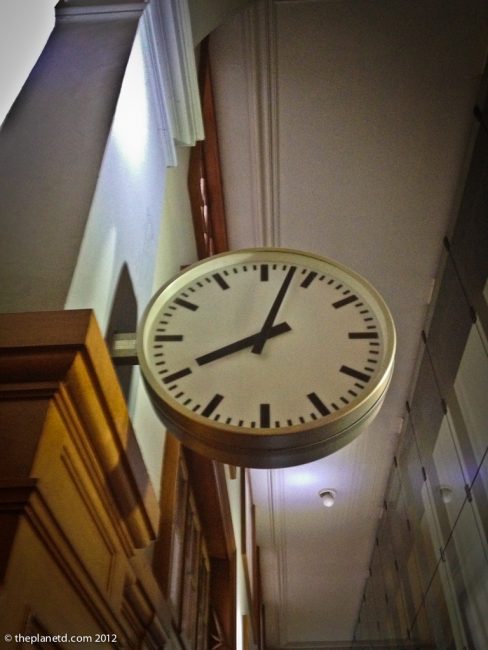 He didnt' have his passport so he had no documentation to show anyone. He didn't have a cell phone or even the mifi to send me an email. The only saving grace was earlier that morning while we waited on the train platform in Lucerne, he went to grab us some coffee, so I gave him his wallet like a good little boy.
For the first time in God knows how long, he had his wallet on him!
When I got to the top of the escalator, I saw the Swiss Rail centre and told them the situation. They told me that this train would be back at 9:44 so give Dave a call to tell him not to get off the train. When I told him he didn't have a cell phone, they looked at me like I had two heads.
For some reason in all of this I was very calm. It was almost comical as I pictured Dave's face plastered against the glass as the train pulled away. What else could I do but wait? Here I was standing at a busy train station hoping that Dave would show up in a half an hour. So I waited. I also sent him mental messages hoping that he would pick up on what I was thinking. "If you don't show up by 10:00 am, I'll go to the car rental company to get the car and wait for you there"
Swiss Rail Arrives on Time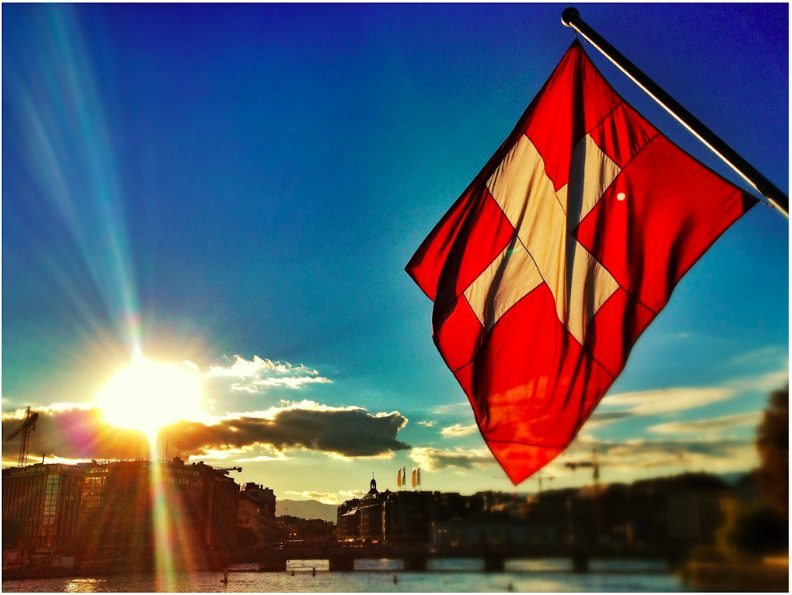 When the train arrived, I was on the platform ready to greet his smiling face when he hopped off the train, but alas that didn't happen. Hundreds of commuters exited the train but my Dave was no where to be found. Now I was starting to worry. What if the Swiss officials caught him and didn't believe his story and now he was being carted off to Swiss Security Prison? What if another train wasn't coming this way for hours? What would I do? How would I find him?
So, doing what any rational person would do, I sent out a tweet. "Lost Dave on Swiss Rail" For some reason that felt better, I wasn't alone. Silly I know, but when Mallory on Travel tweeted back, that it's a new Twitter game, "Find Dave of the Planetd" I was smiling again.
I went back up to Swiss Rail and asked them when the next trains were coming this way and in typical Swiss precision, they told me all the future arrivals to the second and their platform numbers.
I decided to wait at the top of the escalator…
Dave's Story:
As we pulled up to the tracks, Deb decided to let everyone go ahead of us. She has this guilt thing about making people wait so we were stuck at the end of the line. She grabbed her bags, but as I grabbed mine, my tripod fell off. It took me a bit to get all the bags off and put my tripod back on and by the time I got to the door, it was closed. I couldn't figure out why it was moving. I looked at Deb's face and could see the panic written all over it as she mimed, "I'll wait here!"
Those first few minutes were spent walking up and down the train to find someone. Surely I wasn't on an umanned train bound for nowhere. Alas I could not find anyone so I just decided to wait until the next station. I was pretty calm about the whole situation. I would just get off and grab another train back to the airport.
Luckily I had my wallet and I bought another ticket. I didn't want to take the chance of being on Swiss Rail without a ticket. The Swiss are strict enough about being late, I'd hate to see what they did if you didn't have a ticket.
All this time I was imagining how Deb would be reacting to all of this. Freaking out on the platform, running after the train, trying to flag someone down to stop the train. Surely one of those situations were happening.
Then the unimaginable happened.
As I looked up at the sign posting the train arrival time I noticed it said 9:45. I shifted my gaze to the Swiss clock to my left and it read 9:47. I literally let out an audible gasp. Could it be true, was this happening, was a Swiss train actually late??
I looked around at my fellow passengers and coud hear their thoughts in my head.
"Will this be the day I get fired?"
"How will this impact the rest of the day?"
"Will I miss my connections?"
It was my first experience of the Swiss being off-time and to tell you the truth I had a little smile on my face.
I knew I would make it back, I knew I would find Deb and I knew I had witnessed something special…a late swiss train.
It took me about 45 minutes to get back to Deb and as I came up the escalator and saw her waiting, we both started laughing. "You should have seen the look on your face!"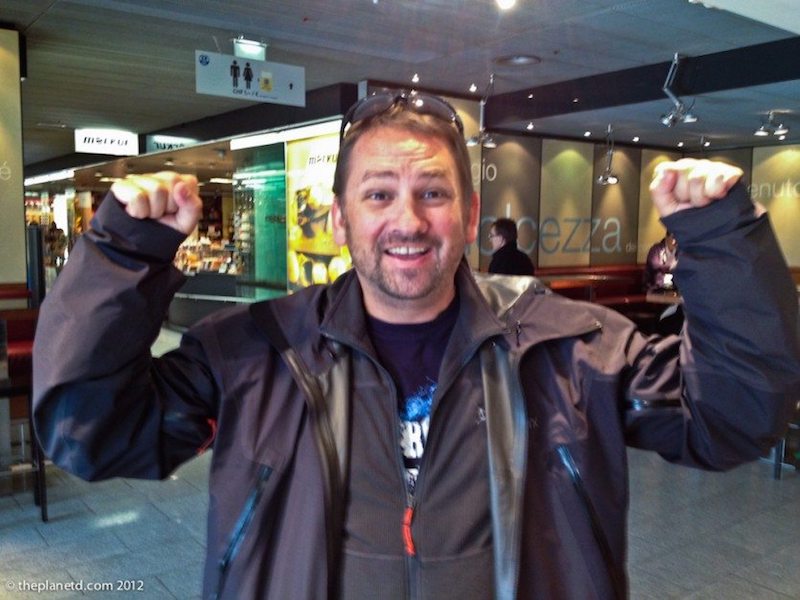 Back to the Car Rental
We had minutes to spare before the car rental company would cancel our reservation for a second time. When we gave her our name, she couldn't find our reservation. Oh no, not again. We told her that it was booked through Expedia, maybe she'd find it in another folder. Sure enough she found us and said, Oh, this was booked for yesterday!
We told her that we were informed that our rental was cancelled for being late. Yes, it was cancelled, but you could pick it up anytime no problem. They just cancelled the prepayment. They actually did us a favour. They cancel the pre-payment and you just have to pay once you pick up the car. If you never show up, you won't be charged. (at least that's the way we understood it)
So all that worry and frustration and we could have just gone to the rental company late the day before. But then again, we never would have had this story to tell.
---
Read More
10 Simple Ways to Travel Switzerland on a Budget
Matterhorn Reflected
Four Unique Things to do in Switzerland
You Might Also Enjoy