When we saw that the London Bridge on Lake Havasu was just a short detour off of our route during our USA road trip from San Francisco to Los Angeles, we had to make the stop. The 1831 London Bridge was brought over piece by piece to Arizona in 1968.
The Lake Havasu, London Bridge Story
It was three years later in 1971 that the bridge was reassembled over the Lake Havasu Canal connecting an island to the mainland. It seemed like a crazy idea by oil tycoon and real estate developer Robert McCulloch, but there was a method to his madness. McCulloch received the land around Lake Havasu from the Arizona government for free with the promise that he would develop the area. He wanted to bring tourists and retirees to the community, but had trouble gaining any interest. Driving out to Lake Havasu, we could understand why he had such a problem attracting prospective buyers. It really is out in the middle of nowhere in a hot and very dry climate.
Add the London Bridge to the area though and all of a sudden you have a tourist attraction. The purchase of the London Bridge transformed Lake Havasu from an old military landing strip to the second most visited spot in Arizona after the Grand Canyon. Resorts and activities line the canal from jet ski and boat rentals to dinner cruises and even English style pubs. It's a little bit of Britain in the USA. They even have the red phone booth for tourists to pose inside. Just like the real London only different.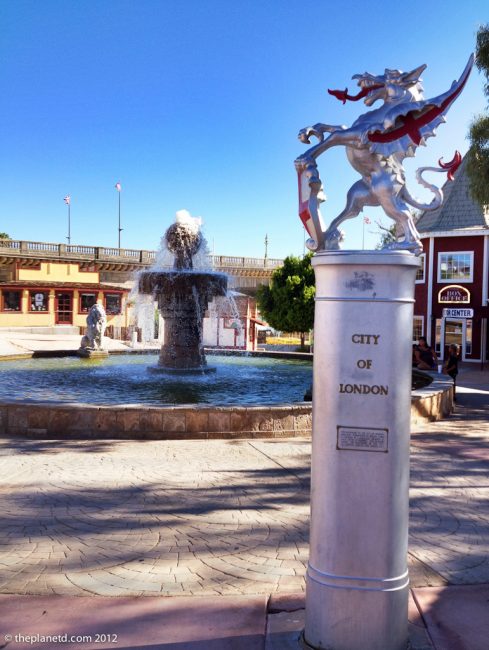 Needing a break from the Motel 6, we splurged for a night at the London Bridge Resort with swimming pool, nightlife and our own studio suite right on the canal. All for just $99 including breakfast. It was a welcome change after nearly two weeks of driving in rural America to have a taste of Europe, a glass of wine and walk along the canal at night before heading off the next day to finish off the rest of our road trip.
Located just a few hours from the Grand Canyon you can reach Lake Havasu on your way to Joshua Tree National Park en route to Los Angeles. Our American Road trip consisted of some great stops in National Parks but it was nice to break up the nature with a stop in civilization for a day at the London Bridge. Now if only we could find a good cup of tea, a rip roaring game of cricket and a little bit of drizzle we'd be all set. We suggest the people of Lake Havasu add a fog machine to next years budget, then they'd really capture the essence of London Town.