I have a clear idea in my mind of what it would take for a place to qualify as a tropical paradise. According to what I have in mind, a tropical paradise would be a land that offers plenty of uncontaminated landscapes, soft hills swept by a light breeze and from where it would possible to admire the view of the beaches below and hiking trails to explore those hills.
The sea should be calm, clear and with as many colorful marine creatures as the human eye could possibly see. Throw in some unique wildlife. Take away as many people as possible. I found that Paradise in the Komodo Islands.
Komodo Island Tour – The Tropical Paradise Examination
It is quite a difficult combination to concoct, I understand. That is why I hardly expected any place like that to exist in the world and to be easily accessible. Yet I am always ready to go in search of it, notebook at hand, to see if anything could pass my difficult examination.
Rumor had it that the Rinca and Komodo Islands, one of the places to visit in Indonesia, would pass my difficult test. I would have to check in person before granting the title.
Setting sail towards my mission – Komodo Island
On a hot, sunny morning, I took a boat from Labuan Bajo, in Flores, headed to Rinca and Komodo islands. I wasn't sure what to expect. Everywhere I had been in Indonesia was too crowded by tourists and locals alike for my very solitary taste, and I found that those that could rightly be incredible natural attractions had been ruined by inconsiderate exploitation and bad management.
Even though I had already noticed that the Flores Archipelago was by no means as populated as the rest of the country, and that it looked wilder, less explored and exploited, I was determined not to hold high expectations for Komodo National Park.
The boat sailed across the calm waters of the Flores sea, all around a multitude of small islands, the sky as blue as it could possibly be. Isolated, deserted white, sandy beaches lined with lush vegetation glowed in the distance.
I begged the captain to stop at each and one of them, but he pressed along – we were headed to Rinca and we wouldn't have time to stop just yet.
By the time we arrived to Rinca, I had not realized that two hours had gone already. I was too busy admiring the view around me.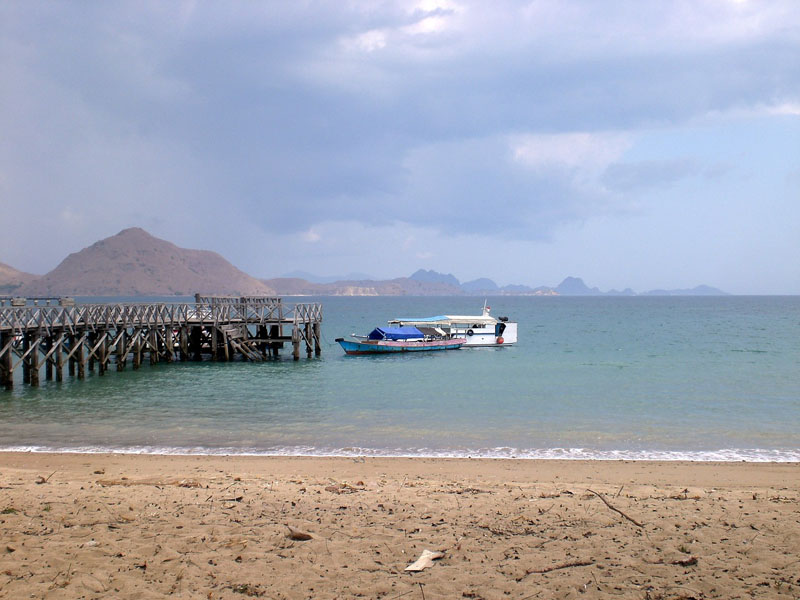 First test: incredible wildlife of Komodo Island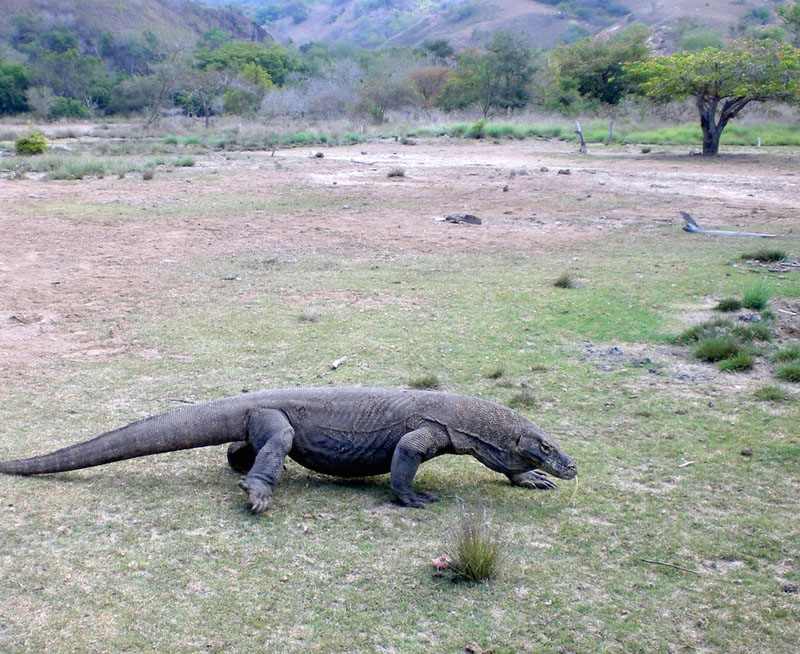 Minutes later, the boat arrived to the hidden dock of Rinca, called Koh Kima. I got off and got on the trail to the visitors centre, in the camp of Loh Buaya. It didn't take me long to spot a Komodo dragon.
There was my fix for unique wildlife. Komodos are unique to these archipelago – there's around 2000 that live between Komodo, Rinca, Gila Motang and Flores. These giant lizards, locally known as ora, are heavily protected.
They can get up to 3 meters in length and weight well over 100 kg. They normally feed on insects but also hunt for buffalos, goats, monkeys, boars and deers.
As they tend to move quite slowly, komodos don't look too dangerous. Yet, they are predators. When they smell prey (first hint: when they stick their forked tong out they are actually smelling for food) they can ran as fast as 40 km per hour.
They hide to ambush their prey and they can wait for hours or even days as their prey dies from the allergic reaction to the strong bacteria they transmit through their saliva with just one bite.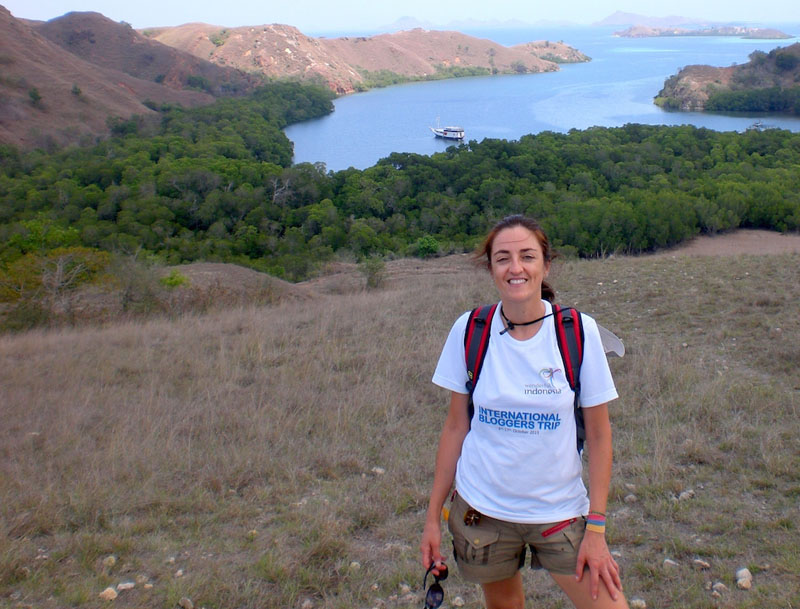 The good news is komodos can't run zig zag, so that is a good way to escape in case they attack, and they can't climb trees: this is what the rangers told me when they showed me around the area and pointed to various nests, a wooden forked pole at hand to keep any komodo at bay in case they decided to attack (second hint: there is a good reason it is compulsory to hire the services of a guide/ranger to explore the park).
As I made my way back to the boat ready to set sail towards Komodo, I also spotted a multitude of monkeys. Rinca had just passed the first test of my "tropical paradise" exam: it proved to have a unique wildlife.
Second test: fantastic view, hiking trails and a unique landscape
As the boat arrived in Loh Liang, in the island of Komodo, I stared in awe of the view. Gorgeous hills all around, clear waters and a long wooden dock that led to a secluded beach where a few komodos laid in the sun.
My guide led me on a hike along one of the many trails, eager to show me more wildlife and even more incredible views. It wasn't easy – the scorching heat and the unforgiving sun made the steady walk uphill all the more challenging.
But along with the challenge came the rewards. I was able to spot even more komodos, as well as buffalos and other wildlife and when I finally made it to the top, the most incredible view opened up in front of me.
There it was, a small cove with the bluest waters I have ever seen and a few sailing boats safely docked. It took my guide a good hour to convince me to get back down, because I couldn't take enough of that view.
Komodo had definitely passed test number two of the tropical paradise examination.
Third test: clear waters and incredible marine life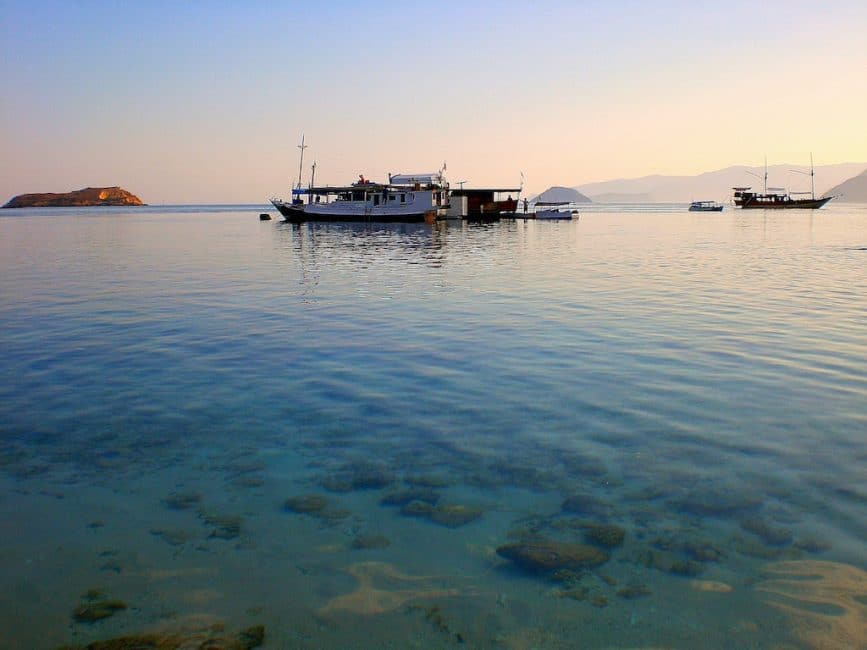 Only one test remained for the Komodo Islands to pass my overall tropical paradise examination. I had to make sure they had clear sea waters and proper marine life.
This would be the toughest test, as I am from Sardinia and well accustomed to fantastic beaches, crystal clear waters and fantastic marine life that makes snorkeling and diving a real treat. That is to say, I am not easily impressed.
As the boat made its way to the Pink Beach (whose actual name is Pantai Merah and it is at about 30 minutes by boat from Komodo island), I wasn't really optimistic.
The sea looked too dark to pass my difficult test. Besides, was the Pink Beach going to be really pink? Because, again – we do have real pink beaches in Sardinia, and I wouldn't be able to avoid comparisons.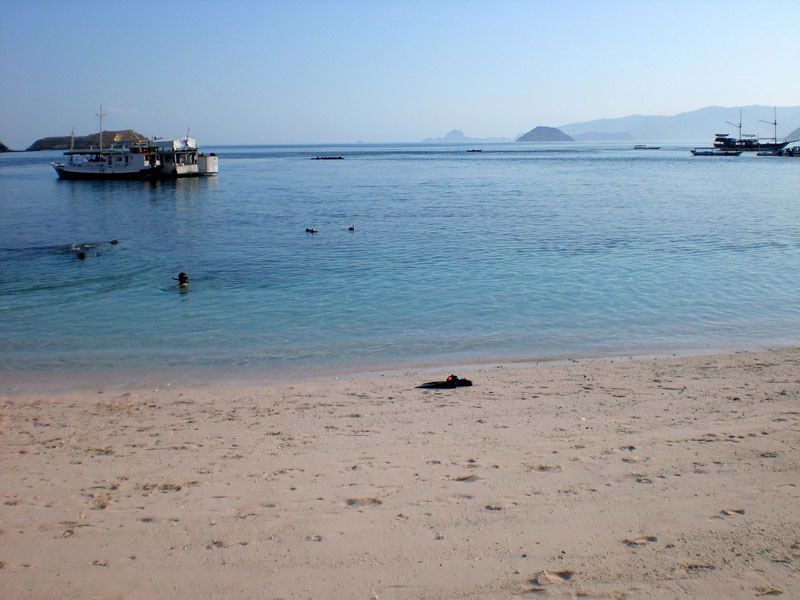 When I finally got to Pink Beach, I had to admit that the only thing that was left for me to do was to prepare a proper Tropical Paradise certificate. The beach was really pink: the sand was golden and powdery with a slight pink color, to be more precise.
Within seconds I jumped in the water. It was perfect: calm and clear just as I like. As I put on my snorkeling gear I was able to admire the most colorful fishes I have ever seen.
This was pure perfection. A secluded beach, no buildings and people in sight and wild vegetation all around. A few boats at shore. What more could I want? I didn't even know it, till I eventually got it. A fantastic, memorable sunset.
By then I knew it: the Komodo Islands did match my idea of a tropical paradise.
Komodo Island Useful Information
It is possible to tour the Komodo Islands by boat, from Labuan Bajo (Flores). Boats usually leave around 8 am. It is a full day tour (between 10 and 12 hours). There are lodging facilities in both Rinca and Komodo, consisting of simple wooden huts and bungalows with plain rooms and shared facilities. They also offer simple local meals like nasi goreng (a rice based dish with vegetables, chicken, shrimp and a fried egg on top).

The entrance fee to Komodo National Park (which is a UNESCO World Heritage Site) is of 20,000 Indonesian Rupiah (roughly $1.5 USD). The Local Area Tax (money goes to the local community) is 50,000 Indonesian Rupiah (less than $4 USD). A local guide on the islands costs around 80,000 per group (less than $6 USD) – hiring a guide is compulsory, for safety reasons. There is a snorkeling fee to pay of 60,000 Indonesian Rupiah (around $4.50 USD). Finally, the camera fee is 50,000 Indonesian Rupiah (AROUND $3.70 USD).

Overall, this is a really good price to pay in order to spend a day or more in a tropical paradise.
Author Bio: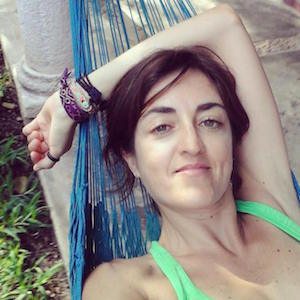 My Adventures Across the World
Facebook
twitter @Claudioula
Claudia Tavani is A former human rights lawyer and academic. Claudia abandoned her career to follow her true calling, which has taken her on many adventures and misadventures across the world and has involved rafting down some mighty rivers; hiking to some hidden archeological sites; zip lining across canyons; mountain biking down dangerous roads; camping on desert islands and trekking to the craters of active volcanoes. Through her blog, Claudia shares her inspiring stories, provides tips for other travelers and occasionally goes on a rant. Her mission? Hiking her way up all volcanoes in the world.
Read More
Bali on a Budget – Why it's the Best Destination for Couples
Komodo Island Tour – The Tropical Paradise Examination
Tribes of Papua Indonesia – An Unlikely Guest at a Highlands Festival