Last month we had the most exciting trip through Croatia. Thanks to our reader's votes, we set off to paddle one of Europe's most interesting coastlines courtesy of our American Express Gold Rewards Card.
We had known very little about Croatia or any of the Balkan Countries before our arrival but our guide Bafo was quite the history buff and we learned about its tumultuous past and rich culture as we kayaked beside its dramatic sea cliffs.
Croatia has a history dating back to the days of the Roman Empire and only recently has seen respite from years of struggle.
Check out: 8 Unforgettable Things to do in Slovenia
Did you know that Croatia was also once a part of the Venetian Empire? Strategically located on the Adriatic Sea it has been an attractive country for Kings and Emperors to conquer through the ages. Ruled by such countries such as Austria, Turkey and Hungary until it was finally absorbed into Yugoslavia until 1991. It has had people fighting for control of its waterways and land for centuries.

During our eight -day excursion we visited several of the country's 1000 islands containing ancient cities with narrow passageways and medieval buildings, old churches and Roman archways.
We camped on quiet beaches beside crystal blue waters and explored an old political prison where enemies of the Socialist Regime suffered in silence for decades after the Second World War.
We kayaked through sea caves and rock arches, crossed rough seas and spied nesting vultures on high jagged cliffs. Divers mimicking James Bond villains drove by on dark zodiacs armed with long spears to hunt for the day's catch and old men powered their fishing boats in search of octopus and lobster.
Croatia's people are a strong and proud breed whose hospitality is second to none. With hearty smiles on their faces, they'll do everything in their power to make sure you're having a great time.
And a great time we had indeed.
As you may know, we've been test driving and loving the American Express Gold Rewards Card this past year and Amex generously added 300,000 Membership Rewards points to our account for us to show just how flexible the Card really is.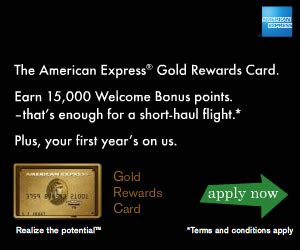 For our trip to Croatia, we've decided to give the TripFlex redemption option a test drive. With this option we can book any travel on our Card and use our points to cover the charge, including taxes and fees.
Using our points to plan our vacation was easy; we did as we usually do. We found a tour that we wanted to take and went ahead and booked the latest leg of our around the world adventures on our Amex.
Since we were already in Italy for a conference, we saved a lot of money on flights, and since the TripFlex option covers any travel, we used our points to pay for our ground transportation to Croatia.
We paid for our trains at automated machines with American Express, from Rome through Florence and Venice to our final destination of Rab, Croatia. Our hotels before and after the trip were also paid for on our Amex. We took comfort in knowing that once we return to Canada we could use our Membership Rewards points to cover all of these travel purchases with one simple phone call to Amex.
We are lucky to be test-driving the American Express Gold Rewards Card and you can too.
When you sign up for a new American Express Gold Rewards Card, you can try the first year for free and receive a Welcome Bonus of 15,000 Membership Rewards points if you spend $500 within the first three months of owning the card.  Points never expire and you can continue to accumulate them until you are ready to redeem any travel with no blackouts or restrictions.
It's easy to earn rewards when you use your card for everything. It's the only card we use and earn points for every purchase.  When we fill up at gas stations, use it at drugstores and grocery stores in Canada and make any travel purchase we earn double the rewards, and earn one point per dollar everywhere else. We are going to spend the money anyway, so why not earn rewards while we pay for our everyday expenses?
There are so many benefits to having the Gold Rewards Card from automatically receiving 15 days of travel medical insurance to being able to transfer your rewards 1:1 to Aeroplan and Avios. Your points are transferable to other rewards programs as well such as Alitalia, Delta, Cathay Pacific, Hilton Honors, Starwood Preferred Guest and Priority Club.
We love flexibility and choice and that is exactly what the American Express Gold Rewards Card offers and can't wait to see where our travel rewards take us next!
For more information on Kayaking in Croatia visit Sea Kayak Croatia for packages and details.