Who doesn't love a Road Trip? We do, and we wanted to keep you up to date on our Road Trip USA so we posted our iPhone photos on Instagram each day.
Want to share your iPhone photos? Follow us on Instagram for Photo Fun.
Great road trip movies like Thelma and Louise, Easy Rider and One Week have inspired us to hop in our cars and take off to explore the open road. We've wanted to do a road trip through the states since first meeting way back in college, but something else always came up.
There is so much to see on the American West Coast that it would take months to truly explore, but with the Intrepid Travel Self Drive Adventure we had the chance to sample all of the best that the USA has to offer. We spent 12 days driving through some of the most iconic National Parks on the planet, had a ball in Vegas and witnessed some fascinating landscapes.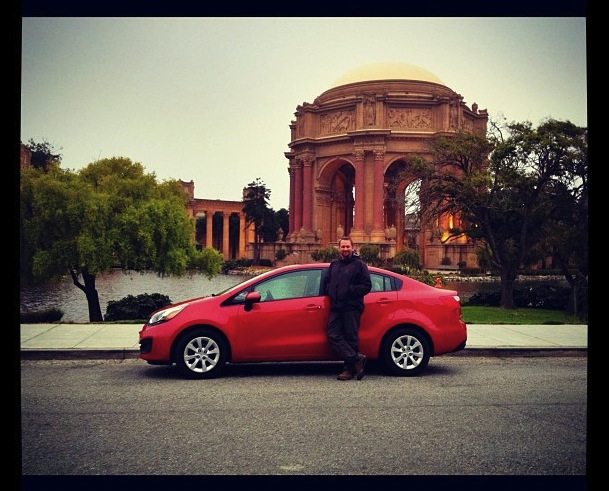 We have so much to tell you about and share from our experience that we are just bursting at the seams. Instead of waiting to talk about each place one at a time, we thought that we would show you some of the iPhone photos that we posted to our twitter and facebook friends through Instagram. It was a great way to keep in touch on the road and give everyone an idea of where we were each day.
iPhone Photos of Road Trip USA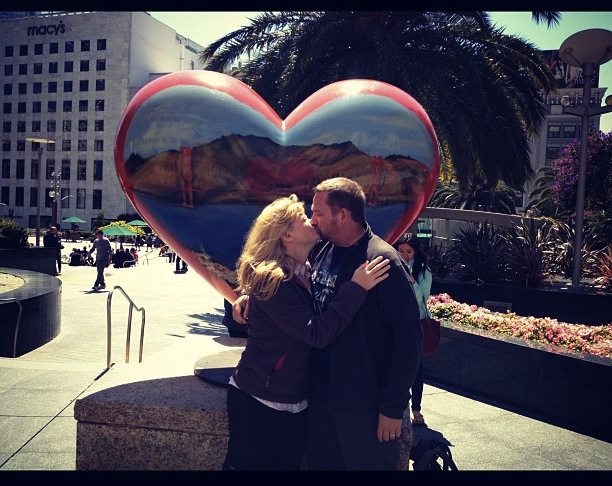 Our First  Road Trip USA stop was San Francisco. We booked two extra days here to explore the city where Tony Bennet left his heart. We picked up our rental car and hit every major site we could think of. We took plenty of iphone photos and Dave is working on his "real" photos from his Canon 5D MkII to show you everything that we saw during our trip. For now, you are stuck with us sneaking a smooch at the Heart of San Francisco's Union Square. For more on San Francisco, check out The Palace of Fine Arts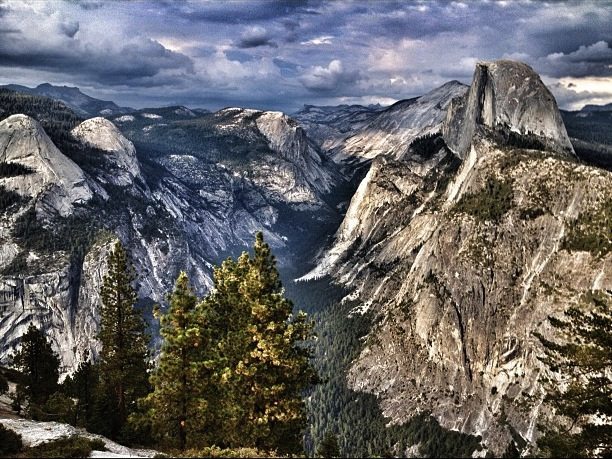 Our first stop after San Francisco on the official PlanetD Road Trip USA, was Yosemite National Park. This is one of the big 3 in the USA and it did not disappoint. It is where the legendary photographer Ansel Adams set up shop and took some of the most iconic photographs of all time. Dave took some legendary photographs himself and we'll be highlighting them in the coming days. Yosemite is a photographers paradise and every turn offered another stunning view but it was this view of the valley and half dome to the top right that really took our breath away. It was so picturesque, that I even managed to take some pretty stunning iPhone photos of the place. Read our first post on Yosemite, The Grand Sequoia Tree of Mariposa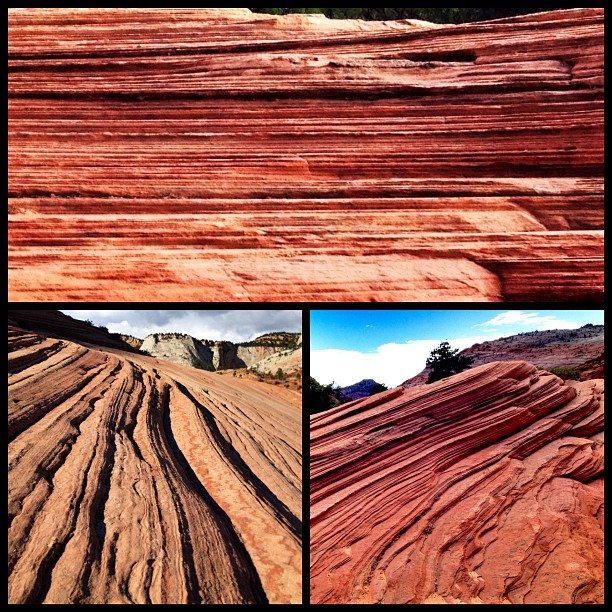 Zion National Park in Utah had some of the most interesting rock formations we had ever encountered. Nature lovers flock to this park to hike and camp in the wilderness and we have made it our top priority to come back to this part of the world to spend a few days out in the woods ourselves. It's a charming town to hang out in. I have a feeling that outdoor enthusiasts spend weeks here at a time. There's a little village where you can shop, eat, drink and be merry and even catch a movie at their giant screen cinema after you've spent some time with nature and need a dose of civilization to come back to before heading out again. You'll be seeing more of the wonderful landscape of Zion, but I wanted to highlight my iPhone photos of these rocks. I was fascinated by the rocks.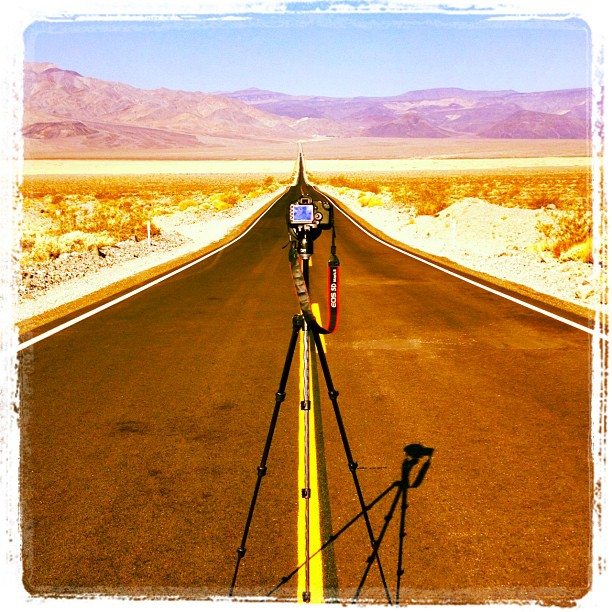 Road Trip USA Continues
The long and lonely road of Death Valley made us think about the early pilgrims that settled in this area. Death Valley got it's name from a group of pioneers called The 49ers. They didn't listen to warnings of the dangers of crossing this unforgiving desert and faced extreme hardships over the coming months. They should have listened to their captain who took the long way around.  The temperature reached 120 F when we were there. Just stepping outside of the car to snap photographs was enough for us, I can't imagine crossing this by wagon train. By the time we reached the end of Death Valley, we were looking forward to the next stop on PlanetD Road Trip USA – Vegas.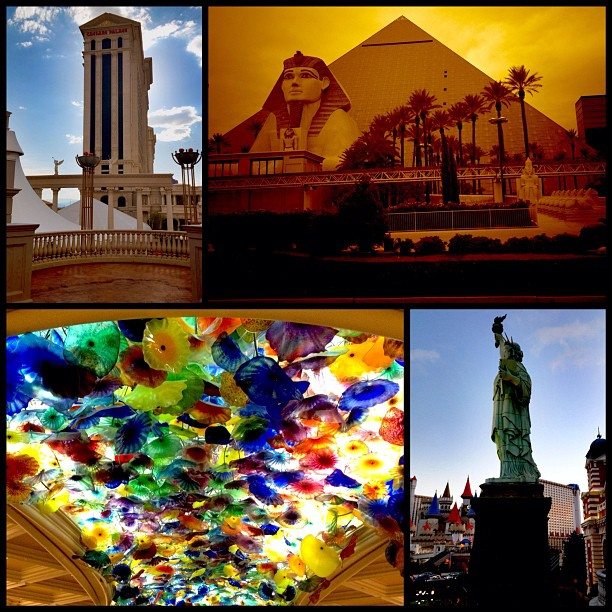 Vegas is a spectacle. It is a city built on dreams that recreates all the great wonders of the world. We were amazed with how massive everything was. Everything was over the top everything was and every single detail was thought of when it came to designing these monstrous hotels. Ceasars Palace, The Venetian, New York New York, The Luxor and Paris felt as if they had all taken a little slice of each destination and brought it over to Nevada (sans it's soul) It makes for a fun couple of days to walk along the strip and take photos of each place. We didn't even take out the DSLR during our time there. Our iPhone photos did the trick and we had a blast enjoying the moment. Check out our photo comparison of Vegas and the World Landmarks we've visited.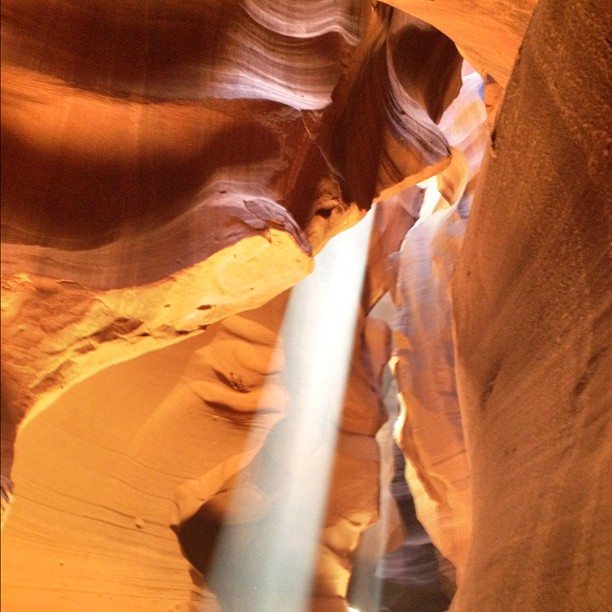 Dave had always wanted to photograph Antelope Canyon, so during our USA road trip, we made a point of taking a short detour out to the town of page to book a photo tour through it. There is only one time of the day that the light shines through in rays and you can only visit the canyon with a guide. By booking a photography tour you are ensured the best shots. Twelve of us set off together to face the elements and the crowds into the narrow canyon. Everyone was armed with their expensive cameras (there was even a $20,000 digital Hassleblad on the tour) and I was armed with my iPhone. While everyone lined up their shots on their tripods and prayed that nobody ruined their long exposures, I clicked onto the ProHDR app and snapped away. By the end of the day, even the sceptics couldn't help but be impressed with my iphone photos.
Will iPhone photos take over the world? I hope not. Check out Dave's photo teaser of the amazing shot he got of the canyon with a real camera. The best is yet to come.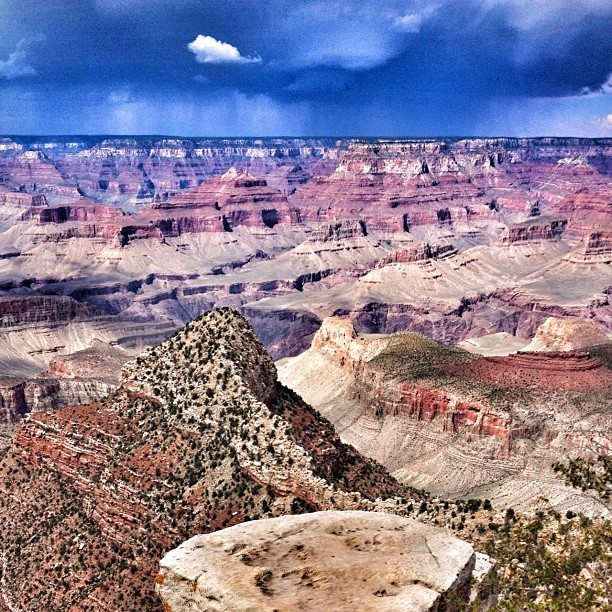 It was the time in our USA Road Trip for the pinnacle of our travels. The Grand Canyon is the Piéce de Resistance. It is the top of the top, the best of the best and the must see destination of the entire United States. It is difficult to describe just how big the Grand Canyon is. It is so huge that I read that the Spanish Explorers who first laid eyes on the Grand Canyon couldn't figure out a way down and on their first try, went back to Europe to report that they had found a giant canyon but could not get down. It truly is massive and beautiful and we must go back to spend days exploring the canyon floor. For a first visit though, we felt satisfied that we had finally laid eyes upon an American Landmark.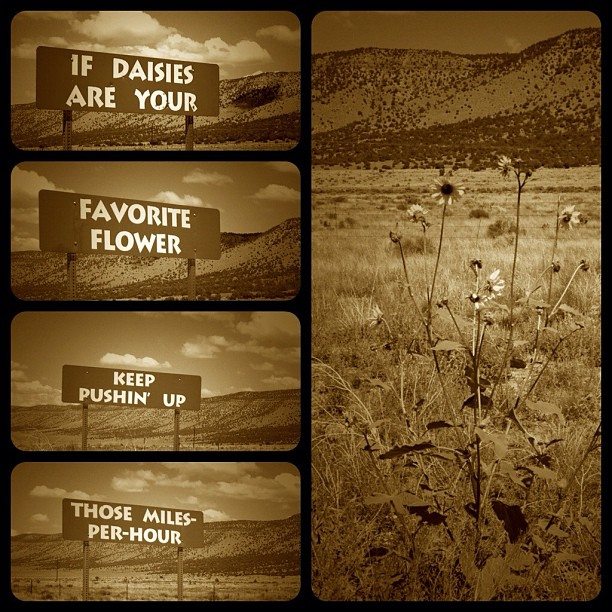 After the Grand Canyon, we had the chance to truly experience what a USA road trip is all about. You cannot go for a drive across The States and not drive on Route 66. Unfortunately they heyday of Route 66 is long gone with the construction of Highway system through the US. There are a few towns that still cling to a distant past and attracts visitors like us each year. If you venture too far off you will come across abandoned and decaying towns that have been left to wither away. However, the towns of Williams and Seligman are going strong. En route to Seligman, you'll see the cutest ads on the highway like this one for Shaving Cream.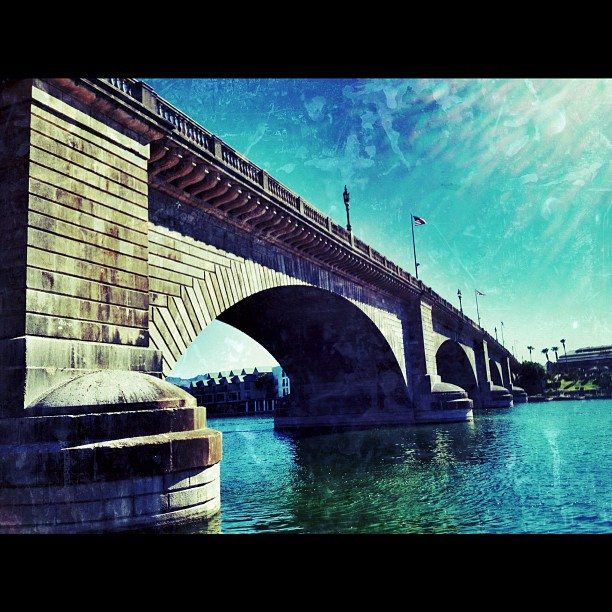 Nostalgia is strong in this part of the world and we made a detour on our USA road trip to Lake Havasu to view the London Bridge. The 1831 Bridge was brought over to Arizona in 1968 to help build a tourist and retirement area. It worked and you can read more about it at  Lake Havasu and the London Bridge. Dave loves taking photographs, but he also loves a break. The iPhone takes such great pictures, that Dave was content during our visit to the London Bridge to let me snap some iPhone photos to capture the moment and really, that's the only shots we got!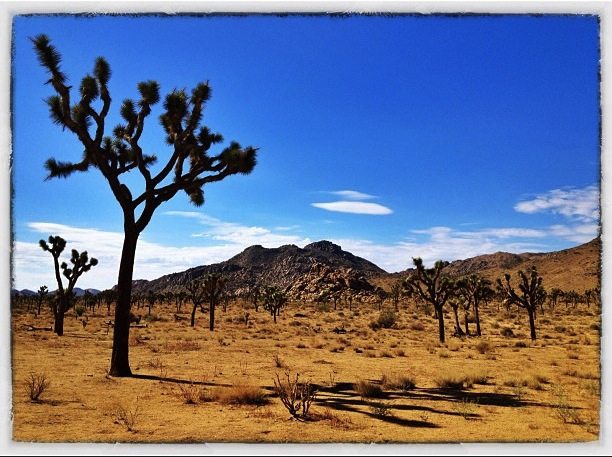 As we drove through Joshua Tree we found it ironic that a song from U2's the Joshua Tree came on the Satellite Radio. They may have not found what they were looking for, but we certainly did. The Joshua Trees of this national park made for an incredible scene. We found ourselves stopping and hiking through the rocks and brush on a regular basis. There are lookout points and even a cactus garden. Located just a few hours from Los Angeles, I can see why this is such a popular tourist destination and a must do stop on a USA Road Trip. Dave was taking this exact shot on his camera and I stood behind him copying his framing. He told me to make sure that I captured the shadow of the tree and keep the tree itself to the left of the frame. I listened to his advice and got this amazing shot, all with my iphone. I am becoming a believer in the fun of taking iPhone photos.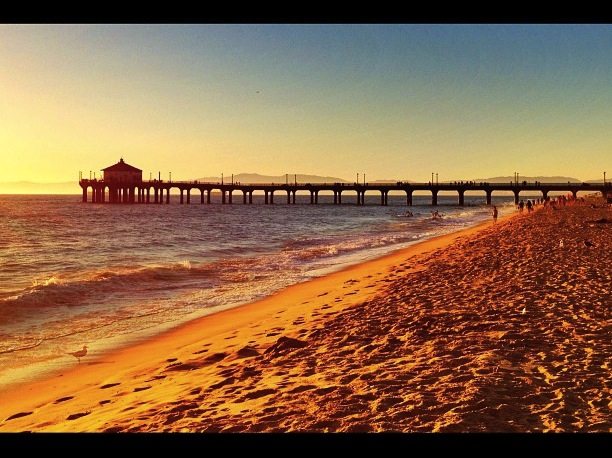 Our final destination was Los Angeles. Where we met up with some of our friends from the Travel Blog world like Johnny Jet, Travels with Two and Cynthia Cunniff. They all showed us around their "hoods" and as the sun set over Manhatten Beach, we said goodbye to our USA Road Trip. It was a fun two weeks. We enjoyed sending out iPhone photos to our friends and followers to give them a real time taste of our trip. But like all good things it had to come to an end. Our USA Road trip is over and now we are lucky enough to have the chance to go through our photos and notes and relive each destination. We'll be putting out more posts on each place in the coming weeks. We look forward to revisiting all of these sights in the future. Now that we had a taste of them, we want some more.
Thank you for taking the time to check out my first post using iPhone photos. Don't worry, you'll still be getting all of Dave's regular photostories in the future. We just thought it would be fun to show you all just what an iPhone can do these days. If I can do it, anyone can!

ThePlanetD Road Trip USA was sponsored by Intrepid Travel
book your own Self Drive adventure now.