Our Greenland Explorer expedition started from Canada's national capital. I never really considered just how close Greenland was, but after learning that we'd be flying direct from Ottawa to Sondre Stromfjord it all became clear.
We learn so much every time that we travel. You can read all the books you want or watch all the news and documentary programs that you can, but nothing teaches you more than visiting a place.
I knew that the Inuit culture of Greenland and Canada were closely related and I knew that Greenland and Canada have been in a dispute for some time over a piece of land, but it never really hit home just how close we were until we flew there.
I've since learned that the land dispute is for "Dans Island" in the Kennedy Channel running between Ellesmere Island and Greenland and our dispute is actually with Denmark who controls Greenland.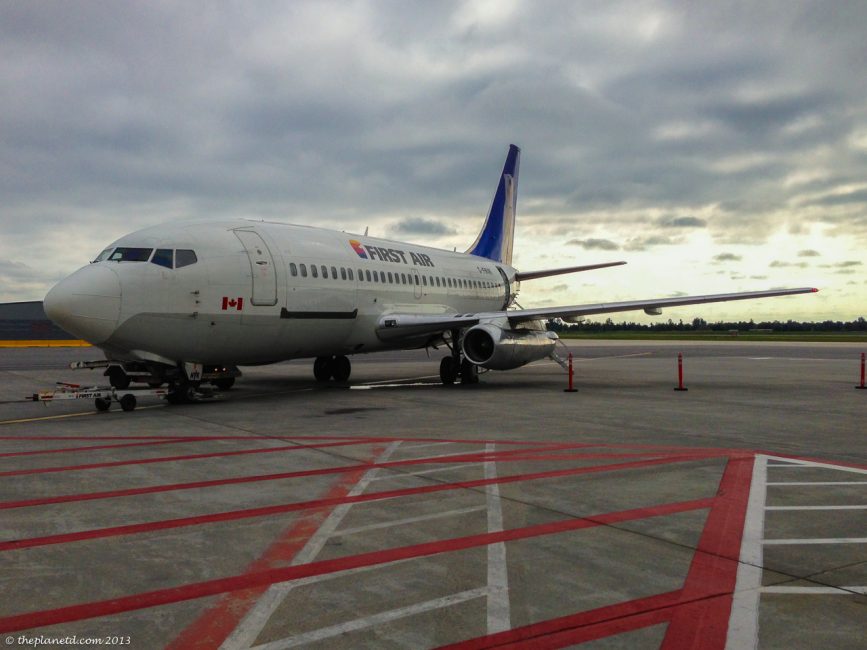 Greenland is only a two -hour time change from Toronto and it is only a little over a three-hour flight from Ottawa. Quark Expeditions hired a charter flight with First Air, an airline that specializes in northern travel to fly us all to the start of our expedition.
It was a basic flight and we could tell that this airplane is mostly used for cargo, but the food and service were fantastic.
We landed in a small airport in Greenland and I couldn't imagine what other reason people fly in here besides go on an expedition.
We didn't have any time to find out though as we were whisked away by zodiac to meet our ship the Sea Spirit.
We did have just enough time to see a Canada Goose Store at the airport ready to sell newcomers some warm winter gear.
We were to soon find out that Canada Goose is the fashion of Choice for many Greenlanders and we can understand why. It's warm and cozy and very fashionable.
We're excited to announce that Canada Goose is our official Polar provider. Check out the Canada Goose Website to see all the products they offer.
Dave and I had been on the Sea Spirit before in Antarctica and she is a beauty of a ship. Most people expect bunk beds and picnic tables in a cramped space when picturing an expedition ship, but the Sea Spirit is an all suites luxury liner that holds 111 passengers.
Check out what life is like on the Sea Spirit at our post Antarctica Expedition Explained
There is an elegant dining room, a lounge that includes wine, beer and cocktails and there is even a hot tub onthe deck.
Dave and I were assigned to deck four and were happy to see that we had the same suite as the last voyage, only this time we were situated farther from the front. Being in the middle of the ship makes for a much smoother ride.
Although, we didn't have to worry about crossing the Drake Passage this voyage.
Starting your Greenland Expedition
If you've ever taken a cruise anywhere before, you will know that there is a lot of business to be done before you can truly settle in. You have to do a boat drill, and find your muster stations before heading out to the life boats on deck.
You need to bring your life jackets to a mandatory meeting where you learn all about the emergency procedures and you have to learn about the rules of the ship.
It's not my favourite part of cruising, but hopefully, you have a crew that is as eager to get it over with as you are and don't waste time on the mundane things.
The crew of the Sea Spirit is professional all business and we had it over with in no time. They are lots of fun too!
Even though it is a much smaller ship than any Caribbean Cruiser, all the same rules apply.
We handed in our passports to the front desk and receive our ID card that we will use to swipe in and out with whenever we leave the ship. That way everyone can be accounted for with ease.
The big difference between a polar voyage and a Caribbean Cruise besides the destination is that we are all given survival suits and two sets of life jackets.
The survival suit is what you grab if the ship starts sinking.
We're cruising in freezing water and if anything goes wrong, you need that suit. One life jacket is to be worn on zodiac tours and transfers. It's an inflatable life jacket that automatically inflates if you fall in.
The other more standard life jacket is used only for an emergency.
The Shore Landings
Many of our landings in the Arctic are what you would call a wet landing, meaning we all need to be dressed in waterproof pants and jackets with rubber boots as we are whisked through the chilly waters and waves by zodiacs.
The expedition staff are expert drivers, but even the best of drivers can't avoid giant waves, and many times we get very wet.
Zodiacs take us to and from the ship as there aren't regular ports that a ship can simply pull up to.
We may have to step out in shallow water or waves to get to the beach. Sometimes we stop to see glaciers or go for a hike on the tundra, other times we pop in to visit settlements to witness the Inuit way of life, like when we visited Itilleq, a small village of 200 people, where we were invited in to their homes and even played a game of soccer with the villagers.
Quark supplies all passengers a signature waterproof yellow parka to keep and take home with you and they give you a pair of warm rubber boots to borrow.
In both Antarctica and the Arctic, we felt warm and dry every time we left the ship. It's up to you to bring waterproof pants, gloves and a hat.
These pieces of gear make all the difference in cold weather and you'll feel very comfortable if you dress appropriately.
What we did in Greenland
The Greenland Explorer by Quark Expeditions is the only voyage of its kind that explores down the West Coast of Greenland down and around to the East.
We visited some of the most remote regions of the nation. Greenland is a country that is 80% covered by polar ice cap so there is no way to drive from town to town. Residents get around by plane, boat, dogsled or snowmobile.
You cannot simply home in a car and go, you have to pay for expensive flights to get from one community to another. Or you can take an expedition cruise like us.
To have the privilege of stopping at communities and sites along the west coast, was a real treat. We visited communities that only a handful of people in the world have seen.
Less than 60,000 people live in Greenland and their way of life is unique and unlike any other, you will see anywhere. It's fascinating to see how people survive and thrive in such an extreme condition.
We travelled through Fjords that have yet to be mapped and we explored bays that neither the captain nor the crew had ever travelled through before.
Like Antarctica, we kayaked with the vivacious Val, we took part in the Polar Plunge, saw extraordinary glaciers and icebergs and spotted whales and wildlife.
Unlike Antarctica, we experienced the culture and met the people who live their daily lives in the Arctic. We tried the local cuisine, we visited museums and abandoned villages and we saw Viking ruins.
It was a truly astounding trip that will stay with us forever.
I can't wait to tell you all about Greenland and to compare the similarities and differences with an Antarctic Voyage. It was surprisingly similar, yet vastly different. Both voyages were truly a trip of a lifetime.
Stay tuned, there's more to come.
You Might Also Enjoy