I've never been any good at following others' advice. When it comes to big decisions I've always relied on following which option would make me happiest and not the one that's 'best' for me.
I graduated university in 2009 with a yearning desire to become a travel writer. I wanted to write for Destinations, Travel and Leisure and Lonely Planet, but most importantly, I wanted to travel. Everyone said to buckle down in New Jersey. New York is only a train ride away from where I grew up. I had so many amazing opportunities just over the bridge. They said start from the bottom and work your way up. Write things about New Jersey just so you find your voice.
As usual, I didn't listen.
Graduating in the midst of a recession and terrible times in journalism, I was one of the lucky ones to find work. I loved my job too. I photographed nightlife and wrote about activities around the area, so it actually was travel writing, but locally.
I was happy. But something wasn't right.
A month after graduating the desire started creeping up. I yearned for the days of complete unknown that I had experienced during three months of backpacking Europe.
I should have stayed home. I should have focused on starting my career from the ground up, but I wanted to travel. Travel was what made me happy.
I researched a lot and found the best option for the broke college grad I was at the time was to go to Australia with a work-holiday visa. I would be able to work so money wasn't a huge concern, but I would also be a part of a new culture and have travel options out of the Tri-state area.
So in January 2010 I set off for the land down under. I wasn't focused on relationships. I wasn't focused on working for a big travel magazine in New York City. I just wanted to start my travel writing on the road.
Many amazing things happened during that year in Australia. Only a month after arriving I was asked to join a blogging expedition up the east coast. It was part of a contest I entered prior to leaving. I lost, but they asked me to join anyway.
I was doing it. I was actually travel writing.
That trip was amazing. I made a great friend and saw some amazing things. But a funny thing happened at the end of it. I found a small town in Far North Queensland  and wanted nothing more than to settle down for a few months with a regular job.
I should have kept going with the travel writing momentum I had created on my blogging trip. I had a lot of options to do more things like that after, but my heart wanted to stay in the small town I had landed.
Those months may have been the best in my life. I felt completely a part of a community. I wasn't worried about the rest of the world. I wasn't worried about chasing my ambitions. I was just living.
Then an even funnier thing happened. A journey that had started to follow something I loved, travel, turned into an actual love story.
I know it's gushy and the person I was when I graduated college, consumed with a career, would laugh at that last line. But it happened. I fell head over heels for a guy. I should have stayed focused on my travels, but my heart wanted to stay with him, so I did.
We made an effort to stay together after leaving that tiny town in Far North Queensland. We reunited in Melbourne, found a house together, made plans together, created a life together. It's been almost exactly a year since then and we're still together, traveling the world and creating homes in random places around it.
I'm probably no further in the career that started this long trip, but I'm happier than I've ever been, than I ever thought I could be.
Before I left for Australia, everyone asked, "are you scared", "where will you live", "where will you go". I laughed because I thought I had it all figured out. I thought I knew the answers to all those questions. But no matter how planned and scheduled a person you are, travel has its own agenda, and it's way better than anything you had planned.
It was my heart that led me to travel and I think that's the part of me that's gotten the most out of these past two years on the road.
I'm not saying travel for love. Don't travel for a career either.
Travel for yourself.
Along the way you'll be presented with options you never thought possible. Follow the decisions that make your happiest, because a lot of times, those are the ones that will.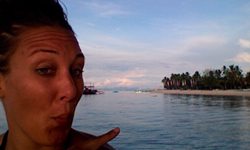 Bio: Bobbi Lee Hitchon has been traveling the world for two years. During that time she's jumped out of a plane in Australia, dove with sharks in the Philippines and eaten bugs in Thailand. Read about her adventures at Heels and Wheels. Follow her on Twitter or become a fan on Facebook.
Inspirational Series 

This is an ongoing series of inspiring stories from intrepid travellers around the world. If you have an experience in travel that changed your life, made you look at the world differently or an amazing moment that you want to share, please contact us for more details and we will email you right back.. You can also read more about submitting an article to this series at Calling All Writers, Share your Inspirational Travel Story

Read More Inspirational Stories

From Little Englander To Travel Lover 
Inspired at the Summit of Mount Roy