Traveling as a couple can be difficult.  Relationships can suffer while exploring the world. Many people have often said, "if a couple can travel together, they have a shot at staying together."
We believe this is true. Being together While it helps being a couple because we have each other to rely on and to vent to, it can also take its toll on the relationship because both of your emotions are running high.
India Couple's Survival Guide, 10 Ways to Keep your Relationship on Track
Here are some of the things that Dave and I have done to keep sane and enjoy each others company while traveling through India.
1. Splurge.
It may stress you out more than the stress of India itself when you spend a week's worth of your budget on one night of accommodation, but your relationship will thank you! Clean sheets, hot shower and the chance to snuggle up to one another in peace, quiet and comfort is just the key.
Most beds in guest houses in India are simply two single beds pushed together.  I always feel like I am sleeping alone because we have a space between us or it is just too uncomfortable to sleep on that crack in the centre of the bed.  A luxurious hotel room will help you reconnect to one another.
2. Go on a Date.
India has a lot of movie theaters and chances are you will find one showing an English flick.  Make plans to go and see one and then go out for a romantic dinner.  Find the most expensive place that you can afford.  You will feel almost normal. It's like date night, only it's in India.
3. Communicate.
It is important to talk about how you are feeling and to vent your frustrations.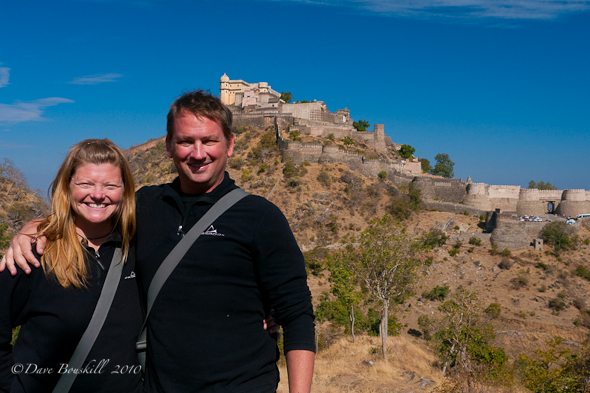 Dave and I don't hold back with one another at all.  We talk about everything.  (probably because we onl y have each other to talk to most of the time) However, we always discuss what is bothering us and we make plans to fix it.
4. Compromise.
I use this one all the time, but it is the most important tip for any couple traveling anywhere in the world. Neither of you will want to do the same thing all the time, but it is important to let each other enjoy your travels.
If one of us has our hearts set on an adventure and the other isn't into it we always reach a compromise.  "I'll do this if you do that with me." Or, "that bungee jump really terrifies me, how about you bungee jump and I will zip line instead?"
If you talk things over rationally, you will almost always come to an agreement.
5. Let go of anger.
We have had some excellent arguments here in India.  It is easy to blame one another when things go wrong.  We fight, get out our frustrations and then let it go.
Afterwards we laugh about how ridiculous we were being.  But it was by having that fight that allowed us to get it all out and feel better about our situation.
6. Go for a walk on the beach.
Get yourself to the beaches of  Goa and walk hand in hand on the beach.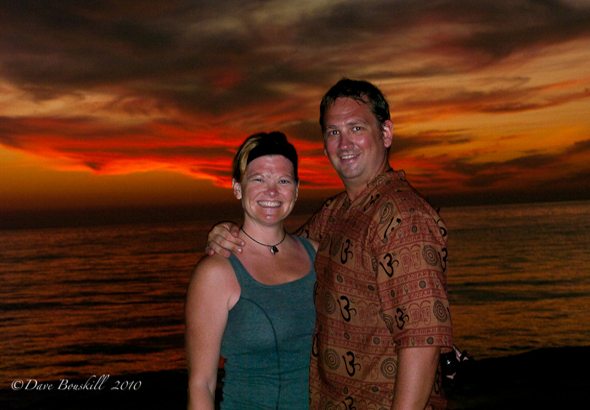 Public displays of affection are frowned upon in India so holding hands or snuggling up in public is not proper etiquette.  Besides, in most of the country, it is virtually impossible to walk beside one another anyway.
You are stuck walking on the side of the road because of the lack of sidewalks.  All the while you are dodging speeding traffic, cows, dogs and garbage.  Walking is work and you have no time to hold hands or to even think about walking arm in arm.
Forget about it, you are on your own.  I believe in the power of touch and that couples should touch regularly.  Without it you start to feel distant from each other.  It is important to make time for it.
7. Find a sanctuary.
How civilized is it to order a cappuccino in a cozy coffee shop listening to mellow jazz.  Split a piece of cake and read the complimentary English paper.  Now take notice of how lucky you are to have the privilege of being able to travel to this fascinating destination together.
In peace and quiet, you can actually enjoy conversation about world events and entertainment.  Your minds have bonded again and you will feel right back to your old self.
8. Be Grateful.
Remember how lucky you are.  You are traveling the world with the one you love.  It is easy to get hung up on the little things and to be frustrated with each other.  But remember, you chose to come to India.
It was your dream and you are a lucky human being.  You not only get to travel, you get to travel with your loved one.  Many people only dream of this experience and many people would love to have someone to travel with and spend their life with.  Remember to be thankful for what you have.
9. Get out of the country.
Ok, this is extreme. But between the cold, pollution, noise and filth, we couldn't take it any longer.
After two months we needed a break to save our psyches.  India was taking its toll on our relationship.  We were short with each other, we were grumpy and not a lot of fun to be around.  We bought a ticket to paradise. Sri Lanka. We have a month off from India and our relationship is thanking us.
Read More
Bring Romance Back to Backpacking
How Travel as a couple makes life Easier
You Might Also Enjoy