One of the many perks I enjoy about travel writing is the time when authors and publishers send me a book to review.
Steve Stillwater sent one our way a few weeks ago and I have finally gotten around to reading it. I don't know what took me so long How To Take a Green Vacation is a very easy and enjoyable read.
How To Take A Green Vacation – A Review
At 84 pages in length, divided into 14 chapters, this ebook packs in a lot of information.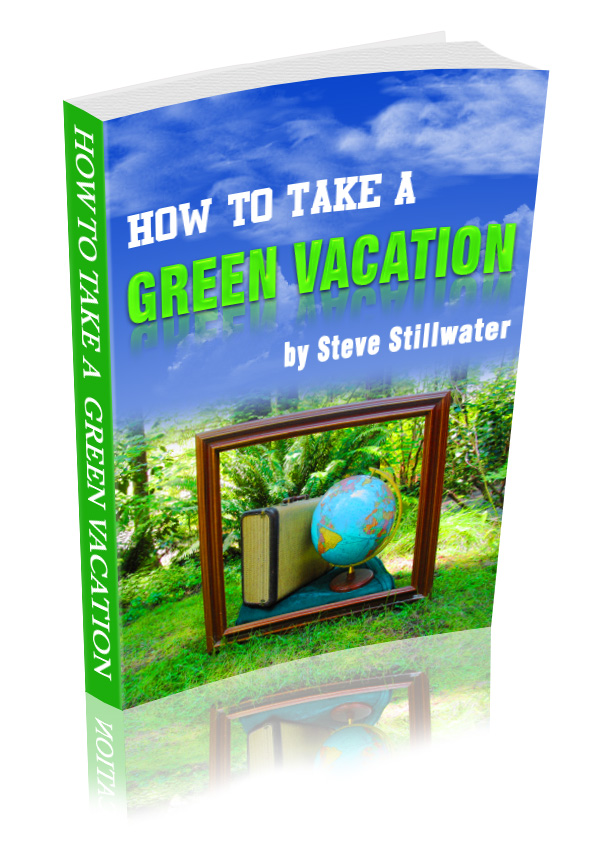 We all want to do our best to take better care of the world. While travellers tend to be some of the leaders in raising awareness and practicing environmentally friendly habits, we can all learn a thing or two more to minimize our carbon footprint.
How to Take a Green Vacation offers practical advice on how you can do your part to save the planet. If we all make little changes together we can make a huge difference in the long run
The Book begins with talking about hotels. We all have to stay in them so we might as well learn which hotels are the Greenest. I was happy to hear that one of our favourite chains is at the top of the list.
The Marriott was voted number one of Newsweeks 500 most green companies. However, Steve is quick to stress that some hotels are better than others, even in the same chain. It takes a long time to overhaul hundreds if not thousands of properties so do your homework.
How do you do your homework you ask? Well, Mr. Stillwater devotes an entire section to offering suggestions as to what questions you should ask tour companies and hotel chains to ensure that you are choosing the greenest option.
He then goes on to describe the different types of vacations for the Green Traveller and what are the best adventures, destinations and where to stay for each category.
The Vacation types that he covers
Nothing but rest– You can be pampered and still go Green

Do-it-yourselfer

– The do it yourselfer has the easiest time finding green alternatives, but we can all use a little help

Explore in Luxur

y

–

Just because your rich doesn't mean that you can forget about the environment. Some of the most luxury resorts are leaders when it comes to being eco-friendly. They are doing their part to help the local economy, preserve the environment, encourage eco tourism and to raise funds for health care and education

Not your Ordinary Family Vacatio

n

– And what better way to show your family that you care about them than by showing them to take care of the Earth as well? (quote-Steve Stillwater)

Special Needs Not Limited Opportunity

–

I was happy to see this section in the ebook. Not a lot of people touch on special needs travel, but there is a growing amount of people with disabilities traveling today. As Steve said…"Everyone deserves to travel. Just because you or a loved one has developmental or physical disabilities does not mean that your needs cannot be accommodated

Nifty Past Fifty Crowd

– I loved this quote by Oliver Wendell Holmes. "Men do not quit playing because they grow old. They grow old because they quit playing."

Toe Curling Adventur

e

– Our personal favourite. He even gave us some ideas for future adventures in our travels.

Green Vacations for Volunteer

s

– Probably the most green and eco-friendly vacation that a person can take and Steve offers up ideas for your volunteer trip and his top green vacations to volunteer.
The Wrap Up
I enjoyed the easy to read format. Each section begins with an explanation of what it is all about, How you can go about planning and ends with his top suggestions of where to go and where to stay.
You don't have to follow his suggestions however, because the chapter at the end that focuses on what questions you should ask your tour operator and travel agent gives you the tools to explore and plan your own green vacation.
While a lot of the book was common sense, there were things that I learned and needed to be reminded about. By having the book divided into easy to read chapters and headings, How To Take a Green Vacation makes for a useful reference when planning your next vacation.
Even though How to Take a Green Vacation focuses on green travel, it also has a lot of information about travel destinations in general.
Before we leave on our next travels I will check back with Stillwaters book to remind myself what I need to do to be green on the plane, at the resort or hotel, when I am travelling and what I can do at home before leaving.
For only $17.97 it is a great value with the added bonus of receiving a free incentive. A bonus offer of 10 Ways to Save Gas on your Vacation.
Steve Stillwater wants to help you live a greener lifestyle. The goal at Green Travel Tips is to provide information on taking green vacations and maintaining a green lifestyle when you are away from home, whether for business or pleasure.
To get your copy of How to Take a Green Vacation visit Green Travel Tips.
More Book Reviews by theplanetd

Write Right online
Make Money with your Travel Blog
Surviving Paradise – One Year on a Disappearing Island
Lunatic Express, Discovering the Worlds Most Dangerous Buses, Boats, Trains and Planes
Read More
11 Easy Air Travel Tips to Make for a Happier Flight
Solo Female Travel: Essential Safety Tips