We recently returned from Hawaii after an amazing week in Maui. One of the best experiences we had during our stay was learning how to make Poke at The Grand Wailea Hotel.
While the sunshine and surf was outstanding, we must admit we were quite surprised just how unique and delicious Hawaiian Cuisine can be. Especially Hawaiian
We already knew Hawaii had a very special culture, and now we've learned that food is a huge part of that culture.
With a history of living off the land and sea, Hawaii has a rich tradition of food recipes. And we learned how to make Hawaiian ahi poke. A raw fish salad that uses local herbs, vegetable and spices to create a refreshing and delicious appetizer.
Don't like fish? Read our 15 Tips for Easy Vegan Travel
How to Make Ahi Poke
Check out Dave's Hawaiian Ahi Poke lesson with Executive Chef Ryan Urig of The Grand Wailea Hotel in Maui.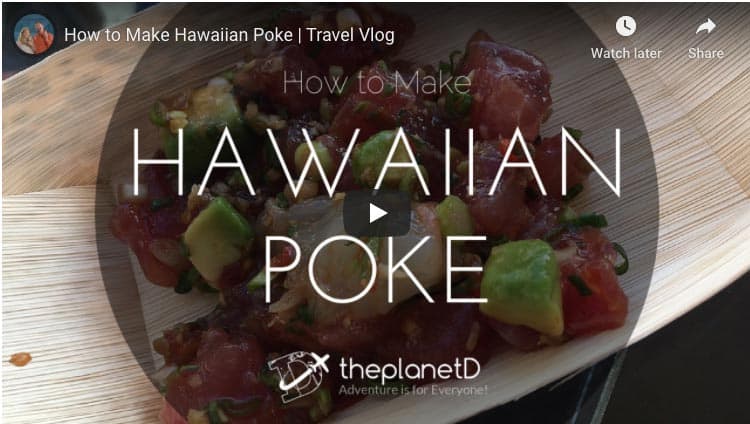 About Ahi Poke
Anyone can learn how to make ahi poke. It's a quick and easy recipe that anyone can make at home. Once you have fresh Ahi Tuna, Yellow tail or even fresh lobster, you have your base.
After that you can add what you want. Really, you can substitute anything in place of what was mentioned on the video. Just keep it green, fresh and use your own local ingredients. Be the star of the show at your own house party and serve authentic Hawaiian Style ahi Poke Salad.
Basic Ingredients for Hawaiian Ahi Poke Salad
Fresh Ahi Tuna Steaks or Fresh Yellow Tail – Or both!
Soya Sauce
Green Onions
Ginger
Fresh lime or lemon
Ogo – Dried seaweed
Sea Salt
chili peppers
lemon juice
macadamia nuts
Sesame oil
Mix it all together, put it in a nice dish or banana leaves and eat with chopsticks. Voila! You have just made traditional Hawaiian Poke.
Enjoy!
For more about enjoying the beauty of Maui check out these posts:
The Road to Hana and Beyond – Maui's Great Coastal Drive