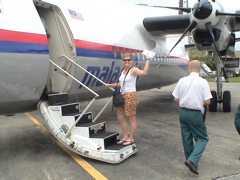 As people who love to travel for extended periods, Dave and I are always asked how we manage to take so much time off from work to see the world. The second question we always get is how do we afford it?
People tend to think that we live our lives with no vision of the future and no equity what-so-ever just spending our money until it runs out. Others tend to think that we are independently wealthy. As a matter a fact neither is true.
How to Travel the World
Here is an overview as to how we live our lives and still manage to take extended trips around the world as part of the middle class demographic. In the past 10 years, we have traveled to 37 countries. Not on short week long vacations at an all inclusive resorts, but on trips that last for months at a time, where we delve into the culture and live with the people.

One of the best books I read when I was still in college was "The Wealthy Barber", and I have followed the guidelines from that book ever since. Dave and I have been investing monthly for the past 18 years and we never stop. Even when we are away for months at a time.
We do not leave home until we can be sure that our investments will be covered for the months we are away. We never travel on borrowed money, and we make sure that any expenses at home are covered as well. After all, what kind of travel experience would it be if we came home to a bunch of debt? Following these two simple rules makes our travelling headache free.
At Home

While we are home, we put away the same amount of money for our retirement as we do while we are away, it never changes. We set up an investment plan years ago with our adviser to let us know what we need to enable us to retire; and we have stuck to it.
When we are home and working, we have extra money that we could put into our mutual funds etc., but why would we sacrifice the present, when we already have a plan for the future.
So with our retirement plans in control, we now only have to worry about how to pay for the trip. As freelancers in the film business, we are blessed to have jobs that allow us to leave for extended periods of time.
However, even as freelancers, we do take a chance that we will be replaced by someone else. Out of sight out of mind, it is easy for people to move on to someone else while you are away. We are all replaceable after all and just like everyone else, leaving a job can be risky.
Phone Calls
But, we have found that when we take a chance to do something extraordinary, things always seem to work out for the better when we return. The first time we went to Thailand for an extended period of time, we both received career changing phone calls upon our arrival home.
While we were in Guatemala, Dave received an email that ended up leading to his best year ever. When we returned home from another trip through Asia, I was lost and unsure if I was going to continue in my chosen profession as a Make-up artist.
And then a call came out of the blue from YTV to work steadily on a show. When we returned home from Africa, we were both ready for big change, and now we are under contract with a production company to start our own travel show.
As the saying goes, "With big risks, come big Payoffs"
Dave and I don't own a house. (We tried it once, and didn't like it) We do live in very comfortable surroundings though. Decorated with photographs and artifacts from our travels, our home is cozy and reminds of us where we have been.
We are happy with our surroundings and by renting we always live in something nicer than we could probably afford if we owned. We also don't have to worry about hydro bills, heating or air-con bills, new roofs or property taxes.

When we plan a trip for 6 months, we put everything into storage and Voila, no bills while we are away.
How We Live

We have been driving the same car for 6 years. We both have jobs, but manage to remain a 1 car family by cycling and taking transit to work. We keep our insurance low because our car is not worth much so we don't have to have collision coverage. By not owning a house and by not having car payments, we have a lot of extra money to invest and to put away for our travels and to enjoy the fun things in life.

We don't buy a lot of gadgets. We don't have a home phone and have a great cell phone plan instead. We don't buy the newest Ipod or Iphone, Xbox or Wii. We have never needed them in the past, so why should we need them now just because everyone else has them.

We don't eat out all of the time. It is easy for us because we enjoy cooking. We go over to friends or have them over rather than going out to bars. Being in our late 30's, bars are much less appealing than they used to be anyway. That is not to say that we never go out. We still enjoy a dining experience, just not 5 times a week!
Having Fun

Our hobbies tend to be free. We love to ride our bikes, mountain bike, hike and run. We already own our road and mountain bikes and climbing gear, all we have to do is drive to the escarpment and hit the trails or the crag. We belong to a cycling club, Reddy Riders, so we all just meet up somewhere and have a great day together.
We have a gym in our building, so we don't need to spend money on memberships and we live on the water, so walking on the trail is a nice day out. When we snowboard, we buy the cheap 5X7 pass and go during the week. We also get a lot of discounts and freebees and other Intrawest resorts, so even the winter is fun and inexpensive. Snowshoeing is free, fun and social.
Costs for our Type of Travel

When it comes to the cost of our trips, you would be surprised with how little we spend. People spend $1500 per person on average for a weeks vacation at a resort. Some people do this twice a year. That is $6000. We can make $6000 last for months. Some do it for cheaper, I am talking about an average price.

Once our flights are paid for to our destination, we opt to stay in small guest-houses for just a few dollars a night. In Vietnam and Cambodia, we stayed in guest-houses and mini hotels for $4 per night on average.
These places had hot water, clean beds and sometimes satellite TV. As long as it is clean and safe, we are happy to stay there. We don't need to stay at a place for $100 per night, travelling for us is about the adventure, and we spend little time in our hotel room.
Camping is another way to go. After camping our way through Africa, I think that we will do more of that on our next trip. I looked into the cost of some of the campsites we stayed at in Africa, and they were going for as little as $4 per night. In the middle of the desert it was free!
We always book treks and climbs upon arrival. Tour operators are always much cheaper when booking in their country than when booking from home. We have gone on a safari for less than $100 simply by being in the country before booking our excursions.
Travel Can be Cheaper than Staying home when work is slow!
Sometimes we feel that it is cheaper for us to go away when the winter work is slow. We spend about a lot on rent, insurance, internet, food and entertainment per month while we are home. While we are away, we spend far less per month.
Travel in Asia, Africa, Central or South America is cheap and you can see many sights for just a few dollars. If you choose to travel on your own, you can travel for as little or as much as you want to. You don't even have to climb a mountain or go on an expedition. These are things that Dave and I enjoy doing, so we put them into our budget.
In the next few posts, I will give some more advice as to how to travel the world and how to travel once you have arrived at your destination. What we have found that has worked for us and what mistakes we have made along the way.
Read More
The Year that Was and What's Coming Next for The Planet D
How to travel and stay connected without breaking the bank