So, you have been backpacking through South East Asia for a couple of months. You have travelled through several countries; trekking over mountains, sleeping in dingy guest houses, wearing the same clothes for days, and you haven't had a decent shower in I don't know how long.  It's not exactly the makings of a romantic travel situation for you and your partner.
How to Bring back Romance – Back to Backpacking as a Couple
Just like any other time in your life, couples that travel need to make time to keep the relationship sizzling.  Backpacking is no exception. You can get so caught up in treks, seeing sights, and partying, that you can lose sight of each other and simply turn into traveling buddies.  Well, here are some things you can do in South East Asia to chill out and bring a little romance back into your backpacking adventure.
1. Go for a massage and floral bath in Ubud, Bal
What better location than the centre of Bali – surrounded by rice terraces, volcanoes, lush jungle and a feeling of what Bali must have felt like decades ago – to take time for romance in your travels?  You can have your aching muscles worked on as you relax side by side to the soft sound of traditional Balinese music.
It doesn't end there. After you have completely relaxed, walk into the next room where a floral bath awaits.  When was the last time you had a bath during your travels in Asia?  You milk it for all its worth and sit in that tub until your skin prunes.
But you don't care – you are rejuvenated, mellow and smelling a whole lot better.  Maybe a trip to the market is in order to spice up your travel clothes.  Top off the night with some wine and cheese at the Delicat restaurant.
2. A Pool in Paradise Makes Everyone Happy
2. Splurge on a Luxury Hotel.
We love Wotif.com to find an executive suite in Kuala Lumpur (or any big city for that matter).
We did this after months on the road, and it was heaven.
It cut into our budget a bit, but it was worth it.  For under $100 you can stay in a deluxe hotel at an extremely discounted rate.  We loved sitting in our white robes on our queen size bed so much that we went back to the Internet and booked another night.
It was worth every minute and we were fresh, relaxed, and ready to face the hassles of travel.  Yes, there was a pool too, but as many of you travelers know, a clean, comfortable and decadent bed is a luxury for any travel couple and we didn't leave it for 2 days.
3. Take a cruise on Ha Long Bay
Bring along some Vang Dalat (Vietnamese cheap red wine) and cruise through Vietnam's most spectacular destination, the magnificent Ha Long Bay.
Lay on the top deck and watch the unique landscape pass you by.
You are surrounded by giant khart; thousands of limestone islands burst out of the South China Sea. The sky is blue and the breeze is cool and calm. You are fed a gourmet meal by an excellent cruise staff and will enjoy an evening under the stars in the most romantic place on earth.
Mud Baths Nha Trang
So you have been fighting the touts of Vietnam for days, the pollution is taking its toll on your skin, and that cracked heel that you developed just won't go away.
You need a rest.
Just outside of Nha Trang there is a romantic little getaway: the therapeutic mud baths.
Cover yourself in this cool goo and bake away your worries in the sun.  After rinsing off under the shower, pop into a hot tub and clear your mind.  The serenity and peace can lift your spirits back up so you can face the rigors of travel in Vietnam.  But wait – you can't leave yet, you need to stretch this out for as long as possible.
Never fear, there is a warm pool that you can swim in and relax by.  Stay all day chatting with each other with no fear of being interrupted to buy a book or some flowers.  Just watch how you start to reconnect with each other once those romantic feelings come surging back.
Meditate in Chiang Mai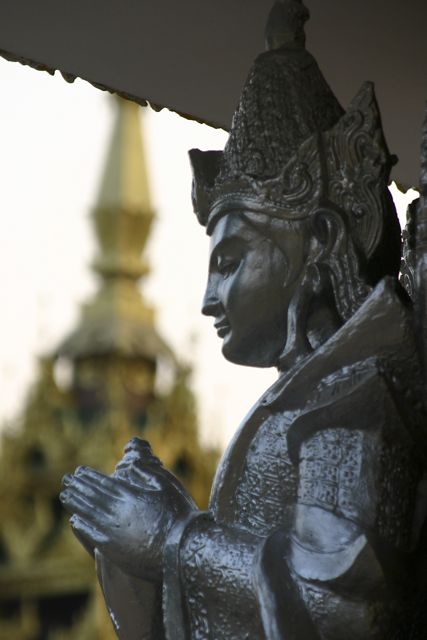 You can book a private 2 to 5 person meditation course in Thailand's Northern city of Chang Mai.  What better way to reconnect than to meditate together.  We had a private session where we learned how to meditate to music, did a laughing meditation, and eventually worked our way into a full meditative silence.
Our teacher cooked us traditional vegetarian dishes, and we ended each day with learning some Tai Chi.  With both of us centered and relaxed, we could easily get through our travels in a more Zen Like state.
It is a wonderful thing to do together; you will emerge feeling refreshed and optimistic at the same time.
Go for a Nice Dinner
Go on a dinner cruise – you are in a land that has water everywhere.  Splurge on a romantic night out feasting on the water.  Almost all destinations offer dinner cruises and nothing brings two people together more that fresh air, good food, and gorgeous scenery.
Other Travel Romance Ideas
Take a traditional cooking course.  These are everywhere and can be a lot of fun. Fun is important in any relationship.
Massage, Massage everywhere.  The thing that I love about South East Asia are the massages everywhere.  You can get a cheap traditional massage that does wonders for the backpacker's body almost anywhere – on the beach in Thailand, on the beach in Vietnam, in Lao, Indonesia.  In Cambodia, the best massages are at the Healing Hands massage clinics where highly trained blind masseurs take care of every joint. In Malaysia, try something different and get a traditional reflexology foot massage. It can be painful, but they will fix you right up.
Take the time to just be.  Too often we run around catching busses, seeing attractions, jumping on treks, and ticking things off of our list – we don't stop to just relax for a few days and do nothing. It is important to take the time to watch the sun go down, and walk on  the beach with no plans for rushing off any time soon. Just Be.
You Might Also Enjoy