One of the most pleasant excursions we had on our Alaskan Cruise was during our day in Skagway, Alaska.
Heli, Hike, and Rail in Skagway, Alaska
The Heli, Hike, and Rail day trip was the perfect blend of adventure, exercise and sightseeing.
The day was beautiful and the conditions were perfect for a flight over the Juneau ice field.
Flying in a helicopter is a thrill like no other. I was expecting to feel a little nauseous during the flight as the last helicopter trip we took was through the gorge of Victoria Falls in Zambia, but this was smooth as butter.
Helicopter Tour Alaska
Our flight over the Juneau ice fields near Skagway was a far smoother ride.
I drew the lucky straw on this flight and had a front-row view of the mountains and valleys below.
6 passengers were sent to their designated seats according to weight. Dave was the unlucky guy for a change and landed in the middle seat at the back. No great photos from him, but my video footage is incredible.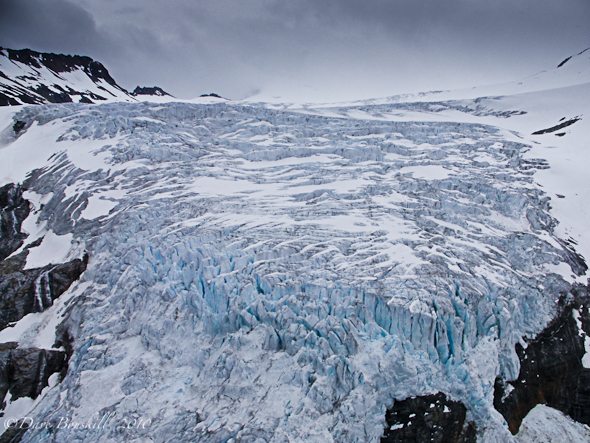 Our flight path took us over lakes, deep valleys of the Sawtooth mountains, the town of Skagway and of course the Juneau ice fields.
We circled over head taking a few passes down for a closer look at the mountain's glaciers.
To see a glacier from above is striking.
These massive ice fields have been here for millenniums carving deep gorges into the landscape. Their power is awe-inspiring and yet, they peacefully slumber below.
We were in the air for 30 minutes enjoying the thrilling ride and spectacular landscape.
Landing in the middle of the Alaskan Wilderness is outstanding.

The helicopter set us down on the side of the White Pass Railway tracks in the heart of the Tongass National Forest. Built in 1898 during the heart of the Gold Rush, this route seemed and impossible task traveling from Dawson City Yukon to Skagway Alaska.
As our pilots took off, we crossed the tracks to receive our supplies for the hike ahead.
We each received a bum bag filled with bottled water, a Snickers or Twix bar and a bag of almonds, the perfect snack for a hike in the woods.
Hiking in Alaska
The leisurely hike took us through old-growth temperate rain forest.
Our knowledgeable guide pointed our bear scratches in on trees and bear poop, which made it all that much more exciting to know that we are in wild Alaskan bear country.
I normally lose interest in a lot of what guides have to say, but today Dave and I were completely enthralled.
We learned how moss can help to clot a major wound and stave off infection, we learned that spruce tree buds are quite tasty and nutritious.
In fact, they are so filled with Vitamin C that Captain Cook fed his crew spruce buds and spruce ale to fend off Scurvy.
There are even beers today made from spruce buds, have you ever heard of Spruce Ale? The Alaskan Brewing Company uses spruce to flavor its Winter Ale.
Alaskan Fact:
Question: How do you tell a Spruce Tree from a Fir Tree?
Answer: Give it a Hand Shake.
Spruce trees and fir trees look very similar, but you can tell them apart by clasping their needles in your hand. Fur is soft and Spruce is spiky.
You can remember this by using the Friendly Fir, Sharp Spruce.
It the needles are sharp, you can eat the spruce buds. Delicious.
Following the Skagway River
We hiked out for 3 hours along a trail following the Skagway River.
People can actually stay out here for days hiking in the woods.
There are shacks to rent that sleep up to eight people.
The truly adventurous can even come out during the winter and snowshoe their way in while staying in the huts spread out along the trail.
After some beautiful scenic stops on the glacier river, we reached our destination.
A low valley looking up to a panoramic view of the Alaskan Sawtooth Mountain range where we enjoyed a glimpse of Laughton Glacier.
Our guides found a group of Dall Sheep with their telescopic lens high on a cliff.
These mighty horned, snow white sheep were perched precariously on a jagged edge.
White Pass Railway
It was then time to make our way back to catch the historic White Pass train back to Skagway.
We had a little over an hour until the train came, otherwise, we were walking back to Skagway.
The trek was timed perfectly. We made it back just in time to see the train circling the bend.
As it passed, I could see the looks on the passengers faces.
What was this small group of people doing standing in the middle of the Alaskan Wilderness?
To their surprise, we hopped on the back car.
Enjoying the View
On a train, the back is always the best and we were able to step outside to enjoy the view.
As we munched on salmon pate and crackers and enjoyed an early beer, we enjoyed the scenery as we learned a little about the history of the railway.
We passed the Gold Rush Cemetery, resting place of the famous Soapy Smith and Frank Reid died in a shootout.
Soapy was a legendary con man taking advantage of newcomers looking for their Gold Rush Dream. We saw Black Cross Rock, a 100 ton rock that buried two railroad workers, bridal veil falls and the spectacular Alaskan Scenery.
The Alaskan Princess Cruise is filled with the opportunity for a lot of adventure.
We had the chance to sample many adventures during our time there, but be prepared to spend money.
This day excursion will set you back $399.
When planning your Alaskan Cruise, choose your excursions wisely. You will want to take advantage of everything that you can.
After all, a trip to Alaska is a once in a lifetime opportunity.
Read More
Cruising Through Glacier Bay Alaska
Best of Alaska – Thrills, Spills and Stunning Scenery