–
Have you ever had one of those days that you just can't believe it is happening? That your good luck and fortune has been too good to be true and that your day was so exciting and exhilarating that your head spins when you go to bed?
That was a day that Dave and I had today in India.  We are in Hampi a village in northern Karnataka set within the Vijayanagara ruins.  It is one of the most picturesque places I have ever been on earth. A world heritage site surrounded by a landscape of giant boulders and rocks.
But today is not about the landscape, you will have to look at our other post Hampi Ruins, A Photo Story
Hampi's Celebration
I am always amazed at the moments in time that we have stumbled upon in our travels. We have seen some amazing things in our life by doing nothing more that having dumb luck.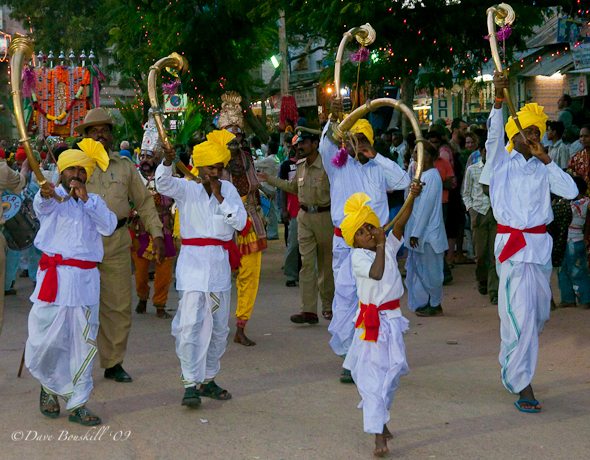 We had heard of Hampi only a couple of months ago. Other travelers suggested that we go there stating that it was a relaxing place. We didn't do any research on the area, we just booked a ticket and off we went to see the ancient ruins in the province of Karnataka. While Hampi's ruins have been impressive, it was the fact that we happen to be visiting Hampi on the 500th anniversary of King Krishnadevaraya's reign that made our travels there special.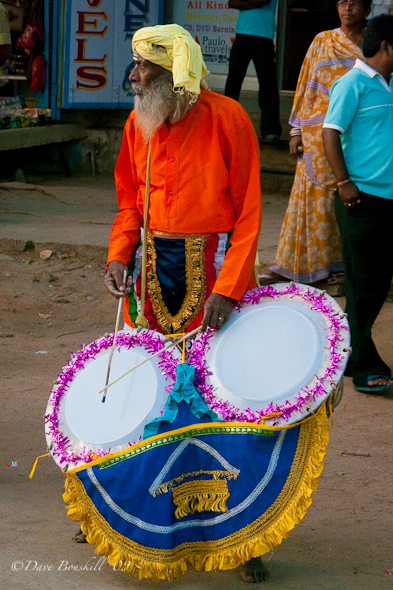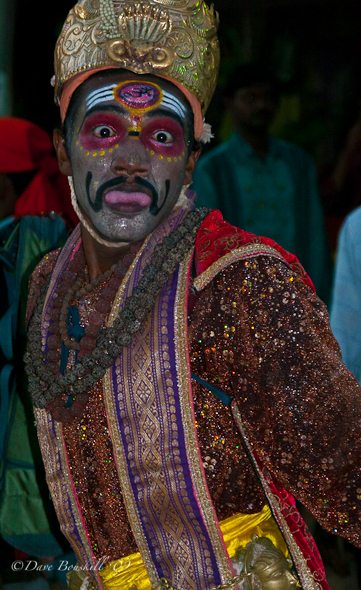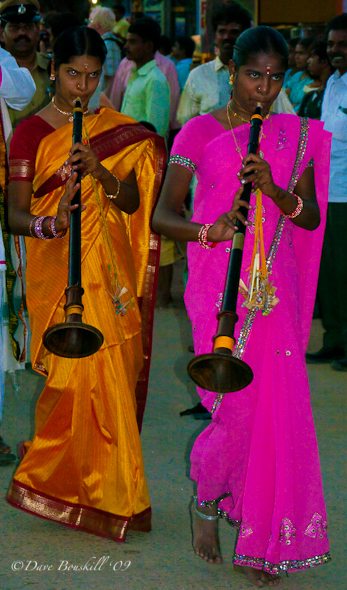 For the past few days, people have been coming in to Hampi from all over the province.
This evening, the Minister, government officials, famous singers and dignitaries will be making an appearance. Quite the celebration is taking place and Dave and I have started the day by meeting some of the dancers and drummers that are taking part in the festivities.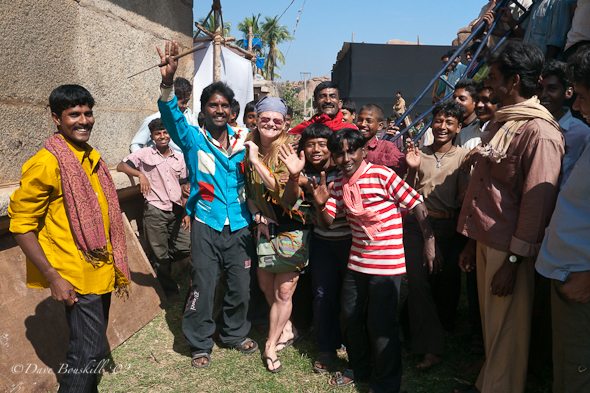 We walked behind the stage to take a look at the ruins all decorated with lights and banners. It was early in the day and they were still setting up, laying red carpet, running sound checks and covering chairs with white linen. A group of musicians spotted us and they called us over to speak. They were excited to speak to us and soon we caused everyone to stop their rehearsals and come over to talk to us. Quite the crowd formed around us to shake our hands and ask our names and nationality.
They embraced these two Canadians and made us feel at home in India
Not only did we chat with the group of young men about the festival for quite some time, they gave Dave one of their drums to play and he banged out a beat while everyone danced. Phones were a clicking as everyone took photos of themselves with Dave and I.  It used to be that we would take a photo and show them and that would be the end of that. Now the tables have turned and everyone else is asking us if they can take our photo!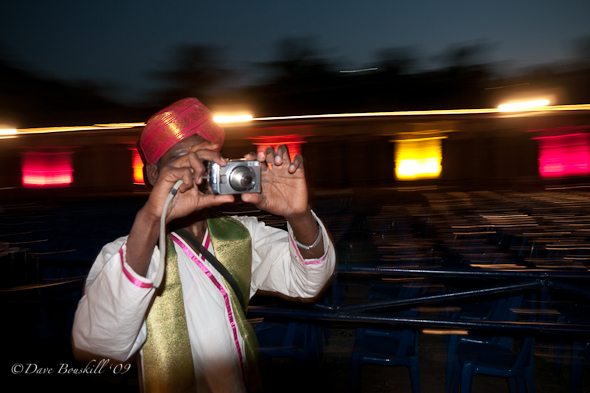 The guys just loved Dave. They all wanted to pose with him. One very excited young man took Dave by surprise and gave him a kiss on the cheek after he let Dave play his drum before saying good-bye.
Our early day exchange came back to reward us in a huge way later in the evening. While the festivities were getting under way, we saw Svininanda (the cheek kisser) and he called us over to meet his teacher.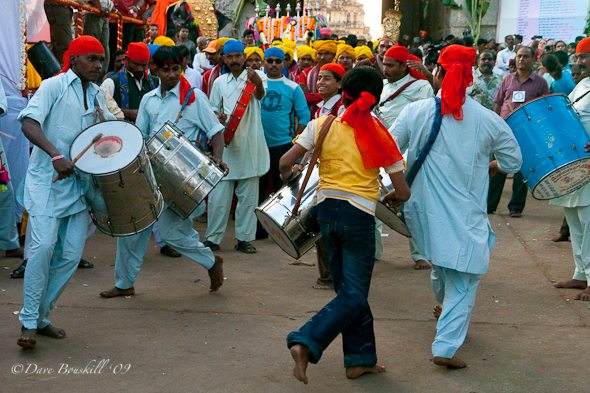 They started playing their drums and encouraged me on to dance. They were very persistent and me being the attention seeker that I am, happily abided. I was joined by a little boy that could really cut a rug and we tore up the dance floor err… Concrete in the middle of the Bazaar. I didn't notice the huge crowd that formed and once the drumming ended, I found myself within a circle of a giant crowd people cheering me on.
We caught it all on video and you can watch it hereif you desire!
It made for a wonderful evening. Dave and I were recognized wherever we walked for the rest of the night. People would compliment my dancing (even though it was lacking in the talent department- they are so polite!) they would say hello like we were old friends and of course, everyone was wanting a photo.  How times have changed in our travels and it is wonderful!
The night was magical.  Men dressed in the ceremonial garb of the Monkey God, Hanuman danced choreographed fight scenes to the rhythm of beating drums as giant paper maché heads of the King and Queen walked through the crowd.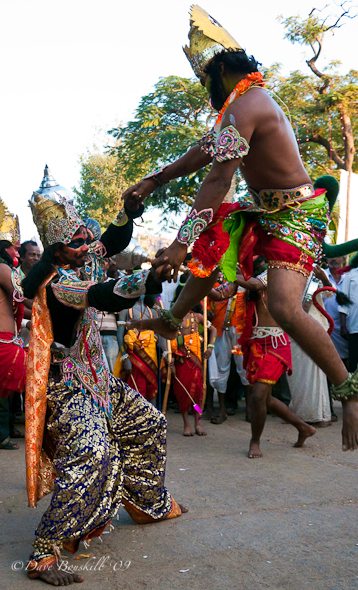 The Temple Baba (high priest) was in attendance and of course the resident elephant Lakshmi was decked out in ceremonial garb.
I felt sad for her spending her life in captivity and having to walk through this wild crowd. Drums beat furiously, people yell and scream, horns are blaring and I could see tears trickling from her eyes. It had to be a terrifying moment.
That is a sad life of an elephant in today's world unfortunately. Centuries ago they roamed this land by the thousands, now there are very few left.
Intoxicating Energy
The energy of the crowd was intoxicating. Each time one band of drums or horns finished playing, another would begin. There is something so primal about drum beats that make you feel alive. I walked through the crowd with a permanent smile on my face and I didn't want the festival to end.  Everyone welcomed us and happily allowed us to take part in their festivities. They embraced these two Canadians and made us feel at home in India.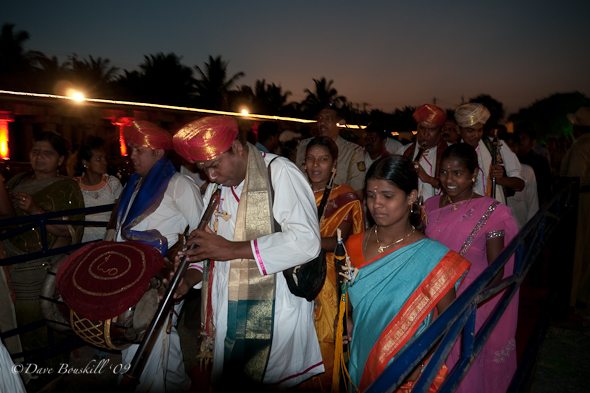 Soon the motorcade of dignitaries came zooming in with horns a blaring and tires a squealing. Everyone ran to follow them. It was mayhem. Press was everywhere, security was tight and officials were on guard.  We never caught even a glimpse of anyone, but it was very exciting.
It was now time for the procession to begin.
Dancers, musicians, costumed Gods and adorable children walked by. We joined the procession with the dozens of women dressed in green carrying their offerings of milk upon their heads.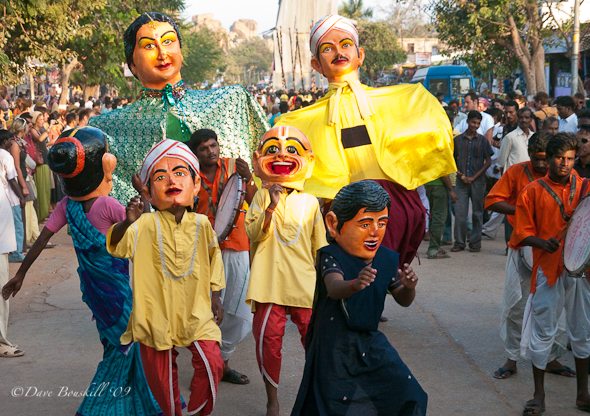 The ceremony ended at the Hampi Bazaar where speeches and performances began. It was a sight to say the least. How many people get to see the Hampi ruins lit up in colourful lighting, decorated with banners and carpet laid in the entire bazaar?
It was stunningly beautiful.
We didn't get a chance to say goodbye to Svinananda but we have his cell phone number and will give him a call this week to touch base. We are always so sad when we leave each place in India. We are really one of those people that have fallen in love with India. Every day we meet someone that is so kind and curious and we just love talking with people even if it is a simple of an exchange as what is your name?
Being in Hampi, during this celebration has been one of the biggest highlights of our entire travels of India. The people that we have met, the conversations that we have had and the events that we have witnessed will stay with us for years to come. Hampi, you are beautiful, exciting, spellbinding and unforgettable! Our hearts were touched here in Hampi.
Tips
The festival normally happens on the 1st, 2nd and 3rd of November, but was cancelled this year due to flooding
If you are in Hampi in January 2010, you will see the festival happening for 3 days at the end of the month
Todays festival was simply the opening ceremony
Trains and buses come to Hampi from the rest of the country in Hospet
Rickshaw costs 150 rupees from Hospet
1 USD = 45 Rupees