Barcelona is one of the most famous cities in Spain and it is the unique architecture of the city that has helped it to stand out above the crowd. When visiting the city, you must make a point of searching for the architectural designs of Antoni Gaudí in Barcelona. Gaudí's works of art are on display throughout the city showcasing the work of the renowned Catalan architect.
Gaudí in Barcelona, Spain
Barcelona was the leader of Modernisme (Catalan Modernism) in the early 20th century with Gaudí's work at the forefront. Gaudí's Art Nouveau style influenced a generation, and the buildings of Barcelona are some of the most unique you will ever see.
His designs have become a symbol of Barcelona and seven Gaudi designed buildings have been awarded UNESCO World Heritage status.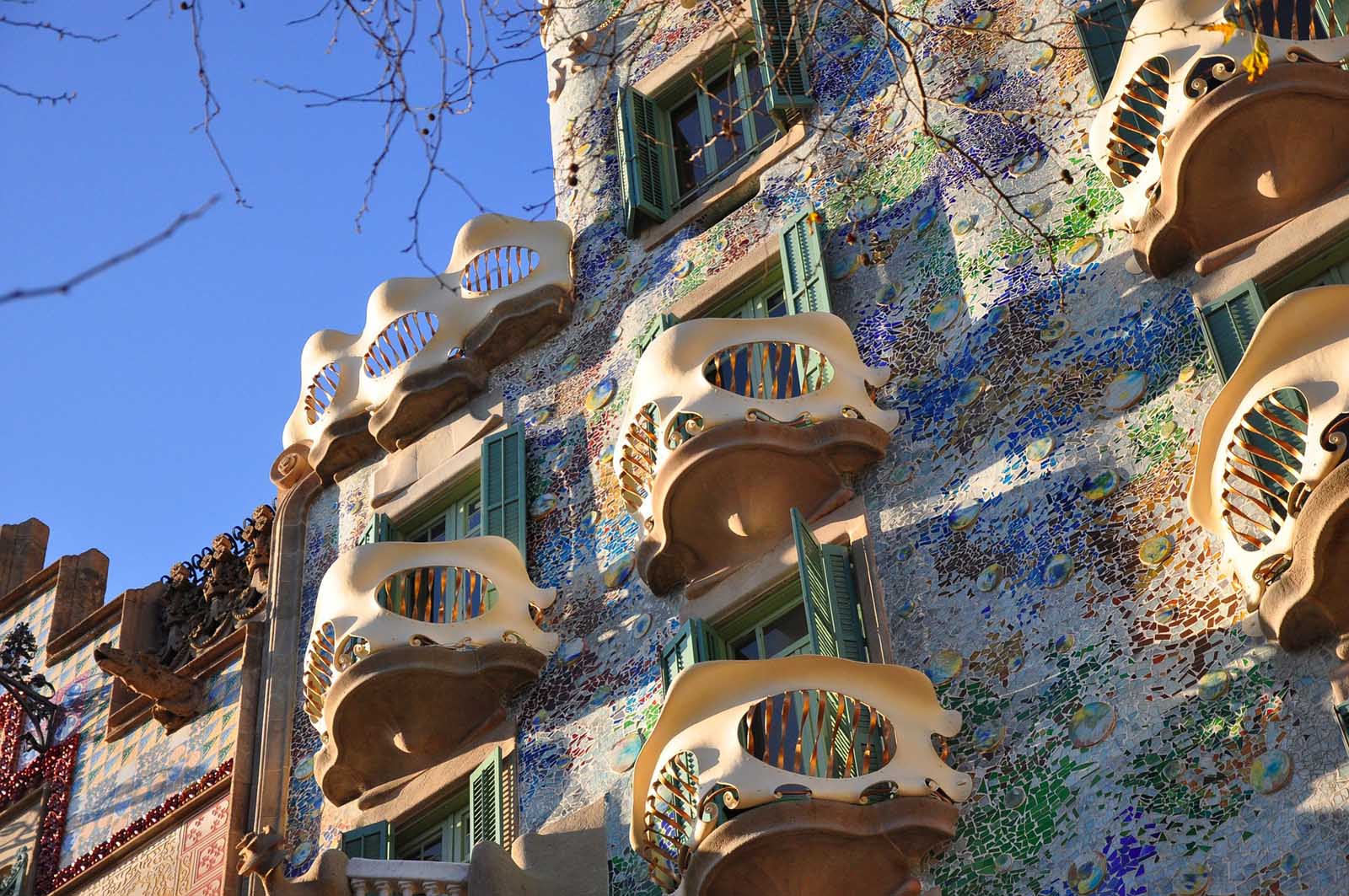 The best way to explore the works of Gaudí in Barcelona is to take a guided tour. This highly rated tour is led by practicing architects who take you through the 3 main residential buildings designed by Gaudi: Casa Calvet, Casa Batlló, and Casa Milà.
But you will also see other examples of modernism including the Antoni Tàpies Foundation and Casa Lleó Morera by Domènech i Montaner, Casa Amatller by Puig i Cadafalch and more. Get more details here.
Who Was Antoni Gaudí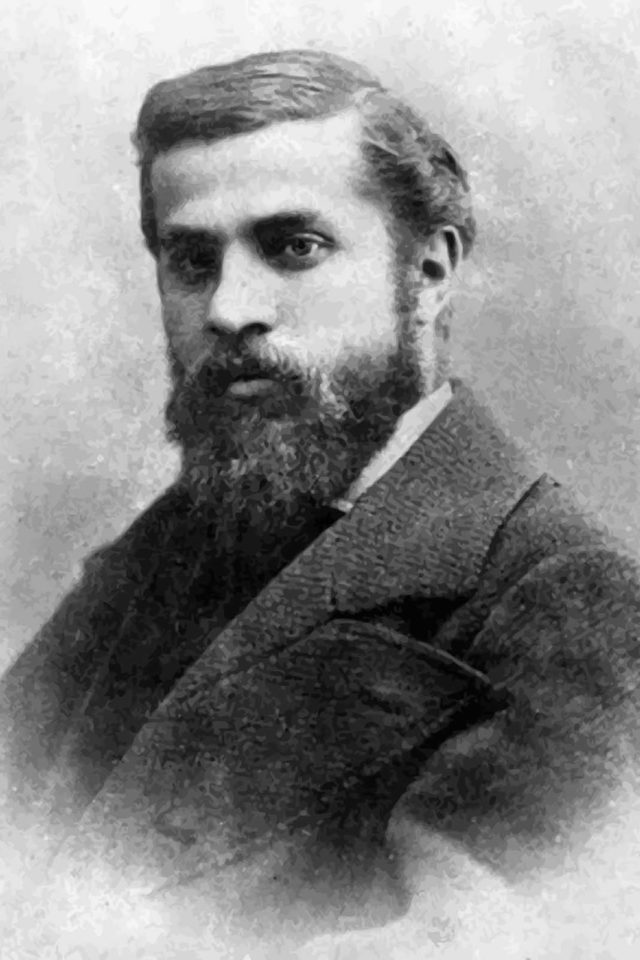 Antoni Gaudí i Cornet was a Catalan architect who became one of the most influential artists to come out of the modernism movement in Spain. His designs are elaborate and unique created to mimic the curves and shapes of the natural world. His architecture is a tableau of vibrant colors utilizing ceramics and stained glass to enhance his designs.
His most famous designs include the unfinished Basílica de la Sagrada Família, the over-the-top Park Güell, Casa Batlló, and La Pedrera. He also restored the Mallorca Cathedra, but that is another story. Today, we are taking you you on a tour of Gaudi 's work in Barcelona.
1. Plaça Reial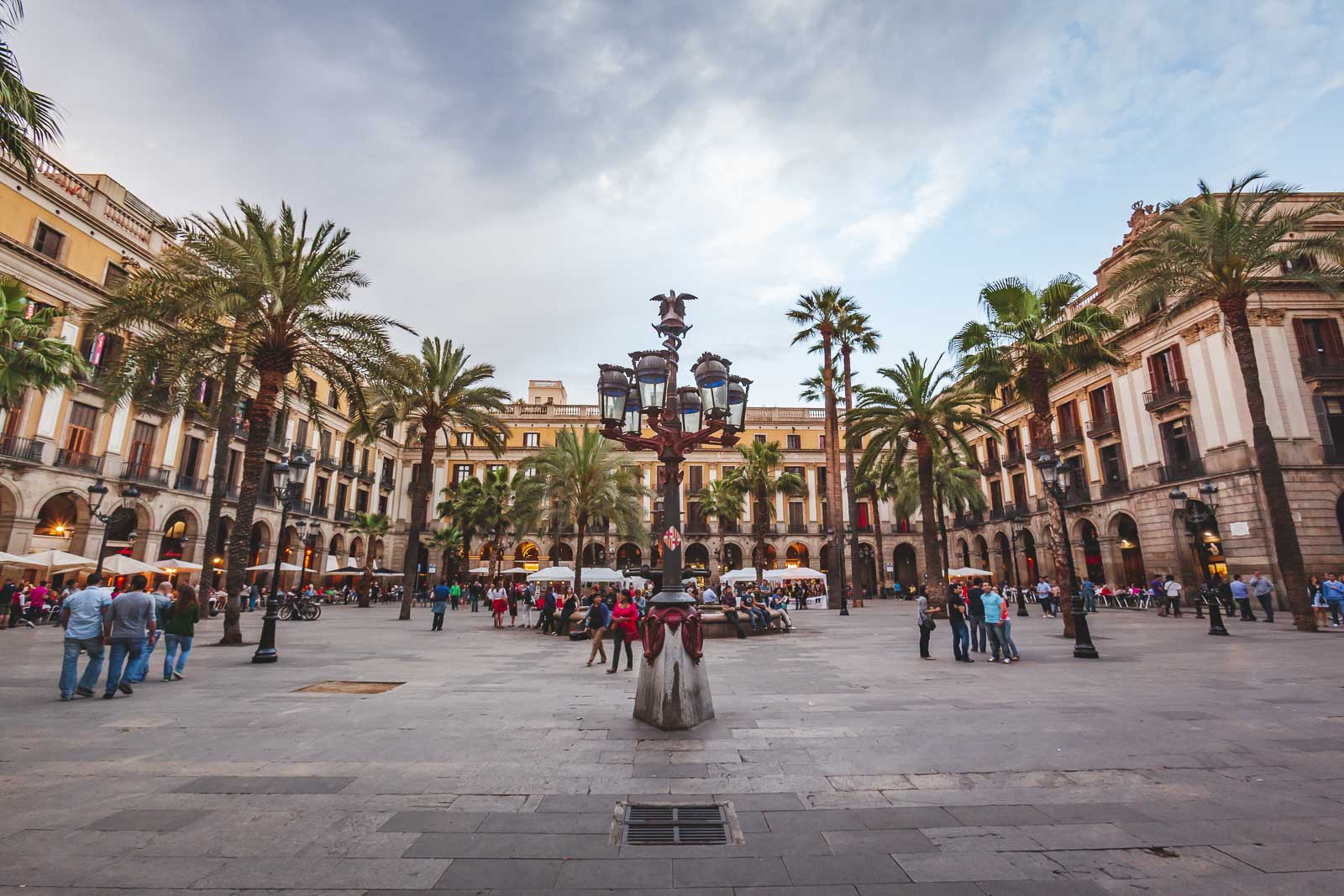 After Gaudí's work was displayed at the Paris World Fair in 1878, Barcelona hired him for his first commission for the city in 1879 to design the lampposts in Plaça Reial. The lamps are still standing proud today and they kicked off decades of work by Antonin Gaudi around the city of Barcelona.
With his typical flair, they are not your ordinary lamp posts. These are works of art with a winged helmet and a dragon on top.
Plaça Reial is a popular meeting spot for walking tours. Chances are, if you are in Barcelona, you will make your way to Placa Reial at one point. The Porticoed Square (covered porches and walkways on buildings) is one fo the city's most vibrant spots!
2. La Sagrada Família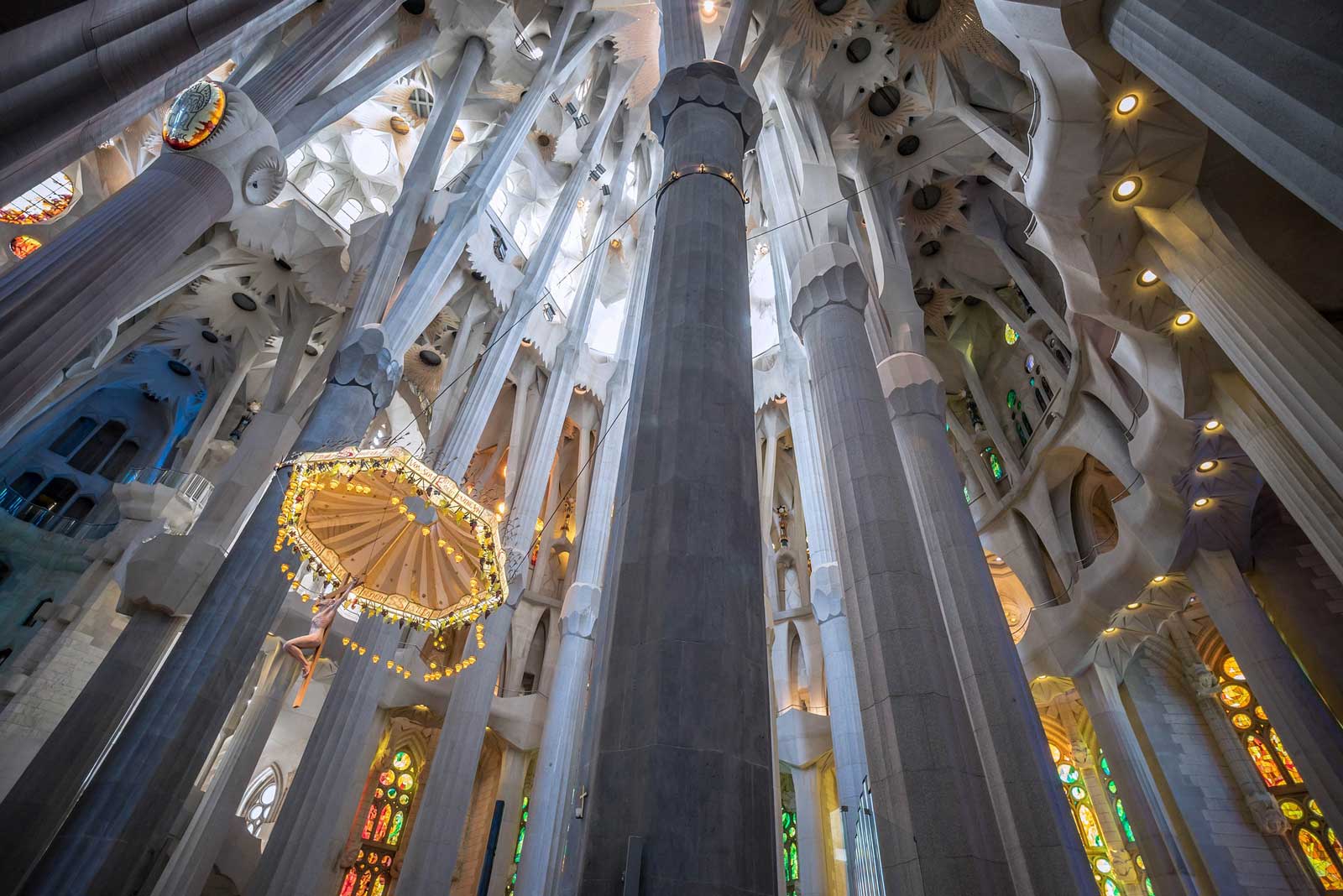 The most famous of Gaudí's works are also the most famous landmark in all of Barcelona. La Sagrada Família. Sagrada Família began construction in 1882. Surrounded by cranes and scaffolding, it is a centerpiece of the city of Barcelona.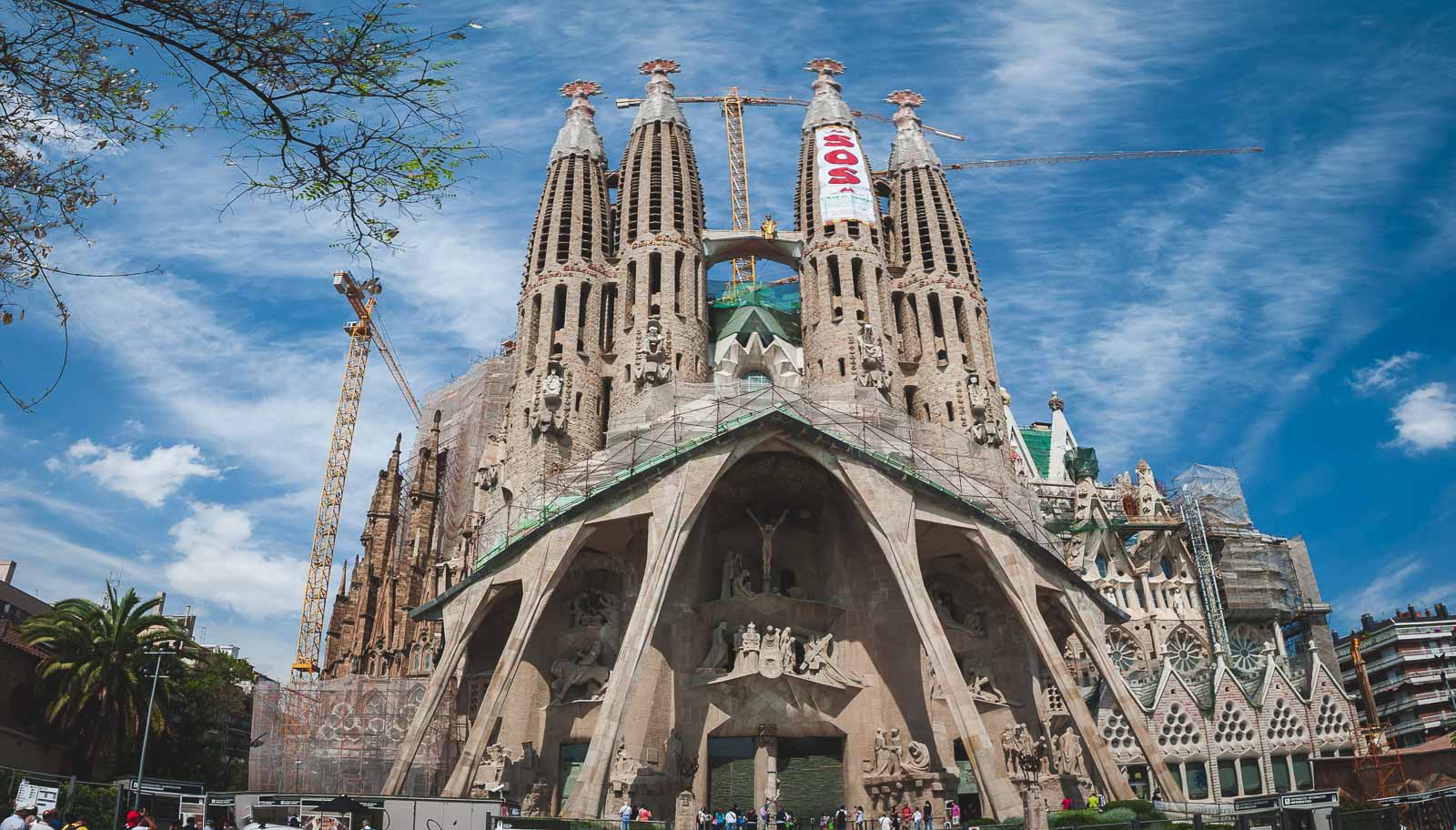 More than 3 million people visit the cathedral each year and the funds it receives from tourists are used to help cover construction costs.
The Sagrada Familia is scheduled to be completed by 2026 to commemorate 100 years since the passing of Antoni Gaudí. Gaudi died in 1926 at the age of 73 while crossing the road. He was hit by a tram while walking to work on the cathedral and died three days later in hospital. He never had the chance to see the cathedral finished.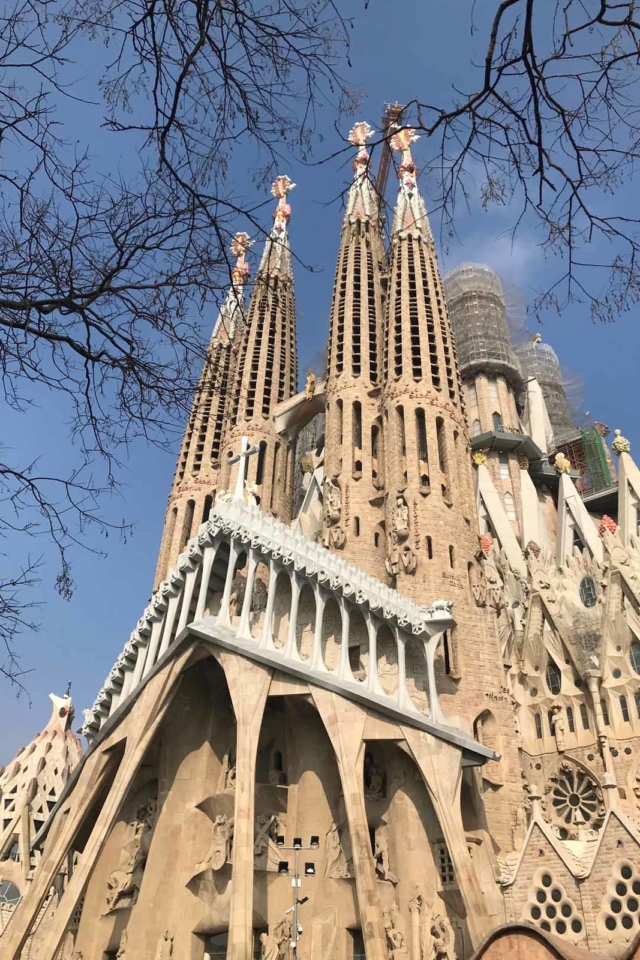 Gaudí only finished 25% of the building but didn't regret the fact that he wouldn't see it complete. He was aware that he would not see it complete and is quoted as saying:
""There is no reason to regret that I cannot finish the church. I will grow old but others will come after me. What must always be conserved is the spirit of the work, but its life has to depend on the generations it is handed down to and with whom it lives and is incarnated."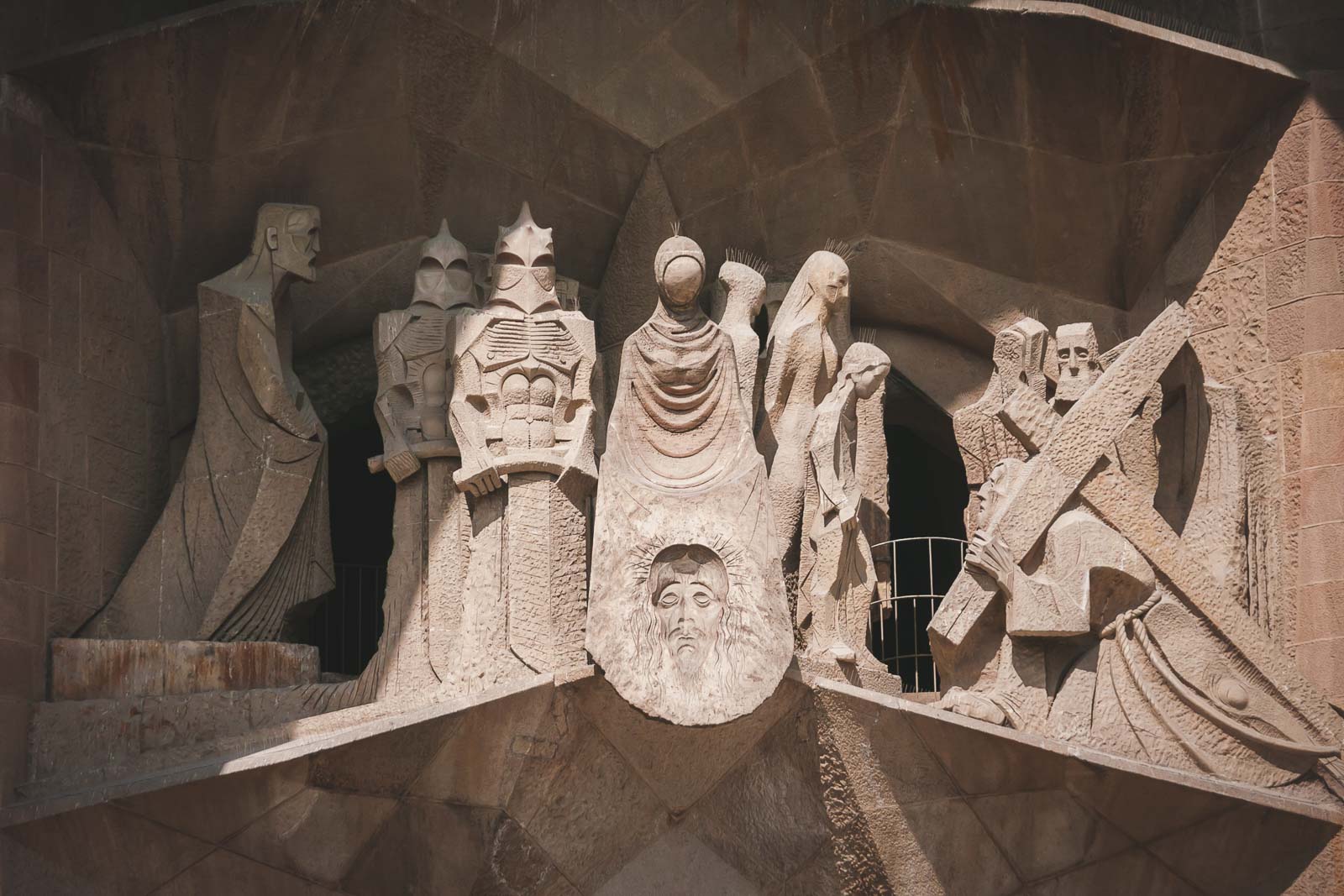 The original architect was Francisco de Paula del Villar but after technical differences, he stepped aside to make room for Gaudí. La Sagrada Família started out as a neo-Gothic-inspired cathedral, but Gaudí took it in a different direction creating a church of the future. It certainly is a church of the future.
No trip to Barcelona would be complete without touring its famous cathedral. Get your Skip The Line Tickets for Sagrada Familia in advance. Free/no-hassle cancellations up to 24 hours in advance.
3. Sagrada Família Schools
Located at Sagrada Família, the Sagrada Família Schools were built to ensure that the worker's children would receive an education. Built in 1909, the curved roofs of the brick buildings give off a distinct Gaudi flare.
Father Gil Parés was named priest of Sagrada Família by Cardinal Casañas and remained so for 20 years. He was a highly respected educator adopting the methods of Maria Montessori (you may recognize Montessori schools associated with the name).
By designing the schools for those families working on the Sagrada Familia, one can see into the nature of Gaudi who clearly cared about his workers.
4. Casa Mila (La Pedrera)
Casa Mila was our favorite of all the Gaudí buildings to explore in Barcelona. We marveled at the oval-shaped courtyard reaching up to the sky upon entrance. Also known as the Stone Quarry (La Pedrera).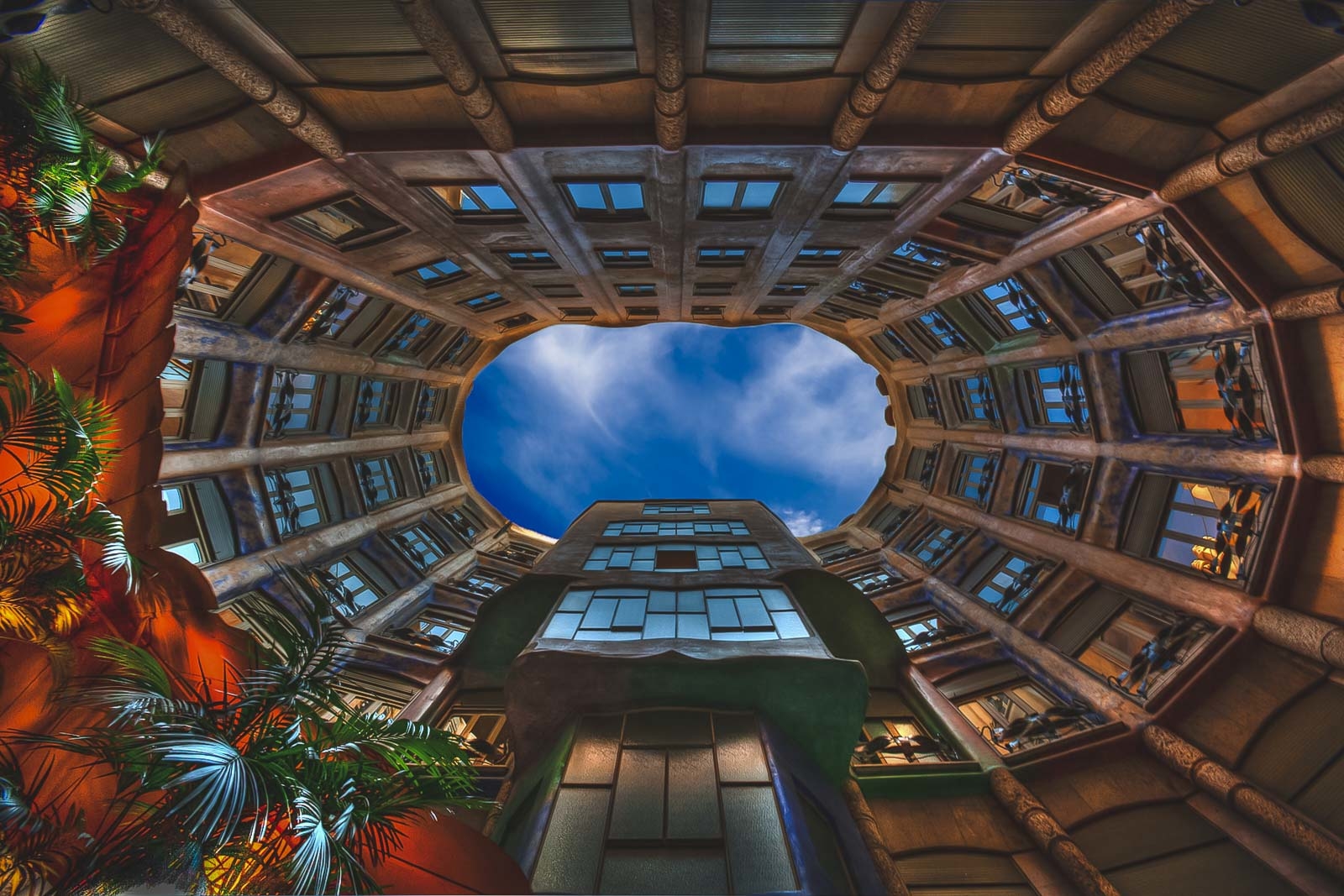 The Gaudí UNESCO World Heritage Site is Barcelona's most popular Modernist building. Built between 1906 and 1912, La Pedrera was commissioned by Pere Milà and his wife Roser Segimon. Hence how it got its name.
We toured the rooms and made our way to the spectacular rooftop. A visit to Casa Mila wouldn't be complete without seeing the roof. This is our personal favorite of Gaudí's work because of its designs both inside and out. He paid attention to every detail.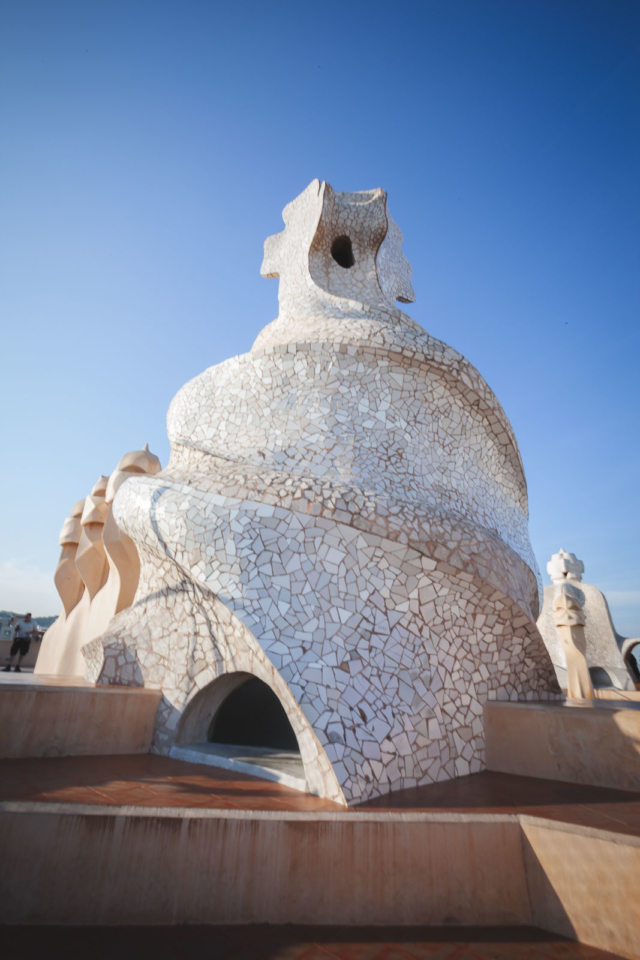 The roof offers beautiful views of Barcelona, but it's the design that is striking. We wove our way through chimneys, staircases, and spires. I can only imagine the parties that were hosted up here.
Get your Barcelona at Night Pass to witness an amazing audiovisual display on the roof terrace. You'll also get an introduction to Gaudí's works Passeig de Gracia
5. Casa Batlló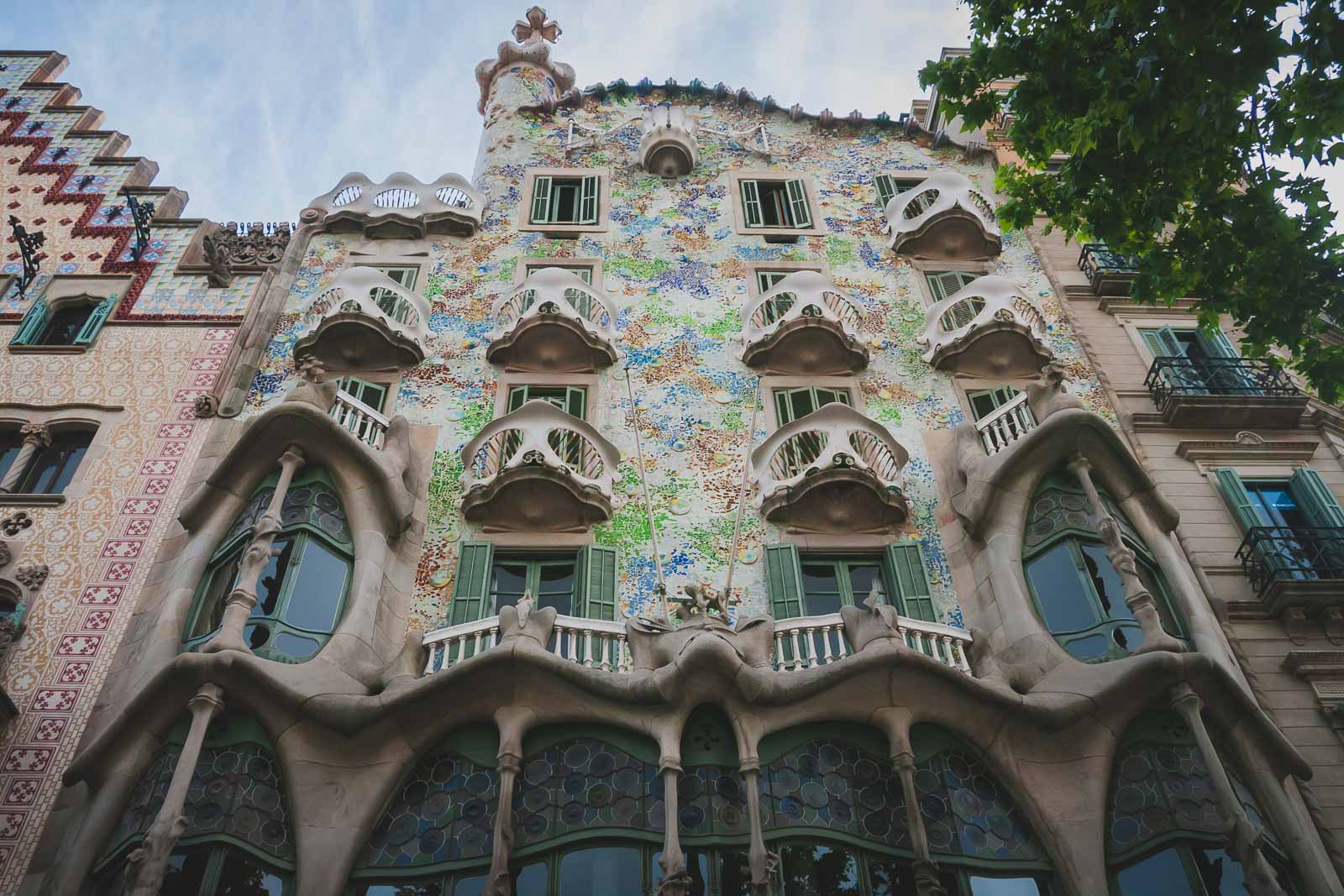 You know instantly when you have arrived at a Gaudí work of art by the large crowd milling around out front. Casa Batlló known as Casa Dels Ossos ('House of Bones') Gaudi used the elements of Art Nouveau to restore this house located on the street Passeig de Gracia.
This street is a work of art unto itself with several other impressive buildings designed in the Catalan art nouveau genre. When you take a close look at the balconies of Casa Batlló you'll see that they look like they are skulls.
We could go broke looking at the works of Gaudí in Barcelona, to purchase tickets at the door, it is €29. But if you are a true fan, entrances are not to be missed. Gaudí was just as inspiring inside as he is out. Inside you'll see a marine-inspired design resembling underwater caves, tortoiseshell skylights and the famous blue tiled building well. well
6. Casa Calvet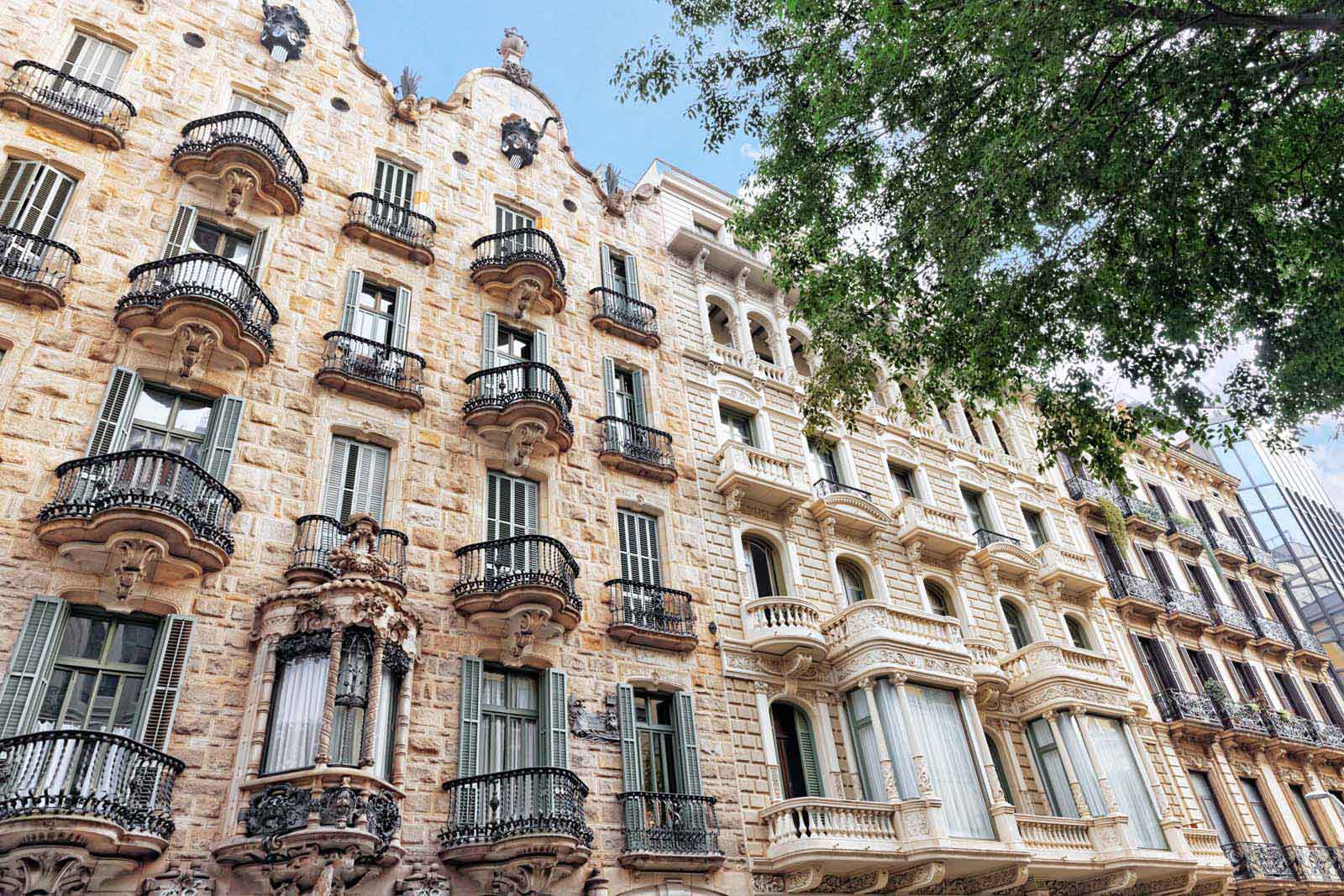 Casa Calvet is one of Gaudí's earliest works in Barcelona. It's not the most innovative, but when you see it, you'll notice the distinct Gaudí flare. Built in 1899, it is considered his most conservative work and yet, in 1900 Casa Calvet was awarded the prize for the best building of the year by the Barcelona City Council.
Discover Gaudí in Barcelona by bicycle – Discover how Gaudí imagined his designs and the beginnings of Modern Urbanism. Get into hidden courtyards and learn of the Modernisme period in Barcelona.
7. Casa Vicens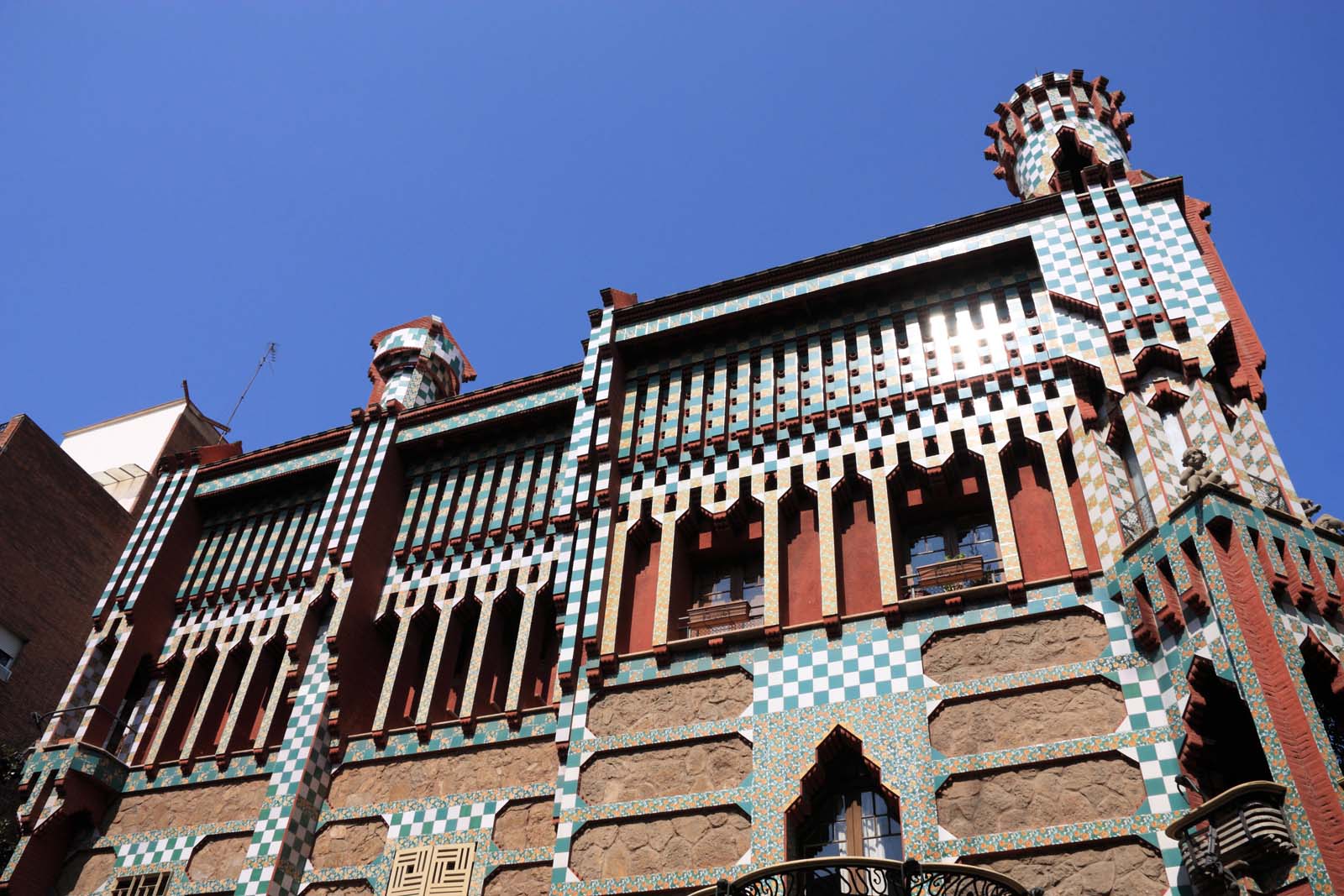 Casa Vicens is the first house designed by Gaudí. It was built as a summer house for the Vicens family between 1883 and 1885. A surgeon from Havana, Dr. Antonio Jover bought the home in 1899 and it was passed down through his family until it was purchased by MoraBanc who renovated and restored it to its former glory.
It had been a private residence for more than a century but it's been newly restored and opened as a museum. It is also the newest tribute to Gaudí.
Details:

Opening Hours: 10 am to 8 pm
Rates: General Admission 16€
Casa Vincens is located on Carrer de les Carolines 20-26
Book a Skip the line Ticket to Casa Vicens. If you are looking for something more in-depth
Book this Early Access Guided Gaudí Tour giving you access to Casa Vicens before it opens before continuing on to Park Güell, and Sagrada Familia.
8. Park Güell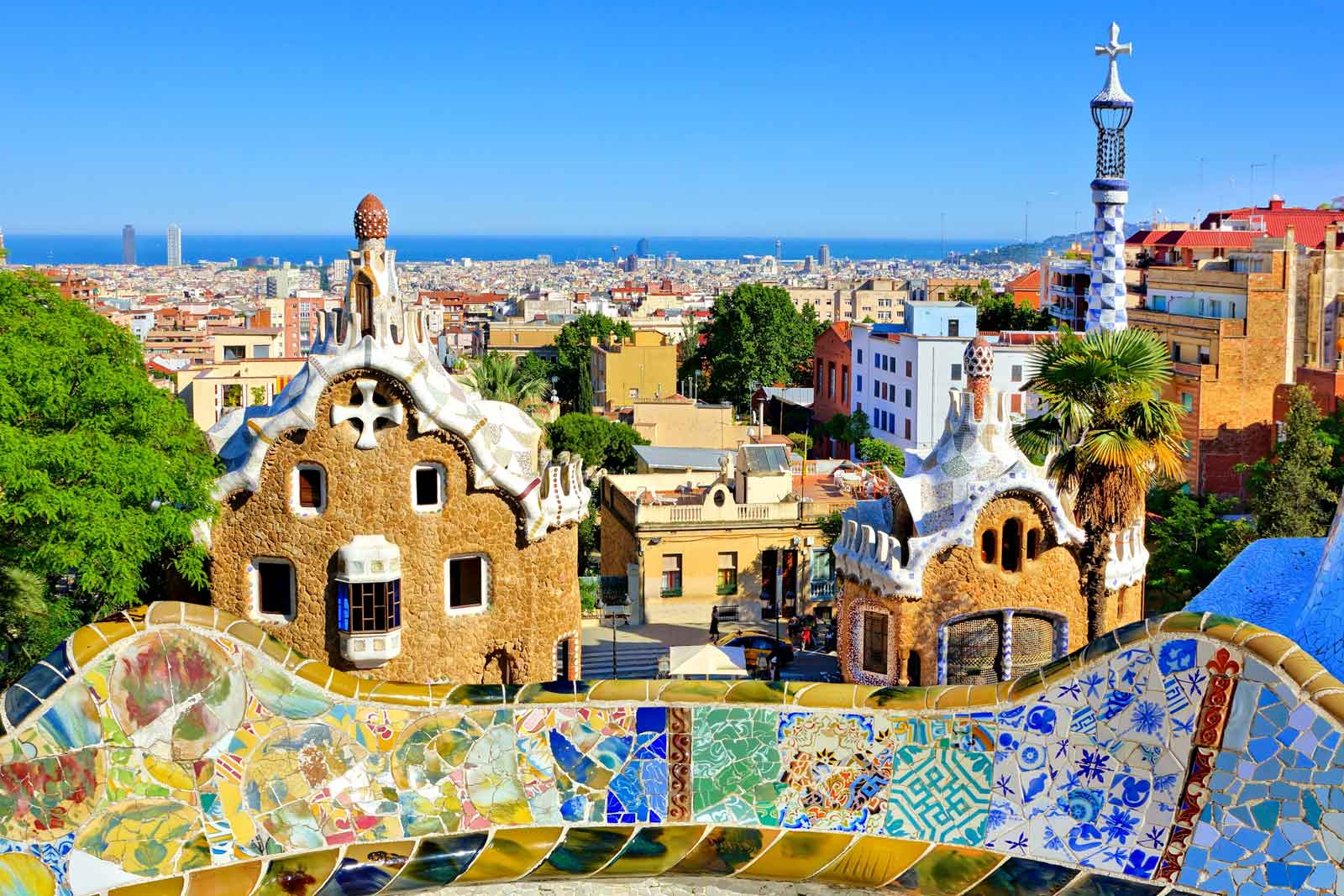 Park Güell is an enchanting garden designed by Gaudí just outside of Barcelona on Carmel Hill. It was commissioned by "1st Count of Güell," Eusebi Güell. He wanted the park to be a place of urbanization and development. As the face of Catalan modernism, Gaudí would take this area into the 20th century.
Park Güell is a fairytale land with greenery and interesting architectural designs. Gaudí worked on the park from 1900-1912 and it officially opened in 1926, the year of his death. Park Güell became a UNESCO world heritage site in 1984.
Book this Skip the Line Park Guell Walking Tour – check-in in at the Gaudí Experience office on Larrard Street to meet your guide for a tour of Gaudi's most important works, Park Güell. (free cancellation) It can be reached by public transport.
As Crazzzy Travel wrote in here Romantic Things to do in Barcelona Post: "The place not to miss is a terrace with a spectacular view of the city."
9. Gaudí House Museum in park güell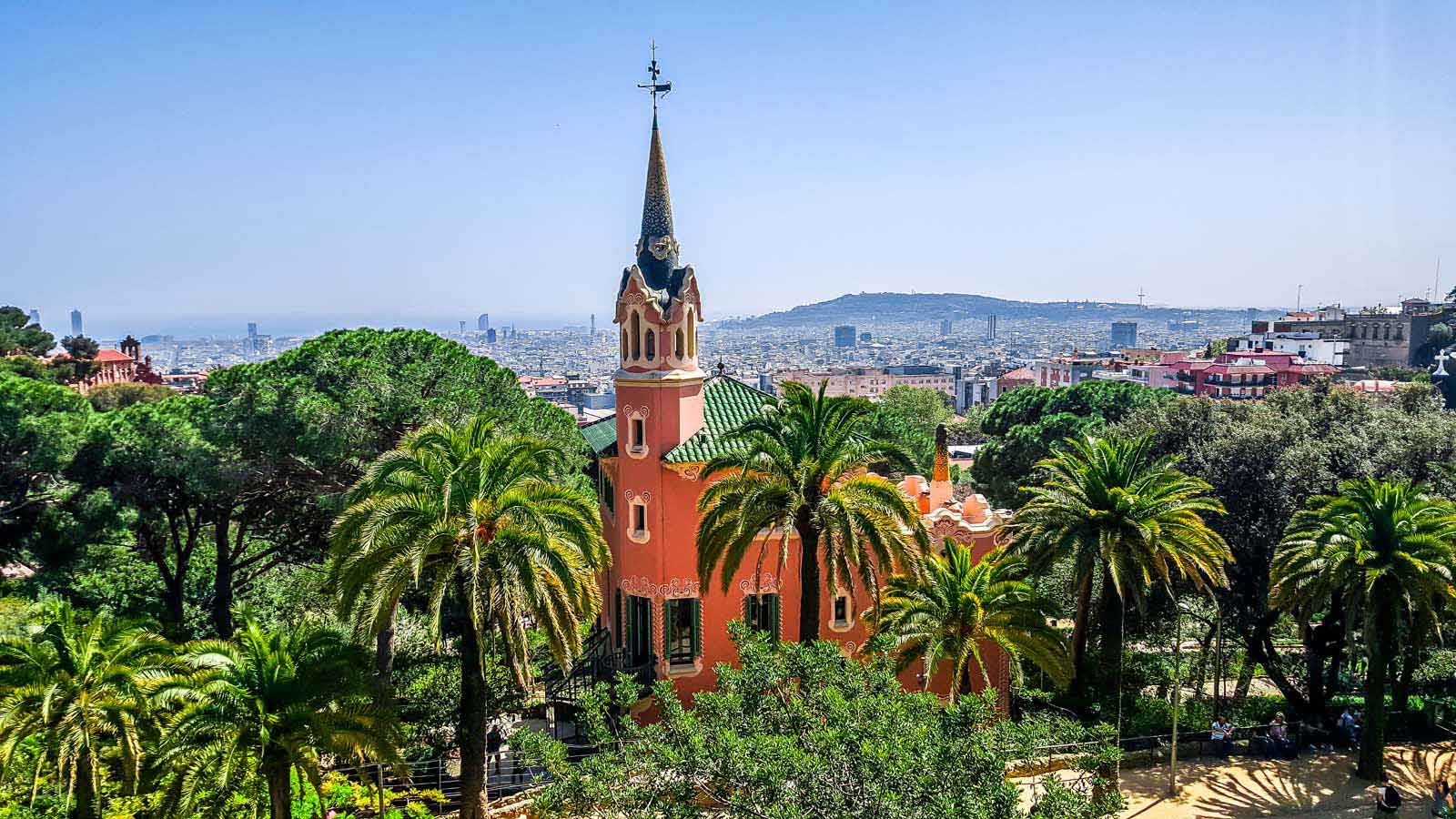 While visiting Park Guell, you can visit the Gaudi House in Barcelona. The former residence of Antoni Gaudí was designed by Francesc Berenguer i Mestre. Gaudí lived here for 20 years until just a few months before his death. Visitors can see a collection of furniture, objects, and documents from Gaudí's life gaining insight into his life and work.
A Great way to Get Around Barcelona while stopping at the most popular of Gaudí's work around the city is to Book a Barcelona Hop on Hop off Bus Tour with 24 or 48 hour options.
10. Palau Güell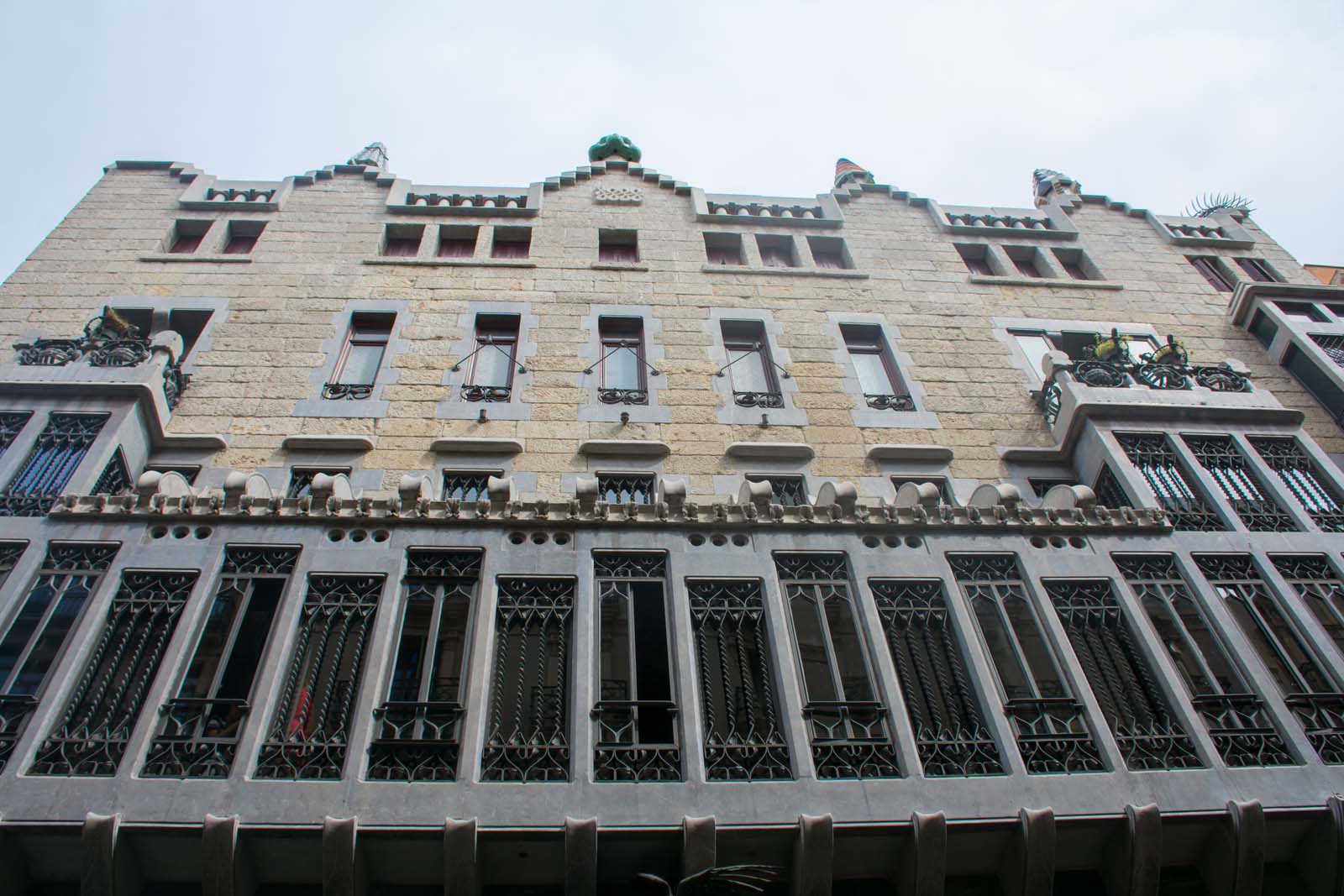 Palau Güell (Güell Palace) is another Gaudí work commissioned by Eusebi Güell. This was the private residence of the Güell family. This pre-dated Park Guell as Gaudí began construction in 1886. (finishing in 1890)
From the outside, it doesn't look that impressive, but when you go inside, it is the lavish Gaudí design that you would expect. Working with the usual Catalan Art Nouveau elements of stone, wood, wrought iron, ceramics, and glass Palau Guell is renowned for its innovative use of light and space.
The central hall is crowned by a Parabolic Dome (a dome that looks like the small end of an egg). Another UNESCO World Heritage Site, Palau Guell was also declared a historical-artistic monument by the Spanish Government in 1969. It is located near La Rambla in the Gothic Quarter of Barcelona.
11. Pavellons Güell (Güell Pavilions)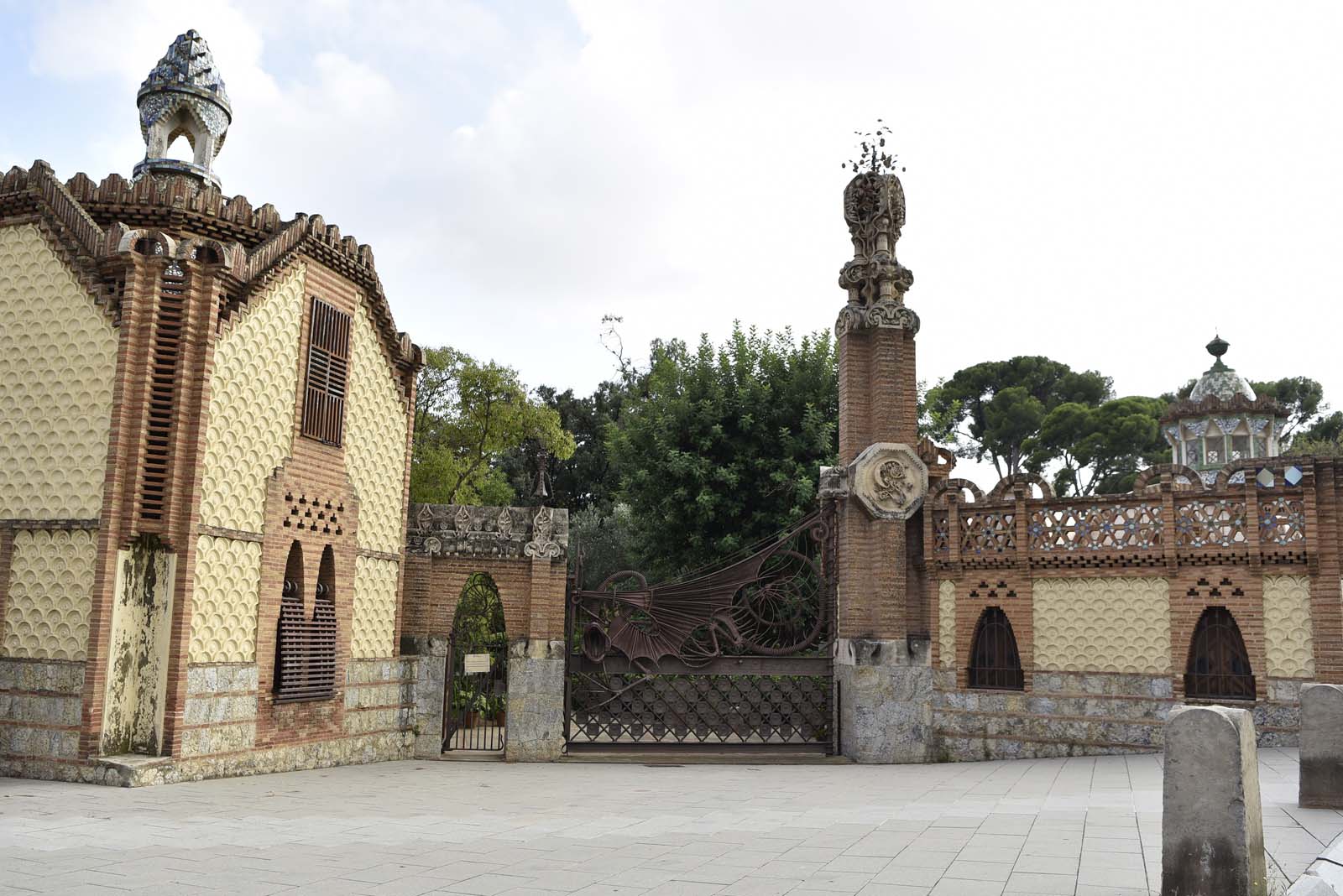 Güell commissioned Gaudí for many works in Barcelona. The Pavellons Güell was the first of many!
Gaudí built the entranceway and pavillons to Guell's estate. They can be viewed on Barcelona's Avinguda Pedralbes.
From 1884 to 1887 Gaudí created two guest houses and the wrought-iron gate in the shape of a dragon that connected them. He also spend time relandscaping the gardens.
12. Cascada Fountain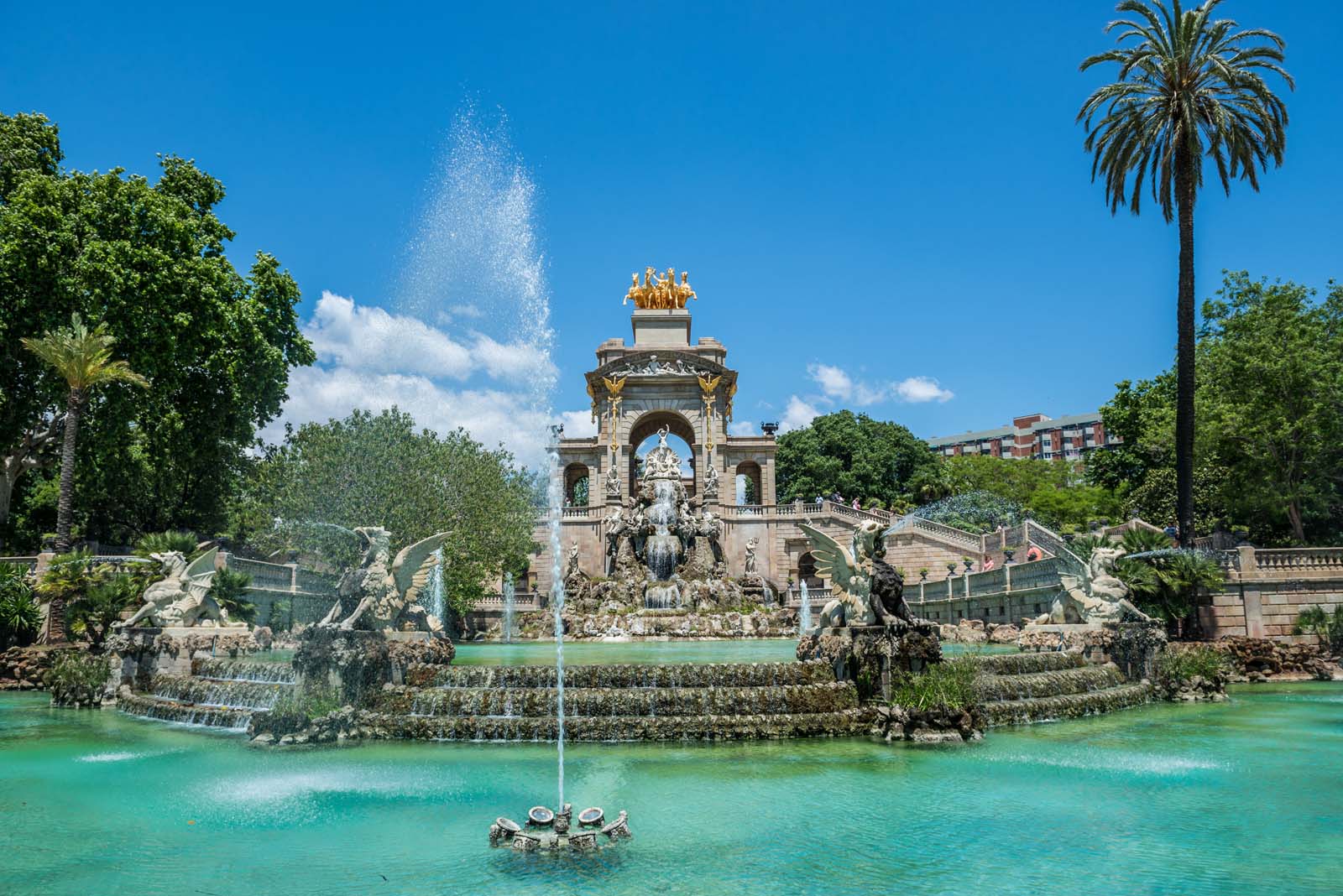 Barcelona's city park, Parc de la Ciutadella houses a zoo, the Parliament of Catalonia, a small lake, and a fountain partially designed by Antoni Gaudí.
The water tanks and hydraulics were designed by Gaudi while working for designer Josep Fontserè. If it looks familiar, you are correct. This fountain was modeled after the Trevi Fountain in Rome.
13. Colonia Güell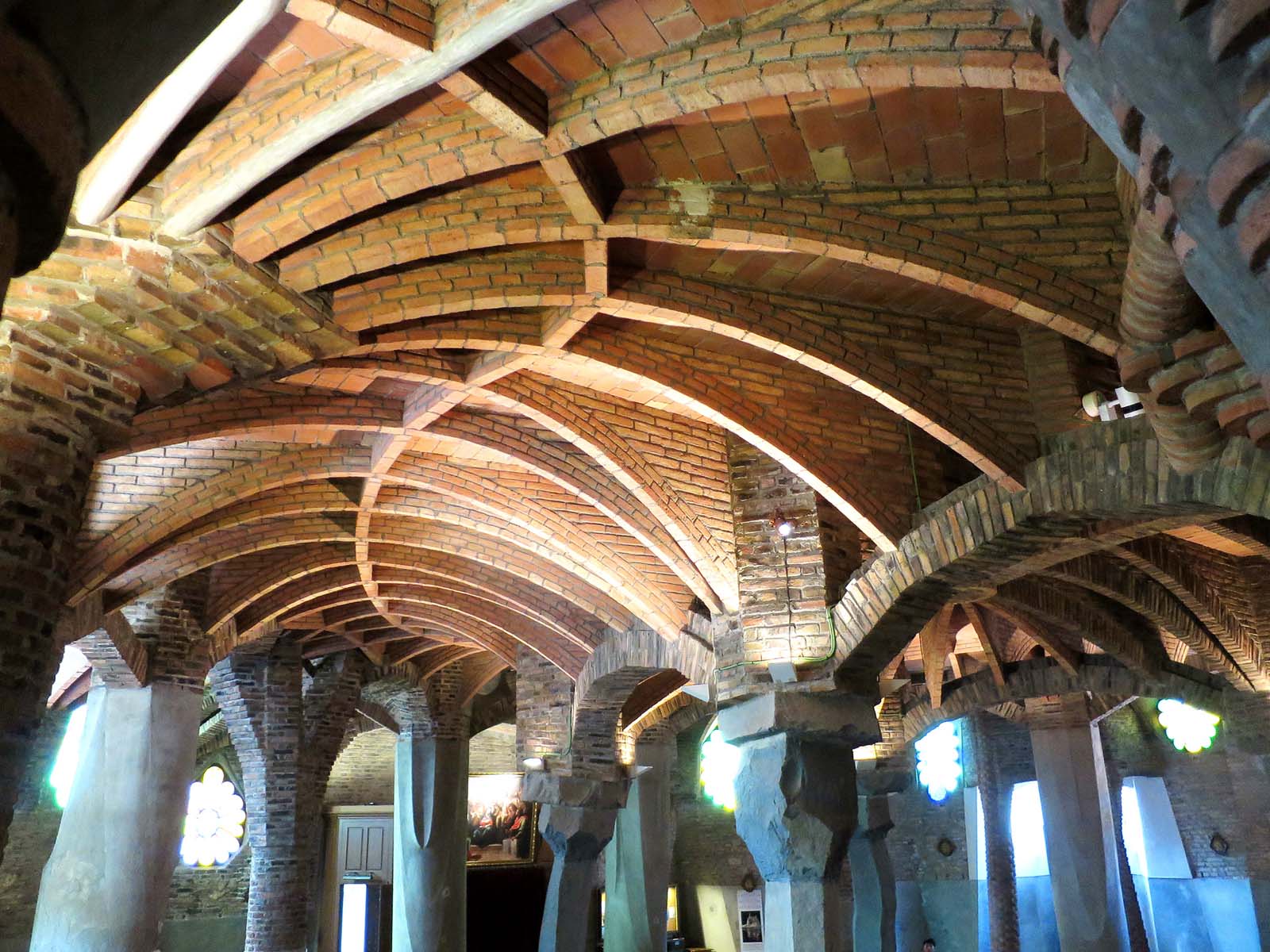 Colonia Güell is located 23km southwest of Barcelona in the village of Santa Coloma de Cervelló at Guell's country estate. It is another of Gaudí's unfinished works. Construction began in 1908 but construction was stopped in 1914. The only portion that was completed was the Crypt which was designated a UNESCO World Heritage Site in 2005.
Gaudí UNESCO World Heritage Sites in Barcelona
There are seven properties in Barcelona by Antoni Gaudí that are designated UNESCO World Heritage Sites due to his development of architecture and building technology in the late 19th and early 20th centuries. Sagrada Família – The Nativity Façade and the Crypt, Casa Batlló, The Park Güell, The Palau Güell , Casa Milà-La Pedrera, Casa Vicens, Colònia Güell – The Crypt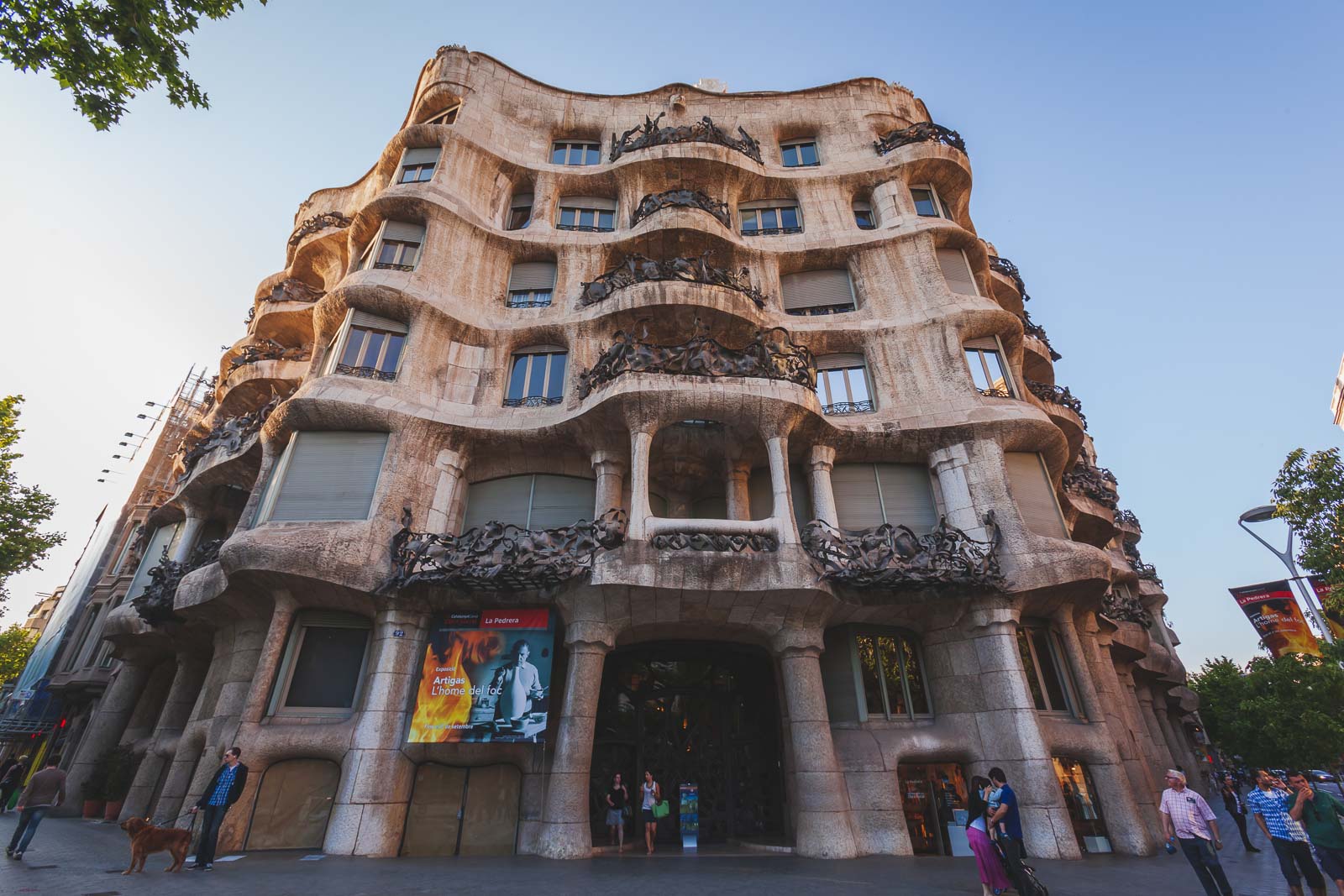 You don't have to be a fan of Gaudí architecture to enjoy Barcelona. The streets are alive with energy, the Tapa bars are filled with great food and wine, and the rest of the architecture is extraordinary. But you will find that his works add to the entire experience.
Map of Gaudí Works in Barcelona

As you take a tour through Barcelona, you cannot miss experiencing Gaudí's work by touring the unique buildings and architecture conceived by the talented mind of Gaudí. His designs add color, flare, and a touch of flash to the city.
The works of Gaudí put Barcelona's design on the map and it is his innovative and imaginative designs that keep people flocking to the city to catch a glimpse of perfection.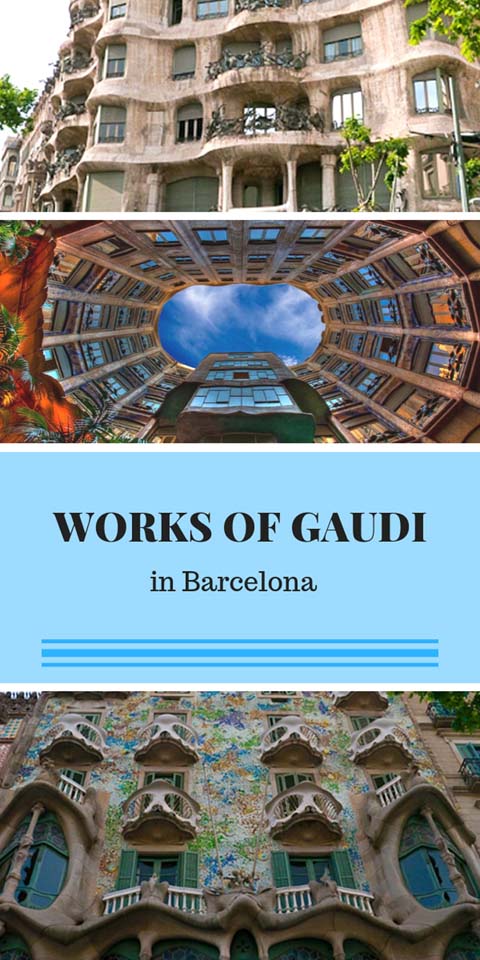 Have you been to Barcelona? What are your favourite designs?
Read More about Barcelona