Sri Lanka has been one of those countries that have touched us deeply to the core. We have been so moved by the people and by their genuine affection.
As a woman from Canada said to us, "You can see the kindness in the eyes of the people of Sri Lanka." They really do have kind eyes.
Finland Makes a Difference After Tsunami Survival
We have heard many stories about the Tsunami here. One surfer told us of his experience that you can read about on our post Remembering the Tsunami. We have heard many other stories as well and have been moved by the experience. We have also learned that over 50,000 people died here. Not the 30,000 that we first read and heard about. 1200 people were killed just up the road trapped in a train.
Tourists in the Tsunami
We didn't think that we would meet any foreigners that were here during the Tsunami. But as time has gone on, we have met many that were here, and Eeva Kankainen, a lovely retiree from Finland shared her experience with us.
Here is her story and what she and her friends did to help.
Most people love this country and come back year after year. Eeva is no exception. She has been coming to the island for 14 years and has made great friends. She had just come in from and early morning swim when the Tsunami hit.
She wasn't on the beach for long, because her Sinalhese friend was going to be here soon. But she was hot and went for only a quick dip in the ocean before running up to have a shower.
She remembers saying to a lady in the water that she can't stay for long, she has friends coming. When she got out of the shower, it was once again one of those surreal moments that we have heard so much about.
Nobody knew what was going on.
She heard the noises of destruction at one moment and then at the same time she heard her neighbour yelling to her that her company had arrived in a light and friendly voice.
They were 25 minutes early and had just come up the stairs. The next minute everything was destroyed.
They were high up. I didn't get from her what floor she was on, but she said, that if her friends weren't coming to see her that morning, she would not be alive today. If her friends had not been early, they would not be alive today.
Incredible Luck.
–
–
–
After the Tsunami, she stayed in Sri Lanka for three months to help. Many of her friends from Finland stayed to help as well. This group of people that we met so briefly for only a few days, are the most giving crowd we have ever met in our lives.
They got together and tried to decide what they could do to help more. After working with Sabitha Amit (a Monk and principal at a local school) for some time, Maria and Pentti Oskal Kangas came up with an idea to open a school for orphaned, handicapped and mentally challenged children.
Lotus Hill is the organization and it is run by a private group of people from Finland. Eeva and her friends were kind enough to invite us to come up for a visit.
Arriving at the School
When we pulled up in our Tuk Tuks, the children were so happy to see us. One little guy came out with his drum pounding it and immediately took my hand dragging me to meet his teacher and show me his room.
Another guy latched on to Dave and wouldn't let go. Dave carried him around forever right up until snack time when one of the teacher finally had to pry him away so that he could eat.

–
–
–
–
–
–
–
–
–
Oscar and Maria founded Lotus Hill, but Oscar was quick to tell us that Eeva raised half of the money to buy the land by organizing her friends back home to come up with the money.
It costs 300,000 Euro to run the school every year and while it is expensive, they say that they are managing just fine with their friends and contributors in Finland. Many people donate 5 to 10 Euro a month and they have enough for now.
Oscar is a bit of a celebrity in Finland. A famous philanthropist in the country and he sends monthly updates to supporters to let them know how the project is going. He has a keen business sense and uses his influence to keep the program going.
Life for handicapped in Sri Lanka
Being there for us, was heartbreaking and uplifting at the same time. These children would otherwise be hidden in their house from society. Parents feel that they need to hide them and protect people with disabilities. They have no quality of life. Maria and Oskalla have given them hope.
We saw this first hand at Adams Peak when people of the restaurant that we ate at teased a poor man that was obviously mentally challenged. We yelled at them to stop and they did. They seemed embarrassed, so I hope they will think twice when they see him again.
We later saw the man being harassed by the police. They were throwing his bottles into the ravine. I yelled at them. (Dave tried to stop me because you just don't yell at police in this country, but I couldn't help myself) The police just laughed and told me he is a madman.
I yelled back the he is a human being, not an animal. I was seeing red and I would have fought tooth and nail. I don't think the police were embarassed or learned their lesson. They will go on wielding their power.
Progress
These boys have hope, that this man will never have. One boy was very aggressive and afraid when he first came to the school. He would hit and punch, and now he smiles and holds hands.
Another only came and drew lines on a paper, now he is drawing flowers and rainbows. One boy is making place mats and weaving them by hand.
He is developing his skills to be a carpet maker and he was so proud to show us his work. They played a game of cricket and one of the boys was quite a talent with the paddle.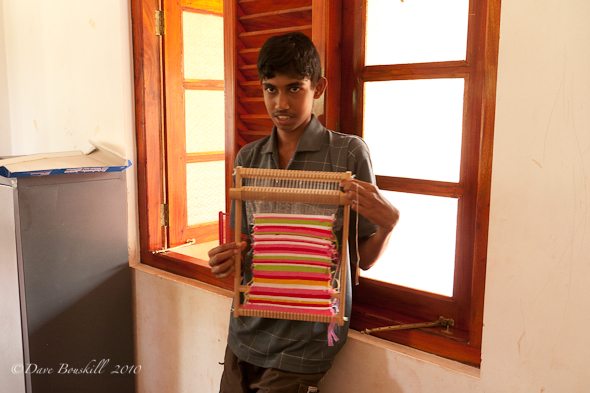 –
–
–
–
The list goes on with their development.
The Staff
It is a dedicated group of individuals that work there. An 87 year old woman that they call grandmother works there to take care of the baby that was dropped off by its mother. The baby has down syndrome and she is there to change him, watch him and love him. She is his surrogate mother.
There are 2 women and a man that work there. They have a difficult job. I don't think that I could do it. These boys can be a handful and to take care of 15 children with disabilities, feed them, teach them and stay with them has got to be very difficult.
Facilities
The school has classrooms, lunchrooms, a medical room, dorms and a kitchen. It sits high on a hill surrounded by green pasture. It is airy and bright and happy. They have their rooms and clean bathrooms, they have balls and toys and of course drums. They play and laugh and live.
The founders are beautiful people. Oscar said "we are not rich people, but we make it work." We would have to say that they have certainly made it work and have changed the lives of these boys forever.
Read More
Adam's Peak Pilgrimage – A Photostory from Sri Lanka