If you ever happen to find yourself in Sri Lanka's hill country, you must make sure to visit The Hill Club and splurge on dinner. It may be your only chance to be treated like an aristocrat at bargain prices.
Fine Dining, Budget Backpacker Style
Located on Grand Hotel Row in Nuwara Eliya, the Hill Club is a throwback to a bygone era.  The decor hasn't changed since the 40's and the formality and tradition is as strong as ever.
Dress Code
There is a strict dress code there and having travelled through Asia for almost three months there was no way we were going to be able to follow the rules.
Never fear, the Hill Club supplies suit jackets and ties fresh from 1977.
Dave picked himself up a nice little Harris Tweed jacket complete with bright floral tie.  He sweat his way through the evening in that wool coat with tie looped tight around his red north face trekking shirt.
We asked our bartender Steven how long he had been working at the Hill Club and he was in his 27th year.  But our white gloved server Milton had 3 years on him at 30!
The Hill Club is an exclusive private club established in 1885 for the English Elite.  Today it is still private and wealthy Sri Lankan's stop by on their weekend visit and holiday's to Nuwara Eliya to enjoy the facilities.  Tourists can buy a temporary membership for 100 Rupees (about $2) for the night giving you free reign of the grounds.
Nuwara Eliya is a unique little town. It is a slice of Jolly England in the middle of Asia. There is a horse race track, old colonial buildings and grand villas.  We have heard it described as Little Britain and we can see why.
Cost of Dinner at the Hill Club

For $15 you receive a 5 course meal in the grand dining room.  Dinner begins at 7:00, but you can spend some time in the lounge enjoying any cocktail of your choice.
Martinis, Giblets, Bloody Mary's and Scotch on the rocks served in a bar filled with grand velouer furniture surrounded by oak walls and old paintings.  It made you think of the days of Carey Grant, Clark Gable and Ingrid Bergman.
We just weren't dressed as snappy.
We pre-ordered a bottle of $15 Chardonney which they brought white gloved and all to the lounge for our approval before arriving in the dining room.
Before sitting down, we had to stop at the Billiards room and check out the regulation size Snooker Table.  The staff loves to challenge guests to a game after dessert.
Yes, the Hill Club is frozen in time in 1945.
We met a lovely couple from England, Karen and Allen and joined tables while we whooped it up in the silent dining room.   Four other tables were there that night, all decked out in borrowed jackets and their best travelers clothes. After our arrival, the room had less of a funeral feel and almost a party vibe.
Well, the kind of party vibe that Jack Nicholson was having in the Shining.
The Hill Club Menu
Our meal started with profiteroles with fine paté and the presentation was beautiful.  Warm rolls with butter came promptly and we sipped our wine slowly after being out of practice for so many weeks.  Drinking has not been a usual occurrence during our Asian Adventure and I was feeling it after my first Tom Collins. Yes, I had a Tom Collins at the bar.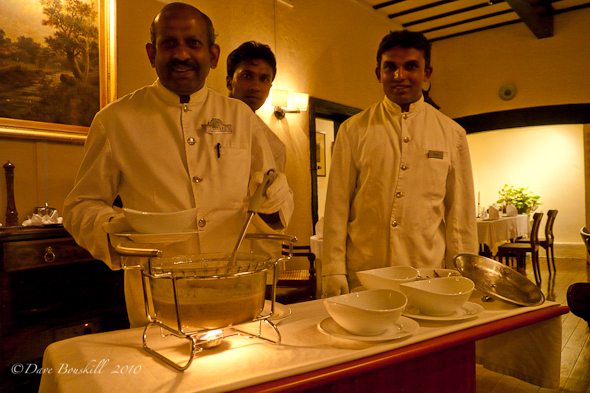 /
/
/
/
/
/
Next course was the mushroom soup.  Served at our table by head waiter and assistant. They scooped out piping hot ladles for our eating pleasure.
Main Course
We all chose the pork on the menu and it wasn't a disappointment.  Slow roasted to perfection, the chef and kitchen are certainly talented. It is a shame that not many people stop by to enjoy their creations.
Dave and Allen even had seconds! I love it. It is not every day that a restaurant comes out and asks you if you want more.  Is this how George Clooney eats? When he finishes his Fillet Mignon does the chef ask him if he would like another? I could get used to this.
I was easily stuffed as we had been living on rice and curry for some time now, but there is always room for dessert and their orange mousse did not disappoint.  We loved the beauty of it so much, that we didn't want to dig into the work of art.
We expressed our admiration and the pastry chef came out after we finished to show us how he drew the design by hand on our plates.  We filmed the artist at work and here is what he did.
After dinner we retired to the fireplace and enjoyed after dinner liqueurs.
They go to bed early in Sri Lanka and we closed the place staying almost until 11:00!
By the time we caught a tuk tuk back to our guest house, the doors were locked and the lights were off.  We awoke the poor daughter causing what I am sure was to be quite the ruckus.
But wow, what a memorable, enchanting evening.
Notes: Tips for Dining at the Hill Club


book your meal in the afternoon of the night you are planning to eat out.
Tell your guest house you will be late so they will leave the door open for you.
Tuk Tuks back can be arranged at The Hill Club..it is quite secluded and you don't want to walk home at night.
100 Rs for temporary membership
$17 for dinner, can be paid in Rupees and they do accept credit card.
Read More
Sichuan Hot Pot, A Sizzling Night out in China
An Unexpected Adventure – Slumber Party in a 2,000 Year Old Cave
Sleeping in the Cold – 5 Tips to Keep You Safe and Warm
You Might Also Enjoy