Have you ever wondered what goes into a fashion shoot? Especially a fashion shoot that is on location in an exotic destination like Rio de Janeiro! We had the chance to travel with the TravelSmith crew to Rio where we not only explored all the sights of the city, we joined the models and photography crew on their fashion shoot.
First let me tell you, it's not easy getting permission to film behind the scenes footage. TravelSmith had to work hard to get permits around Rio for their own cast and crew, while we had to tiptoe around crew and models making sure we didn't get in their way. We had more than one person request not to be in our photos or video. So a word of warning, we had a lot more photographs, but we can't show them to you.
Check out TravelSmith for all the Wonders of Rio
Behind The Scenes Fashion Shoot with TravelSmith
[responsive-video identifier="fW-uM9Oz9bM"]
It is understandable how people felt. For one thing, some models are under contract with SAG (the actors guild in America) and they are not allowed to be photographed by other people unless there is a contract in place. And as far as the crew goes, well, would you like to be photographed when you are a hot and sweaty mess? I think not.
But people were kind enough to let Dave and I be flies-on-the-wall as we watched from the sidelines in awe of the work and skill going into a catalogue shoot.
See our photos and video of our doors off helicopter flight over Rio
If you don't subscribe to the TravelSmith catalogue, do it now! ThePlanetD readers receive 15% off all TravelSmith purchases when you spend $50 or more. Use the PlanetD promo code upon checkout.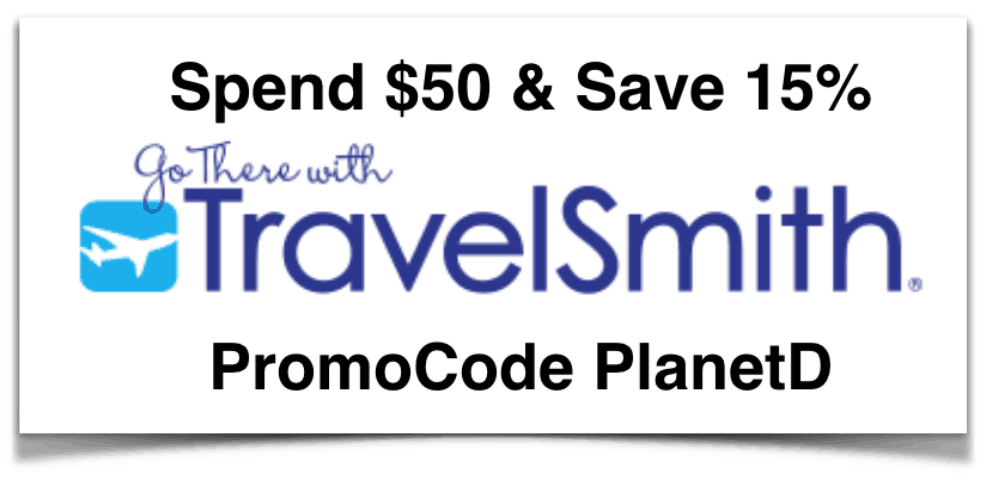 Now back to our behind the scenes coverage of the fashion shoot.
There was a lot of planning that goes into shooting on location. TravelSmith started planning months in advance with their travel partner Distincte. They had to get permits to film on beaches and in those iconic locations like Christ the Redeemer and Sugarloaf Mountain.
Want to learn about Rio Culture? Read our article about Pacifying Rio's Favelas
As travel bloggers, we have it a lot easier. Dave and I can show up with our cameras and blend in with tourists, when a crew of more than a dozen people show up, officials are bound to ask questions and you need to have all proper documentation on you at all times.
The Fashion Shoot Crew
Speaking of the crew, there are a lot of people involved in making everything tick.
Besides the TravelSmith team consisting of the Director o Creative Production, the photo production manager, editor in chief, creative director and digital marketing manager back in the States, there is an entire crew on the ground in Rio.
A fashion photo shoot has a producer who co-ordinates all the spinning wheels, a production manager from Brazil who takes care of all the logistics on the ground, a production manager who is in charge of all the paperwork, and a production coordinator who keeps everything ticking.
We're TravelSmith Travel Advisors: Check out All our tips on TravelSmith today!
Then the creative people come into play. Naturally there's a photographer and assistant, a stylist, hair and make-up artist, seamstress, production assistant and merchandise coordinator. TravelSmith has a lot of great travel gear and clothing, somebody has to coordinate getting all that to Brazil.
The crew travels by van with a slew of wardrobe and TravelSmith gear, setting up shots on the fly. There were four different models showcasing the clothes and I was astounded by the professionalism of them all.
Dave and I were sweating like mad looking haggard our entire time in Rio. These models wore layers of clothing and didn't have a drop on their face. The stayed cool and calm as everyone frantically worked around them.
The fashion shoot was fast paced. They had less than a week to get all the shots needed for the July and August catalogues. Each night we'd receive a call-sheet via email telling us all what time to meet and where we'd be going each day.
Dave and I were on a different schedule from the crew as our main assignment was to go around Rio capturing all the amazing things there are to do in the city. But we did pop in every once in a while to say hello and we did follow along in the email chain.
Days started before dawn at 5:00 am. Catering would greet the crew with breakfast and cold water to prepare them for the long day ahead. The photography shoot would start on a beach at sunrise then go to a downtown, on to another beach, over to a private club and then finish at an iconic spot like Sugarloaf Mountain. They were constantly on the move.
The photographer was spectacular at catching moments on the fly and seeing interesting scenes unfold before his eyes. The day would end after sunset where everyone would wrap up for the night, grab a quick dinner and head to bed early to prepare for another long hot day.
We stayed at the Copacabana Hotel, but see all the hotels we stayed at in Rio's 3 Great Beach Hotels. 
The whole experience reminded Dave and I of our film and TV days. There is a lot of pressure to get the shots needed. The crew only has one shot to make it happen. It's not like they can fly back to Rio the following week to pick up shots they missed. An entire corporation's success hinges on these photos. The crew is skilled and professional and they don't bat an eyelash at the task. They know what needs to be done and they get it done.