One of the best things about coming home is opening all the packages that await us. We send mail home regularly when travelling.
There is no way we can NOT buy souvenirs, clothing, knick-knacks, teas and whatever else we come across during our time tramping around the world. But, there is also no way on earth we can carry it on our backs!
ExOfficio, Our Mongol Rally Gear
So each month we send a big box home and get to open it to see all our goodies when we are back in Canada.
This year was even more exciting as people are starting to send us some pretty cool things. Dave received an Olympus camera to test (more on that later this week), we received our GoPro Hero Cameras,(one for us and one for our lucky winner Edelito Sangco), our new CompeGPS Navigation systems for the Mongol Rally welcomed us home, (something we already told you all about and we'll be sharing more in the future, we received our Paris Movie Walks Books (more on that giveaway coming soon) and last but now least, we received a new wardrobe from ExOfficio for the Mongol Rally.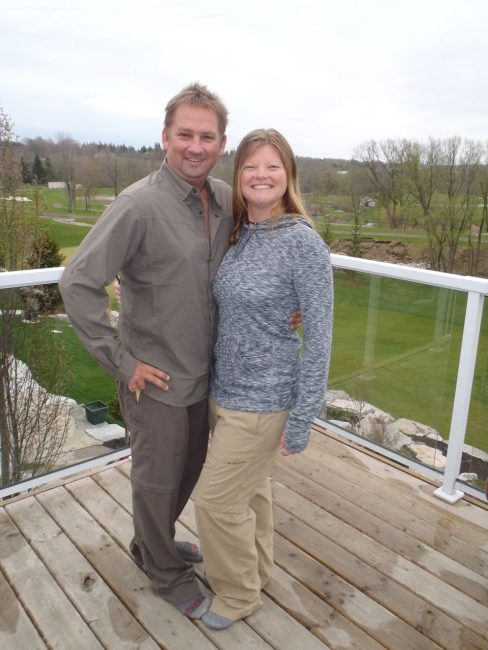 Our team of four – Sherry Ott of Ottsworld, Rick Griffin of Midlife Roadtrip and Dave and I have been working hard all year long to find sponsorship and raise money for charity for our Mongol Rally adventure coming up in July 2011.
It has been one of the greatest learning experiences of our lives and whenever we have success and have a company believe in us enough to give us something to use during the rally, we feel grateful for the hard work that we've all put into the planning.
We were like kids on Christmas morning when my brother Jim and my sis in law Janice brought our packages to my parents place. I couldn't wait to try on our new duds and I had my dad take a photo of us modelling our new attire.
These clothes are not only functional but stylish.
I was so excited for my Chica Cool Long Sleeve Hoodie – This lightweight fashionable top wicks moisture, resists odor (which will be a bonus in the long hot car rides) has an SPF 20 sun guard and is quick drying. This shirt is high tech indeed!
Dave loves his Dryfly Flex Long Sleeve Shirt – The big bonus for this guy is the wrinkle resistant material. No ironing for my man! It's quick drying, lightweight and has an SPF 30 sun guard!
Trekking and Travel pants are always a big expense.
We do a lot of hiking and convertibles are our number one choice for pants. Unfortunately they never look that stylish. I will have to say we are pleasantly surprised about our Ziwa Convertible Pants from ExOfficio. They look good, they are lightweight and comfortable, they are quick drying and have an SPF 30 shield.
But the coolest thing is that they are insect repellent. It's completely odourless but repels those nasty insects that can cause so many illnesses when traveling.
ExOfficio even took care of us right down to our underwear.
Quick drying and easy to clean is the most important factor when it comes to undergarments for travel and ExOfficio has a wide array to choose from.
So now we are ready to walk the catwalk of the great Gobi Desert! Only 80 more days until the start line in England. Where will you be on July 23rd.

Read More
Mongol Rally – Punctures are Part of the Game
Driving in Mongolia Equals Tons of Fun!
20 Essential Tips for Driving The Mongol Rally
You Might Also Enjoy