It is August the 1st. How time is flying. It is Drinks 'Round the World already. Started by thetravelexperta and LifeCruiser this is a great way to get together around the world with fellow travel writers and enjoy a cold one every month.
Drinks 'Round the World, The Bloody Caesar
I missed this cocktail hour and happy time last month. However, this month I am armed and ready with one of my favorite drinks that as far as I know is very unique to Canada.
We Canadians really do love our Bloody Ceasars.  It never fails, if you are out with a group of people and one person orders a Ceasar, several people will follow suit and order as well.
There is even a campaign by Motts Clamato here where a person is at a bar ordering a Ceasar and everyone else changes their order to Ceasars too. It is not that far fetched, once you see one, you gotta have one.
It is fitting for me to recommend this drink as 2009 is its 40th anniversary! It was invented in Calgary, Alberta in 1969 by bartender Walter Chell.
What's in a Caesar?
A shot of Vodka
Clamato Juice – A mix of Tomato and Clam Juice (it tastes way better than it sounds)
Worcestershire Sauce
Tabasco Sause
Celery Salt
Celery Salk
Lime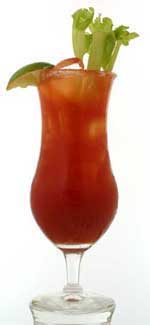 How to Make a Bloody Caesar
Take a large highball glass and dip the rim in water (or you can use a large fancy cocktail glass to add more class) Then dip the wet rim in celery salt and now you have a nice spicy salt rimmed glass.
Add ice, a shot of Vodka and fill with Clamato Juice
Add Worcestershire Sauce and Tabasco to taste. I love mine spicey, so I use at least 5 drops of tabasco sauce and a good couple shakes of Worcestershire Sauce
Garnish with a stalk of celery and a lime.
I have also seen in garnished with lemons, tomato's, jumbo shrimp and green beans.
I prefer to sip it rather than drink out of a straw. Work your way around the rim of the glass and enjoy the taste of the celery salt mixed with the rest of the spices.
Once you have had a Bloody Caesar, you will never have a Bloody Mary again!
Canada's National Drink
Help us make The Bloody Caesar Canada's National Drink by signing this online petition at Motts Clamato
Many countries in the world have their own national drinks, I think it is time for Canada to have one too.
Hopefully you can find Clamato Juice in your country and try a delicious Caesar yourself.
So, what are you having today for Drinks 'Round the World? And if you just found out about it, see you next month September 1st for a brand new recipe.
Read More
Drinks Round the World: The Canada Cocktail
9 Surprising Things to do in Winnipeg – Plus Other Hidden Gems
Where to Stay in Toronto – A Guide to the Best Neighborhoods
You Might Also Enjoy