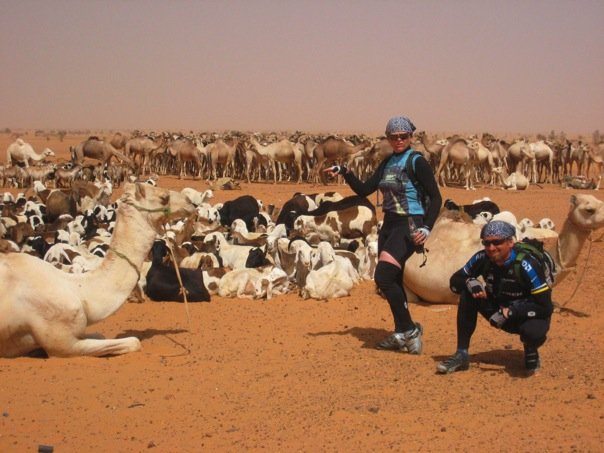 Bordered by Egypt and Kenya, Sudan is the third-largest country in Africa. It is also a very diverse country with plenty to see and do.
Mountains, deserts, historic pyramids and ruins, coral reefs, and farms of fruits and vegetables are just some of the things you can find here.
Add in friendly locals and cuisine that spans multiple cultures and it makes for a memorable trip.
This Sudan travel guide will help you plan your next vacation.
Fast Facts
Power voltage is 230 V at 50 Hz.
The official currency is the Sudanese pound (SDG) and 1 Sudanese pound is equal to 0.022 USD.
The best way to get around is by bus or car.
To enter, you will need a U.S. passport valid for 6 months as well as an entry visa from a Sudanese embassy.
Sudan is under Sharia Law. Due to this, alcohol is prohibited, and men and women should follow the dress code. For more information, click here: https://traveltips.usatoday.com/clothes-wear-traveling-sudan-105798.html
Zain Sudan, Sudani by Sudatel, and MTN Sudan are the main mobile provider and a prepaid SIM card can be purchased through any of them.
To use these SIM cards, you must have an unlocked GSM phone.
The value-added tax (VAT) rate is 17%.
NOTE: As of April 2019, the Travel Advisory has placed Sudan under Level 4: Do Not Travel status.
Budgeting
Accommodation
Budget – You can find prices for hostels for 2,000 Sudanese pounds per night. Enjoy dorm-styled rooms, a fan, a bathroom and shower, and nearby restaurants and tourist destinations
Mid Range – For mid-range hotels, expect to pay about 3,200 Sudanese pounds per night. Enjoy private rooms and suites with TVs and minifridges, a hotel restaurant, airport shuttle, free breakfast, and good locations.
High End – Upscale hotels can cost about 9,200-13,000 Sudanese pounds per night. These hotels come with room service, an indoor or outdoor pool, sauna, massage services, a fitness center, and a hotel restaurant serving fine dining.
Check out our favorite booking platforms Booking.com, Tripadvisor and Air B&B for the best deals on accommodation in Sudan
Food
Food: The food in Sudan is a mix of various cuisines and cultures, including African and Arab cuisines. Bread, porridge, fruits and vegetables, soups and stews, and pepper and spices are common staples.
Tamia (made from mashed and fried chickpeas) and goraasa be dama (beef stew with green peppers, tomato, cardamom, and cinnamon) are popular dishes.
If you're looking for something sweet, try some kuindiong (sweetened semolina). For an average restaurant, expect to pay around 500 Sudanese pounds.
Transportation
Getting to Sudan
The main airport is the Khartoum International Airport, located 2.5 miles from Khartoum city center. Port Sudan and Juba both have international airports as well.
Flights: You can check for the best flights to —- on Skyscanner.
Bus: Buses are a cheap way to get around Sudan. It is best to book a ticket at least one day in advance. A bus from Khartoum to Shendi will cost about 40 Sudanese pounds.
You can also look for minibuses that do not operate on a fixed schedule and leave whenever the car is full, but you should be able to converse in Arabic at least a little.
Taxis: Taxis are a good way to get around, though they are not metered, so agree on a price before getting in. A ride from the Khartoum airport to the city will cost about 100 Sudanese pounds.
Rent a car: Renting a car requires you to be at least 21 years old and have both a U.S. license and an International Driver's Permit. Prices start at 1,350 Sudanese pounds.
You can also compare prices here
Places to Stay
Grand Holiday Villa Hotel: Stay at this great four-star hotel in the commercial hub of Khartoum.
Choose from a range of rooms (single to presidential suite), all of which come with internet and a TV.
Enjoy two restaurants serving a variety of international cuisines, a cake shop, an outdoor pool with a lounge area, and a banquet room.
Coral Port Sudan: If you're heading to Coral Port, stay right on the harbor at this four-star hotel.
Featuring private rooms with air-conditioning and TVs, an outdoor pool, a fitness center, and great views of the Red Sea and Port Sudan, this is the place to be.
Corinthia Hotel: Right next to the Friendship Hall of Khartoum and Tuti Bridge, stay at this great five-star hotel in central Khartoum.
Amenities include private rooms with views of the Nile River and marble bathrooms, three restaurants that serve diverse cuisine, in-room dining service, a spa with jacuzzi and massage services, an indoor pool, a salon, and more.
Packing Tips
Power Adapter: As the voltage is higher than the US, bring a power adapter to charge your electronics.
Sudanese Arabic Phrasebook: It can help to know some popular phrases, so bring a phrasebook.
Cash: Your credit cards will not work in Sudan, so bring cash with you to pay for your travels.
See our packing tips: packing list for travel
When to Go
The best time to visit for good temperatures would be December-February. Temperatures around this time are about 86 degrees Fahrenheit, which is cooler than the average of 104. If you're heading to Sudan for camel races, come in September-October.
Things to Do
Adventure
The National Museum of Sudan: Explore Sudan and its history at this two-story museum. Highlights include artifacts from the Kush civilization, royal statues, medieval fresco paintings, hieroglyphic carvings, and temples from the Egyptian empire.
Meroë Pyramids: Head to the city of Meroë to see these Nubian pyramids from the Kush civilization. Once used as tombs for kings and queens, the pyramids are now declared a UNESCO World Heritage Site.
Sanganeb National Park: Marine and nature lovers will enjoy this national park, which has marine life and over 120 coral reefs that are considered to be some of the best in the world. Other points of interest include the lighthouse, which has stunning views of Sanganeb, as well as Dungonab Bay and Mukkawar Island.
Tuti Island: Come explore Tuti Island, where the Blue and White Niles merge. Consisting of a village and plenty of agriculture, spend a peaceful morning or afternoon near nature.
Soleb Temple: Head to the town of Soleb to see this temple. Built from sandstone in 14th-century BC, it makes for an impressive sight.
Booking Resources
Whenever we travel to we make sure to start with these companies.
We have tried a lot of different ones over the years and all of these have consistently proven to be the best when it comes to offering great prices.
We have used every one of these personally and continue to do so.
Booking.com: This is our go site to when comparing prices for accommodation. It is usually the has the cheapest prices, not to mention you get free cancellation and you are guaranteed the best price.
Trip Advisor: What we like about Trip Advisor is that we can look at all the reviews and then book our accommodation.
Air BnB: Airbnb is the main search engine we use when we are looking for a home or apartment rental. It is the best way to stay in areas that offer a more local feel.
Skyscanner: This is the first place we check for flights. It consistently comes back with the cheapest and best options. It allows us to compare a lot of airlines to get the best price.
Hostelworld: With one of the largest databases of hostels in the world, Hostelworld is the go-to site when you are looking for budget accommodation.
Rome 2 Rio: If you want to see how to get somewhere by plane, train, bus, ferry or car Rome2Rio lays it all out for you as well as related costs. I love how they show it all to you on a Google Map and it works offline.
Get Your Guide: For all your day trip and city guide needs, we use Get Your Guide. It has the world's largest collection of things to do with more than 30,000 activities in 7500 destinations.
World Nomads Insurance: When traveling you should always have travel insurance. We do.
Related