We've had the opportunity to do some very cool city tours during our around the world travels. We've taken some cool motorbike tours in Vietnam, walking tours in New Zealand and we had a lot of walkabouts in China.
Dave and Deb's Cool City Tours
But it was this past year that we had the chance to experience the coolest and most unique city tours of our travels. We discovered interesting ways to explore the great cities of this world.
Seat 600 Classic Car Tour – Barcelona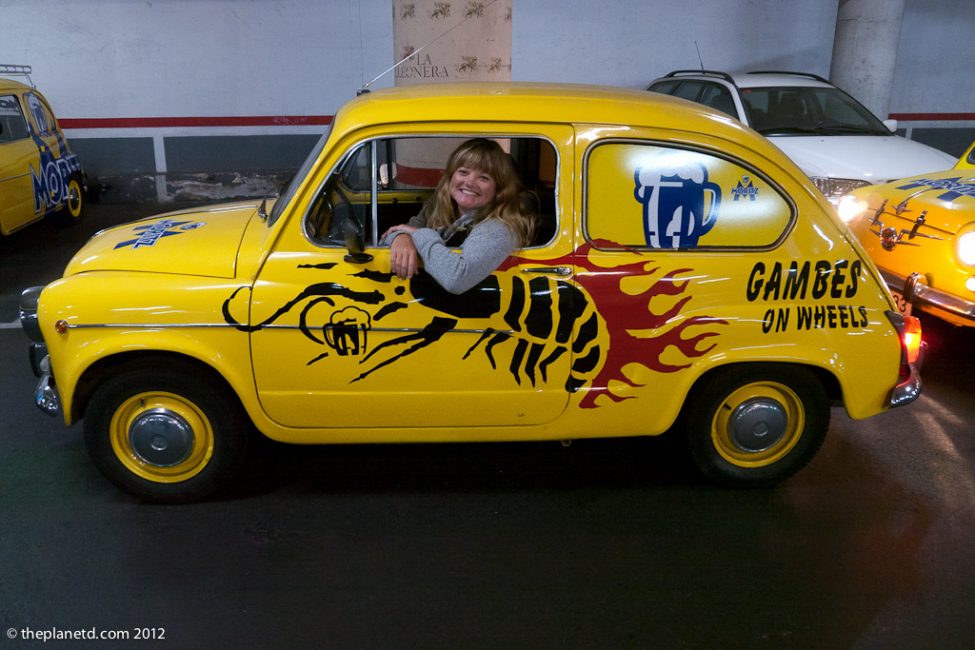 It was in Barcelona with the Catalunian Tourism board that we were told to bring our driver's license to dinner. It was a surprise as to what we were doing, but we knew we must be doing something special since we had just spent the afternoon at the Catalunya Circuit watching an F1 race! They didn't disappoint. We gathered in an underground parking lot to start our tour in these Classic cars from the 60's. The difference between this cool city tour and our Vespa tour? We'd be driving ourselves. Lucky we could drive a stick. The skinny steering wheels, sensitive clutch and strange shifter made for quite the adventure as we drove around the city tasting tapas. We ended high on a hill overlooking the city and eating an outdoor feast under the stars.
For more information on booking your own city tour in Barcelona check out Pumm Barcelona, they organize Urban City Adventures in Barcelona. 
Private Boat Tour – Venice
When going to Venice, there is only one way to see the city and that is to see Venice by boat. Most people opt for a 50 minute gondola tour but we suggest a private boat tour with Walks of Italy. This two hour city tour takes you from the Grand Canal to all the back canals in style. Sitting in the comfort of your own water taxi, a guide points out all the incredible sites of Venice. In a gondola you'll see one tiny corner of the island. With Walks of Italy, you'll see it all and get a sense of just how fascinating Venice is. The tour ends with a trip up the elevator at  San Giorgio Maggiore where you get a panorama view of all of Venice. If you are lucky, your guide will take you out for Gelato at the best Gelateria in all of Venice at the end of the tour.
For more information on your own City Tour of Venice or other Walking Tours of Italy check out Walks of Italy.
Segway Tour – Prague 
We had never been on a segway before and didn't understand what all the fuss was about. That is until we took a segway tour in Prague. Once you get the hang of riding a segway, it is the coolest sensation. The slightest lean will take you in the direction you want to go. Really all you have to do is think about how you want to turn right or left and you will. They are that intuitive. We started at the top of the city and worked our way down the mountain. We wheeled our way through the alleyways and canals and stood heads above the crowds of people in the square as we watched the astronomical clock go off. It was the most fun we've had on two wheels. This city tour is the best way to see Prague, we covered a lot of distance, didn't have to push through the crowds, because they parted ways for us and we had a bit of an adventure travel in the process.
Vespa Tour – Rome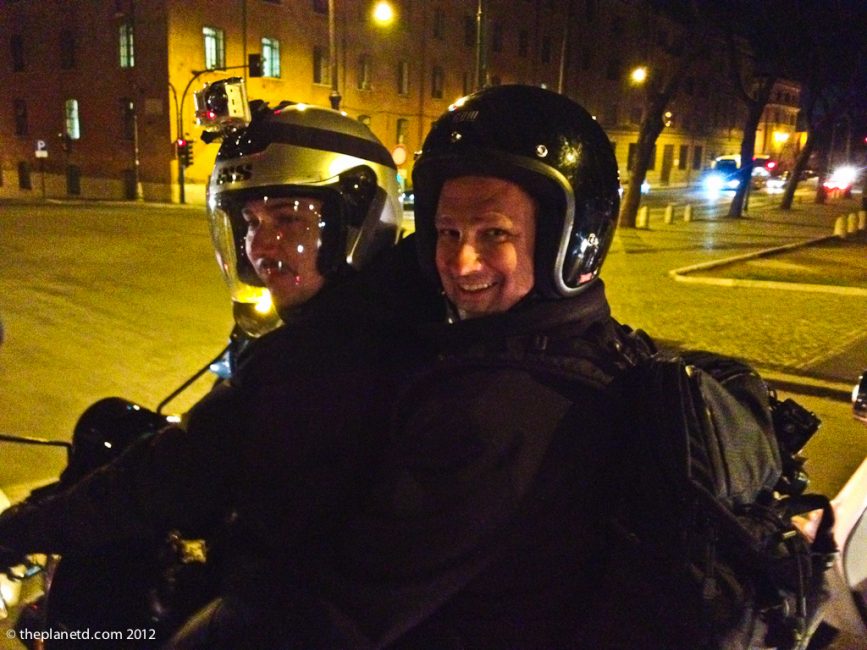 Imagine zipping around the ancient city ala Audrey Hepburn on a Vespa Tour. We never would have even known you could do this type of city tour in Rome. At 8 pm we were picked up by a group of men driving vintage Vespas. They do this for the love of it. They get together a couple times a month and show tourists their home town and what a home town it is! We stopped at the Colleseum, Roman Forum, Roman Baths and everything else in between the ancient monuments of Rome and final stop of the Vatican.
Our Vespa Tour was brought to you by Housetrip who we spent 3 night with at an apartments in Rome. I still can't figure out how he found these guys.
Pedicab Tour – Denver Colorado
We had to go all the way to Colorado to take our first Rickshaw tour. Sure, we've taken rickshaw taxi's in India but that was while loaded down with all our bags while trying to find hotels. In Colorado we hopped on a rickshaw with a hot young driver (clearly this is Deb writing this post) who took us through the busy city streets. Having just come from a cocktail party with our friends from TBEX and we were feeling quite jovial and egged him on when he raced his fellow drivers. These guys are in top notch shape to be able to cycle through the mile high city. Kudos to them all and thanks for the fun ride.
To book your own rickshaw tour in Denver, check out Three Kings Pedicab
Longtail Boat – Backwaters of Bangkok
We had been to Bangkok on several occasions but we had never hired a longtail boat to take us through the back Canals for a city tour of Bangkok. Known as the Venice of the East, Bangkok truly is a city filled with Canals. You really get a sense of it when you take a longtail boat through the backwaters of the city. Entire communities live on the water and the only way for them to get around is by boat. There are pharmacies and tea shops and corner stores and eateries all along the water.  You'll go through authentic local markets where you can buy fresh fruit or snacks from women in big straw hats serving form their boats and one of the highlights is stopping to buy a loaf of bread to feed the fish that hang in front of the shop. They will eat it right out of your hand.
To book a longtail boat tour in Bangkok, head down to the Chao Praya river and negotiate a price. Usually around 1000 baht for a day tour.
Cycling tour Xian
Who has ever wanted to cycle on a great wall. Ok, it isnt' the Great Wall, but it is a Great Wall in China. The Xi'an Wall is most well preserved ancient wall in all of China and it goes around the entire city of Xian. Xian is the hopping off point for seeing the Terracotta Warriors and if you rent a bike and do a self guided cycling tour you can tour the city in safety and comfort from above. The best news is, it only costs about 2 bucks to rent the bikes!
Roman Food Tour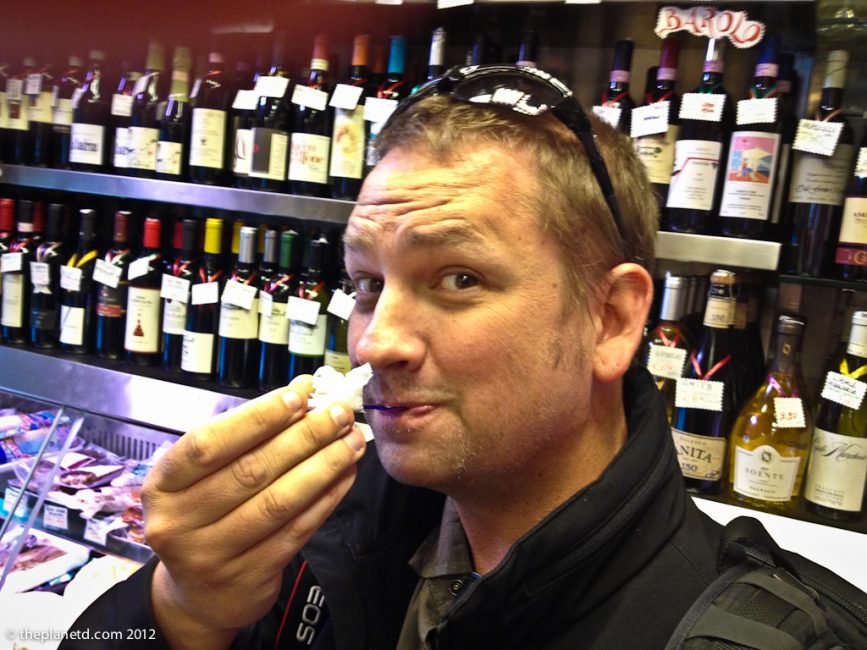 I know that Rome is already in the list, but how can you not include the fabulous Kenny and his Food tour. It is the most fun we've ever had on a walking tour and we tasted the most delicious array of food! It is the guide that makes a tour and Kenny is the best guide we've ever had. He was captivating as he told his stories, his energy and love for the city was contagious and you could tell that everyone in the neighbourhood loves and embraces him. If you go to Rome, this is the best tour you can take. You'll get a true feeling of local life and you'll be stuffed by the end of it. We were worried we were going to be hungry when we first started, but the food just keeps on coming all morning long.
For more information on booking your own Food Tour, check out Eating Italy Food Tours at Rome Tours.
That's All Folks, Thanks for joining Dave and Deb's Cool City Tours
Have you taken a unique or cool city tour around the world? Share your experiences with us, we love exploring this way.