Recently we attended a dinner with American Express Canada executives to discuss what we like and don't like about rewards cards. They invited credit card specialists and travel experts to have a round table discussion.
American Express Gold Rewards
The topic was the American Express Gold Rewards Card. As many of you may remember, Dave and I took the Gold Rewards Card for a test drive for two solid years while we traveled the world. We dispelled the myths that American Express wasn't accepted everywhere as we filled our car with gas in Siberia, bought groceries in Mongolia and paid for meals in Kazakhstan. Yes the Gold Rewards Card was accepted everywhere from buying wine in Ushuaia Argentina; the southernmost city in the world, to kayaking in Croatia.
We had a lot of experience with our Gold Rewards Card and even though we've moved on to become American Express Platinum and Brand Ambassadors, we had a lot to say during the round table discussion. I like to think of us as Amex Experts. Yes, that's a bold statement indeed, but we think we know this card inside out after putting it to the test for two solid years. We were surprised to hear the statistics that only 15% of Canadians do any research regarding the options of credit cards out there and only 27% understand what their rewards program offers. Many people are confused about choosing the right card and while we talked, we couldn't understand why others didn't see that the obvious choice is American Express. Especially if you love to travel.
Rewards for Travel 
We've used our American Express Gold Rewards card for many travel perks in the past and now, when you sign up with an Amex Gold Card you receive a welcome bonus of 25,000 points (which gets you a round-trip flight to almost anywhere in North America) and the annual fee is waived for the first year. If you are like us, you probably don't like annual fees. We used to ignore signing with any card that had a fee. But as we did more research, we learned that the benefits far outweigh the cost of the annual fee.
Let me show you the ways.
1. The travel insurance. The American Express Gold Rewards Card offers Emergency Medical coverage (out of province/home) for the first 15 consecutive days of travel regardless of whether they paid for their trip through American Express or not. The Gold Card also covers trip interruption insurance and car rental insurance too.
2. Travel Spend. With your Gold Rewards Card, you receive double reward points for every dollar spent on travel spend. And Amex gives double points for purchases at eligible drug stores, gas stations, and grocery stores. But don't forget, you also get a point for every dollar spent everywhere else too. So use your card for all your everyday purchases and earn faster.
3. Redeeming Points – There's no limit to  how many points you earn and they never expire. You can charge any travel to your card through any travel agent, tour company or even online booking system and pay with your points including taxes!
4. Rewards Transfers – Got a favourite rewards program? American Express lets you transfer 1:1 to Aeroplan and Avios, you can transfer rewards to a variety of loyalty programs, including Alitalia, British Airways, Delta, Cathay Pacific, Hilton Honors, Starwood Preferred Guest and Priority Club.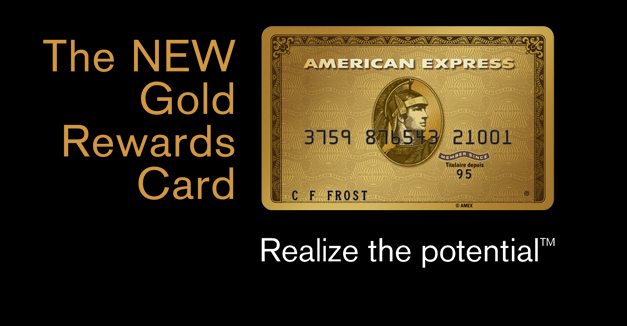 So if you are looking for a credit card to help you earn rewards that also gives you peace of mind, give the Amex Gold Rewards a test drive. We did, and within that risk free first year, we found that we earned so many perks, it became our credit card of choice whenever we needed to pay for something. We actually looked forward to paying the bill as we knew we were working towards more free travel.
You Might Also Enjoy