Well, we blew the diet. Dave and I had been working hard to cut back on eating rich and delicious food, but then came all the Calgary restaurants! There are so many, we threw the diet out the window to enjoy the all the culinary delights the city has to offer.
Calgary Restaurants
We had the chance to sample many Calgary Restaurants and we have the waistline to prove it! We suffered through the pain of eating delectable meals and rich foods to help you choose where to dine during your next vacation out West. It's a tough job, but someone's gotta do it.
Charcut
Charcut Roasthouse was voted as one of Canada's top 10 best new restaurants by enRoute Magazine. We walked into a packed house of people enjoying the locally sourced menu prepared by local chefs and owners Connie DeSousa and John Jackson.
It's a carnivore lovers delight at Charcut, a sure bet is to order the special of the day from their custom built rotisserie. I love a sure thing, so I ordered the rotisserie and Dave had a prime rib sandwich sliced from their vintage style slicer.
I didn't think to ask what kind meat was on the rotisserie and was a little worried when I saw that it was pork being set down in front of me. Being in Alberta, I assumed it would be beef.
I'm normally not a fan of pork, but this dish was delightful. The pork melted in my mouth. I ate slowly and savoured each mouthful as I spread fresh roasted garlic and handmade Dijon with peppercorns on to each bite.
Both of our meals were delectable and accompanied with parmesan fries to die for as well as a bag of warm cookies to go. We loved having a choice outside the usual soda and juice for drinks, and went for the Grizzly Paw Cream Soda and Root Beer.
They were the perfect accompaniment to our perfect meals. A word of warning though, when you leave Charcut, you may need to have someone roll you out the door. The portions are huge and you won't be able to stop eating; even if you feel full. The food is just that darn good.
For more information or reservations visit Charcut.com
Model Milk
When we told people that we were eating at Model Milk for dinner, everyone said, ooh, that place is the best of all the Calgary restaurants. They were right!
The food was fantastic and the atmosphere was even better! Chef Justin Leboe has designed an open concept kitchen overlooking the restaurant where patrons can sit at the bar and watch the staff at work. We felt like we were watching our own Hell's Kitchen episode without all the yelling and swearing.
The restaurant was packed, and the food was flying out, but the staff and the chef were all calm and orderly getting their dishes out efficiently and beautifully presented.
We had our own little dinner theatre going on during our meals as we sat at the bar and watched the show.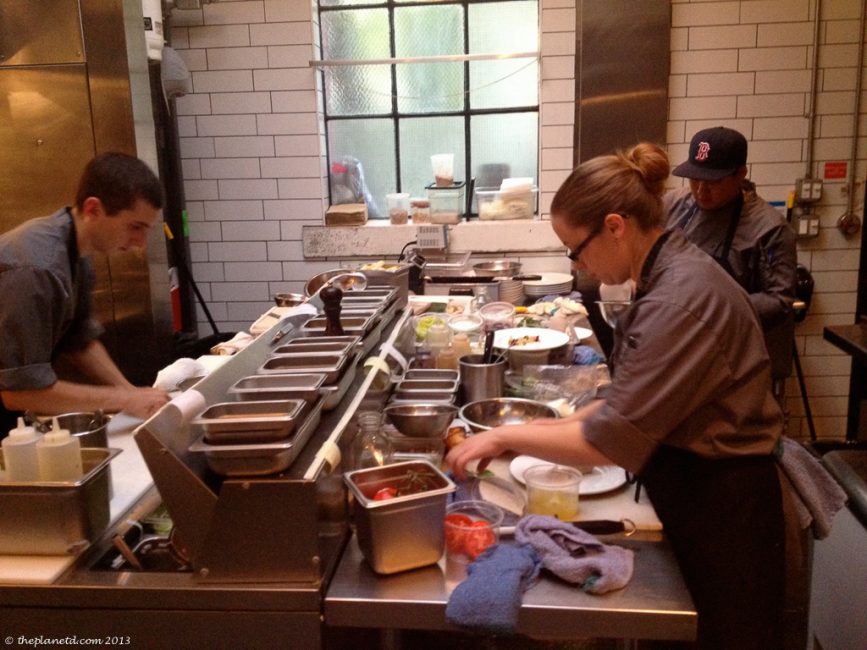 What we love about their menu is that it has a very European flare. The menu changes regularly following what is in season just like so many establishments in Europe. They change the menu so much at Model Milk, they actually put the menu on a piece of paper that is held on to the wooden placeholder with rubber bands, so that it can easily be switched out at a moments notice.
One item that really stood out for us, were the Anchovies and Eggplant. It's a bold move for a Calgary restaurant, but it works beautifully. We've spent a lot of time in Italy where anchovies are a staple, and they have never tasted so good as they do at Model Milk.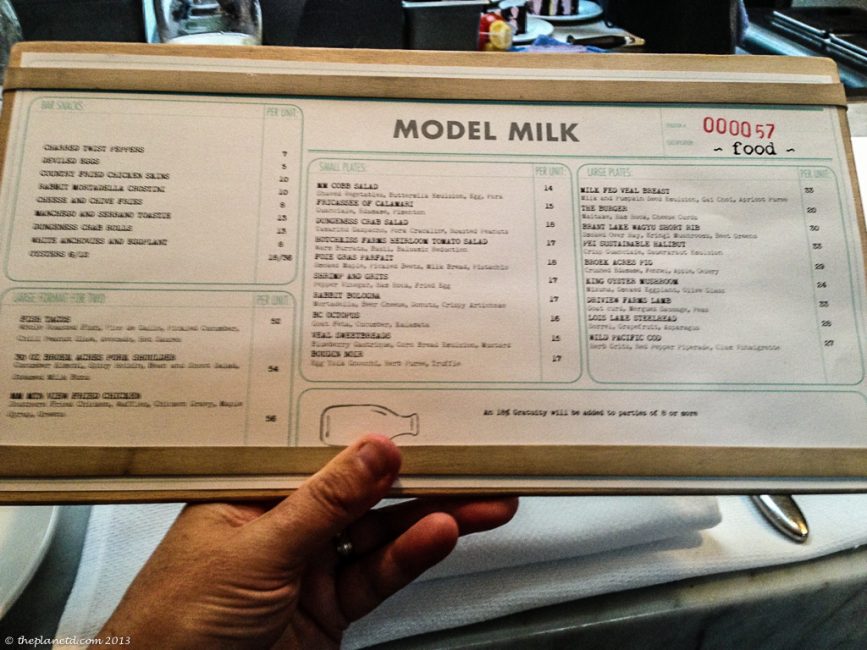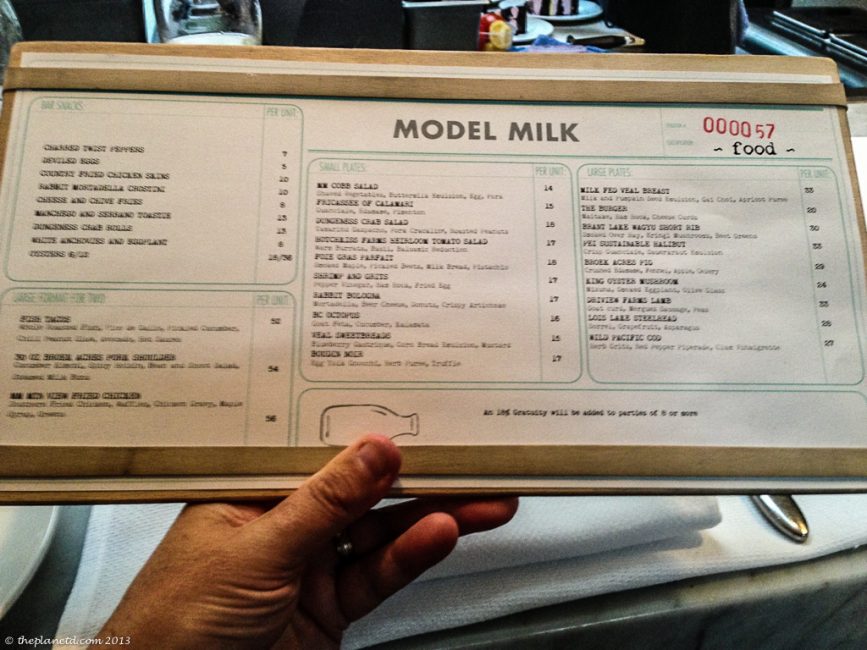 We had a lot of meat at all the top Calgary restaurants. It's what you do in Alberta. Eat beef. so it was nice to see a selection of lighter meal choices and we both went for the fish. Dave had the PEI Halibut and I had Wild Pacific Cod. Add some sparkling wine to the meal and it was perfection.
Chef Justin tells us that some people don't like sitting at the kitchen bar, but we highly recommend it. The cooks will chat with you you have entertainment all night long. We hadn't had such an entertaining meal since the Barefoot Bistro in Whistler BC.
For more information on address, menu and reservations visit Model Milk's Website for details
National Beer Hall
That National Beer Hall is a beer hall with class. A community feeling is encouraged here as everyone sits at large long tables giving you the opportunity to get to know your neighbours. However, the long tables aren't your usual cheap picnic style seats that you expect from a beer hall. These are elegant solid wood slabs made of dark oak.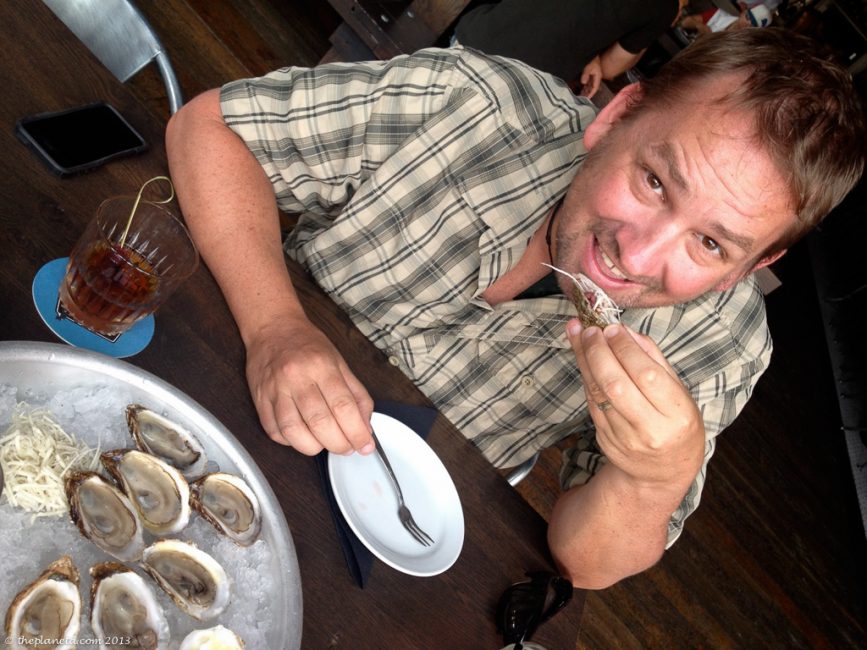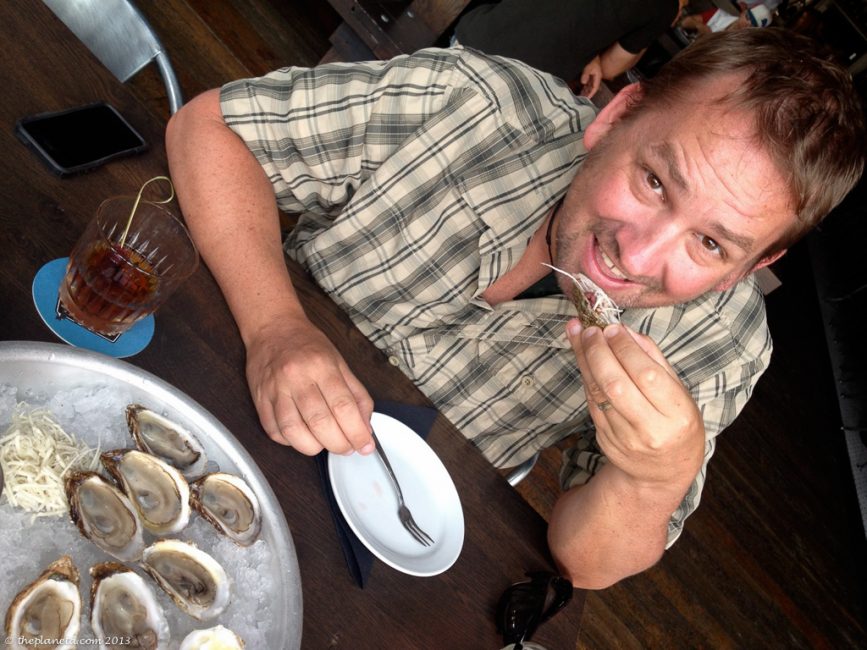 We were only there for appetizers but with their dollar oyster special with a pint of beer, we ended up eating a meal's worth of food. The oysters were outstanding as we ordered a sample of the West and East Coast choices. Can you believe it?
A dozen oysters for twelve bucks! They had all our favourite fixings with horseradish and red wine vinegar. We could eat oysters all night long, but we thought we should try something else too, so we opted for their warm olive sampler. It was divine and a great addition to the oysters.
Love Calgary Restaurants? Check out adventures in Calgary too.
For drinks, I had their special Caesar, which was a meal in it's own right. It was a great and original caesar, made with horseradish and assorted spices and it was gigantic! (a picture of it is in the first montage at the top of the page)
Dave has been in love with Manhattans ever since we had one at the Trump Hotel Toronto, so he ordered that to start. However, we were in a beer hall and there was no way we could hold our heads high if we didn't sample some beer.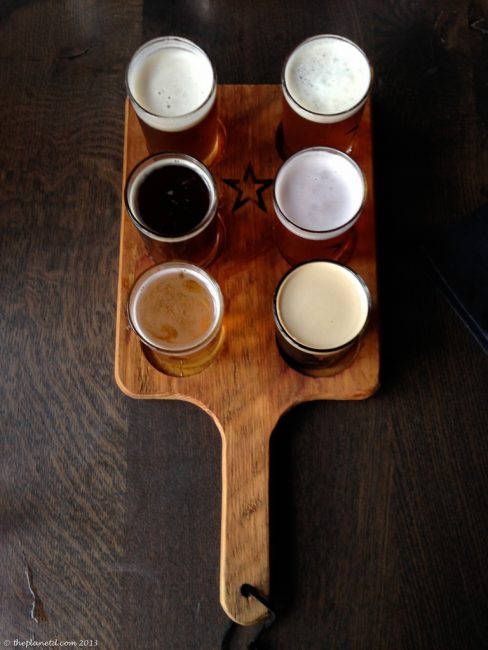 With 108 beers to choose from, it can be difficult to make a decision so we decided to order a flight of beer which is a great way to get a taste of everything.
We left the choices to our server and she came up with a great sample of Phillips Analogue Kolsh, Tamarack Yardsale Amber Ale, Brew Brother's Raspberry Cream Ale, Phillips India Session Ale, Granville Island Raspberry and Ambrose Oatmeal Stout. Each choice was a winner and we had a difficult time choosing a favourite, but we sure enjoyed trying to decide.
For more information on The National Beer Hall, Visit their website
Yellow Door Bistro
Located at Hotel Arts, the sister hotel to our beautiful boutique hotel, Kensington Inn, the Yellow Door Bistro offers fine dining in a relaxed atmosphere. Dave naturally decided to sit in the giant butterfly chair and we joked that he was 'King David,' a name that he happily accepted.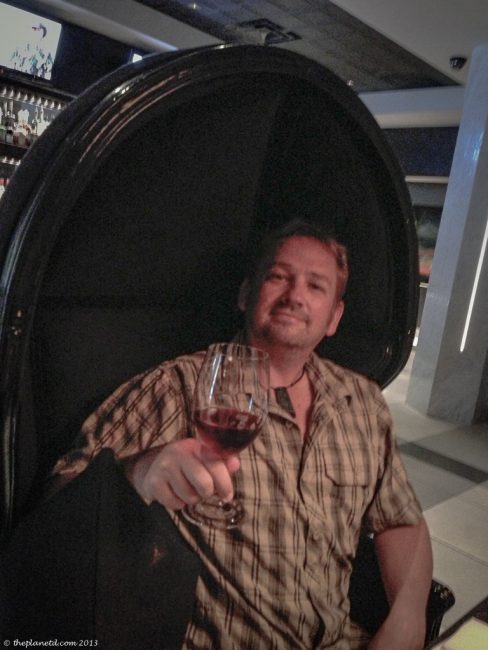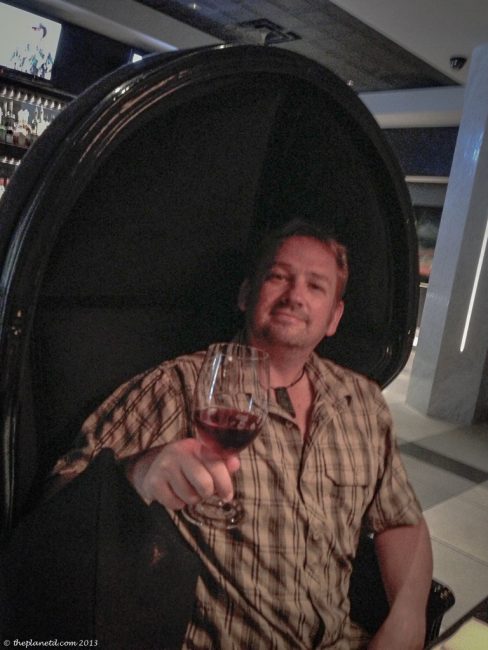 Unless you are a vegetarian, one cannot go to Calgary without trying the Grade-A Alberta beef. So tonight was our night to go for it. Dave ordered the T-Bone and I ordered the tenderloin.
They lived up to the hype, but I have to admit, the Carpaccio appetizer was the star of the show. Beef overload you say? No way!
Alberta beef is free to roam the range and eat natural grains and hay unlike other beef that is fed corn, and God only knows what else. It makes a difference and the meat was cooked to perfection.
For more information and reservations, visit The Yellow Door Bistro online
Breakfast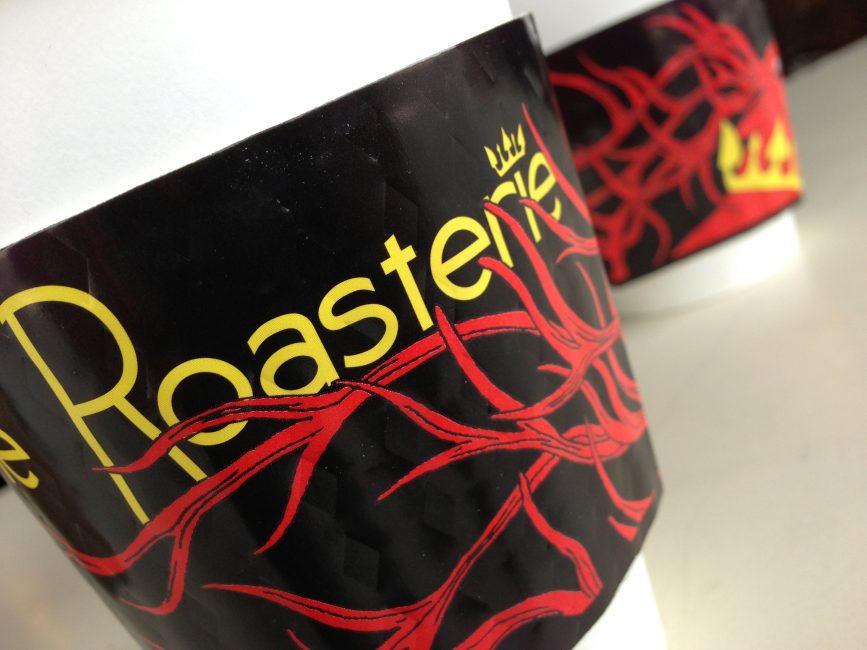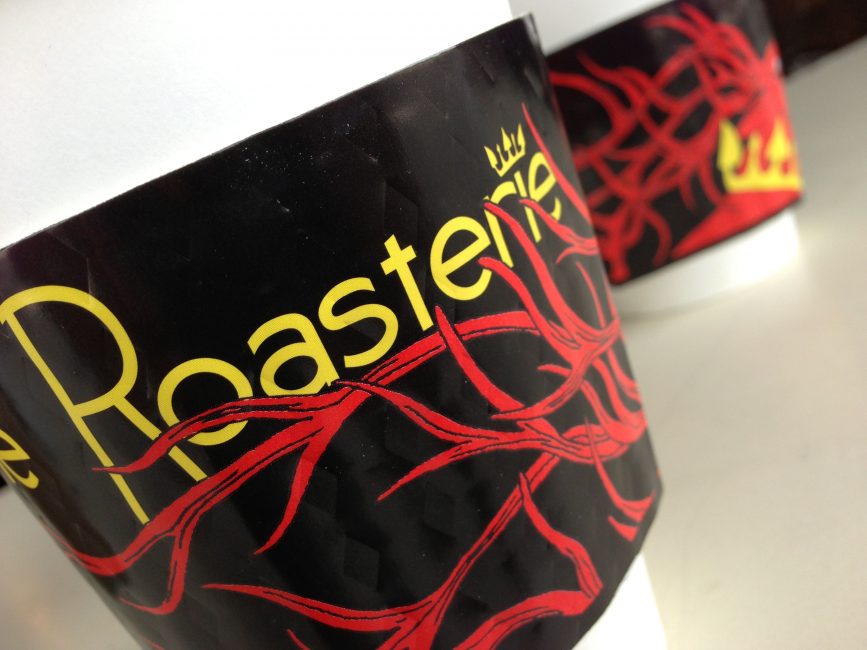 For breakfast choices, a great area filled with restaurants Kensington. Kensington is a hip part of town where local artists congregate, fair trade coffee shops like The Roasterie, have opened their doors and fine boutiques and shops welcome visitors.
It's the place to hang out for breakfast and one of the best spots is the Chef's Table Restaurant at the Kensington Riverside Inn. The eggs Benedict were outstanding and the setting is beautiful, located right no the Bow River.
Muse Restaurant
We stayed at the Kensington Riverside Inn and found it to be an excellent location. Cabs to downtown ranged from $11 to $13 and being in the heart of Kensington Village allowed us to not have to leave the area for dinner or breakfast if we chose to stay close to our hotel. There were dining choices a plenty, and a lot of dining we did!
So there you have it, that's our choices for Calgary Restaurants. Do you have a favourite?
Read More
Whipping Through the Olympic Village
A High Mountain Trail Ride, Your Buns have come a Long Way Baby!
A Dinosaur Sunset to Remember
Back to my Roots at the Bar U