We arrived on a windy day in Paris feeling well rested on our upgraded Air France Business Class Flight.
We were supposed to be flying on their new Premium Voyageur Class, but due to the last minute switch, we ended up on the more luxurious business class.
Bonjour Paris
We won't bore you with the details; we already did that on our Qatar Airways post where we were upgraded less than a month ago, but let me tell you this, the food was amazing.
Thanks Again to Air France for the tickets. We will let you know all about the New Premium Voyageur Class on our return flight to Canada.
A Friend in Paris
Our friend Marie Louise was waiting patiently for us at the Air France Shuttle drop off in Montparnasse.
Our flight arrived an hour late and she had to brave the frigid air waiting for us outside in the wind and cold.
We had never met Marie Louise before. She is simply a fellow traveler that loves India and enjoyed our posts about the country.
When she heard we were coming to Paris, she sent us tonnes of information and we became instant friends.
Armed with a picnic lunch, we went for coffee before taking the bus to our accommodation.
It was a fantastic private site seeing tour from a native Parisian. We hopped on the number 58 bus heading towards le Jardin du Luxembourg where we got off to transfer and enjoy the area.
This is the largest park in Paris and it is beautiful. It is filled with gardens, sculptures, green lawns, pathways, and picnic areas. An awesome photo exhibit was taking place along its fence near the Senat Buildings.
Only in Paris can you have a display of dozens of giant photos lining the sidewalk.
The Entire City is a Work of Art

Marie Louise originally wanted to take us on a picnic the Jardin du Luxembourg, but the winds were strong and the air was brisk so we decided to make our way to Montmartre where our hotel was situated.
The bus was a great way to see the city and gain our orientation. It was also easier than the metro to carry our bags.
Montmartre is a charming part of Paris that has stood the test of time. Small cafes and small family run businesses line the streets.
Home to the Moulin Rouge, Sacre Couer and the Red light district it has an eclectic mix of people living within its limits.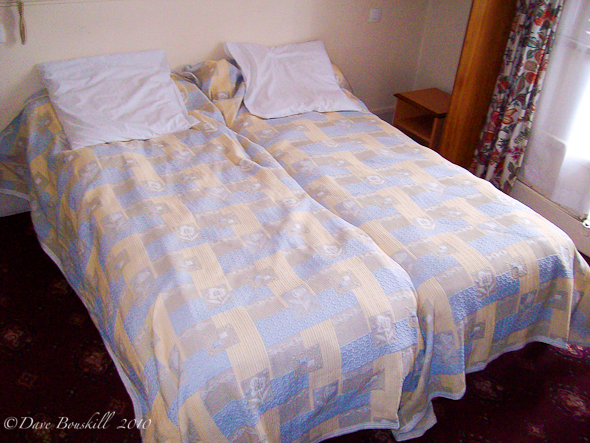 We are staying in a cute and friendly little hostel right in the thick of things.
The Perfect Hotel is 5 stories high, clean and comfortable, Marie Louise suggested this steal for only 35 Euro per person.
That includes a breakfast of bread and chocolate croissant with coffee and juice.
We have a very clean room with a private bath and we even have an elevator to take us; and our luggage up the 4 flights of stairs.
The place is reasonable, but it even takes pride and has that Parisian flare.
Since we didn't get a chance to have our picnic, Marie Louise left us with delicious baguette sandwiches filled with meats and cheese, enough chocolate to last a week and some fresh fruit.
She even bought us a little care package of soap, pink toilet paper, forks, and handi-wipes.
It was very generous of our new friend Marie Louise!
We know you are reading this and want to say thank you very much!
After we parted ways, Dave and I scarfed down our sandwiches and weren't ready to call it a day yet.
We have learned from experience that we should try to stay up for as long as possible.
It was about 6:00 when we decided to make our way to Sacre Coeur.
It is only a short walk from our hotel. This majestic white Basilica sits atop the highest hill in Paris and overlooks the city.
It is a beautifully imposing site.
We didn't expect any crowds as we thought that it would be too late in the day, but boy we were wrong. Throngs of tourists and tour buses had taken over the place.
We would learn quickly that it is almost impossible to go anywhere in Paris without a crowd.
Mass was taking place while we were there and we couldn't take any photos of the inside of the church, but it was like any other giant cathedral that you could imagine.
It is dark and ornate, it is lit with candles and light shines through the stained glass windows.
Dave always likes to joke that whenever we visit Europe we suddenly become religious.
We always seem to check out many churches, temples, and pagodas in our travels. But the churches in Paris are grand and the architecture is awe-inspiring.
It is impressive to think of how long these walls have stood and how many people have walked up these steps or down these corridors.
If you are interested in churches and cemeteries, you might be interested in visiting the Paris Catacombs
Not only is the building itself impressive, but the location and view is also extraordinary.
It overlooks the entire city of Paris. Sacre Couer sits on the highest point of the city and it is worth a visit for a free view from above.
We were reminded as we looked on just how big Paris is.
It is a sprawl of buildings circling out in a clock like a pattern. There are miles and miles to explore.
Wow, it is going to be an exciting few days.
Tips

Sacre Couer – Free admission and situated on the highest viewpoint in Paris.
Air France Shuttle – 16.50 Euro to Montparnasse
10.50 Euro for a 10 pack of public transport ticket
Montmartre is just north of the main city centre. Approx. 10 minutes by metro to Latin Quarter
The film Amelie was set in Mont Marte
Read More
How to Visit Paris on a Budget – 20 Tips to Make the Most of Your Stay