We don't normally do Black Friday posts.
We figure most people are getting enough information in their inbox at this time of year and are overwhelmed with shopping advice.
But we have had so many amazing deals come through to help aspiring bloggers that there was no way we could let Black Friday go by without sharing these deals. 
If you have read our How to Become a Travel Blogger post, How to Make Money Traveling or our photography reviews, you'll know that we have personally tested and used the courses and tools below.
If you want to up your game and make 2018 your year of the Digital Nomad, take advantage of these deals below. 
Happy Shopping!
All Inclusive Blogging Courses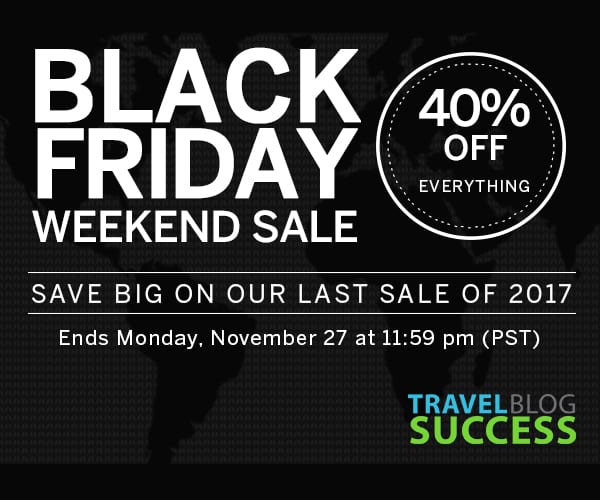 Probably one of the most successful courses for beginner bloggers out there. The course itself is well structured and full of practical information.
Plus you get lifetime access to the forums and FB Group which is where you get the most value in my opinion. They also have sessions from the experts on Affiliate Marketing, Photography, Video, SEO etc.
This is the first time in a long time that they have offered this big of a discount so I would GRAB THIS DEAL NOW!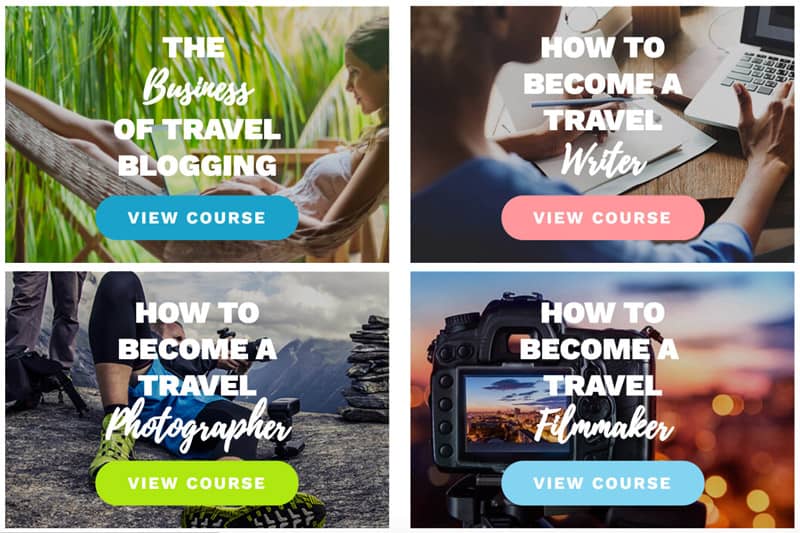 Run by one of the most popular travel bloggers our there, Nomadic Matt, this course is structured a little differently in that you can purchase each "module" separately if you want.
For example if you feel you have a great grasp on photography but want to up your writing chops you can choose what fits best for you.
He offers 4 different modules: The Business of Travel Blogging, How to Become a Travel Writer, How to Become a Travel Photographer and How to Become a Travel Filmmaker. All of them are well structured courses but I feel the one that is most beneficial is the Business of Travel Blogging. They all offer support, a Facebook Group and Case Studies.
Matt is offering some great DISCOUNTS FOR BLACK FRIDAY TO CYBER MONDAY.
This course really helped me up my photography game. It is more of an intermediate course so you have to have some working knowledge of Lightroom and Photoshop to really get the most out of it.
The lessons get more in-depth as the course goes on but you can really learn a lot here. Also, the production value and the ease of teaching really shines here.
You can read my full review here.
Hats off to the guys at F-Stoppers and Elia for putting together such a comprehensive course for photographers.
For Black Friday they are offering $50 off of all their bundle's courses. A sweet deal as these doesn't go on sale very often. GET YOUR $50 OFF HERE and use FSTOPPERBF at checkout.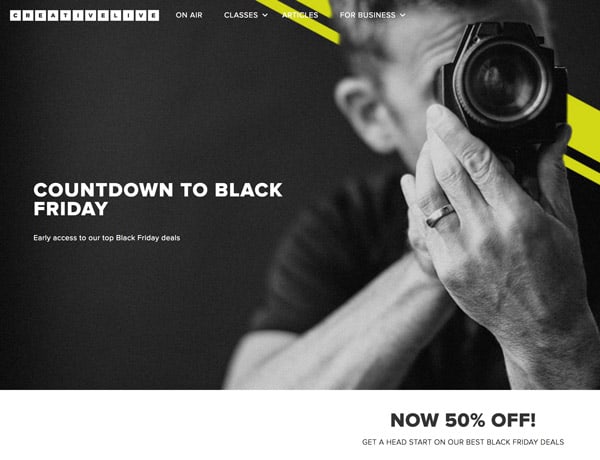 If you are looking to learn photography, Lightroom or Photoshop from the ground up then CreativeLive is a great place to start.
What I love about this platform is the Live Classes and they are FREE! It is free to sign up for an account and you can tune into live classes to see if the teachings are what you are looking for.
Then, if you like them, you can download and own them for a fee. Genius if you ask me.
They also cover a wide range of topics, not just photography and have some awesome instructors.
CreativeLive Black Friday Deal is 50% Off all of their classes! GET YOUR 50% OFF HERE.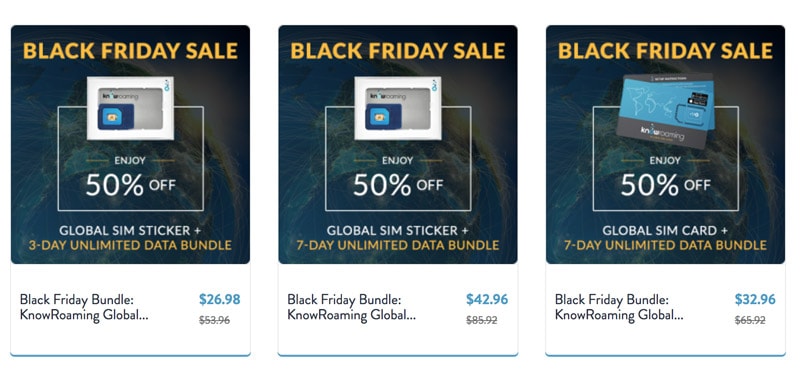 We have used OUR KnowRoaming Global Sim for well over a year now and love it.
It is perfect for any blogger who wants to make sure they stay connected all the time. It is a sticker that goes on youR existing SIM card and activated automatically when you arrive at a destination that is not your home.
They offer unlimited packages for $7.99 a day in a ton of countries as well. It is all controlled through an app on your phone.
The beauty of this for bloggers is that even if you want to get a local SIM card for extended travel you could keep this on and then you can have data and SMS capabilities as soon as you land.
I know it has saved us a ton of hassle whenever we get to a destination.
You can read all about it here.
For Black Friday and Cyber Monday, they are offering 50% OFF THIR BUNDLES
Well that should do it. Some of the best deals for bloggers out there for this special weekend. We hope everyone takes advantage of these amazing discounts and they can help you bring your blogging to the next level for 2018.