Veronika from TravelGeekery shares here guide for the best Prague cafés. 
Where are the coolest hipster cafés in Prague you ask? Well, they are not on the well-worn tourist paths but they are not too far away.
In the most central area of Prague, the rents are very high so all you'll find there are the huge coffee corporations like Costa Coffee and Starbucks.
Although those places definitely have good coffee and edibles, you are probably in search of something a little more unique, which is most likely why you came to Prague in the first place.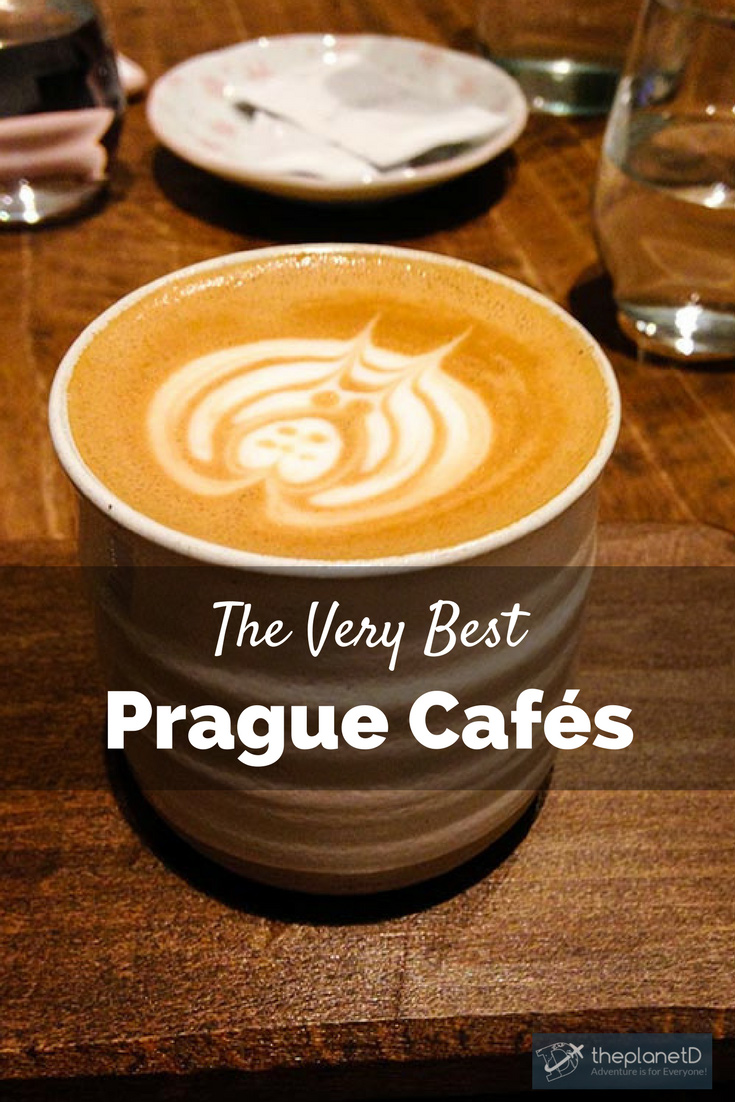 Prague Cafés for Gourmet Coffee & Cakes
If so then just head up the hill from the river, away from the Charles Bridge and the Old Town Square to the less touristy, but equally as beautiful, area called Vinohrady (which means Vineyard in Czech) where you'll find that local culture and uniqueness you're looking for.
1. Momoichi
This unique establishment is self-described as a Japanese style coffeetearia. Colorful Japanese style ceiling lanterns hang above beautifully rustic wooden tables in this minimally designed interior.
Special Service Bonus: Your waiter will greet you by bringing a refreshing glass of water and a small package containing a moist towelette to freshly clean your hands and prepare them to handle your coffee or tea.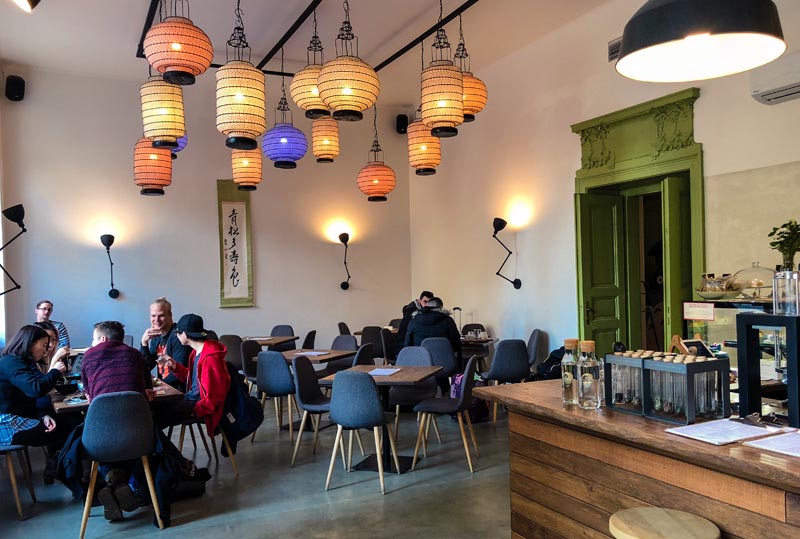 Their coffee is perfectly prepared and the selection covers the standard Espresso drinks as well as a finely prepared Steampunk collection.
A wide range of specialty teas are offered in addition to a unique collection of food that you won't find anywhere else.
Seriously, visit the restroom:  If you find yourself in need of visiting their restroom then you'll be in for quite a surprise as they have the highest tech toilets in town offering a variety of water shooting capabilities designed to massage and clean your "undercarriage", just like in Japan.
To be fully honest with you, we haven't tested it yet, but it's there if you're feeling adventurous.
2. Double B
The name of this café means something you would never guess on your own. It stands for Babushka (Russian for Grandmother) and Batman.
The founder is Russian and those are his favorite two people in the world, his grandmother, and Batman.
Otherwise, you'll find no reference to those two superheroes in this spacious and modern interior.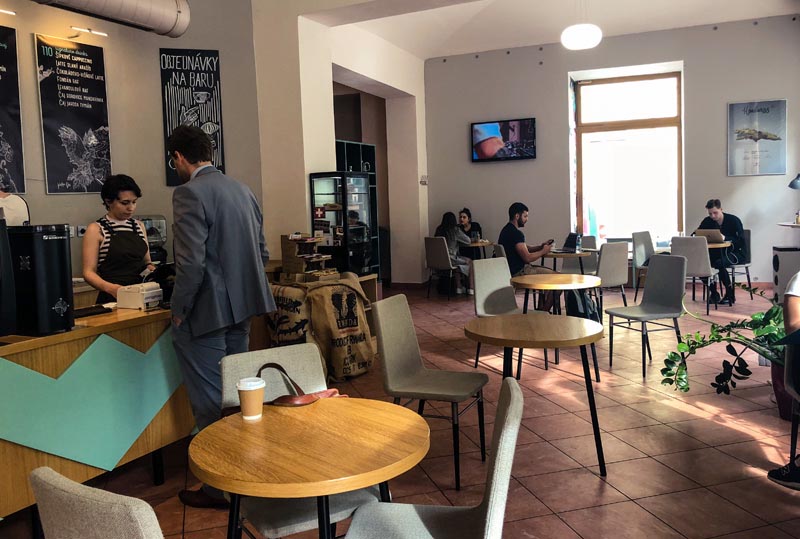 The staff is super friendly and the coffee drinks are top quality.
Lots of space: This is a popular café but with their large amount of space, you'll never have trouble finding a seat where you can comfortably relax for hours with a good friend, a good book or your laptop.
3. Cafefin
This café was founded by a Vietnamese designer and the hipster interior he created reflects that fact in style.
You'll find that the plastered coverings on the walls are creatively receding to expose raw brick underneath them and an old electric power post stands next to the front counter. That's just to describe a few details about this highly eclectic space.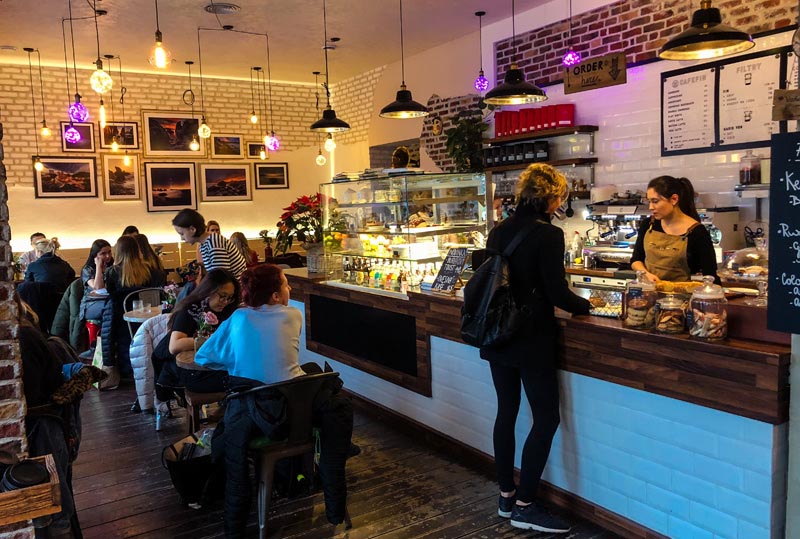 Excellent food choices are also to be found there which range from Avocado Toast to Noodle bowls.
Good for people watching: In addition to its fantastically designed interior, large windows allow you to look out onto the main square which is perfect for people watching.
It's a popular place and during peak times you might not be lucky enough to get a seat but when you do it's totally worth it.
4. Café Plecnik
If you find that Cafefin is full to capacity you can simply head across the Square to Ple?nik (that's how we often do it) or just go there as a first choice.
They don't have a food menu but the coffee and atmosphere are nice enough and they have a small variety of cakes to munch on.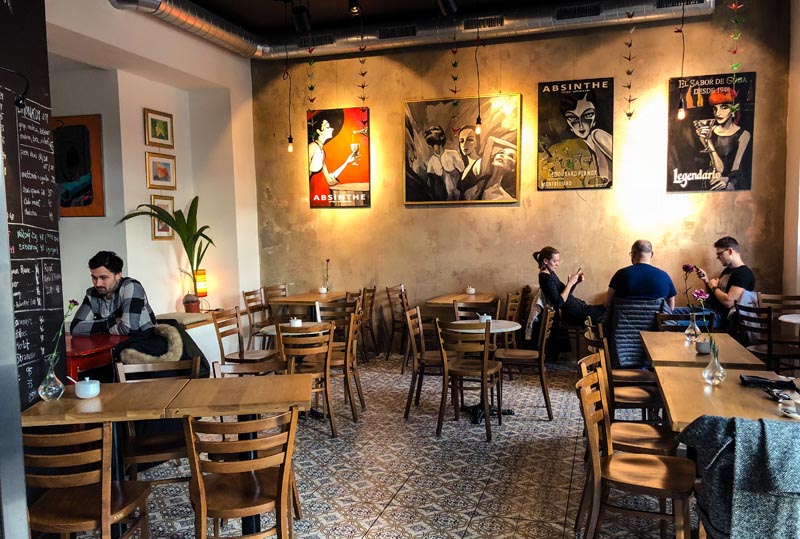 It's an artsy little cafe with a beautifully tiled floor and contemporary artworks on the wall to gaze at while you sit around in cozy comfort sipping on the drink of your choice.
What's in a name? Its name celebrates the famous Slovenian architect named Jože Plecnik who designed the building that houses the café and the Church that dominates the Square.
Plecnik also worked on the Prague Castle and was a major influence in the Czech Cubism movement.
5. Coffee Corner Bakery
With its spacious, beautifully designed and cozy interior, this café & bakery offers quality coffee drinks and a large selection of cakes in addition to a full menu including breakfast, lunch, and dinner.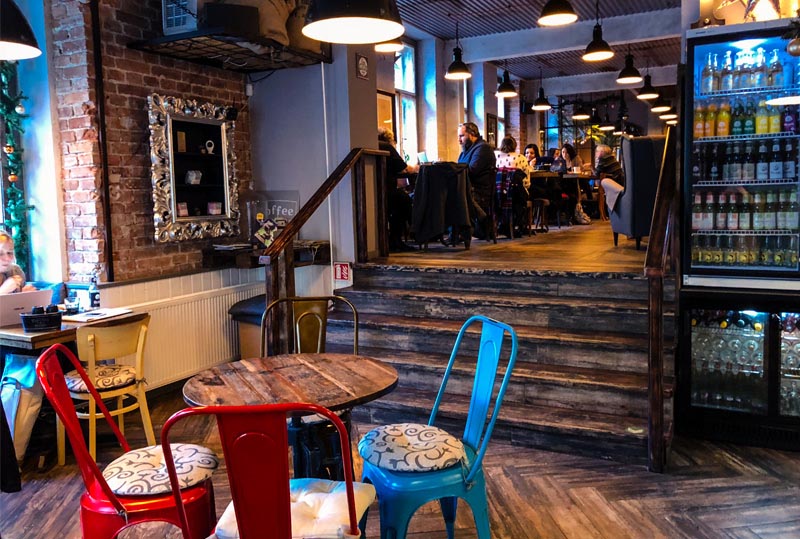 The cakes are really where the action is though, and with such a wide selection you are sure to find the best complement to your perfectly prepared coffee.
When to go: On weekends you might have trouble getting a seat but during the week it's not a problem to just drop by almost anytime and find a nice space to relax and enjoy the cafe life for a while.
6. Monolok
Located on a beautifully tree-lined street, this café has a cozy upstairs area on the ground floor along with a spacious downstairs area for large groups.
On warm days they open the doors to a little summer garden in the courtyard, featuring a waterfall fountain, where you can comfortably relax under the sun.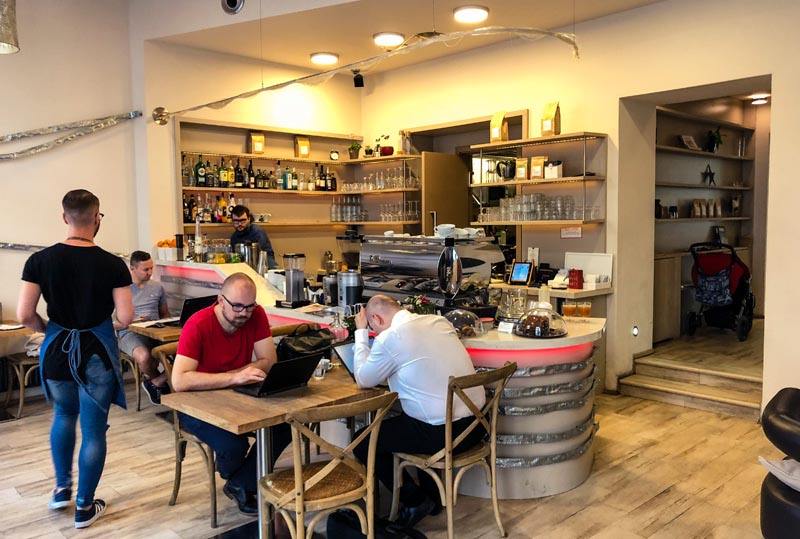 Friendly Staff: The staff will always provide you with a warm greeting to make you feel welcome and appreciated.
Their selection of cakes is tasty but minimal and they also offer a full menu with a range of delicious choices to satisfy your appetite.
You can now consider yourself completely in the know on all the coolest cafes in the Vinohrady District of Prague. Just choose one or two, kick back with a warm brew, and enjoy your time in Prague amongst the locals.
You'll probably find me sitting there with my laptop and writing away!
Do you have a favorite Prague café? Where do you like to get a caffeine boost in your city?
Author Bio
Veronika Primm is a Czech travel blogger based in Prague who produces an English language travel blog TravelGeekery.com.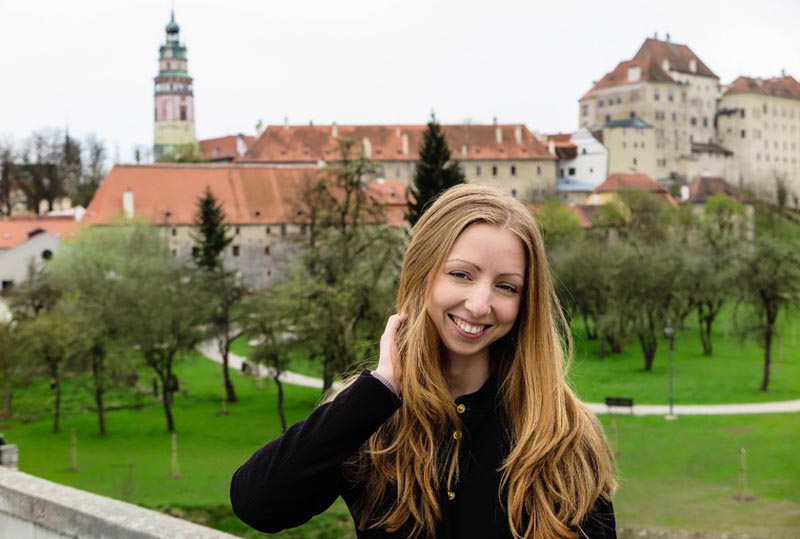 She loves living in Prague with her American husband, as well as leaving Prague to travel to exotic destinations within Europe and beyond. She's currently a Prague local for Lonely Planet and works in online marketing. You can find her on Instagram, Facebook, Twitter and Pinterest
Read More:
What to do in Prague in 3 Days