It is a week of reminiscing so let's continue our best of moments of 2010.
2010 marked the beginning of one of the best descisions of our lives. Actually, the decision happened in 2009, but 2010 was the year that it all came together.  We started traveling full time and are hoping to keep on going for as long as this new career path will allow us.
Yesterday we shared our Best Adventures of the Year, but there was a lot going on between adventures during our travels.  We enjoyed extraordinary moments in some of the simplest things.
Travel makes you appreciate the little things in life.  You have time to slow down and take in the moments that you would miss otherwise.
Believe it or not full time travel can be difficult. You don't have a permanent place to lay your hat, sometimes you are hanging out in some very disgusting places, it can be exhausting and sometimes you just want to stop and relax.
But it's the struggles make the little things seem even more extraordinary.  And during our travels of 2010, we had some amazing experiences that stand out.
While December is a time to make best of lists, we thought that we would join the party and make a list of our best moments in travel.
So what were our best moments of 2010?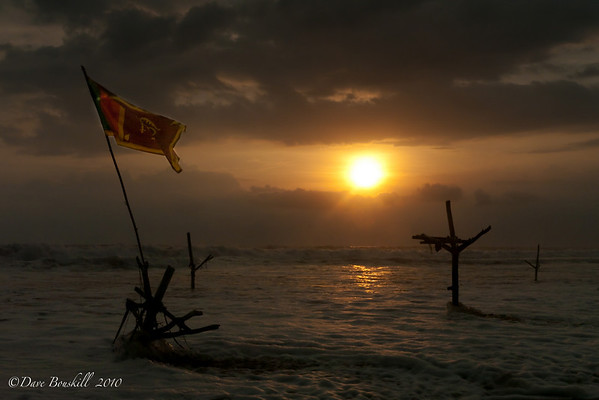 Click on the underlined words for links on more of each "best moment in travel 2010."
1 –Best Flight – Qatar Airways surprise upgrade to business class.  What a surprise when we walked onto the plane, someone was sitting in our seats.  We had coach airline tickets, but we requested the emergency exit the best seats you can get back there. When we asked the flight attendent about the misunderstanding, she informed us that we had been upgraded. yay!
2 – Best View – Mt. McKinley. Our flight in a 9-seat 1966 De Havilland Beaver bush plane so close to the mountain that we could almost reach out and touch it.
3 – Best Beach – Hikkaduwa Sri Lanka.  An excellent location for learning how to surf and a long sandy beach excellent for long walks, Hikkaduwa was a beach to remember.  There are very few touts bothering tourists and the people are so friendly that you can have amazing conversations to learn about life in Sri Lanka.
4 – Best Guide – Karen of Intrepid Travel.  We have had a lot of guides in our day, but Karen was the most helpful,professional and honest guide we have ever had. Top notch!
5 –  Best Scenery – Himalayas.  There is nowhere more beautiful on earth than in the centre of the Himalayas. We walked for two weeks with our jaws dropping from the scenery that unfolded in front of us each day.  It was as if we were walking through heaven
6 – Best Wildlife Spotting – Nothing compared to seeing a leopard in Sri Lanka.  Our day at Yala National Park was filled with beautiful scenery and impressive wildlife from elephant herds, peacocks, crocodiles, jackyls and of course the elusive leopard.
7 – Best Sunset – Goa India.  We started our travels in India last year and spent three months there exploring this contrasting country.  From great beauty to compleet filth, from beautiful spiritual moments to overwhelming cruelty and dispair. India was a difficult yet exciting land to explore. And it gave us the most incredible view of the sun setting over the Arabian Sea.
8 – Best Temple – The Golden Temple of Amritsar was by far our favourite moment in India and the temples setting was second to none. The Golden Temple shone in the sunlight surrounded by a glimmering moat.  The grounds gave off an air of spirituality and you couldn't help but feel closer to a higher power while you were there.  I
9 – Best Room – Our suite at The Pearl South Pacific Fiji. They put us into an incredible suite with sunken tub, full mini bar, king size bed and revolving TV.  Decorated in traditional Fijiian art and furniture, we felt like movie stars for our few days in the most beautiful suite we have ever laid eyes on.
10 – Best Spontaneous Moment – Heading to Montreal to meet Globetrooper and Wandering Trader for a spur of the moment meet up. We just happened to be on facebook at the right time. We had a quick online exchange with Lauren and Todd and they asked us if we felt like coming to Montreal to take advantage of 3 suites that they won in a contest.  We didn't even think about it and immediately said yes! It ended up being the beginning of a wonderful friendship.
11 – Best Tweet Up – Meeting Paris Buff and KHegre in Paris.  We were invited to their flat in Montemartre where we were treated to a fun and informative walk through the area.  Not only did we make great friends to last a lifetime, we learned all about the classic and new movies alike.
12 – Best Budget Shopping –  Kathmandu.  We had heard that Kathmandu had some excellent shopping but we never dreamed that we would be able to clothe ourselves for our entire trek to Everest Base Camp.  We bought up all the trekking gear and clothing that we needed for our EBC trek and future travels.
13 – Best Budget Accommodation – Top Secret in Sri Lanka. Located right on the beach and only $10 per night. This is the perfect hang out area. With free Wifi, Maharaja Beds, clean rooms and central location. We loved it so much there we stayed for 2 weeks!
14 – Best Historical Site – Great Wall of China.  We didn't think that we would care much for The Great Wall of China. We thought that we would be visiting a site over run with tourists and it would be a cheesy and campy experience.  It was exactly the opposite. We visited the Mutianyu portion of the Great Wall and barely saw another tourist on it. With spectacular views, a heart pumping climb and an extraordinary feat of engineering, The Great Wall was a site worth visiting.
15 – Best Eerie Tourist Attraction – Catacombs of Paris are filled with millions of bones.  But the bones are displayed with such beauty and artistry that you sometimes forget that you are looking at human skeletons. It is dark, it is several meters underground, it is damp and it is dingy. Not for the faint of heart, we highly recommend checking out the Catacombs.
16 – Best Festival – Holi India. We have been to a lot of festivals during our travels, but none are quite as intense or festive as Holi.  Bright coloured powder is thrown on everyone in sight.  All people look the same and caste and creed is thrown aside for one day of one wild party.
17 – Best Meal – St. Kitts Marriott.  When given the opportunity to eat anything we want on a menu, we'll take it! Surf and turf cooked to perfection.
18 – Best City – New York City.  We didn't think we would care much for New York City.  After all, it's just a city. You see one world city, you've seen them all.  Not the case with NYC. It is the most exciting town in the world.
19 – Best Dining Experience – Fine Dining at Sri Lanka's Hill Club. If you have been backpacking for a while and need to splurge on a meal. This is an affordable way to feel like a person of wealth. For $15 you get a 5 course meal and even get to borrow a dinner jacket.
20 – Best Trip – Princess Cruise to Alaska.  It was the trip of a lifetime. We could never afford to go on a cruise to Alaska, but we were lucky enough to be invited on The Follow Me At Sea Twitter trip.  From flying over Mount McKinley, taking helicopter flights over glaciers, driving in Zodiacs and watching whales, we fit everything that you could possibly do in Alaska during our two weeks there.
21. Best Country – We have been to 45 countries in our travels.  Last year alone we visited 10 countries.  Out of those 10, what was our favourite country that we visited in 2010?  Sri Lanka of course.  The people were the most genuine and friendly we have encountered in years, it had a diverse landscape, beautiful countryside, sandy beaches and strong spirituality and culture.
Read More
6 Tips to Make the Most of Your New York City Photography
Choosing Travel Freedom over the New York Rat Race
Our Top Fears of Traveling and Running a Travel Blog
You Might Also Enjoy