2010 is drawing to a close and it is the perfect time to reflect on the events of the past year.
We have had quite an amazing year when we stopped to think about.  It is funny, when it is your own life, you don't really realize just how incredible things are while they are happening, but in retrospect, life can be quite extraordinary.
Best Adventures of the Year
We gave up our entire lives last November when we set off for India.  Having travelled on and off for the past 10 years, we finally took the plunge to become full time travel writers and photographers.  It was a big step. We quit our jobs, gave up on any chance of owning a home any time soon and probably pushed back our retirement years to at least another decade.
But we finally feel like life has a purpose.  We look forward to seeing what each new day brings.
I won't lie, things haven't been all roses.
We worry about where the money will come from, what the future will hold and if we will ever feel comfortable enough to actually stop counting every penny that we spend.
But we wouldn't have it any other way.
We have fulfilled some of our wildest dreams this year.  Dreams that we thought we would have to wait for, dreams that we thought we would never fulfill because we thought we had to have a huge bank account to do it.  And yet we managed and had an amazing string of adventures in 2010.
So what were our favourite moments?
Here are our top Five Adventures for 2010.
–
China has been one big adventure.  We never thought that we would make it to this place.  We thought that it would be too difficult and truthfully, we thought that we wouldn't like it.  We put off coming to China on two different occasions, but we finally made it. And what an adventure we have had.
We have climbed in Yangshuo, walked on the Great Wall, witnessed the Terra Cotta Warriors and cycled through magnificent karst formations.  China has been surprising and beautiful.  The people have been welcoming and warm.  We wondered what took us so long to get here? But we are glad that we made it.
–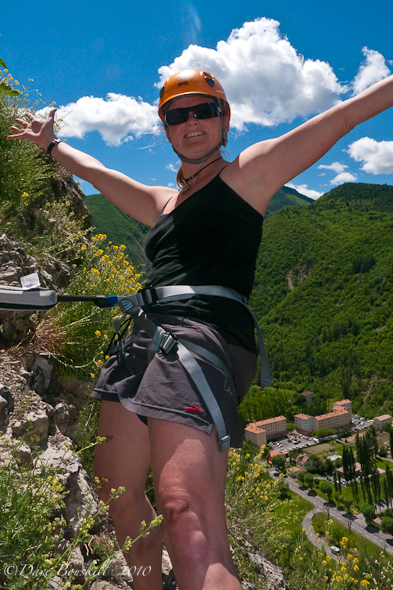 With our Cheap Car Hire in France this past summer we had the freedom to go anywhere and do anything. So we hopped in and drove south from Paris searching for adventure.  We had heard of these crazy walkways along the side of cliffs, but didn't know what they were called and certainly didn't know that they were found all over France, Spain and Italy.
When we ran into a Canadian couple living in Switzerland, they told us about a via feratta just a couple of hours away from where we were camping.  We decided to make a detour to … and try one out for ourselves.  It was a fun day of tackling our first Via Ferratta.
Having climbed before we had the skills to use a harness and clips and didn't have the fear of heights dangling off the side of a cliff.  It was quite a thrill and the next time we go back to France we are definitely going to seek out more Via Ferattas.
–
Our Princess Cruise to Alaska was the best trip that we have ever had in our lives. We had two weeks of adventure mixed with decadence and fun.  It was the trip of a lifetime. We met amazing people, ate incredible food and enjoyed adventures that we could only dream of otherwise.
We flew over Mount McKinley in a small twin engine plane, drove ATV's through the valley, rode horses through mountain trails, watched whales and took a helicopter to a remote Alaskan trail for a hike.
However, the most memorable adventure in Alaska was our Zodiac Adventure in Ketchikan.  We were allowed to drive our own zodiac through rivers and harbours of Alaska.  We watched a whale breach from sea level, enjoyed seeing bald eagles dive for their prey and roasted marshmallows in the middle of the wilderness. It was an incredible day.
Who would have thought that two little adventure bloggers would make their way to Fiji. Celebrities go there for their honeymoon.  But then we got an email from Tourism Fiji to come and sample some adventures.
We had a week of zip lining, jet boating, hiking in the jungle, seeing remote caves and meeting the villagers. All were great adventures, but the one that stands out the most is White Water Rafting on the Upper Navua River.   The scenery was beyond anything we have witnessed on earth.
Great gorges jutted up from the river banks with hundreds of waterfalls cascading down towards the river.  It was like a dream that we were woken from regularly with exciting rapids tossing and spinning our group of five. It was a perfect day.
–
It has been a dream of ours for over a decade to go to Nepal.  We made it there this past March and climbed to Mount Everest Base Camp.  To walk the steps that Sir Edmund Hillary and Tenzing Norgay Sherpa walked in 1953 was unbelievable.  The Himalayas are the most astounding scenery on the planet.
We felt privileged every day being there amongst the most beautiful mountain range on earth.  No other words can describe what we felt there in the Kalimatan region except complete awe.
The journey was just as fulfilling as reaching base camp.  We walked through villages, met local people, took in the view and pushed ourselves to the limit.  It was an adventure that we will never forget and was by far the most extraordinary experience of 2010.
We can't wait to see what 2011 has in store for us.
With a photography tour lined up in India, a kickboxing course in Thailand and the Mongol Rally from July to September, we think that 2011 will offer even more exciting adventures.
Read More
Bhutan Trek to Laya – A Himalayan Adventure to the Remarkable and Remote
Everest Base Camp Adventure, In the End it Falls Apart