Winter is a magical time to visit Alberta and there is no better place to experience the beauty of winter in Banff Lake Louise. Making a base at Deer Lodge on the lake, this is the ultimate Lake Louise Bucket List in pictures!
For more winter travel in Albert : See our post about The Very Best Things to do in Banff
Something you may not know is that Banff National Park is the only National Park with an urban infrastructure. And Lake Louse is located directly inside the park.
With more than 100 restaurants, and bars, hotels, and shopping, you can be in the backcountry one minute and then dining in a five-star restaurant while enjoying local wine and spirits before turning into your luxurious hotel room for the night.
Ski Lake Louise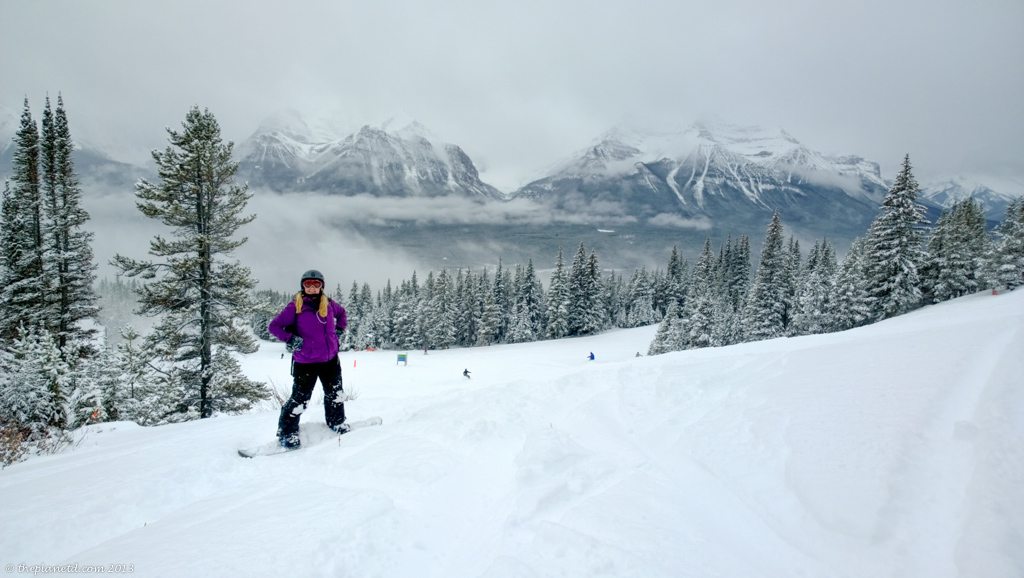 There is no doubt that the number one winter attraction in Lake Louise is the ski hill.
It has world-class ski runs that are used on the world cup circuit and was home to the Calgary Olympics ski venue.
There are 4200 acres of ski hills in Lake Louise with backcountry bowls, professional black diamond runs and easy trails for beginners.
No matter what your skill level, it's a stunning experience doing runs with theses rocky mountain views.
We are snowboarders and it was perfect conditions for snowboarding too!
Romance in Banff Lake Louise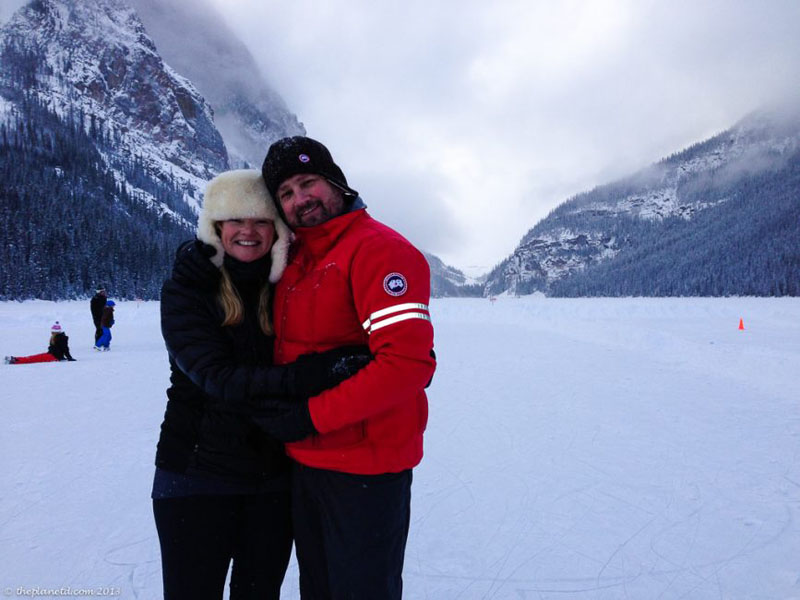 Winter travel is becoming more popular each year.
Technology is making cold-weather trekking more comfortable and people are seeking more adventurous outdoor winter activities.
Lodges and resorts are popping up in remote locations. Lake Louise Alberta is simply a winter wonderland.
Sleigh Ride Around Lake Louise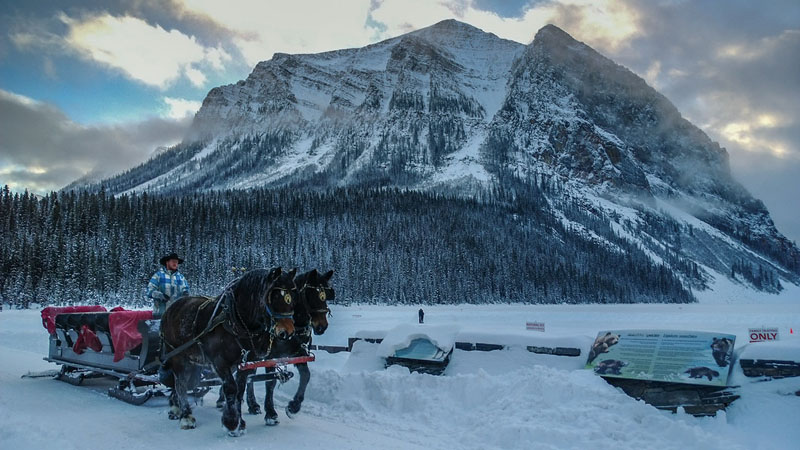 The first and most romantic activity we did in Lake Louise was a sleigh ride. Our driver showed up at the front of the Fairmont Lake Louis with his Clydesdale horses and covered us in cozy blankets.
Armed with hot chocolate and our winter gear, we set off on a romantic ride along the trail beside Lake Louise taking us to the foot of Victoria Glacier.
Victoria Glacier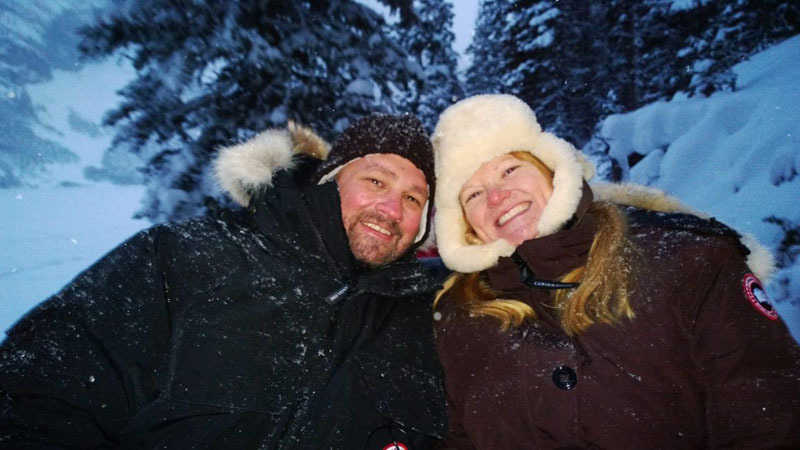 Victoria Glacier is the stunning glacier that stands over Lake Louise. It was named after Queen Victoria in 1897. After the discovery of Lake Louise and the glacier, tourism opened up and revolved around this gorgeous location.
Lake Louise and Banff is considered the hiking capital of Canada and this trail is an easy 5.5 km (3.4-mile) that can be hiked to Victoria Glacier.
In the winter the sleigh rides run along this trail, but you can also snowshoe out to the base of the glacier.
Deer Lodge
Most people think of Chateau Lake Louise when they picture accommodation in Lake Louise, but we stayed right next door at Deer Lodge.
It is more affordable but just as luxurious.
Originally built as a teahouse in 1923, Deer Lodge feels as if you've stepped back in time. Yet is has been completely restored with all the comforts and luxury of the 21st century.
With a rooftop hot tub and dry wood sauna, this is the ultimate winter escape.
Don't forget to eat in the restaurant to enjoy Grade A Alberta beef and their amazing charcuterie board.
Pick Up Hockey on Lake Louise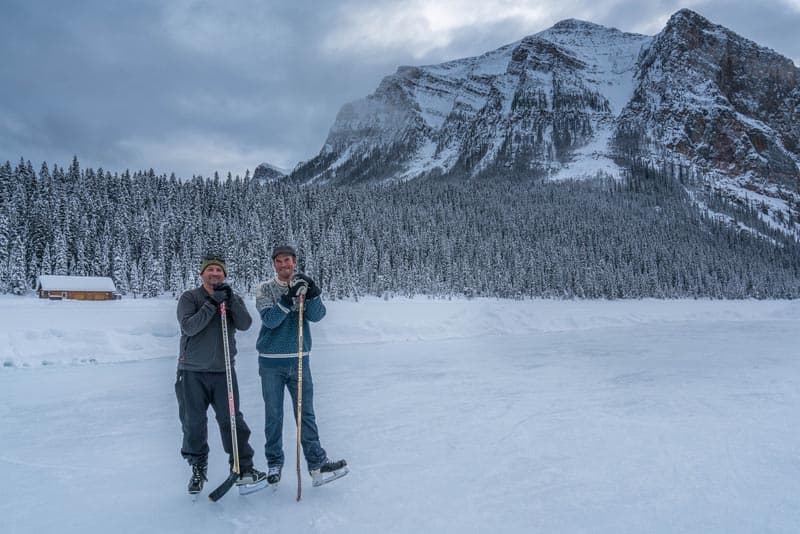 During the winter months, Lake Louise freezes over and creates the world's most beautiful ice skating rink.
You can rent skates directly from the Chateau Lake Louise, or from Wilson Mountain Sports in town.
Hockey nets are set up and you can join in a good old hockey game on the lake.
Or if you just want to enjoy a leisurely skate, there are areas for figure skating and beginners too.
Cross-Country Skiing in Lake Louise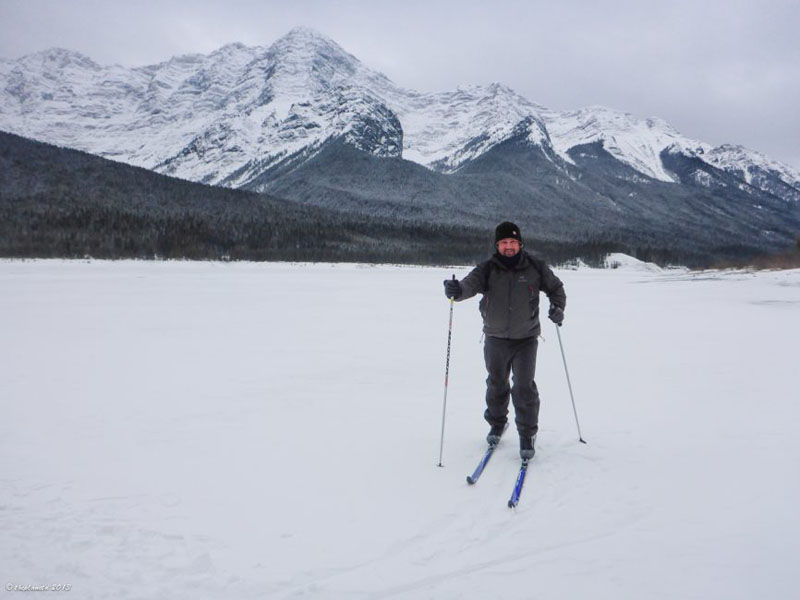 Moraine Lake is considered one of the most beautiful lakes in Alberta and the road is located at the Lake Louise parking lot.
It is closed in the winter, but you can cross country ski to the lake during the frozen months.
It's a 15km (9.5 miles) return trip to the viewpoint so be sure to give plenty of time.
Also, don't venture past the view point as you will be entering an avalanche area.
Cross Country Skiing Locations near Lake Louise
Lake Louise Loop
Fairview Trail
Tramline
Great Divide
Dogsledding the Great Divide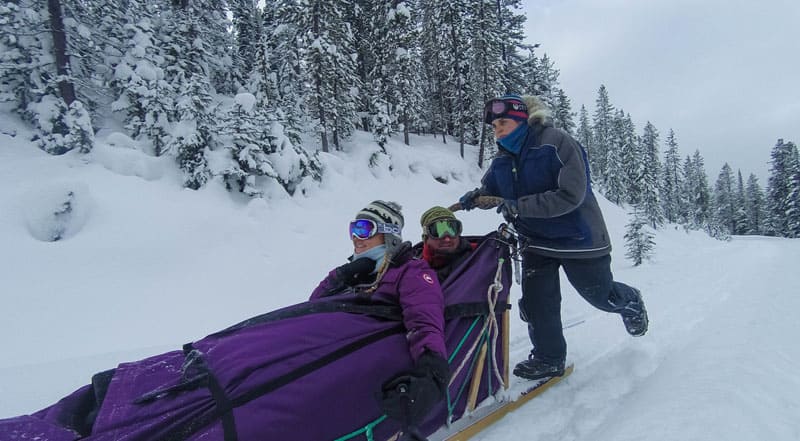 One of the best places to dogsled in all of Canada is the great divide trail just a few km from Lake Louise.
When you dogsled here, you'll cross into British Columbia. So you get to visit two Canadian provinces in one shot!
We met our team of Alaskan huskies waiting not-so-patiently in the parking lot of the Great Divide trail leading deep into the heart of the Rocky Mountains.
Lake Louise Winter Astrophotography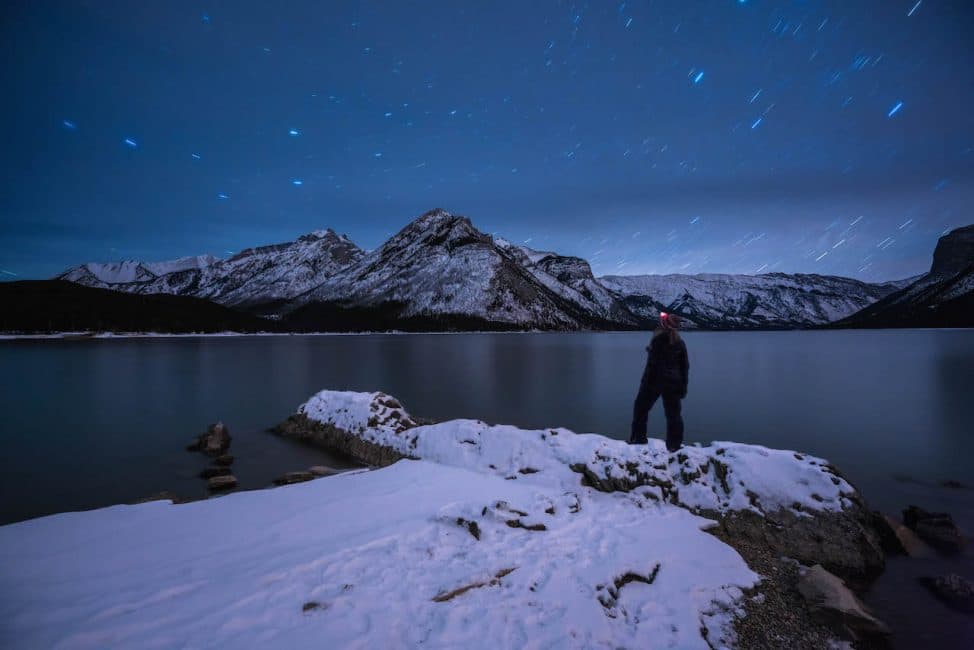 Some of the best night photography on earth is in Banff Lake Louise during the winter months.
The skies are free from noise pollution at many of the nearby lakes and they are crisp and clear.
What makes winter a great time for astral photography is how long the nights are.
The sun sets by 4:30 pm and you can see the stars, milky way and even the aurora borealis by 9 pm. You can take photos of dark skies as early as 6pm, so you can be back to your lodge by the fire in the early evening.
Backcountry Lodges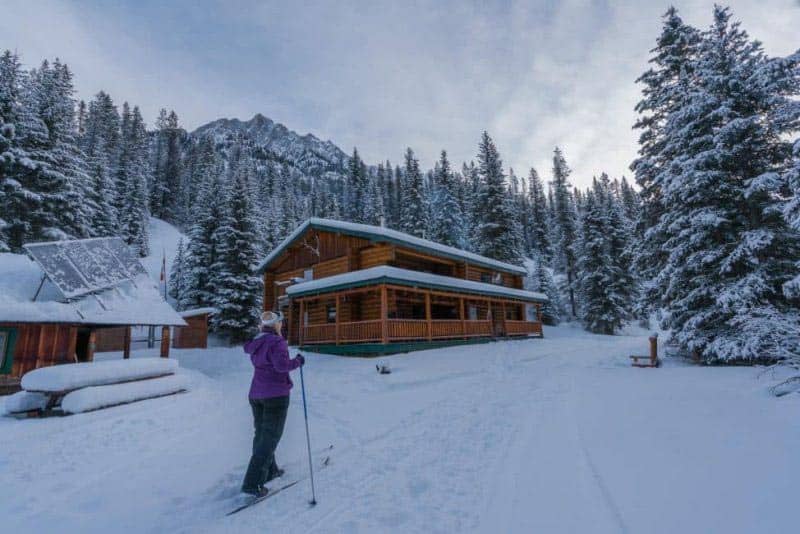 One of the best excursions you can book in the winter is an overnight trip to a backcountry lodge.
We went into the wilderness by cross-country skiing to Sundance Lodge. But there are other backcountry lodges open in the winter – Skoki and Shadow Lake.
It's one of the most unique experiences you'll ever have. You can bring your own wine or buy some at the lodge and the evening is spent sitting but the cozy fire while a chef prepares and locally sourced meat.
This epic adventure takes can range from 12 -14 km into the heart of Banff National Park.
Snowshoeing in Lake Louise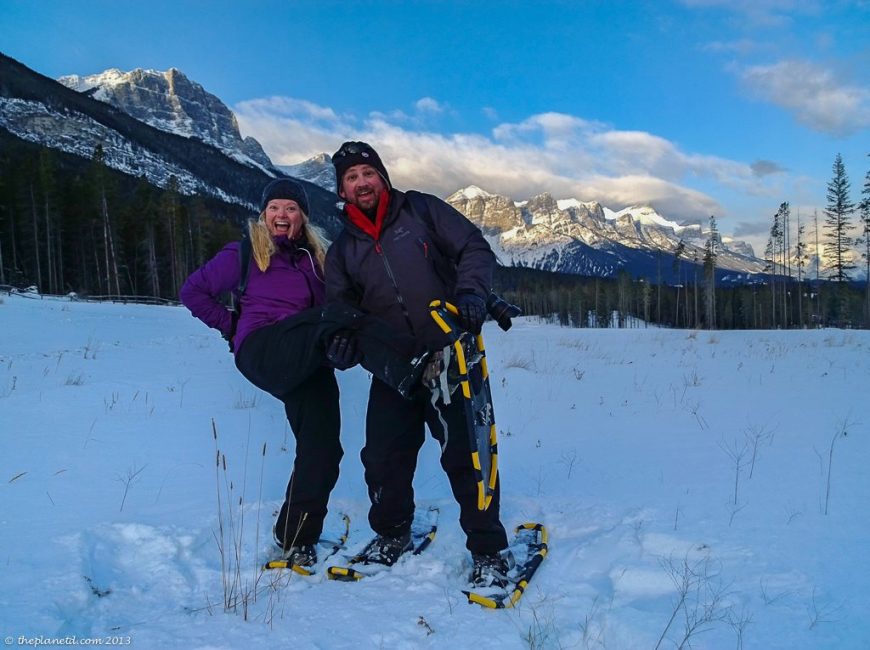 Mixing up our romantic getaway with adventure is the perfect vacation for Dave and me.
Snowshoeing across Lake Louise is definitely a bucket list item.
It is so cool to trek across a frozen lake, and this has the ultimate pay off for a close up view of the glacier.
Be sure to check with the Fairmont for conditions before you go trekking across the lake.
Icefield Parkway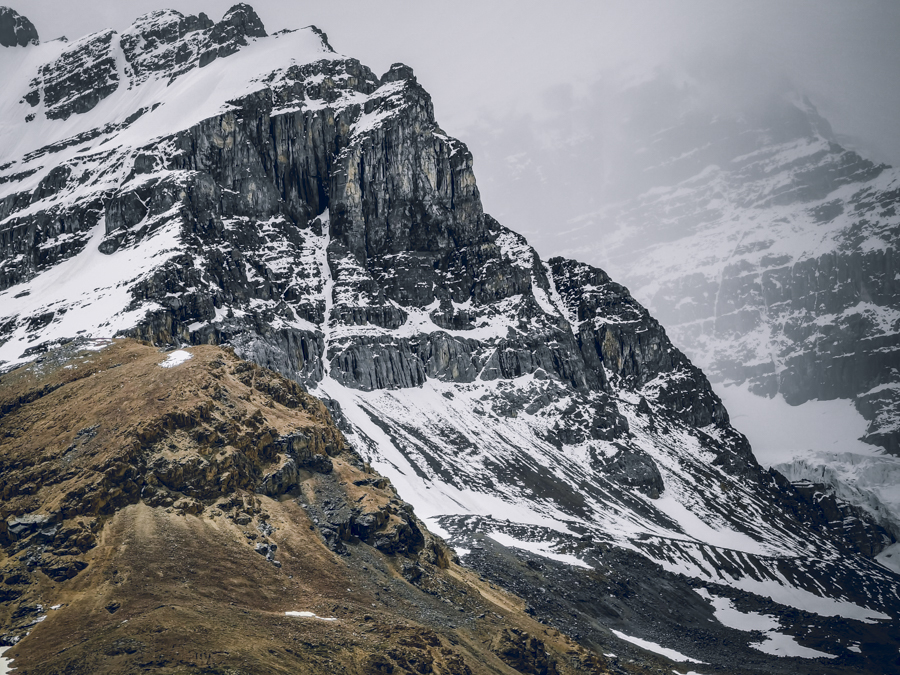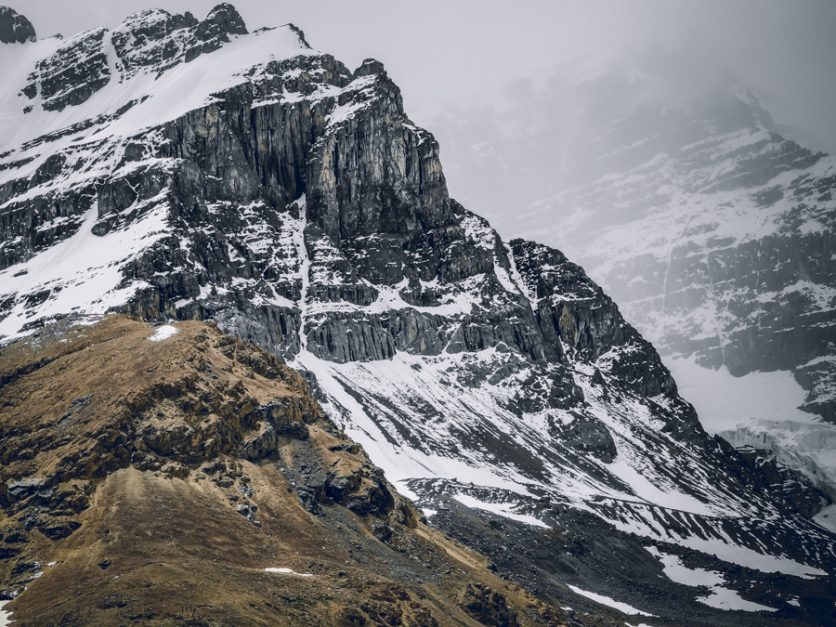 Lake Louise is the gateway to the Icefields Parkway which is one of the most beautiful drives on earth.
Spend a day exploring the icefields parkway and everything it has to offer.
There are scenic stops along the way to the Athabasca Glacier.
There's the Glacier Skywalk, the Columbia Icefields and several lakes and glaciers all the way to Jasper. You can do the drive in a day.
Keep an eye on the weather as this can be a treacherous drive in the winter.
Grab a Coffee at Chateau Lake Louise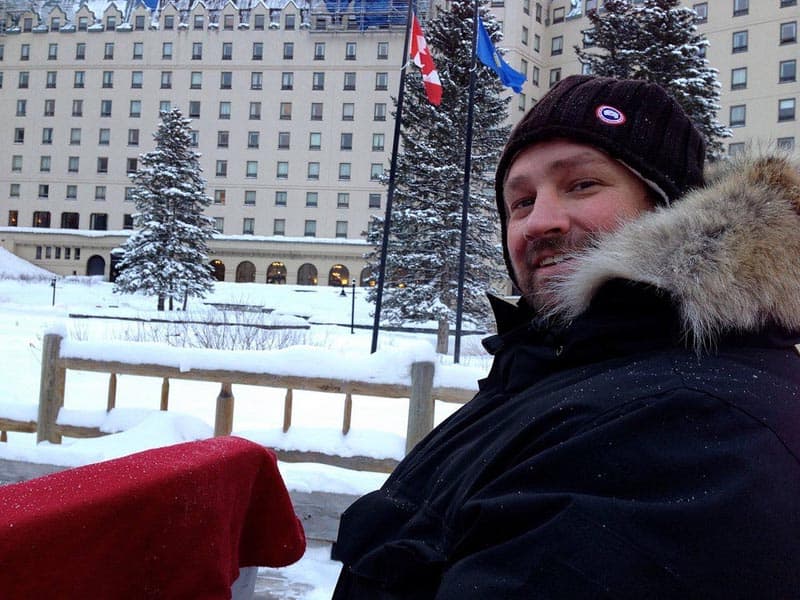 Even though we have never stayed at the Fairmont Lake Louise, we have used its amenities a lot.
They have a great coffee shop where we pick up a cappuccino after a good hike or snowshoe.
You can rent snowshoes and skates from the hotel and they have few restaurants too.
The Alpine Social has a great apres ski atmosphere that serves hearty comfort food which is perfect for winter.
Have you dreamed of traveling to the Rocky Mountains in Alberta?
Read More