As we trudged up for backcountry skiing in Whistler I felt light headed and thought maybe I bit off more than I can chew. We had signed up for a course but I think it was beyond our limits.
As we trudged up the mountain feeling light headed from overworking our out of shape bodies, I thought to myself, uh oh.
Backcountry Skiing in Whistler
It sounded like a great idea. We had never been backcountry skiing, and when Whistler Blackcomb offered us our choice of a steep class or backcountry adventure, we thought, let's go back country snowboarding.
It was a busy week in Whistler and it wasn't until the night before that we truly read through everything that was required of us to take part in the backcountry skiing adventure.
On one hand, I wished that I didn't read it before bed, because I was kept up all night with anxiety. On the other hand, I was glad I read through it because at least I was slightly prepared for the day ahead and packed all the extra clothing and gear required.
Whistler Hospitality…

We were enjoying a beautiful dinner at Bearfoot Bistro when we noticed that time had gotten away from us. It was 9:00 pm and we had to get to Excess Backcountry by 10:00 pm to pick up our back country gear consisting of split boards, poles, transceivers and an avalanche kit.

As Dave and I discussed how one of us would run to get our gear while the other stayed by the bar (since we were smack dab in the middle of a 5 course meal) the bartender overheard us and said, "We'll get it for you!"

'NO NO, we can't have you do that, it's our responsibility" we replied.

"No worries" he said, "we'll get it and you enjoy your food." Not only did he send someone, the general manager volunteered to do so. Nowhere on earth will you receive that sort of hospitality.

Canadians are the best and Whistler has attracted the best of us!
Backcountry Skiing – Avalanche Training

Now that we had all our gear, we knew what we were in for and we had committed to taking part, we met our guide bright and early the next morning to tackle the hills. The first order of business was avalanche training.
When backcountry skiing, there is a very real chance of being caught in an avalanche, and everyone in your party needs to know how to get involved in a rescue. We turned our transceivers to receive while we followed the signal to our guide's transceiver hidden in the snow.
How to Find someone lost in an Avalanche
It seemed pretty straightforward but there is so much more to it than to just following a signal. You need to take into consideration that a person could be buried several feet below the surface. The transceiver doesn't take into account depth, it only signals you how far away you are from the transceiver you are looking for.
You could be five metres away from the person, but two of those could be underground. He showed us the technique to make sure that you are at the absolute closest you can be to the person before you start to dig.
You're transceiver may say that you are still two metres away, but by following his instructions, you will know that the two metres are underground and not to your left or right.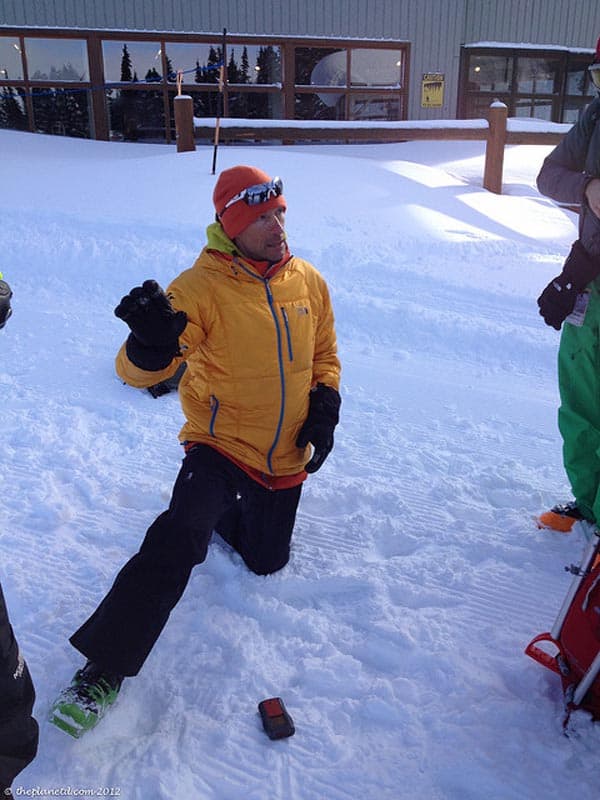 The next step is to start probing. We all carry a long collapsible stick that jabs into the snow. You keep a search pattern of probing the snow until you hit the person buried below. Once you've made contact, it's time to dig.
It is important to never dig directly above the person. What you need to do is step back about 2 metres from your point of contact and start to dig a trench. It's easier to move snow from a trench.
You'd never be able to dig right down directly above their heads and move the snow out as you get deeper. If you have to go deeper, the trench will allow you to easily remove the snow from below.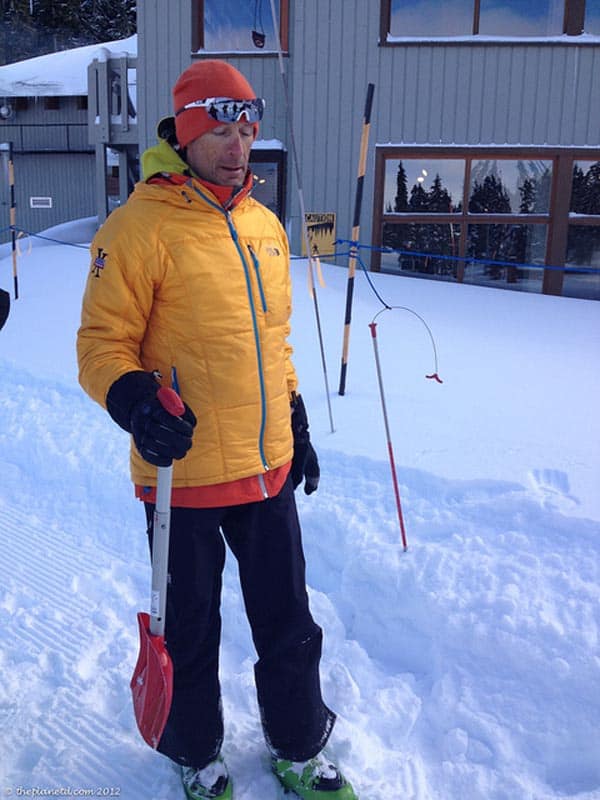 However, I use the term "easily" loosely. There is nothing easy about digging out a person from an avalanche. And our guide told us, if you aren't exhausted after 1 minute of digging, you're not digging fast enough.
The idea is to have many people help. Dig as fast and as hard as you can for about a minute and then let the next group of people take over for a minute and keep the cycle going. Time is of the essence and if any is wasted, someone is going to die.
Lucky for us, we were with a professional who has skied these slopes all his life and can read the avalanche warnings. So with our training out of our way, we all switched our transceivers to transmit and set out to find some powder.
Backcountry Skiing Experience

We took the chairlift up to the top of the mountain where we caught a T-bar to the peak. This was the end of the line and now it was time to trudge. We couldn't believe the amount of people marching through deep snow to get to the back country.
The people who ski Whistler are a dedicated bunch and to them, it's all about finding powder and enjoying the backcountry.
Being on snowboards, we were painfully aware just how much we were holding up the rest of the group. We had joined three other guys who were taking the course on skis and at this point, we wished that we had skis as well.
Snowboarders are constantly having to sit down to strap on their boards, and when on flats, we don't have the help of poles to push us along. If we lose momentum, there's nothing we can do but get out and walk.
Split Boards
Learning to change our snowboards into split boards
When snowboarding in the backcountry, we used special split boards.
These boards come apart for the walk up the hills. Each time we had to climb, we separated them into two parts (like mini skis) put on our skins – a sticky carpet like material stuck onto the bottom of the boards to grip the snow – and started our trudge up the hill.
Dave and I had fallen behind the skiers as many of the flats caused us to slow down. We had never been in powder before and found it to be a challenge.
We offered more than once to bail out and let them enjoy their day, but like so many people in Whistler, they were easy going and told us to at least come over to one mountain and feel what it's like to be in the back country.
So, when we finally caught up after a long and slow traverse over an easy slope, we walked in single file to the top of the next mountain.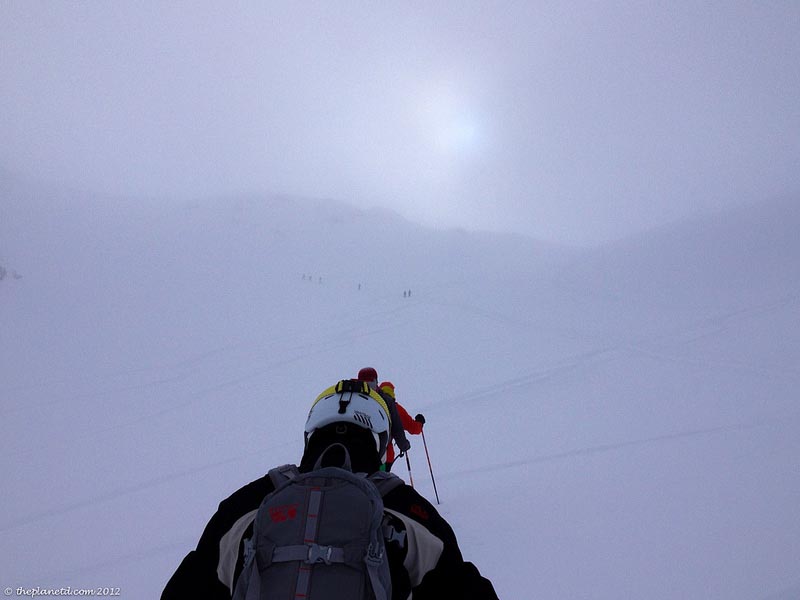 Our guide lead the way and broke the trail. We took small steps in a zig zag pattern up the mountain staying within the tracks.
He told us to strip down to the point where we would be cool. You don't want to break a sweat here because once you get to the top of the mountain, you'll freeze.
Dave and I made the mistake of not stripping down enough and as the sweat started to pour down my neck and back, I was too stubborn to ask to stop. We had already held up the group getting here and didn't want to do so again. So, we walked and I sweat and I was miserable.
Big Mistakes in the Back Country
Sure enough, when we got to the mountain, I was freezing and as I took off my skins and put my boards back together, I grew frustrated.
The guys on the skis had already taken off their skins and changed into warmer jackets and were ready to ski, while Dave and I were still struggling with putting our snowboards back together. I wanted to leave, but there was nowhere to go.
So, pasting on a grin , we tried to pretend that all was fine and followed them down the steep slopes.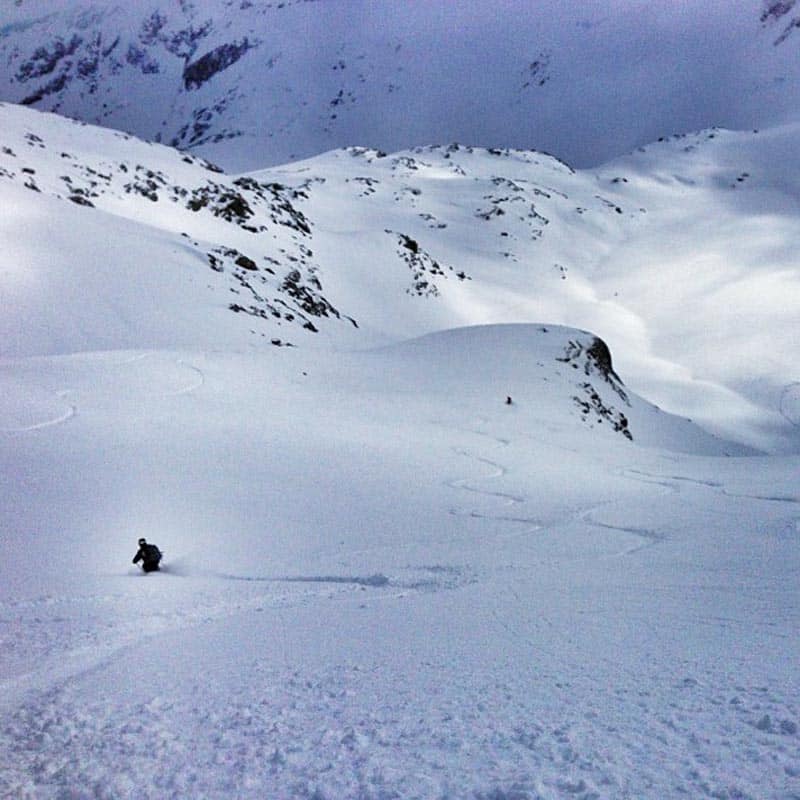 I won't lie, I was intimidated. We'd never been this high before and we'd never been in such deep powder.
But once I pushed off the mountain, it felt incredible. I understood what people were talking about.
It didn't matter how fast you went or how steep it was, you can't hurt yourself in powder, that snow is too fluffy!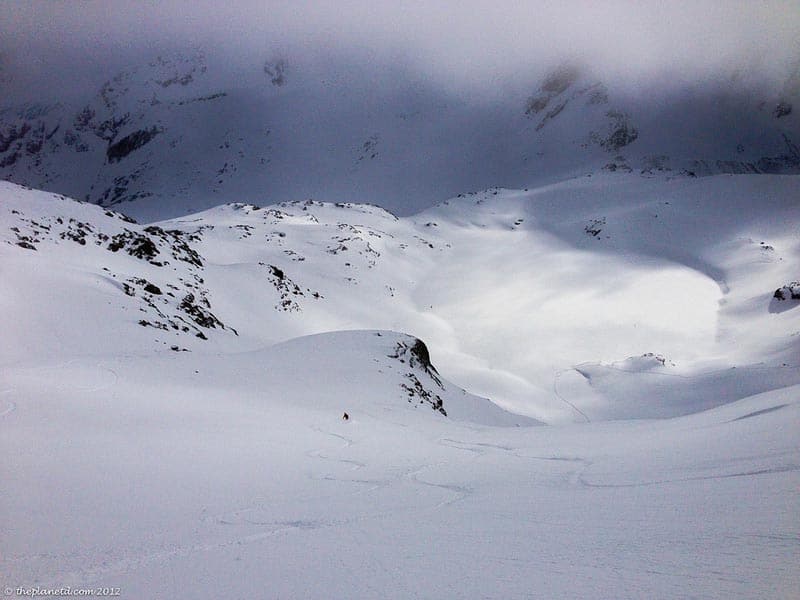 Once we got to the bottom of the bowl, we had to do it all over again and that's when I realized that I shouldn't have gone on.

The skiers were down before us and already had their skins on while Dave and I struggled once again to take apart our boards, put our skins back on and strap back in. I hated holding up the group and prayed that we could find a way out.
Have to Do it All Over Again
Once, we started to walk back up again, my lungs were on fire. I didn't want to let anyone know how exhausted I was and I trudged along in a trance concentrating on keeping pace while not passing out.
When we finally made it to the top of the next mountain, I was sure I was going to throw up. But instead, I smiled, pretended I was fine and prayed that this was the last climb of the day.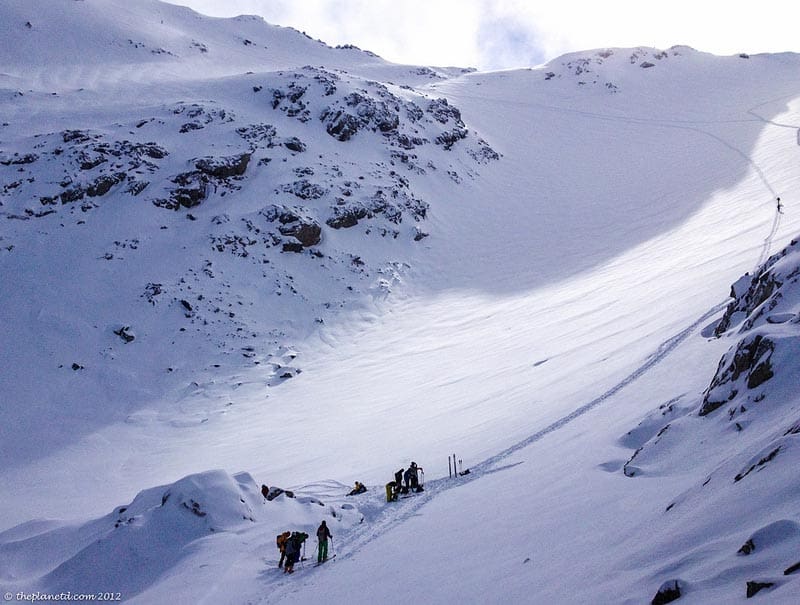 We went through the motions of putting our gear back together while shivering from the drying sweat and snowboarded down a rocky hill far beyond our capability.
Dave yelled back at me "This is beyond my capability!" And as he grew more frustrated, my female instincts kicked in and I talked him through the run as the others skied on into the distance.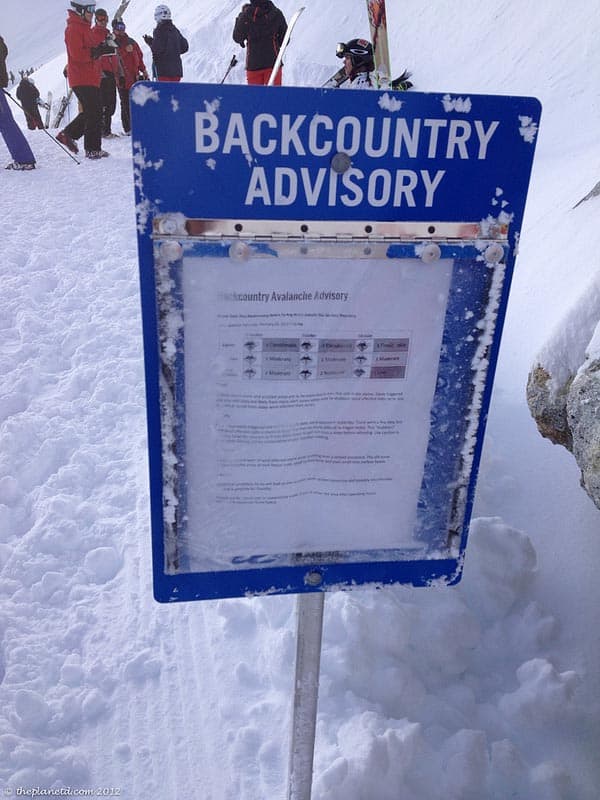 It was at this time that we came to a fork in the road. To the right was the in bound ski area and to the left was more backcountry. It was after 3:00 pm. We had been pushing through for hours and had reached our limit.
The guide asked us all if anyone wanted to leave early and to my amazement, one of the other guys joined Dave and I and left the tour early. I guess we weren't the only ones suffering in silence.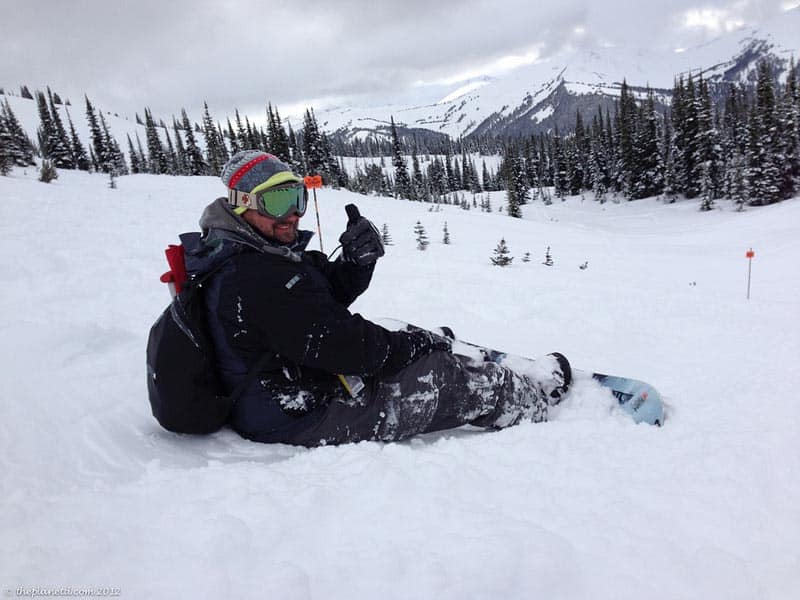 As Dave and I entered the in bound ski area of Blackcomb, we collapsed in the snow and sat down for a good 10 minutes before getting the strength to ski down the remaining 3 km of mountain slopes.
We had to stop every 5 minutes to rest. We had pushed ourselves beyond our capability today and discovered that we're not good backcountry skiers. As Danny Glover would say in the Lethal Weapon series "I'm getting too old for this shit" 😆
For more on our Whistler adventure check out:
For more information on backcountry and other Whistler Ski Clinics visit Extremely Canadian