In 2008 we took a big challenge and road our bicycles from Cairo to Cape Town. It cost us a lot of money and we didn't know how things would turn out after our 4 months in Africa. All we knew was that we needed to change our lives, so we took a chance and took on the greatest challenge of our lives.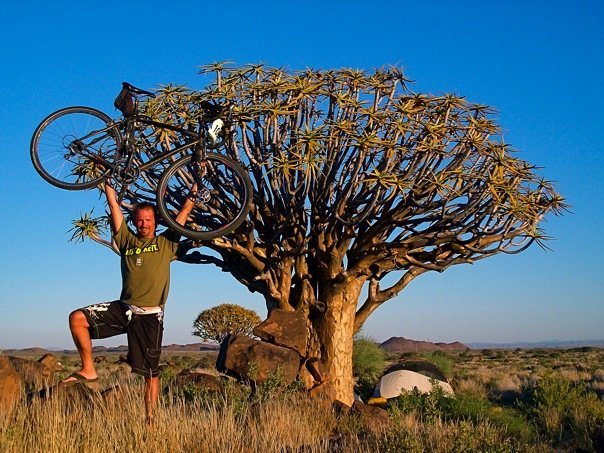 I couldn't see myself waking up each morning for the next 20 years to put make-up on people's faces and Dave couldn't see himself working 18 hour days for the rest of his life on movies that were causing him nothing but frustration as he played the game of trying to squeeze more money out of production managers  that wanted to keep it all for themselves.
Hours were getting longer while salaries were being cut and we were feeling empty and miserable. I remember traveling in Bali a few years before we left the industry and having a panic attack while getting up early to climb a volcano. I had a sense memory of having to wake up in the middle of the night for an early make-up call. I re-lived that feeling of dread I had each day going to my job on set. I didn't realize how much I disliked my work until that moment and I knew right then and there that I was not going to do that for the rest of my life. Dave didn't dread his job as much as me, he just wasn't fulfilled in his life. He knew he wanted something more. He wanted his life to be extraordinary, not average.
That was 2004
We found our way through travel. It took another 4 years before Dave and I finally left the business, but it was travel that inspired us to live our dreams. Dave honed his skills in photography, while I worked on my writing. We took courses and workshops and read as many books and articles that we could to find inspiration. It was a lot of work and commitment.
Intrepid Travel is making things easy for you to change your life. 

For the month of January, Intrepid Travel is daring you to make 2012 a year to remember. Will you accept the challenge? The Big Challenge is a way to push your boundaries and find out what you're really made of!
I can't tell you how excited we are to be a small part of this innovative company. When we read about this initiative, we had to share it with you.
They have put together five different categories of challenges to suit any your interest?
The Big Challenges
Challenge your Mind – Escape from behind your desk and get to know the culture of China, Mongolia or Egypt.
Challenge your Body – Put your workouts to the test and climb to Everest Base Camp or Kilimanjaro
Challenge your Senses – Forget the shopping malls, head out to a bazaar in India or a walk the steps of Tikal taking in the Mayan Culture in Guatemala.
Challenge Your Comfort Zone – Get off the couch and trek to see the gorillas in Rwanda or visit the pagodas of Burma
Challenge your Limits – Follow in the footsteps of ancient traders on the Silk Road or spot Orangutans in Sumatra.
We'll never forget the first time we did all of these things.
Our jaws dropped as we listened to howler monkeys roar from the top of the temples of Tikal, our heart raced as we reached the summit of Kilimanjaro and we looked on in awe as we witnessed Orangutans swing from the trees in the jungles of South East Asia.
Travel can change a life. We're not talking about a beach vacation to Cuba, we're talking about a transformational life experience to witness great monuments of the world, make new friends in a foreign land and ignite your senses as you eat Sichuan Hot pot in China, a dish that is so spicy it will make you giddy as your tongue loses it's sensation.
Take a Chance
I know that many people are afraid to travel independently or don't have the time to take on solo round the world trip, and that is exactly the reason we wanted to partner with Intrepid Travel. Their small group tours are the perfect introduction to independent travel and for the month of January they are offering 15% off on one of the above mentioned challenges. Follow this link over to The Big Challenge Page and make the decision to make 2012 your best year ever.