I recently returned from a 12-month RTW trip that took me to 23 countries. During that time, new cultures, unique experiences, and saying 'yes' were at the top of my mental checklist. Saying yes to a night in a Bedouin Cave was an experience I'd never forget.
My Night in a Bedouin Cave
One of the things I learned was how powerful a local is when experiencing a new culture.
When I reflect back on the trip as a whole, all of my favorite adventures happened because I left my comfort zone when the unexpected presented itself. This is my favorite story of an unexpected adventure.
It was an early morning in late in February when I walked through the gates of the ancient city of Petra and made a beeline to the Monastery. It was early, and my hope was to have the Monastery to myself before the rest of the tourists arrived; the plan worked, though it's not relevant to the story at all.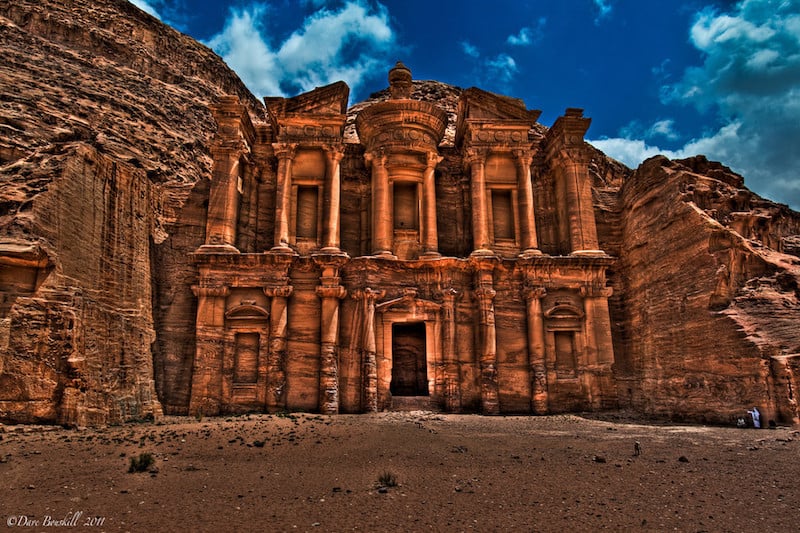 Around lunchtime, I begrudgingly decided that the granola bars I packed weren't going to cut it and I was going to have to eat at the expensive tourist restaurants. I stopped several times to chat, drink tea and look at souvenirs on my way to find lunch. When I was stopped for the 4th time, I politely declined the tea offer.
Because the young lady was cooking, however, she persisted and asked if I'd be interested in joining her and her friends for lunch. I didn't have to pay for an expensive meal and I got the chance to break bread with some locals? Yes, please.
How My Adventure Began
In between telling me the history of the Bedouin tribe and eating our lunch of sardines, pitas and potatoes, I heard Minnah (Arabic for kindness or grace) speak at least 6 different languages to tourists passing by. Through her story-telling, I learned that after the Jordanian government made Petra a tourist location, many of the Bedouin tribe were relocated to a nearby village. Some families, however, refused to move, and remained in the original caves; Minnahís family happened to be one of them.
I'd rather live a life of 'oh wells' than a life of 'what ifs.'
"You should stay with us tonight," she said as I prepared to head out.
"You mean, in the caves?"
"Yes."
I don't know how I played it so cool when I told her I'd think about it. I had just been invited to stay the night in a 2000+ year old cave. Sure, it was illegal, I had no idea how to leave the park with an expired ticket in the morning, I had already paid for a hostel for the night, and I'd be staying with someone I'd known for about an hour. But I'd rather live a life of 'oh wells' than a life of 'what ifs.' At least, this was the excuse I used for my concerns.
I met back up with Minnah in the late afternoon after exploring the rest of Petra, helped her close up shop and then trotted off the tourist trails to the hidden Bedouin caves. From our vantage point, I could see hundreds of caves in the steep cliff walls speckled with black goats and children playing below. I met the Ommah (mother) and the siblings in front of their cave.
The cave had been modernized with a door and windows. When I entered I was surprised to see painted walls, rugs covering the floor and a pile of cushions and blankets in the corner. I could see dried wax drippings on the walls where candles burned for light, confirming there was no electricity.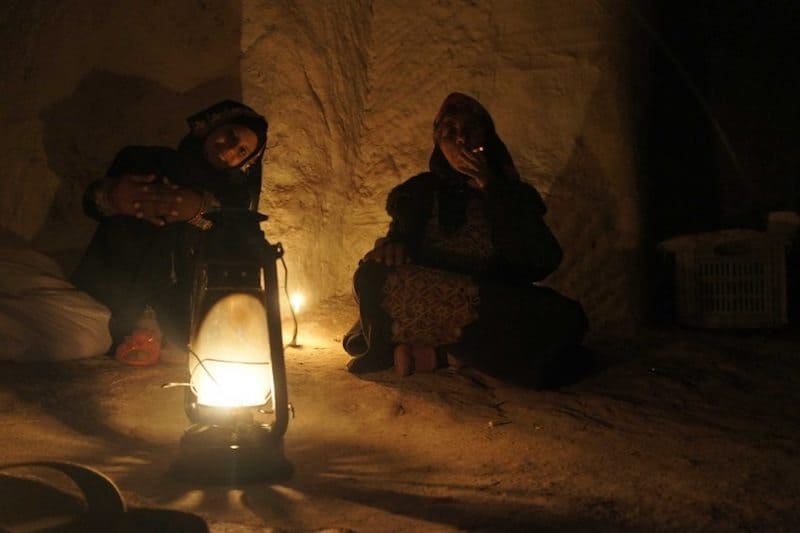 The Bedouins love tea so we shared a large pot while making dinner.
I was in charge of cutting the onions for the chicken stew; it wasn't long before the cozy cave was filled with the delicious scent of simmering herbs and vegetables. Over the course of preparation, other families started to show up. No one had cell phones and I didn't see anyone wearing watches, yet, by the time dinner was served, there were about 20 other Bedouins in the cave with me.
We ate together using pita bread as plates and our hands as utensils while I listened to the group converse in Arabic. Luckily, the man sitting next to me spoke a little English so he would clue me in from time to time on what everyone was talking about.

I loved experiencing the power of non-verbal communication.
I speak next to zero Arabic so all I could do was study facial expressions, gestures and tone of voice. At one point, the man next to me told me they were talking about ghosts; by the time the discussion was over, I could easily tell you who believed in ghosts, who didn't and which individuals thought they had experienced something supernatural.
Before the night concluded, candles were lit and the younger children tuckered themselves out showing me the dances they were learning for tourists. The large pile of cushions and blankets slowly dwindled as people started making their beds for the night. The last ones up were Minnah, Fadi (her younger brother), one of their cousins and me and they taught me a Bedouin card game that I was terrible at.
The next morning Minnah and I wished each other peace before she left to set up her shop for the day. Fadi loaded me up onto Doctor Love- his donkey, and we started our 2-hour hike out the secret Bedouin entrance to Petra.
When we finally reached the main road, Fadi helped me hail a cab and told the driver where I needed to go before galloping off into a small sandstorm. I chuckled and shook my head in disbelief all the way back to civilization.

Author Bio: Dave is the creator of The Quest for Awesome. In a last ditch effort to get motivation to finish his Master's Thesis he started planning a RTW trip. It worked. He sold all of his possessions except for three boxes of sentimental items and left on his 12-month adventure with only a 26L backpack. Today, he is determined to become location independent and loves talking anything travel. You can connect with him through his blog, Facebook or Twitter.
Write for us! 
Write for ThePlanetD. Our Inspirational Stories Series is back and bigger than ever. We're looking for our fellow travellers to share inspiring stories. Has travel changed your life? Has travel made you a better person? Do you have a great tip? Did you visit a destination and just have to tell everyone about it? Did you find the love of your life, your passion or your purpose during your travels? We want to hear your travel stories. Be it your greatest adventure or most life-affirming moment or some great travel tips you learned along the way, Send your ideas to ThePlanetD.com and check out our writing guidelines for more details or read our call out to writers. Contact us here and we'll get back to you.
---
Read More:
Petra Jordan – Tips for Exploring The Lost City
10 Exciting Things to Do in Jordan That Will Make You Want to Pack Your Bags Now
Jerash – Welcome to the Ancient Roman City of Jordan
12 Amazing Ruins of the World: A Visual Memory