Greenland was…well let me see,
We could use so many adjectives to describe this final frontier but we thought the best way to describe it was through photos. While we were in Greenland, we didn't have a lot of time on the Internet, so we found the best way for us to share our experience with friends and followers was in real time through Instagram.
We'd post a photo, send it out to Twitter and Facebook and write a little synopsis of what we felt in the moment. We were so happy with how our photo journey turned out, we wanted to share it with our readers here on ThePlanetD too!

Taking a Quark Expedition Arctic Cruise was the perfect way to get a taste for Greenland. These photos will give you an idea of how we got to enjoy this culturally diverse and spectacular landscape of the True North.

We hope you enjoy this photo journey as much as we enjoyed experiencing it.
Follow us on Instagram for more Great Photo Adventures…
Welcome to Greenland!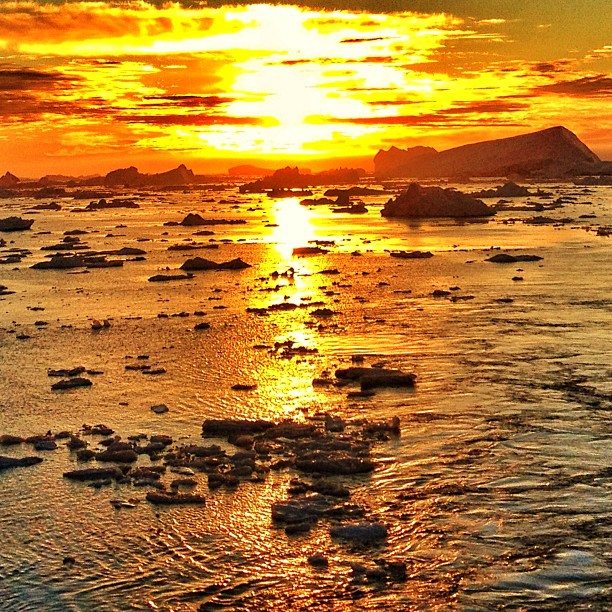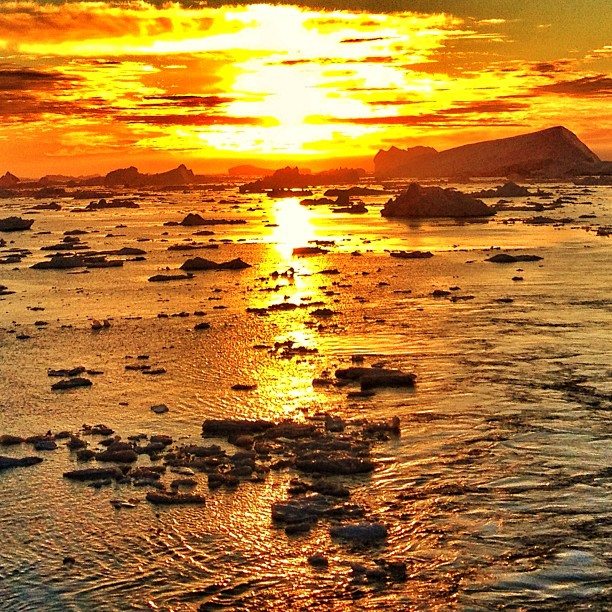 An amazing sunrise in the Bernstorff Isfjord. This was our last stop on our Greenland adventure but we thought it was a great way to kick off this post showcasing the beauty of this untamed land and waking everyone up with a perfect sunrise.
Big ice, warm sun and silence that was only broken by the calving Icebergs. Close your eyes and imagine…
The first thing we saw in Greenland? A Canada Goose Store!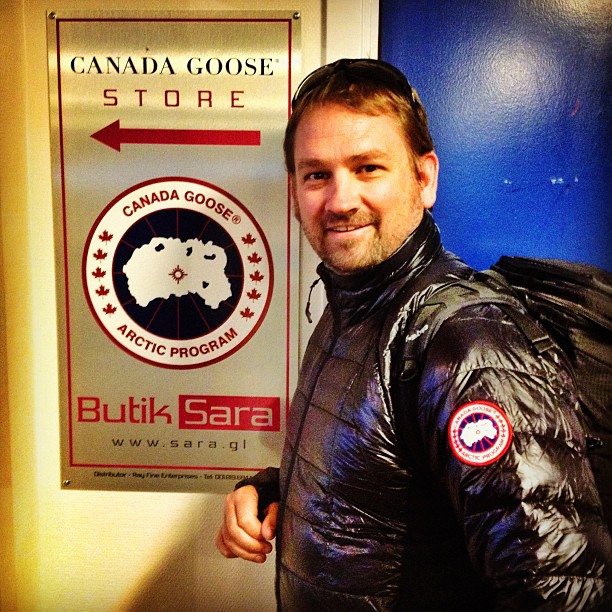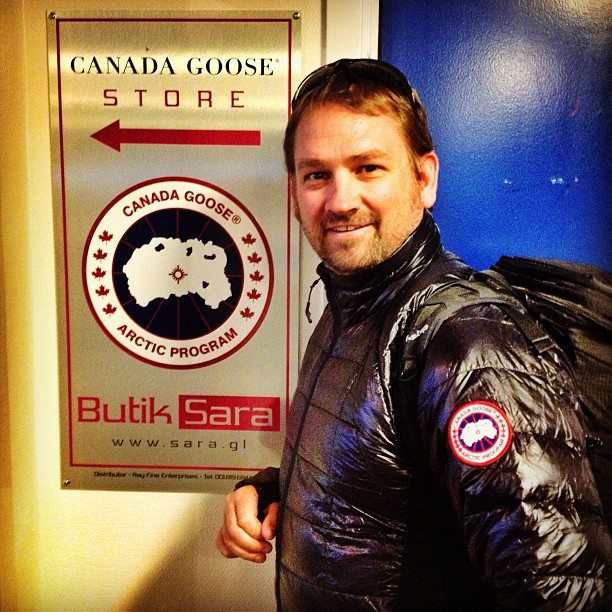 We are excited to introduce one of our latest partners, The Great Canadian extreme weather clothing company, Canada Goose. They supplied some warm jackets for our trip, and to our delight, the first things we saw when we got off the plane in Greenland, was a Canada Goose store!
It's cold in Greenland and we saw many locals wearing their gear. We can understand why it's so cozy!
The icebergs in Greenland rival Antarctica!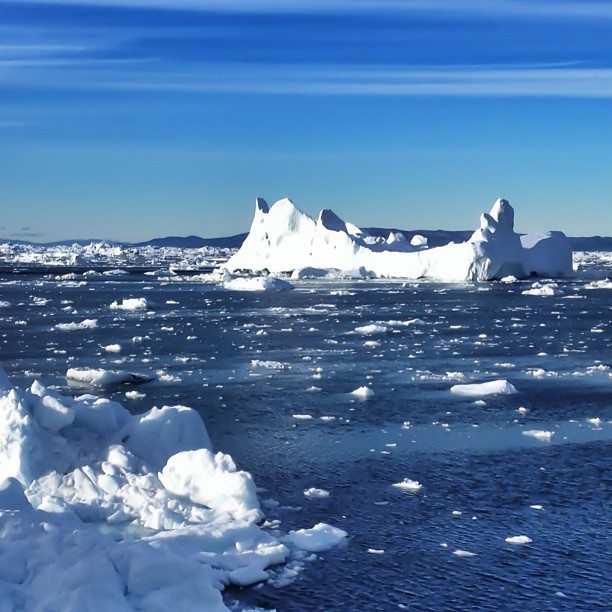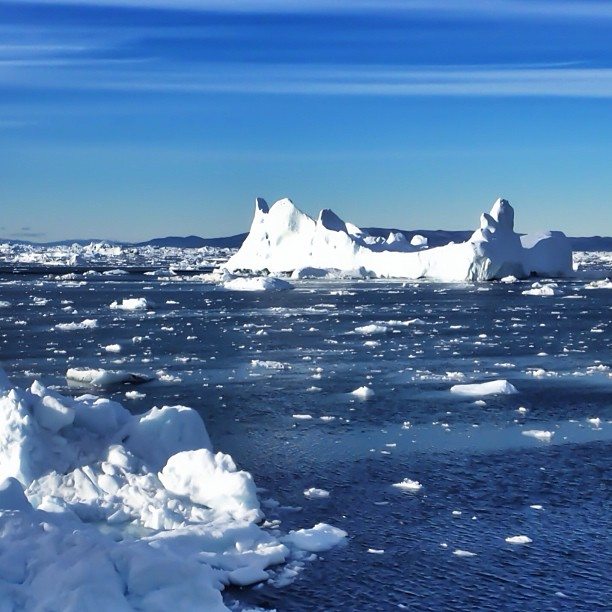 We seriously cannot believe the ice in Greenland. We didn't expect it to be so spectacular.
Disko Bay is one of the best bays for viewing icebergs and our captain, Captain Peter was a pro who navigated through the tricky passage with ease. Exploring the culture tomorrow.
Ilulusat is a town filled with treasures. It's also a world heritage site!
Sunset in the Arctic is Outstanding.
Ilulissat, Greenland is located in the West of the country above the Arctic circle.
We didn't see Northern lights yet, but the sunset sure puts on a show for us. We were docked in Disko Bay overnight and awoke, bright and early for a sunrise hike overlooking UNESCO World Heritage Site, illulisatt Fjiord, which is packed in with icebergs.
The Incredible Arctic Tundra is a colourful contrast to giant glaciers.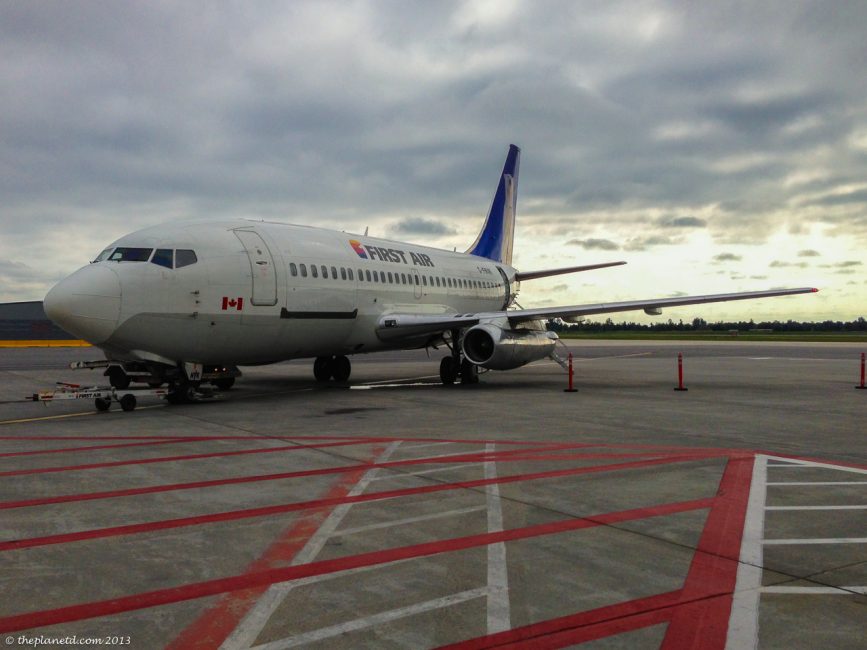 So many choices this morning. Do we take a chance that the winds will calm enough for kayaking?
Do we wait until 8:30 to join everyone else on the zodiacs? Or do we stick to the plan and hike out to Ilululissat Fjord to see the glacier for sunrise? It may have been raining, but we stuck to the plan and caught the first zodiac out at 5:00 am and we were quite happy with our choice.
The rain stopped and We had a beautiful walk along the Arctic Tundra to Holms Harbor. The glacial ice has broken off creating a bay jammed with giant icebergs waiting for their turn break free and float through the Arctic Ocean towards Canada. The ice was nice but the moss and shrubs were what really stood out.
The vivid colours were a stark contrast from the grey day and blue ice displaying a picture perfect scene before our eyes.
This Fjord produces most of the icebergs in the Northern Hemisphere. Chances are, the ice that sunk the Titanic, came from here
Cheers from The Arctic Circle!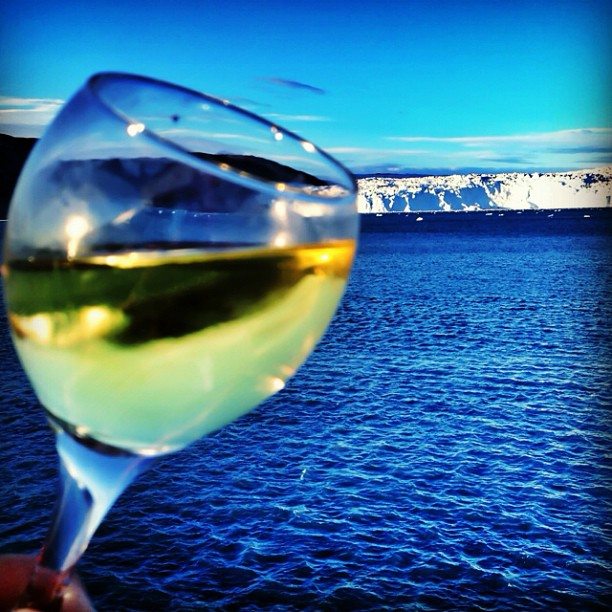 After a challenging kayak in 25-knot winds, we were treated to a bar-bque on the deck of the Sea Spirit. Everyone was in high spirits as we had yet another epic day in the Arctic.
We visited the town of Ilulissat, witnessed the Ilulissat Fjord and stepped foot on the World Heritage Site housing the most active glacier in the world. Here is our view of Eqip Sermia Glacier from the ship. Dining by the glacier, who could ask for more!
Arctic Ice – Formations to die for!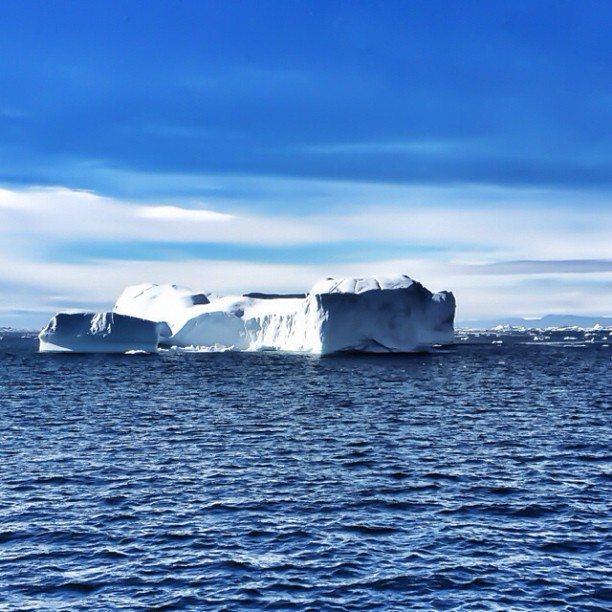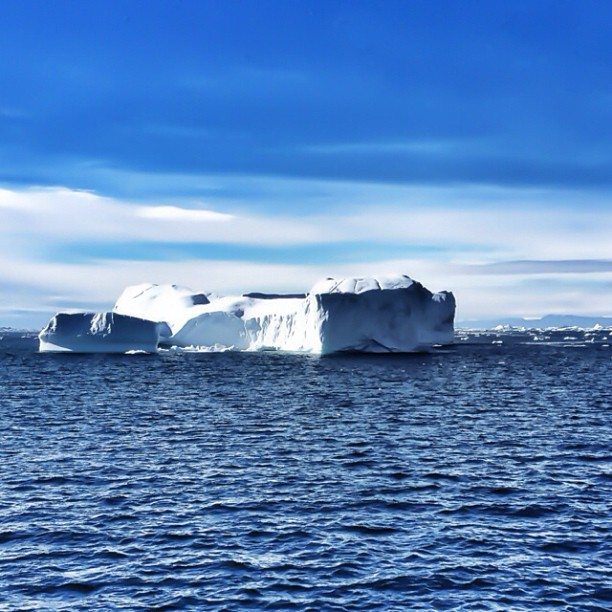 While moving on to our next destination, Dave and I went out on the deck of our ship, The Sea Spirit.
We saw icebergs ahead but had no idea how enormous they would be. We cruised right through a field of these beauties and realized that we have now seen where icebergs are born, in Ilulissat, Greenland and have also seen where icebergs die at an iceberg graveyard in Antarctica. Amazing Ice!
Spectacular Reflections in Ice at sunset in Greenland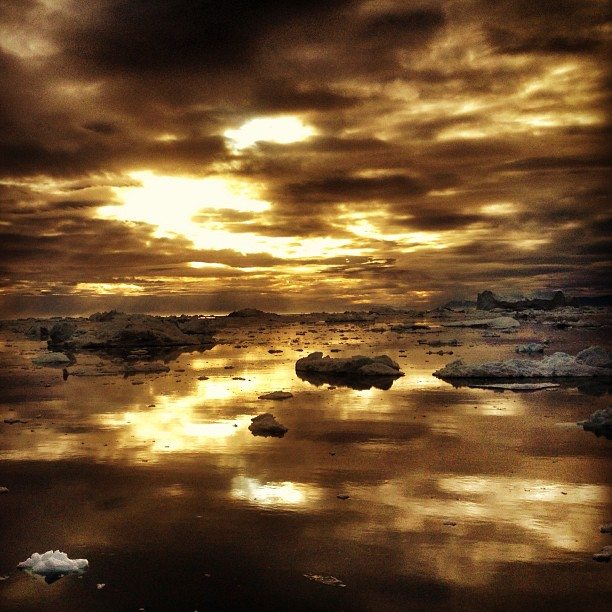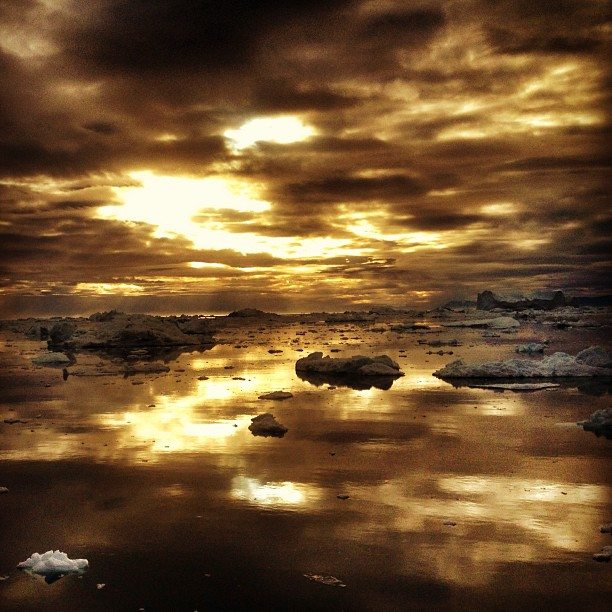 If there is one thing that has amazed us about the Arctic, it is the light. How it reflects and changes throughout the day gives each landscape a different feel. Sunset tonight was nothing short of incredible. Dramatic clouds, great ice and a perfect view.
Cuteness alert! Greenland Husky pup guards his sled.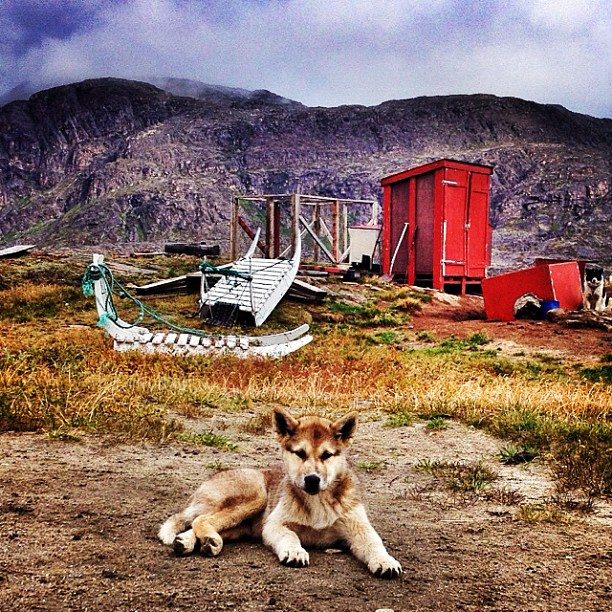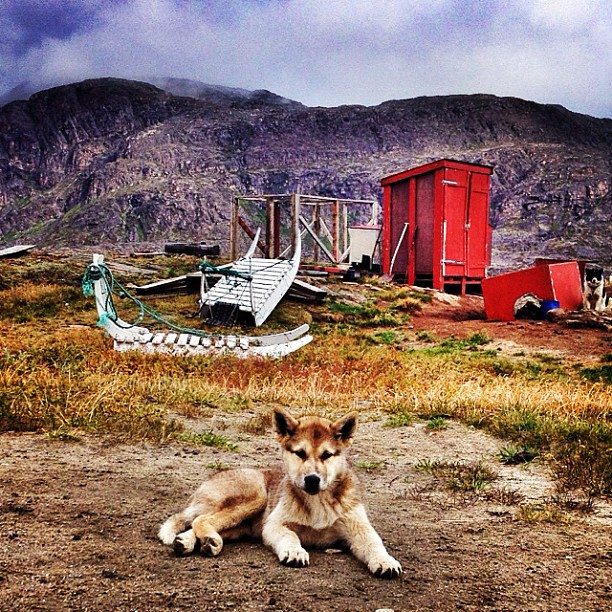 We call it dog town. Just outside the town of Sisimuit is a valley filled with sled dogs on vacation for the summer. It's actually quite sad because they are all tied up, but the pups are free to roam.
The pups are cute and playful and this little guy took a break from playing to flop down and relax in front of a dogsled. In 1-year he'll be out there pulling a sled, but for now, he gets to play and relax.
The stunning view from the town of Itilleq, Greenland.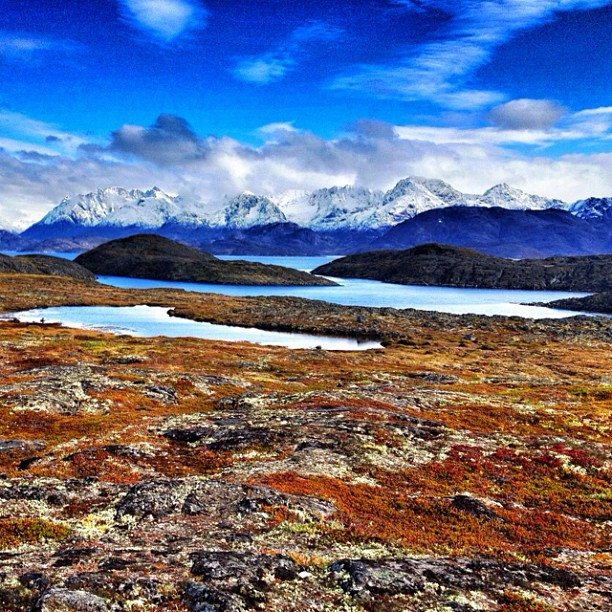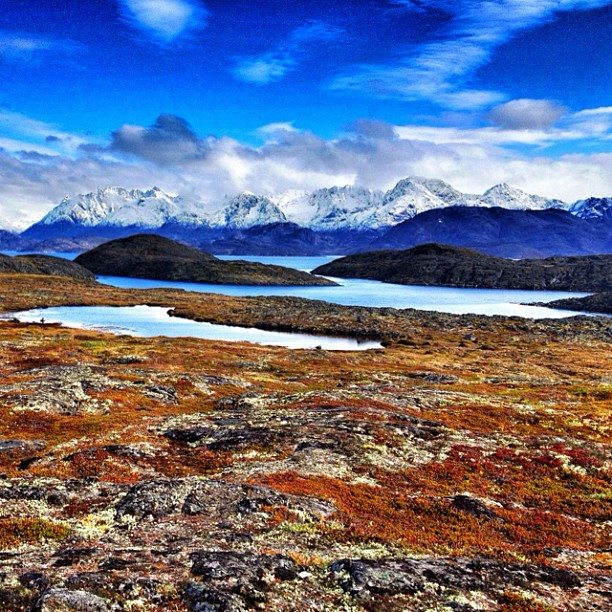 The town of Itilleq is a small village of 200 people in a remote region of Greenland. There are no roads leading to any settlements. Everywhere you go in Greenland can only be reached by plane, ship, dogsled or snowmobile.
This town opened their doors to us and let us see how they live. Then they held a soccer match in the main square between the ship and the villagers. Nothing brings cultures together like a good game of anything!
A cross marks the Holy Land overlooking the vast landscape.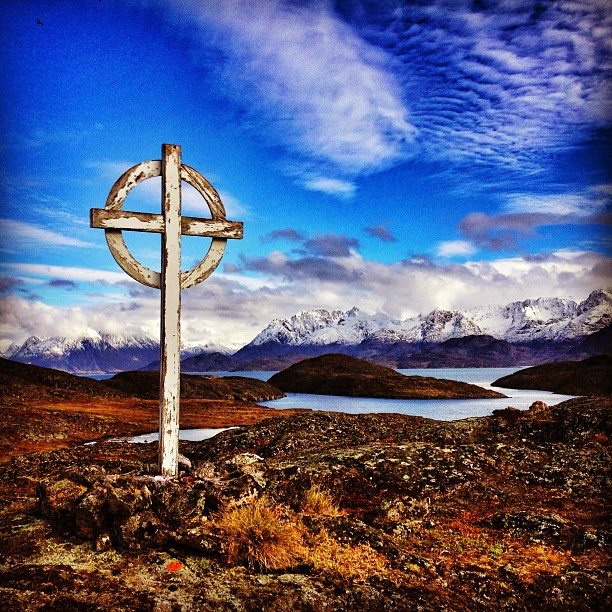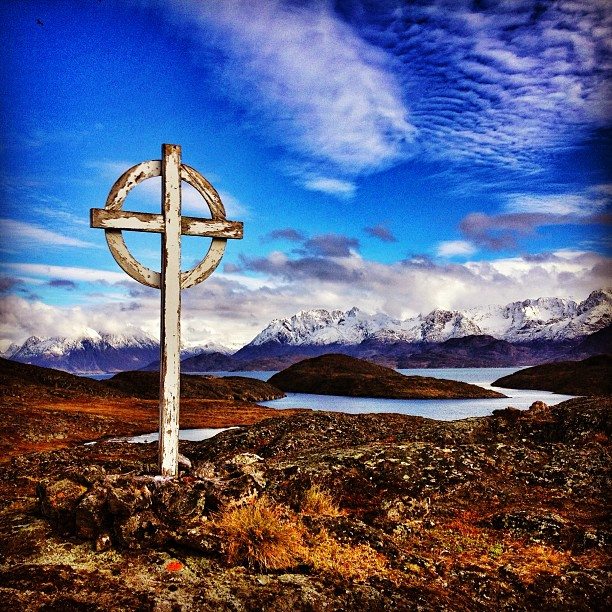 Itilleq, Greenland sits in the middle of a beautiful setting. Surrounded by mountains, fjords and ocean, we can understand why the villagers chose this location. It is truly breathtaking here.
Just below this cross stands a cemetery, and we couldn't think of a better place to spend eternity among the beauty of Mother Nature.
Arctic driving school, today's lesson – navigating icebergs.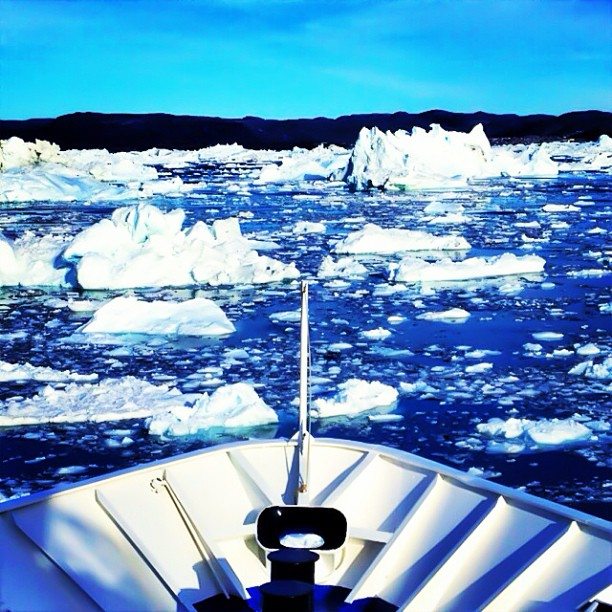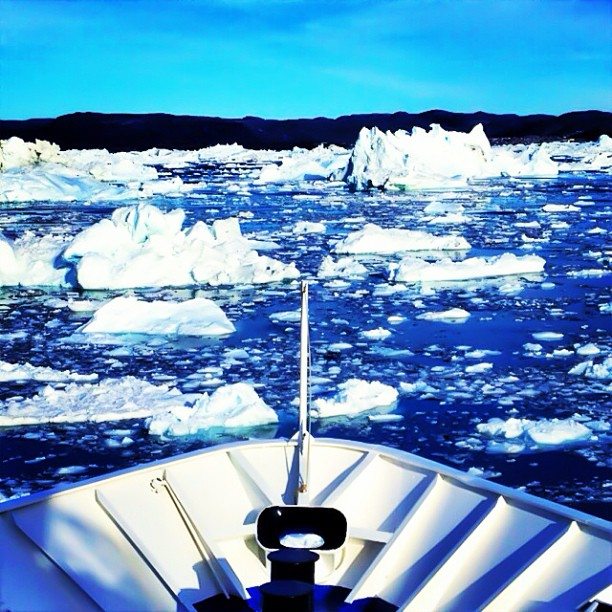 Captain Peter of Quark Expeditions is considered one of the best in polar navigation. This ice would make other captains shudder at the sight, but he calmly navigates us through with ease.
We're heading south after reaching our northernmost position and had the wonderful opportunity to cruise through the astounding Disko Bay.
If you think that that you can only see great ice in Antarctica, think again. Greenland is home to the birth of the iceberg from the glacier in Ilulissat and you'll see awe-inspiring formations along the coast.
This Greenland baby mummy can be seen in Nuuk.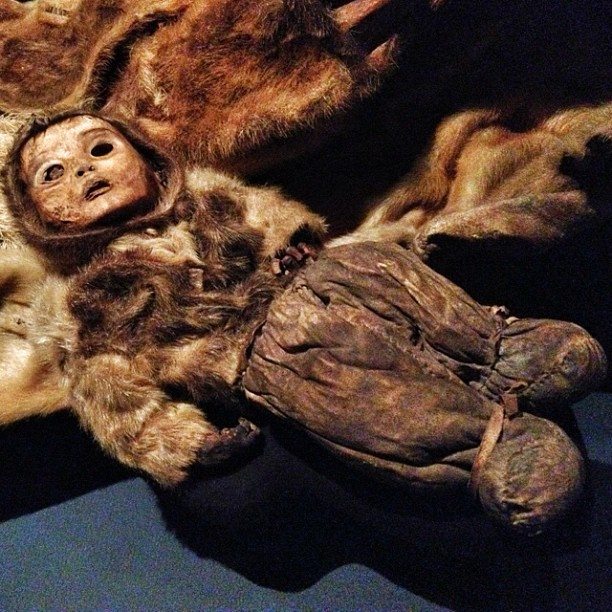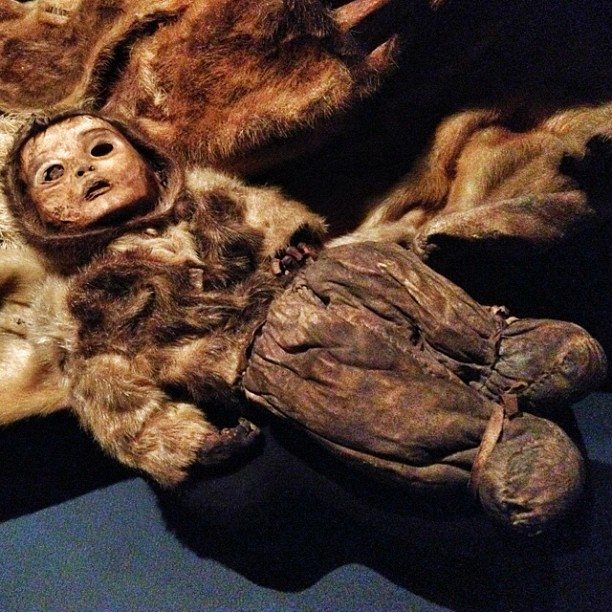 The mummies of Greenland are fascinating. In the capital city of Nuuk, there is a great museum telling if the history of Greenland. One of the exhibits is a family of mummies found outside a settlement.
There were six women and two baby boys frozen in time. Nobody knows what they died of but it happened in the 1400's and they are considered to have close family ties.
Ice Ice Baby! The beautiful Arctic.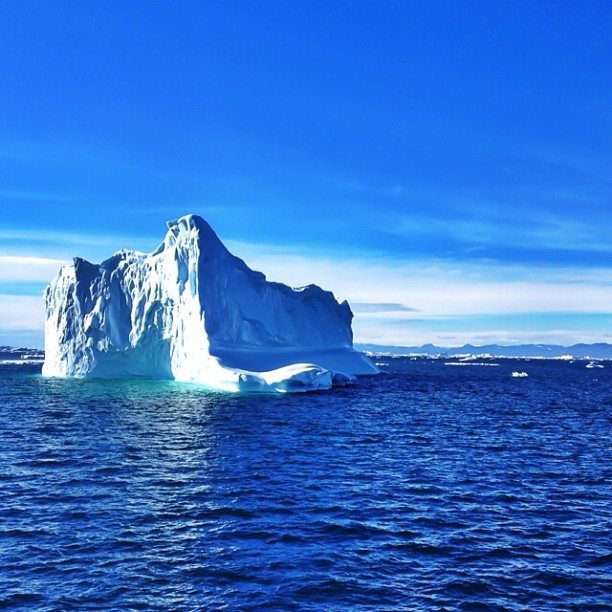 The beautiful blue ice of the Arctic is breathtaking. We've seen some huge icebergs during our voyage, many icebergs dwarf our ship and we realize the power and might that they can have. As we head to the south of Greenland, we'll be seeing less of these so we will say farewell to ice and hello to fjords! But wait….
Astounding Ice -Who knew it could be so blue?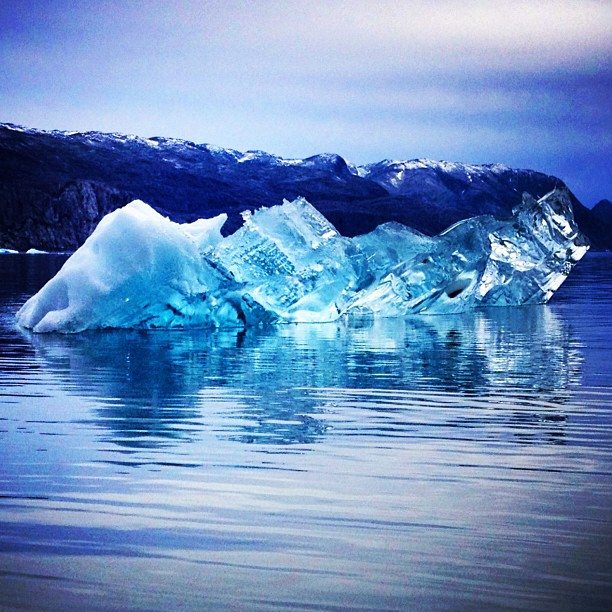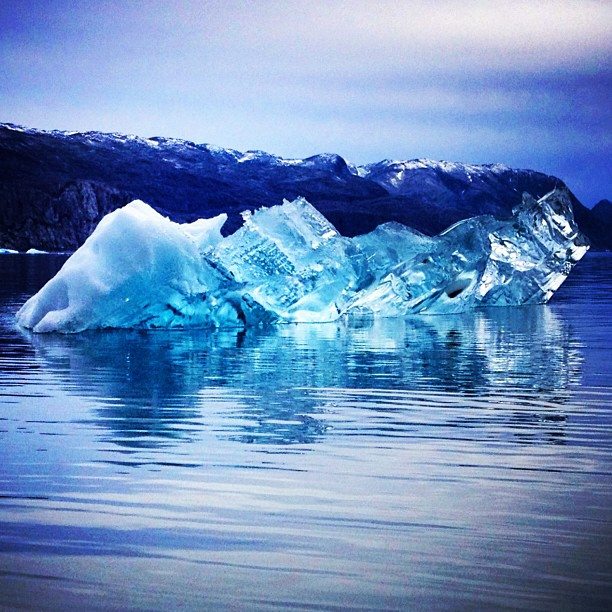 We're heading South along the West coast of Greenland and ice is still a huge part of our journey. Today we went kayaking, visited the village of Paamuit and ended with a zodiac cruise beside a glacier exploring icebergs and ice floats.
This one was crystal clear and so blue. We were told that is very old ice when it is that blue. Incredible!
Greenland Cemeteries are always in magnificent settings!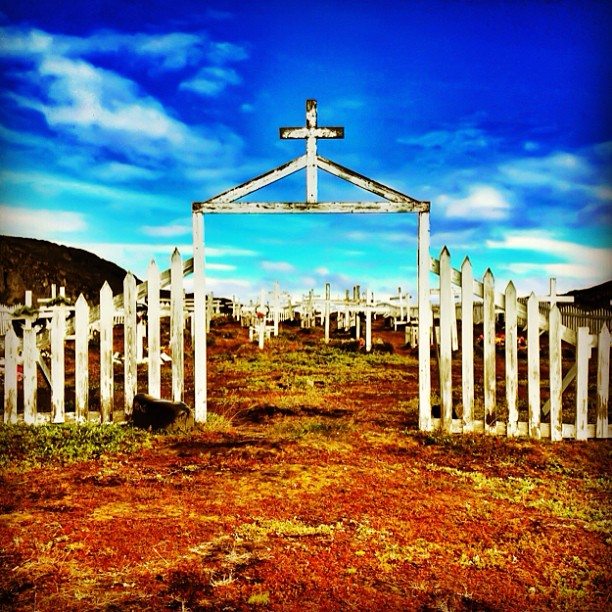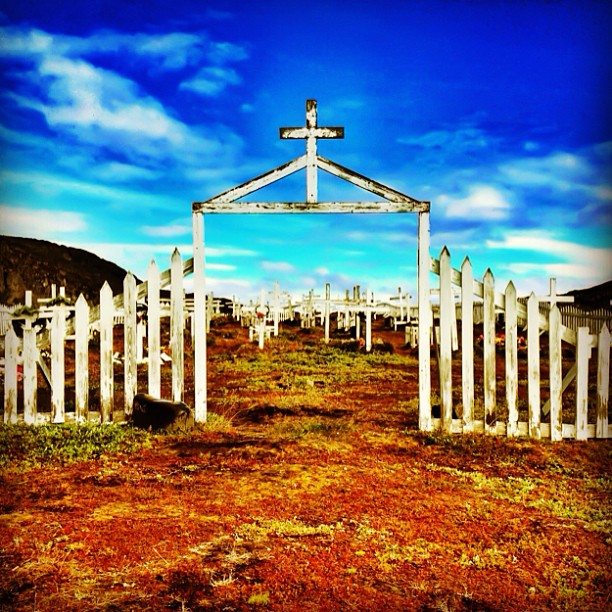 Even when we visited the capital city of Nuuk in Greenland, the cemetery had an extraordinary view. Our guide said to us 'when I die I want to live here because it has the best view.' Visiting Greenland has been fascinating.
We've had a glimpse into life in the Arctic Circle and have learned of their customs and daily lives. As we always learn when we travel, other cultures are just like you and me. They laugh, they cry, they live and they die.
Hot Spring fun in Greenland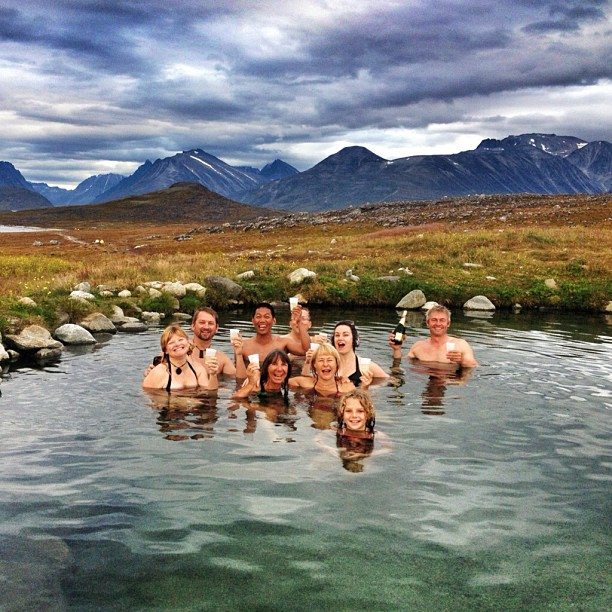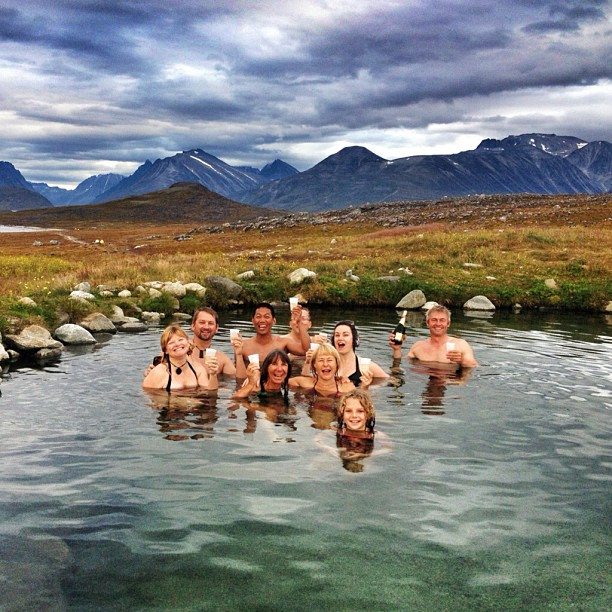 We had a great time at the hot springs. The Quark team broke out the champagne and we all basked in the warm waters surrounded by gorgeous scenery.
It was good times and all the girls decided to go back to the ship by zodiac wearing just our swimsuits! A good preparation for the upcoming Polar Plunge.
The Beauty of Prins Christian Sound.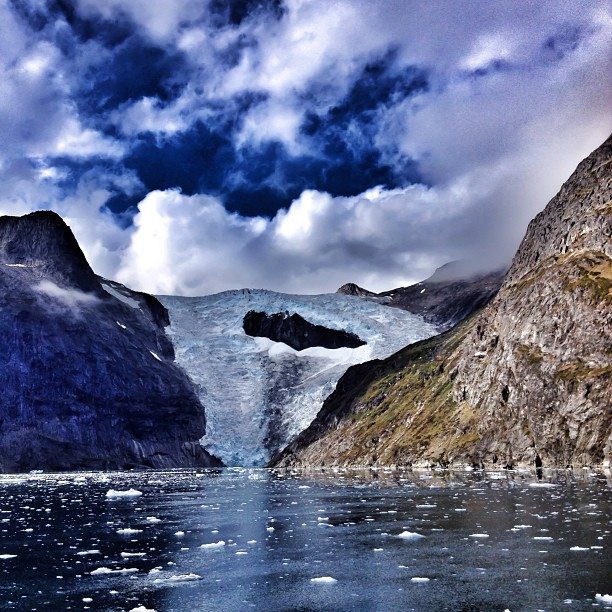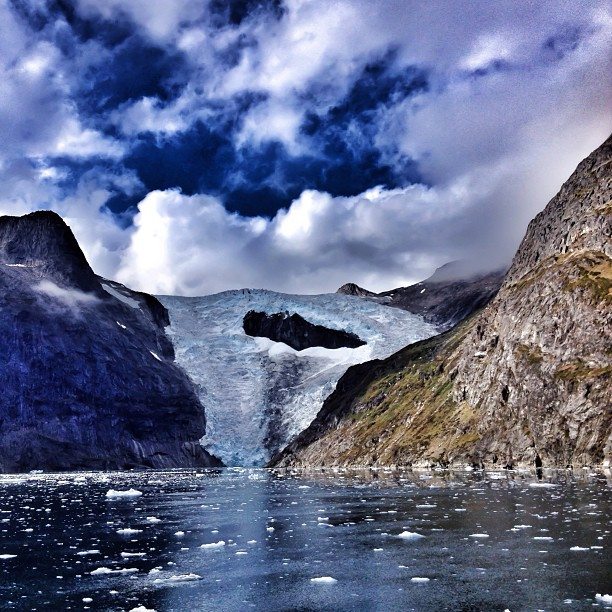 Captain Peter took us deep into Lindenow Fjiord in Greenland. His expert navigation and skilled crew got us farther than we ever could have expected…right to the end where we had to turn around.
We're heading back out now but will be stopping for a kayak around one of the bays. Greenland is turning out to be spectacular!
Deb gets up close and personal with a glacier in her kayak!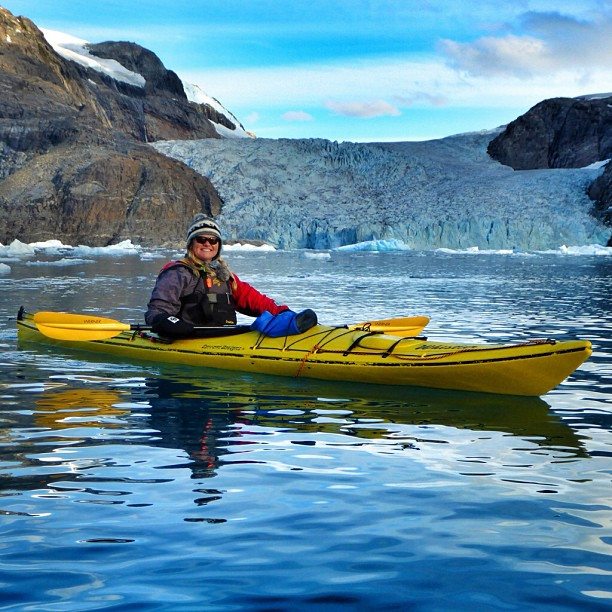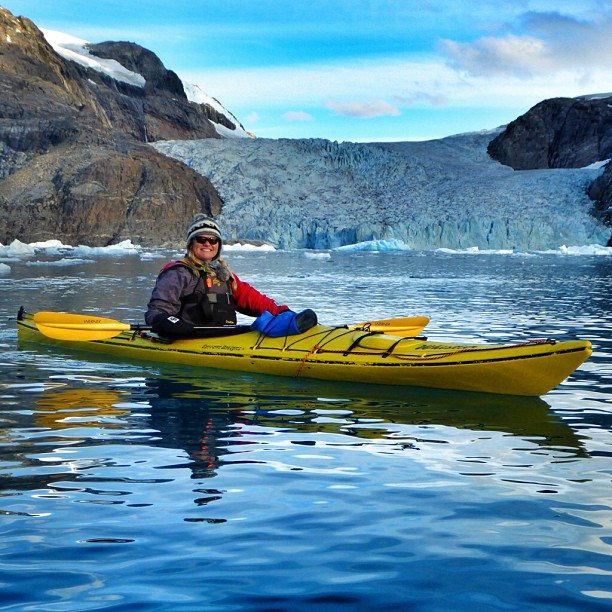 The fog lifted and we were treated to an end of day kayak on an unnamed bay in Greenland. We were surrounded by glaciers and icebergs and had the joy of paddling through brash ice.
We've had outstanding weather throughout the trip an have managed to paddle several times during our Greenland journey.
Dave kayaks towards a glacier in the gorgeous brash ice!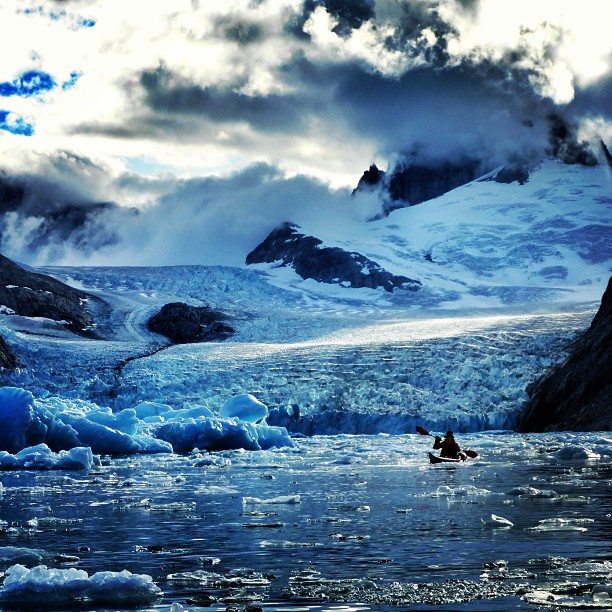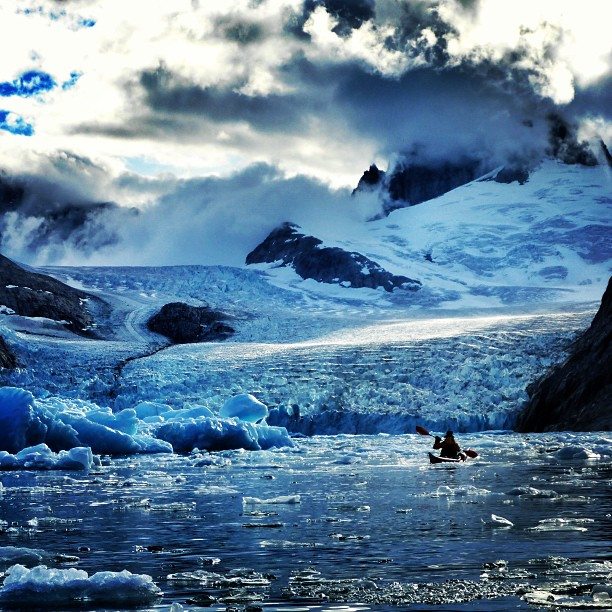 The kayaking in Greenland has been stunning. Every day is different. One day we'll be in calm Fjords exploring the coastline, the next we'll be playing in ice and circling glaciers.
Already on this Quark Expeditions trip the kayaked have been on the water eight times!
When Kayaking, this is how close you can get to ice in Greenland.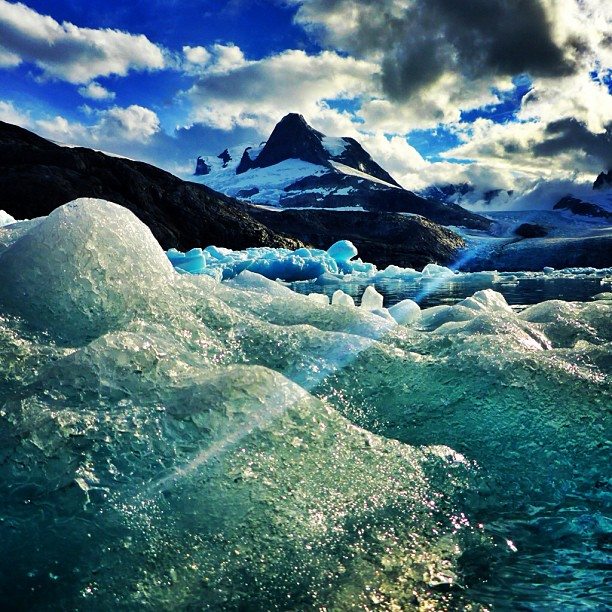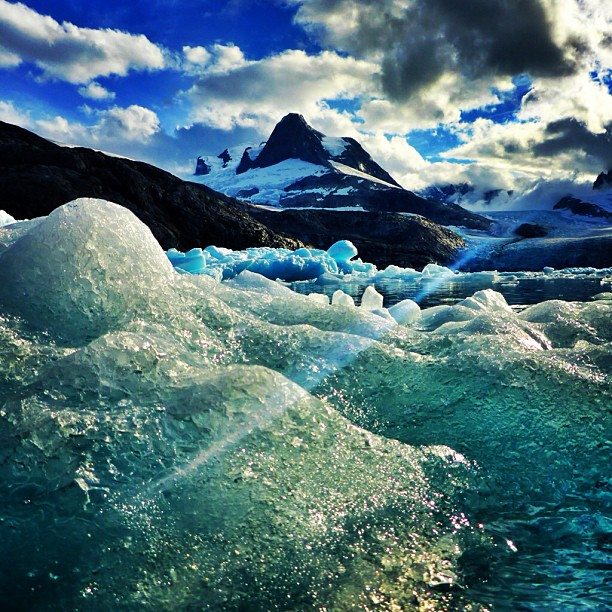 Have we told you the ice in Greenland is surprising? We didn't think it would be as stunning as Antarctica, but the icebergs and formations have been beyond impressive. Kayaking has been wonderful, especially when we get to play in ice!
It's a new week in the Arctic & the glaciers are just as awesome!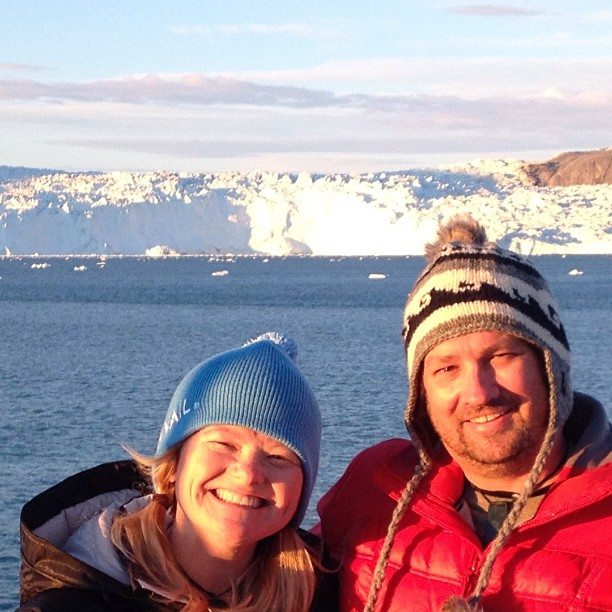 Our trip in Greenland is winding down but we'll still be celebrating the north as we continue on to Iceland tomorrow. Greenland was all about icebergs, glaciers and polar caps while Iceland is the land of waterfalls. We can't wait to see how they all compare.
The Polar Plunge.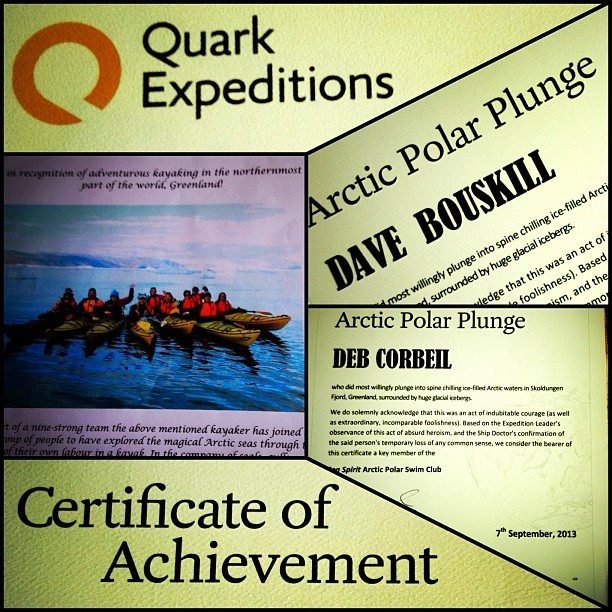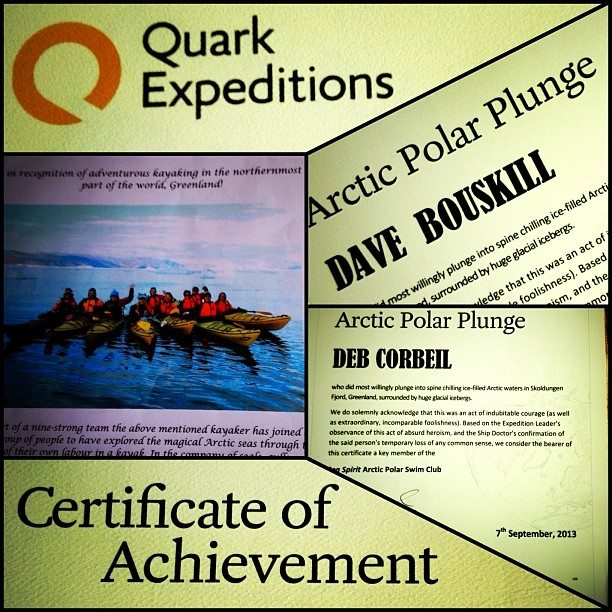 Going to the Polar Regions of this earth is a great feat. Quark realizes that and hands out certificates for your accomplishments on board. Dave and I took the Polar Plunge jumping into freezing waters, kayaked in the northern reaches if Greenland above the Arctic Circle and joined the expedition team, staff and passengers on the Sea Spirit.
It is a journey we will never forget.
To see more about Arctic Travel, visit Quark Expeditions and browse the many polar trips they have to offer.