"I don't use American Express because it isn't accepted in Europe or by many businesses around the world." We heard this line all the time when we announced that we'd be using our American Express Gold Rewards Card to drive from London, England to Ulaanbaatar, Mongolia in the Mongol Rally. How wrong people were!
This summer we were approached by American Express Canada to test drive their new American Express Gold Rewards Card and after using it for the past few months, we're big fans.
Our latest adventure found us driving an ill-suited car across 13 countries from London, England to Ulaanbaatar, Mongolia. What better way to put the rumours to rest than by paying for our adventure on our American Express Gold Rewards Card?
American Express Gold Card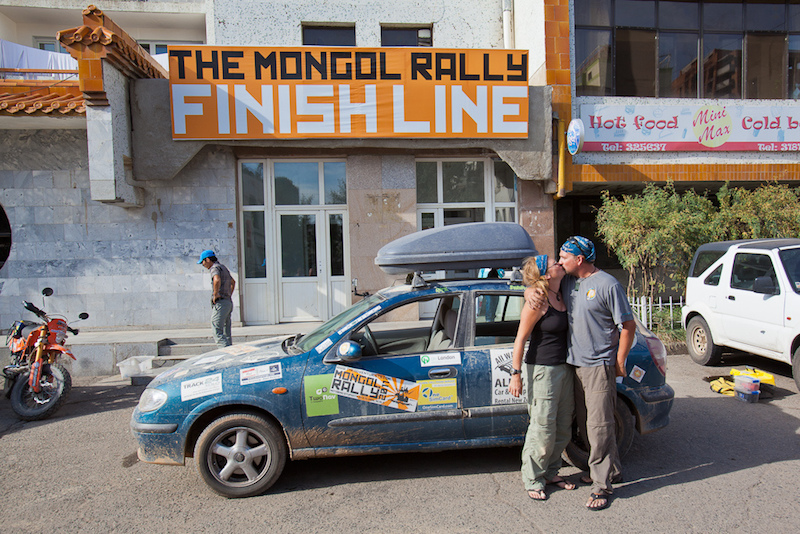 Europe was the first test ground…
Needless to say it passed with flying colours. England, Germany, Czech Republic and Hungary. All were eager to accept the card.
One thing we did do before leaving was to make sure we got a chip card. This is very important when traveling to Europe as all cards are based on a PIN system. This certainly increased our chances of it being accepted.
I must admit we were skeptical once we reached the more remote countries on our itinerary. We assumed that companies wouldn't even take a credit card let alone an American Express Gold Rewards Card in places like Kazakhstan and Mongolia.
Boy Were We Wrong.
We kept on using our American Express to buy groceries, gas and to book accommodations all the way to Ulaanbaatar. Imagine our surprise when we thought we'd be paying cash for everything only to find out that "American Express is Accepted Here."
Our favourite moment was in a Japanese Restaurant in Aktobe, Kazakhstan. We enjoyed an elegant meal with all the comforts of home after weeks of camping in the desert. We ate sushi in air conditioning with soft lighting, mellow music and chilled glasses of beer as we sat on plush padded seats.
We chatted to our server who spoke excellent English as she spent four months in New York on an exchange program and we even became Facebook friends. When the bill came, we pulled out our AMEX Gold Rewards Card and handed it over. Just like they had in so many other places throughout our travels, they asked us to punch in our pin code and sign the bill.
There you have it, a meal paid for with plastic in the land of Borat.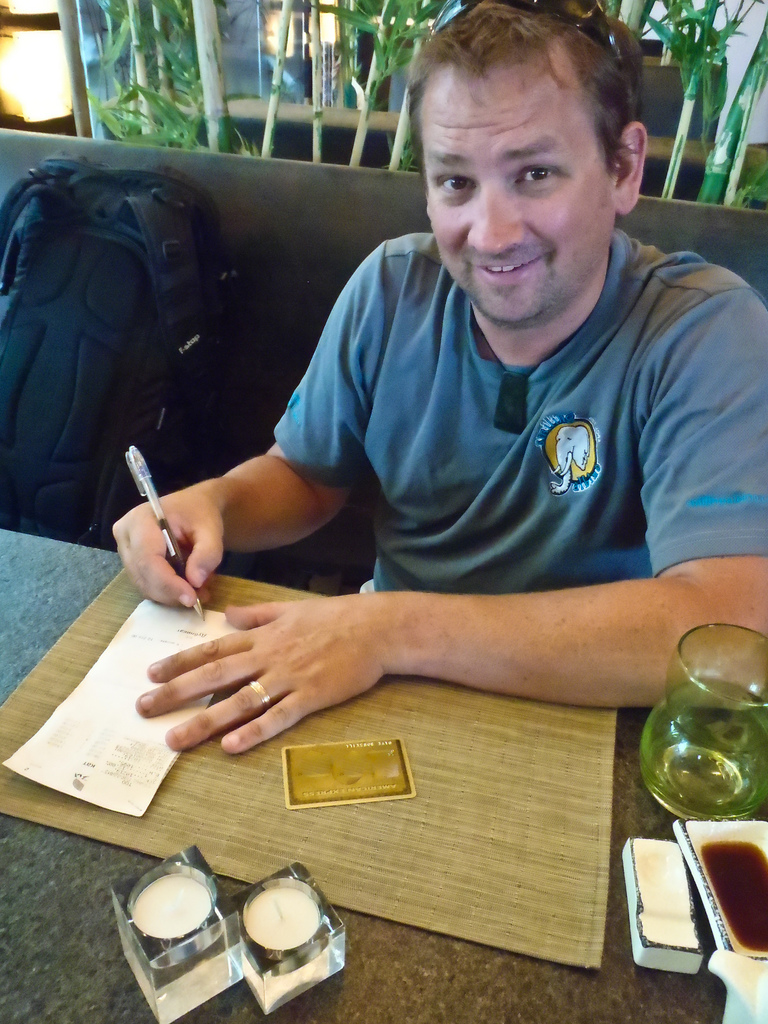 Putting those rewards to work.
Did you know that we can use our 90,000 points towards our flight, and still accumulate status miles with Air Canada? Normally when we cash in points, we miss out on accumulating the much-needed flying miles to help us reach elite status. But the great thing about the Gold Rewards Card is we can purchase the flight, get the status miles and then redeem our points against the travel purchase through TripFlex.
We purchased our flights home while in Mongolia, but once the charge is posted to our account, we can phone American Express and have them use our points to cover the charge, including taxes!
We only needed one more long haul flight from somewhere like China to reach Elite Status with Air Canada and our flight home from Ulaanbaatar is more than enough to help us achieve our goal.
2012 is the year of upgrades and business class for ThePlanetD and we will do it all by using American Express Gold Rewards.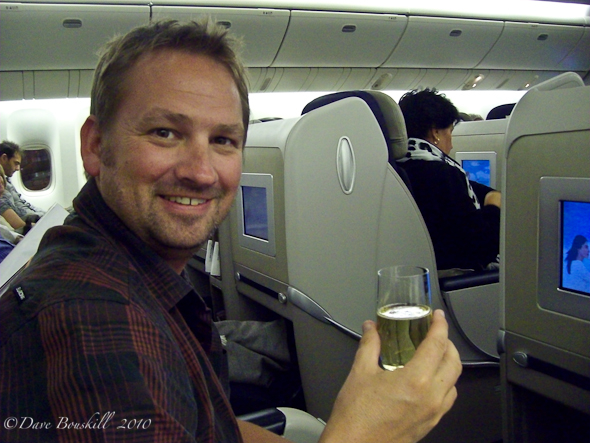 Another added benefit with the American Express Gold Rewards is there's no time limit to using your points. Points don't expire. We can save them for a time when we are really feeling the money crunch but need to take a vacation to escape the Canadian winters.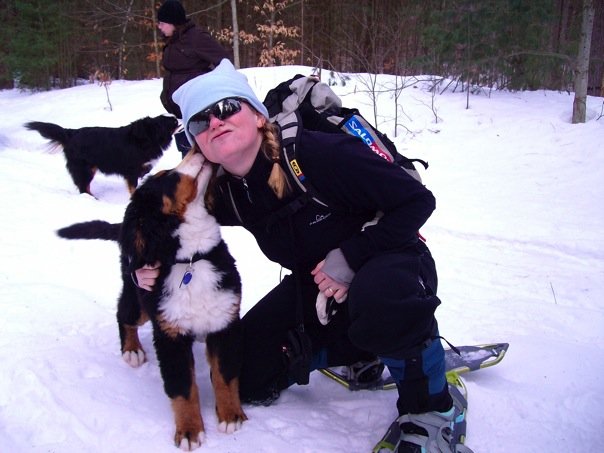 We have racked up the travel rewards and are set to redeem two free flights to anywhere this coming winter with our over 90,000 points. We can transfer our points 1:1 to Aeroplan who has partnerships with such companies as Air Canada, United Airlines, Singapore Airways, Lufthansa and 23 other popular airlines.
Rewards can also be transferred to other programs including Alitalia, British Airways, Delta, Cathay Pacific, Hilton Honors, Starwood Preferred Guest and Priority Club.
How did we rack up so many points?
Contrary to popular belief, American Express is readily accepted everywhere. All cards now come standard with chip technology that can be used overseas and we ended up using our American Express card from the United Kingdom to Mongolia to pay for petrol, accommodations and food.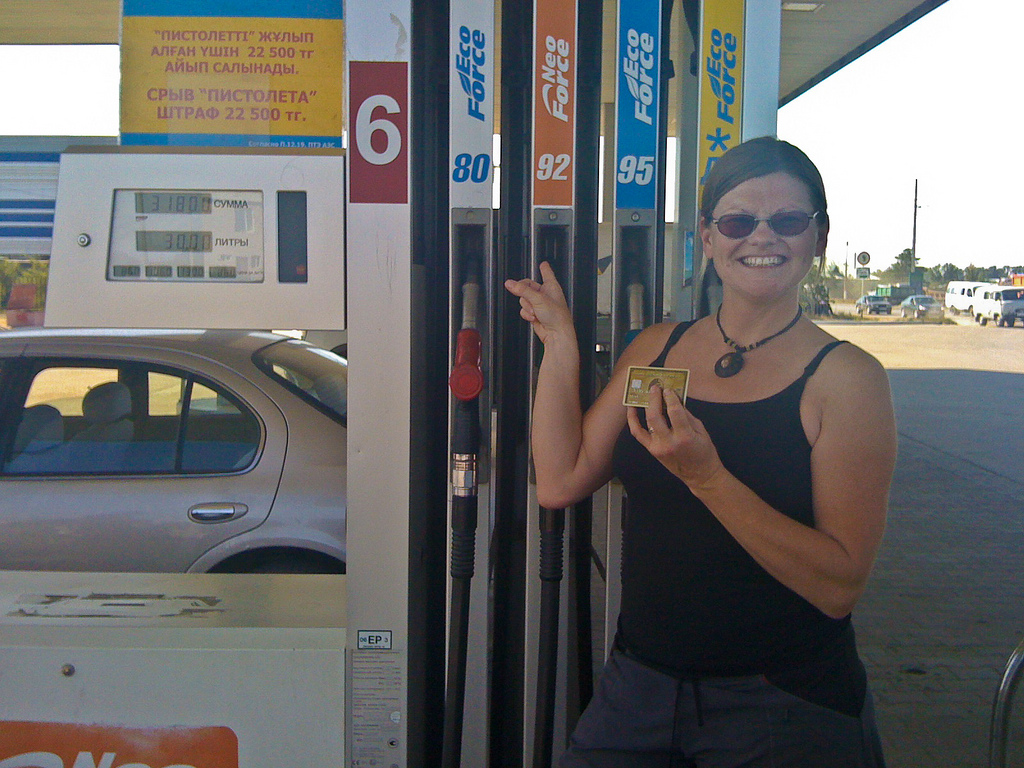 An American Express Gold Rewards card is different than many other types of credit cards. We have to pay it off each month but at the same time, there isn't a spending limit. They have faith that we will keep our spending habits within our means and we have proven with our track record and credit history that we are responsible enough to not overuse our card on frivolous things. We may be making less money since leaving our careers in the film business to pursue our dream of being adventure travelers, but we take our credit history seriously and work hard at keeping a high rating.
We were happy to look at our points balance at the end of our 10,000 mile road trip to see that we had added an extra 8,800 points onto our cards balance. That's the fastest rewards accumulation we have ever seen!
Since signing with American Express, we have 90,000 points.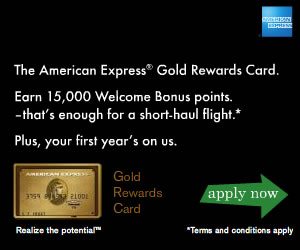 American express was generous enough to give us a few points to kick start our travels, but 30,000 of those points are our very own coming from bonus offers and purchases. We have been using Aeroplan miles for years and we know that 30,000 points already gives you a nice little flight to somewhere warm in the coming winter months and with the Aeroplan miles that we already have stacked up in our account, we have stored a few more flights for our 2012 itinerary.
As Travel Bloggers, our biggest expense is airline travel. If we didn't have to fly so much, we'd be sitting pretty living on a small budget as we explore the world. Unfortunately, flying is a part of travel and we have to pay the bills somehow.
If we can save on flights through rewards programs, it is a step to helping us achieve our dreams and give us the peace of mind to keep on traveling and sharing our experience with our readers. Often times we want to go somewhere, but the cost of the flight makes us re-think our travel plans.
Next year however, we get to go wherever our hearts desire thanks to the American Express Gold Rewards Card.
To find out more about the American Express Gold Rewards and to apply for your own visit American Express Canada for details.
---
Read More
We're Driving to Mongolia With American Express Gold Rewards
Travel the World with the American Express Gold Rewards Card
Kayaking Through Croatia on Travel Rewards
SaveSave
SaveSave
You Might Also Enjoy