We are extremely grateful for the opportunity to take part in dream adventures such as flights over Mount McKinley, helicopter rides over the Juneau Ice Field and racing through the inside passage of the Tongass National Forest. 
But we also had the chance to learn about the history of America's most exciting state in Denali National Park. 
Alaska's Denali National Park
To Find out more about our other adventures, Check out Isabelles Travel Guide for our roundup.
Denali National Park Tour
One of the most informative and interesting trips in Alaska that we took was a bus ride through Denali National Park.
It could have been one big yawn fest driving for four hours on a lonesome road somewhere in the middle of Alaska, but our bus driver Doug, was captivating and entertaining.
Founded in 1917 by a group of pioneers and visionaries concerned with over hunting of the native Dall Sheep, Denali National Park grew considerably over the years and now has an area of over six million acres. Denali is larger than the state of New Hampshire.
Little has changed in almost a century.  Park Rangers still patrol by dogsled, log cabins are still used as shelter and traffic is limited into the park with only one road leading in and one road leading out.
We watched an excellent 18 minute film telling the story of Denali's roots and how it came to be. I found it entertaining and very interesting.  I wasn't expecting to enjoy it so much, but this film is an excellent documentary.
Private vehicles can venture into Denali National Park, but they are only allowed in as far as the 14 mile marker. The rest of the trip must be taken by bus, bicycle or on foot.  It is an excellent way to keep human impact low on the park.
We enjoyed learning about the plants of the area. I never thought I would be so enthralled with plants, but Doug's passion made me passionate.  We held on to his every word as he explained what moss, tress and flowers could be used for medicinal purposes.
You can make an entire salad out of weeds here in Denali – Blue Bell and Fireweed are completely edible.
Try some Colts Foot in a tea to clear the lungs.
Have some Valarien to relax.
Did you cut yourself during a hike? Horse Lychan will clear that up. It is natures Neosporin.
Just be sure to know what you are doing before you eat anything. Some plants can be very poisonous.
As we drove, we saw some wildlife in the distance.
We spotted some Caribou and a few birds.  I can understand why the wildlife doesn't frequent the area. It is the only road going through the park so they probably stay away.
Liz from Travelogged ventured farther into the park the following day and saw more wildlife including bears.  She suggests taking the 8 hour tour of Denali.
Mount McKinley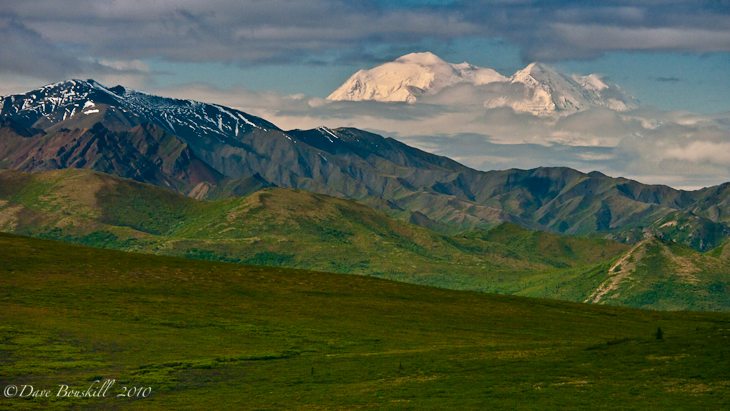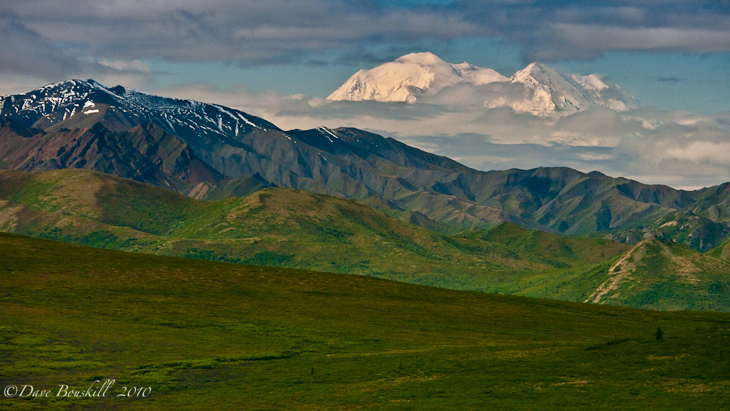 The highlight of the day was definitely spotting the summit of Mount McKinley. Known by its Athabaskan name in Alaska, Denali means the High One. At  6,194 metres (20,320 feet) it is North America's highest peak.
It is shrouded in cloud most of the year, but we managed to capture a beautiful shot as it peaked out from the clouds.
We didn't care for the staged performers that waited for us at checkpoints in the park, but we did thoroughly enjoy Doug's passion for the land and for the environment.
Our least favorite moment of the day came when an Athabaskan Native guide talked about hunting bears in their dens during hibernation.
I can completely understand why his ancestors took this right of passage; to feed their families during the long cold winters.
But to hunt a sleeping, helpless bear in cold blood in today's day and age when food is readily available is something that I can never understand.
It was during our drive home that I started to listen to our driver Doug speak as I was dozing off.  His words gently took me out of my daze as he talked calmly about preservation and conservation.
It was an interesting contrast to hear Doug's point of view compared to the other guide.
Something I respect about the National Park and Princess Cruises for, they give both sides of the story for the passenger to decide who they agree with.
When trekking into nature, we have to remember that we are the visitors.  We must learn how to be careful when hiking out into the wild Alaskan Wilderness.  Make a lot of noise, hang your food away from your tent, don't keep food in your tent and know what to do when you spot wildlife such as a bear.
Up until last year there hadn't been an attack by a Grizzley for 93 years. Humans and nature have co-extisted beautifully here.  But that all changed with new gun legislation.  For some crazy reason the government has allowed tourists to carry guns into the National Park to protect themselves.
Now instead of taking the proper precautions, people are feeling over confident and just last year a Grizzly Bear was shot and killed.
For our part, we will continue to enjoy our national parks here and Canada around the world gun free.
There is nothing more fulfilling than enjoying nature up close and personal and we look forward to coming back to Alaska and spending several days in this untouched and magnificent park.
While the tour was interesting and informative, there is nothing better than stepping out of the tour bus and getting out from behind the glass and actually exploring a great park like Denali on foot.
We can't wait to come back to Alaska.