Travel creates memories to last a lifetime, in our case it's our adventure travel moments that stand out.
When we first started traveling around the world, we drove our friends and family crazy constantly talking about what we did on our latest trip.
We never stopped talking about our latest adventure until the chance to hop on a plane and replace those memories with new ones.
So how does one come up with a mere three favorite travel moments when they have been to over 100 countries, 7 continents and been on the road for a solid 9 years?
It took us a while but we rose to the challenge.
Adventure Travel
Since we love a good adventure, we thought that we would narrow down the list by choosing three adventure travel moments that really stood out to us.
As I wrote more of the post, I realized that these may have been adventures, they were also life-changing moments that brought us closer together and helped us appreciate each day that we spend on earth.
1. Our Perfect Day on Paradise Bay – Antarctica
We experienced a perfect day in Antarctica in all forms of the word in a place aptly named, Paradise Bay.
We had perfect weather, we were living our dream and traveling with the one we love and we had one memorable moment after another from the time we woke up to the time we laid our heads on the cushiony snow of the continent.
We called it the perfect day in Paradise and it was fitting. Antarctica is the ultimate adventure travel destination and we had the opportunities to take part in some of the biggest adventures that anyone can do there.
We kayaked on Paradise Bay on a downright balmy day as we spotted Leopard and Weddell Seals sleeping on ice floats while giants glaciers calved around us.
We experienced the thrill of paddling through brash ice and then had the joy of floating through calm waters as smooth as glass.
Right after a bar-b-que lunch on deck we donned our swimsuits and took the polar plunge into -5? Celcius waters.
It was the scariest and most thrilling thing we've ever done but now we have bragging rights that we swam in the Antarctic Peninsula.
We walked on the shores of Antarctica and played with penguins and then ended the evening camping on the continent.
As I drifted off into a fitful sleep tucked into my bivy bag, I wondered to myself "How on earth will I ever top this day?"
2. Trekking to Mount Everest Base Camp
We have always loved mountains and nowhere is more beautiful than the Himalayan Mountain Range.
I never thought that I would witness Mount Everest in real life. We had both read every book on the climb and saw every IMAX movie and documentary of Everest.
We dreamt of seeing it one day and two years ago, that day finally arrived. While we didn't summit this mountain (who has $60,000 to do that?) we did hire a guide to take us to Everest Base Camp.

We flew into Kathmandu and found a guide. We ended up climbing with Dipendra (Deep as we know him) and have stayed friends ever since.
To witness the Kumbu Ice Fall for the first time and to walk in the footsteps of Tenzing Norgay and Sir Edmund Hillary was a dream come true.
Adventure travelers have walked these steps for decades and here we were fulfilling our ultimate dream.
As we walked through the Himalayas looking at the most beautiful views we had ever seen on earth, we felt as if we touching the hand of God.
The Khumbu region of Nepal is a spiritual place.
Tibetan prayer flags flowing in the wind sending their mantras over the mountains to bring good luck to everyone.
Prayer wheels line entrances to villages and monasteries can be visited as you walk along the historical route.
We felt insignificant while walking through these lumbering giants and knew that there had to be more to our this great earth than our little lives that are a blip on the radar.
It's comforting to know that there is something bigger than you out there and the Himalayas prove that.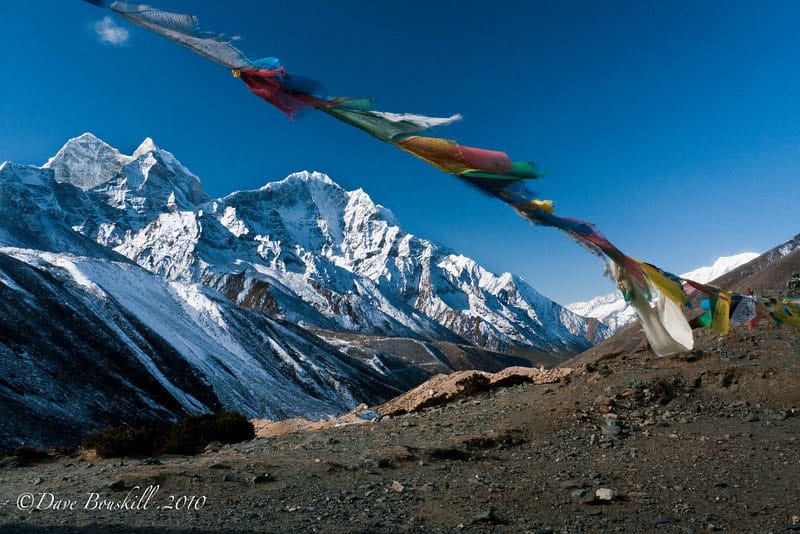 We made it to Base Camp in a little over a very memorable week.
We made new friends along the route, showed ourselves that we are a hearty duo that can push ourselves to accomplish extraordinary things and create memories to last a lifetime.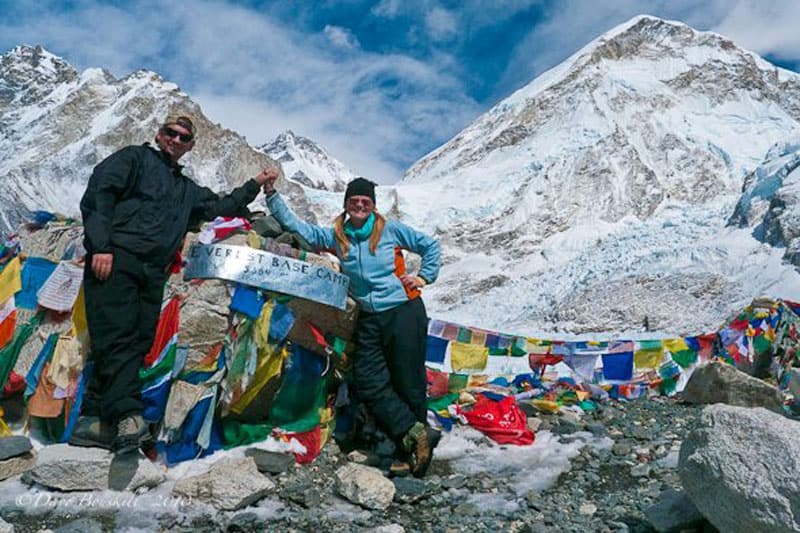 To get in touch with Dipendra for your own Everest Base Camp trek drop him a line at Simrik Real Nepal
3. Summit of Mount Kilimanjaro – Tanzania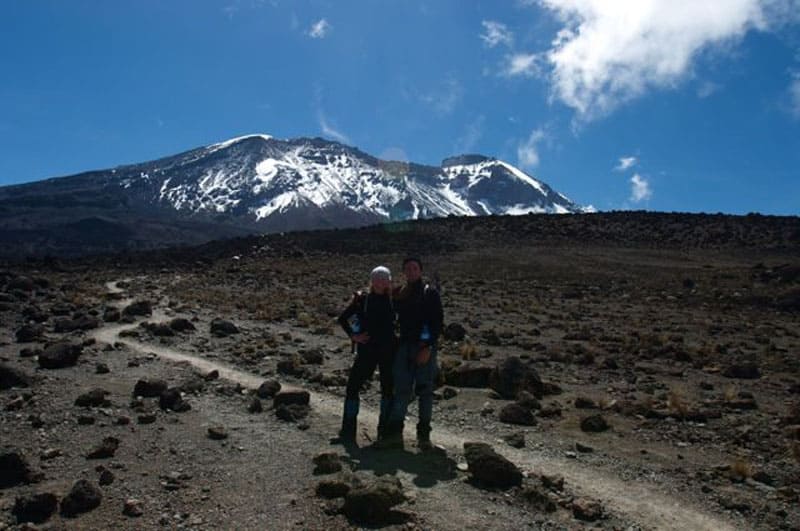 We were in the middle of our greatest adventure; cycling through Africa when we had to take a flight over Kenya due to civil unrest.
We were not allowed to cross the border so we bussed back to Addis Ababa in Ethiopia and flew over the country while our support trucks and gear went on without us.
As our brave drivers drove through Kenya, we waited in Tanzania for two weeks. Instead of taking a break from our 12,000 bike race, we decided to climb Mount Kilimanjaro.
Renting hiking boots and winter coats, trekking poles, and warm gloves, we hired a guide and porters from Kessy Brother's tours and climbed Africa's highest peak on a wing and a prayer.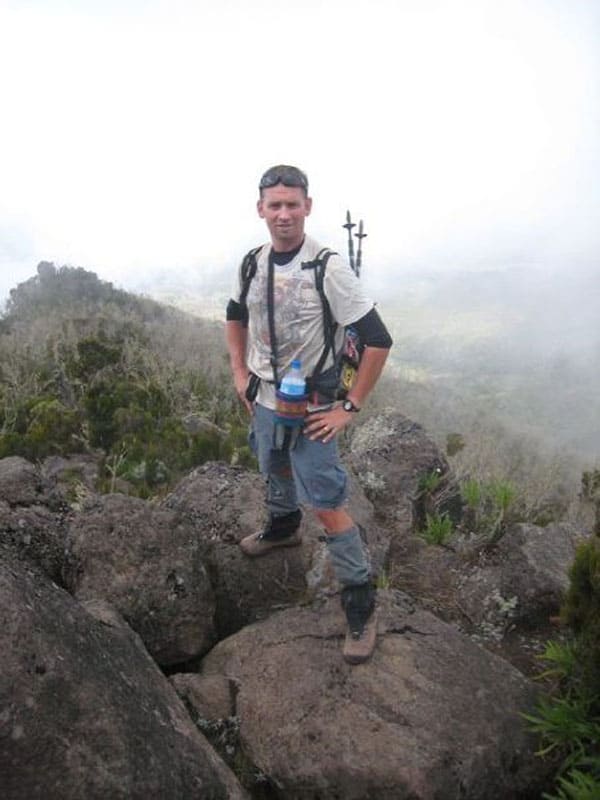 After the monotony of cycling for 2 months day in day out, Mount Kilimanjaro was a welcome change.
It was exciting to change up the adventure but still pursue something extraordinary.
We were in the best shape of our lives and trekking up the mountain seemed almost like a holiday after peddling 120 km a day.
The scenery was breathtaking, the food was incredible and our guides and porters took great care of us.
One of our favorite things about that climb was learning the Jambo song which taught us the basic phrases of Swahili.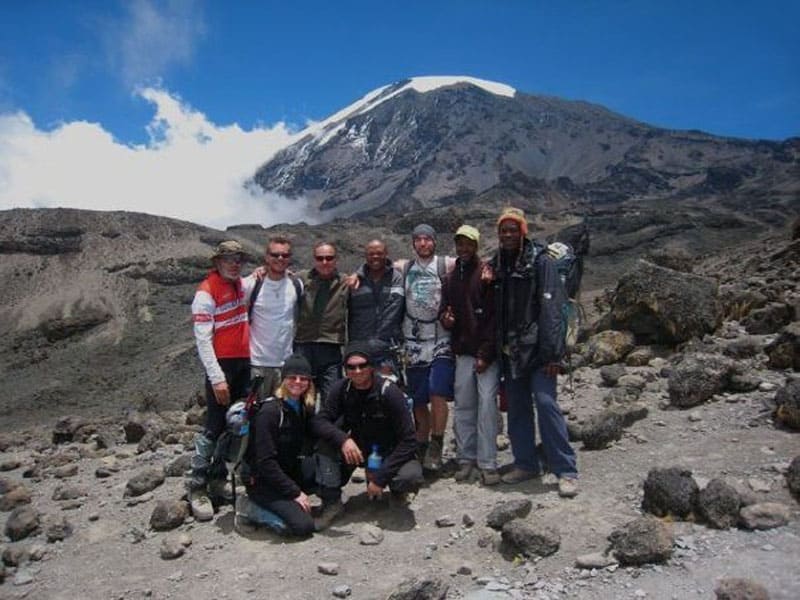 After 6 days we made our summit push in the middle of the night.
The last 500 meters were the toughest moments we've ever had in our lives. Each step was a struggle, our legs felt like lead our hearts were pumping and it took all our willpower to not turn back.
But to reach the summit was one of the most rewarding experiences of our lives.
Once we made it back to camp, we were elated with our accomplishments. We were exhausted, but we were elated.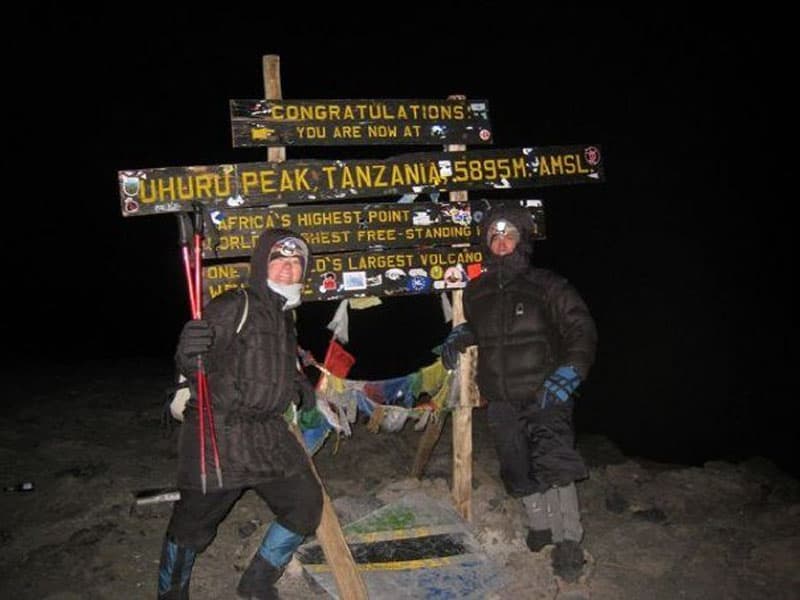 These three travel moments were not only adventures, but they also were moments that brought us closer, made us appreciate life and allowed us the opportunity to see some of the barren and isolated landscapes on earth.
We climbed with Kessey Brother's Tours in Moshi, you can visit their website here.
Tell us what your favorite travel moment has been in the comments.
---
Read More:
Our Most Memorable Moments from Wales in Photos
Packing List for Everest Base Camp Trek
How Travel Changed our Lives and Turned Us into Adventurers
SaveSave