Just when we thought things were slowing down, it all started up again. It's exciting times in the age of travel blogging. Ideas are a brewing, plans are being made and new partnerships are being formed.

As you read this we are on our way home from Mexico where we took part in the #WeVisitMexico campaign from Chiapas. The Adventure Travel World Summit was going on, put on by the Adventure Travel Tourism Association (ATTA) and we haven't left a press trip so inspired or excited about the future of blogging, well, ever!
We only had a chance to catch the last sessions of the ATTA but if there was one that we wouldn't have wanted to miss, it was the presentation by Chris Noble of World Nomads, Natasha Martin from NTB North America and Mads Phil from Destination Arctic Circle. It was informative, educational and motivating.  Between this excellent presentation and brainstorming ideas with our fellow WeVisitMexico travel bloggers, we can't wait to get home and get down to business.
President Shannon Stowell stopped by for lunch to discuss the ATTA, it's goals and priorities and the future of Adventure Travel as well as super presentations by Antonio del Rosal and Jesus Catalan of the Mexican Tourism Board discussing adventure travel potential in Mexico. 
We had a great group  of bloggers from different niches sharing with the world that Adventure Travel is a state of mind. The WeVisitMexico campaign follows our values of adventure travel that "Anyone Can do It!"
TV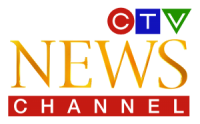 We've been enjoying our time on CTV News Channel immensely and the real test came yesterday when we taped our first Skype segment.  Although it felt a little strange to be interviewed live on TV without being able to see the host Dan, we think it went really well and we were happy to share our views on tourism in Mexico.
You Can Catch us on CTV News Express every Friday between 9:00 am and Noon.
Tomorrow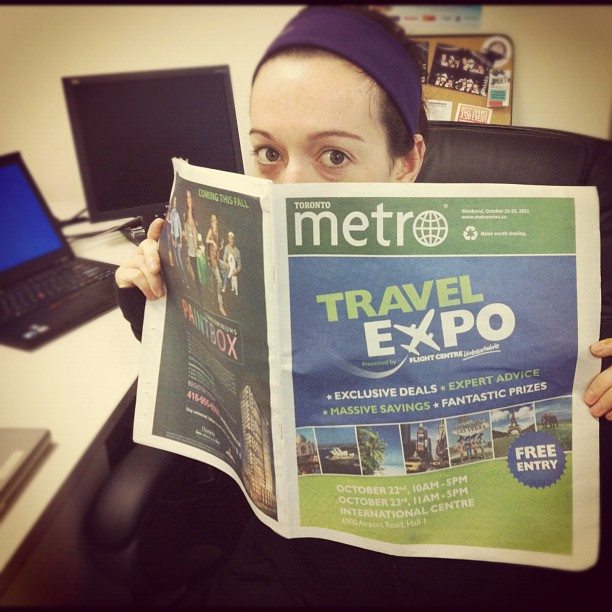 Before we can even unpack our bags, we'll be back in Toronto checking out the Travel Expo sponsored by Flight Centre tomorrow. We are looking forward to meeting companies from the Toronto area in this event that is designed to excite and expire.
Entry is Free
Saturday October 22nd, 2011, 10am – 5pm
Sunday October 23rd, 2011, 11am – 5pm
International Centre
6900 Airport Road
Mississauga, ON
Next Week
1. Ambassadors for Travel in Our Own Back Yard!  We are excited to announce that we will be starting the Sambassadors project with Samba Days.
We will be doing adventures around Ontario to let people know that you can do adventures right in your own back yard! On Wednesday afternoon we will be sampling a few of their packages before we really delve into the adventures that they have to offer.
2. Cold Play Evening Out! – As huge fans of Cold Play we are really excited to be able to attend the "American Express Unstaged" dinner and Cold Play concert screening. What's the travel aspect you ask? Well, they are streaming Cold Play as they perform at one of Spain's most famous arenas, Plaza de Toros de Las Ventras in Madrid. Ah, we love Spain!
3. It's Travel Massive time again! – Being held at Intrepid Travel downtown Toronto on Thursday night, we'll find out who won the awesome tour of India and how much money was raised for the Intrepid Foundation. If you haven't donated yet, head over to our donation page to help out underprivileged children in India. Intrepid Travel will match each donation dollar for dollar! It's a great cause leading into the holiday season.
Anyone that has a love for travel can attend and entrance is Free! 
Near Future
Production Company/TV Show Development: We are pleased to announce that we are working with High Shore Productions to develop a travel show. We are excited about their concept for a unique way of showcasing our niche and personalities. Keep an eye out for updates in the coming months regarding our progress. We have a good feeling about this one!
Jamaica: In November we'll be heading to Jamaica as guests of the Jamaican Tourism Board. It will be our first time there are we are looking forward to visiting this colourful Caribbean Island.
So That's our news, Sign up for our newsletter for more updates of event, deals, contests and events coming from ThePlanetD