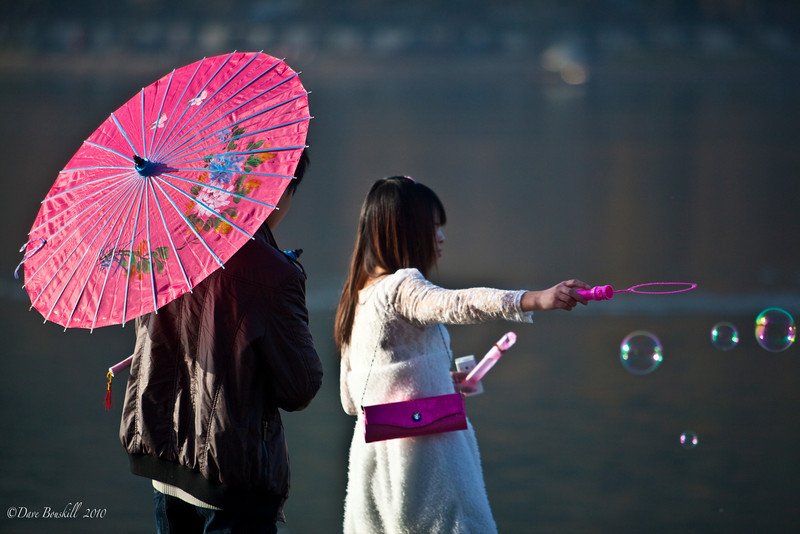 Hangzou is China's  Romance Capital and nowhere is more romantic than a stroll along West Lake.
Known for it's touching love story "The Legend of the White Snake," lovers and newlyweds flock to it's shores to capture some of Hangzou's romance and magic.
A Romantic Stroll on Hangzou's West Lake
A well-known folktale in China, The Legend of the White Snake tells the story of a white snake who came to Hangzou with her sister the Black Snake. They were captivated by the beauty of West Lake and decided to stay by turning themselves into beautiful women. The White Snake fell in love with a man name Xu Xian, they married and she became known as The Lady White.
It was not meant to last, however. Xu Xian was told by the Monk Fa Hai that his wife was actually the White Snake.
One day during her pregnancy, the Lady White's magic was weakened and she transformed into snake form in front of her husband. It was a sight he could not bare and died instantly.  Hoping to bring him back to life, the White Snake fled to steal the resurrection plant on Kunlun Mountain. She failed, but the owner of the plant was moved by her true love and brought Xu Xian back to life.
Read our Romantic Getaways around the world featuring West Lake
Remembering the warning by Fa Hai, Xu Xian went to visit the Monk but was forced to become a Monk himself in the Jin Shan Temple.  The White Snake begged for his release, but Fa Hai would not let her husband go.  Infuriated, she brought a great flood to the area. Fa Hai had magical powers himself and made the mountain grow to protect the temple from the rising waters.
Still in a weakened condition due to her pregnancy, she could not win the battle.
With the aid of the Heaven Emperor, the Monk Fa Hai imprisoned the White Snake in the Thunder Peak Pagoda by West Lake.
Several years later, the Black Snake's magic finally grew strong enough to avenge her sister and destroy the Pagoda freeing the White Snake.
The family was reunited and lived happily ever after.
Their love was strong enough to endure years apart, and the romance and love story continues as couples stroll along the walkways of West Lake today in Hangzou.
This trip to China was sponsored by Intrepid Travel.  Hangzou is one of the many stops on the Grand China Tour and we spent 3 days in this enchanting city.
Read More
In Search of Wildlife and the Chinese Mountain Cat on the Tibetan Plateau
Where to Get Off the Beaten Track in China