So what is a typical day like during the first half of the Mongol Rally? Do you envision excitement and adventure?
Well there definitely is an element every once in awhile see: How to Cross a Ukrainian Border.
But for the most part it is driving, driving and more driving.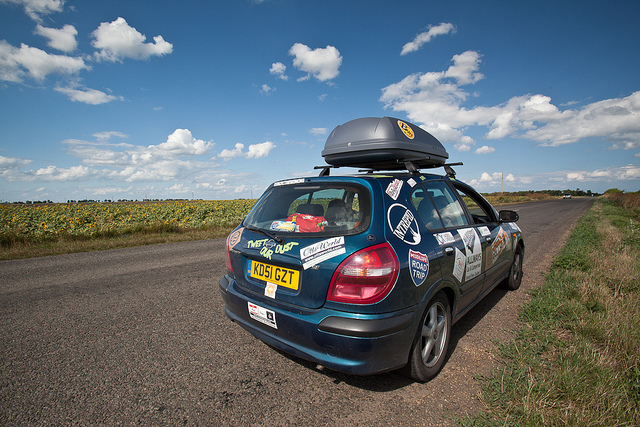 A Day in the Mongol Rally
For us, The Mongol Rally, much like the Tour d'Afrique isn't about taking our time to take in the sights or try our hand at an adventure in the area. The Mongol Rally is an adventure unto itself and unless you want to take six months to drive to Mongolia, you drive fast and you drive hard.
We have 15,000 km to cover 14 countries, 2 continents and 1/3 of the way around the world to get to Mongolia by September.
Our Visas allow us 30 days to get out of Russia by the time we have to enter on August 4th and we don't have a lot of breathing room to spend any extra days anywhere. Our visas are dictating how long we have in each place.
So we drive.
A Typical Day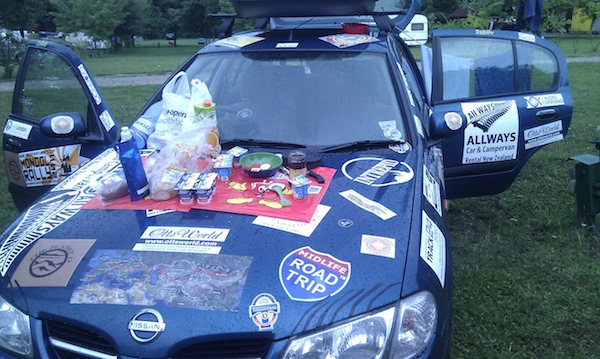 Normally we wake up at about 7:00 am. If our hotel or campsite happens to have wifi, it means that we were up until about 2:00 am working. So 7:00 am comes around quickly and we all feel exhausted.
We meet at 8:00 am, cram everything back into our inappropriate car that is way too small for 4 people to drive cross country comfortably and head off to the next destination. We take turns driving and navigating.
We rotate seats and tasks each day. One day your driving, the next your navigating or watching out for traffic. (See how to Drive an English Car in a Non-English Country), tweeting for the team or sleeping.
Our first priority in the morning is food. We never seem to get a proper breakfast but we usually tend to find coffee or pastry or a bag of chips that will get us through to lunch.
We then drive…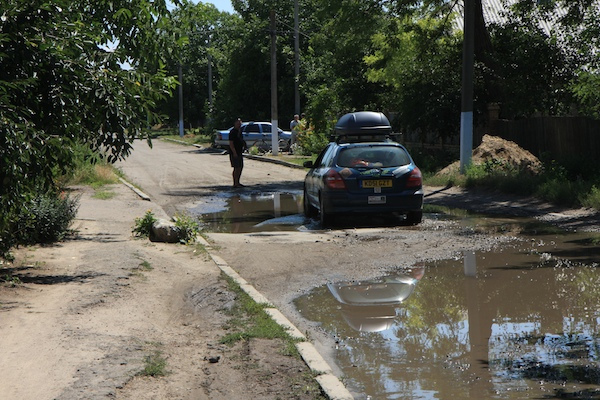 Normally we push through to the next destination and skip lunch. Days that we think well only be a few hours end up being epic 8 hours marathons in the car. Terrible road conditions, weather or traffic always end up hampering our progress. By the time we reach our destination it is at least 5:00 pm.
We then look for our place to stay, find a bit to eat and then get to work on catching up on emails and writing our posts for the next day or two.
Sadly a lot of our "lunch stops" tend to be at McDonalds because we need to use it's free wifi to A) find a place to stay and B) do our work for the night because hotels don't necessarily have free wifi or Internet for that matter at all in say the Ukraine.
During the drive we stop rarely.
Hours pass quickly as the km rack up.
We step back in time with each country we pass through as highways give way to bumpy roads carrying horse drawn vehicles. It is ironic as we move ahead in time on the clock. We move ahead an hour every couple of countries or so as we lose years of development with each border crossing.
Buildings are more weathered and cities are few and far between. Farmers tend their sheep and goats in their fields and fresh fruit markets are set up along the highway.
Every once is a while something catches our eye like a cow walking on a highway or a the roads being so bad that we have to to attach the Go Pro Hero adventure camera to capture a first hand account of what we are going through and other times a stunning scene like a field of sunflowers on a secluded road appears and we have to step out of the vehicle and take in it's beauty.
Once we are finished, we get back in and drive.
It is close to sunset whenever we pull into our destination . For the first week we have our accommodation covered with some sponsors in London, Prague and Romania and then we met up with friends in Belgium and Germany. But soon we were on our own and had to keep our eyes pealed for places to stay. This was all so new to us, we suddenly had to think and we weren't very good at it.
Eventually we find a campground, apartment or hotel and unpack our jam packed car, quickly settle in and run out for a bit and a toast to the end of the day.
However, being the professional travel bloggers that we are, we are always on the search for Internet and we are slaves to finding a connection to put up a post, answer an email or send out a tweet.
It is then straight to bed to start the routine all over again tomorrow.
Read More
Mongol Rally – Punctures are Part of the Game
Driving in Mongolia Equals Tons of Fun!
You Might Also Enjoy