There are many iPhone photo apps on the market and it can be overwhelming choosing which ones to use. We've been shooting travel photography on iPhones since 2009 and it has come a long way baby!
Recently we've been testing out the new iPhone Max and iPhone 11 Pro. They have restored our confidence in iPhone photography again as Apple really got it right this time.
So we thought we'd update our old list and give you the best photo apps to help you improve your iPhone photography to help you shoot like a pro.
Photo Apps for iPhone
Dave loves the new three-camera system offering wide, super wide and a telephoto zoom. He can now capture those landscape shots on his iPhone in a snap.
Deb has fallen in love with the stabilization for filming walking and motion shots.
But there are still limitations on the phone that can't replace a proper DSLR. However, with these apps, you can get pretty close!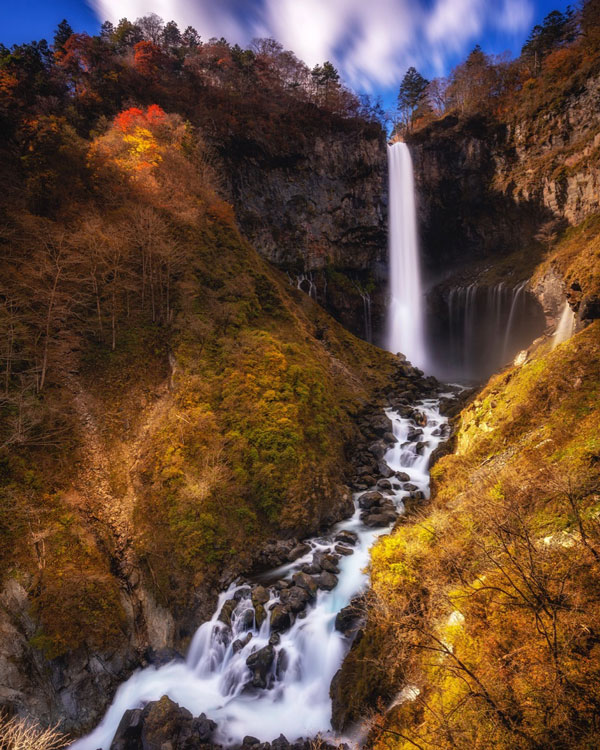 Best Paid iPhone Apps for Editing
Adobe Lightroom
This is my go-to photo editing app on my desktop and I edit all my photos here. So when they released the mobile version I had to get it.
Adobe Lightroom has continually improved with each update and gives you much of the same editing tools as the desktop version.
If you are familiar with Lightroom on Desktop, this is a must-have on your phone or tablet.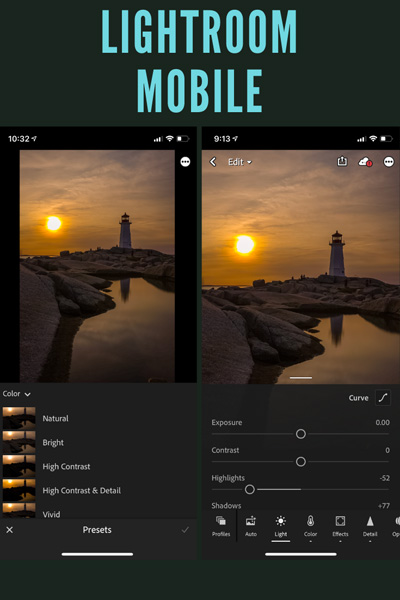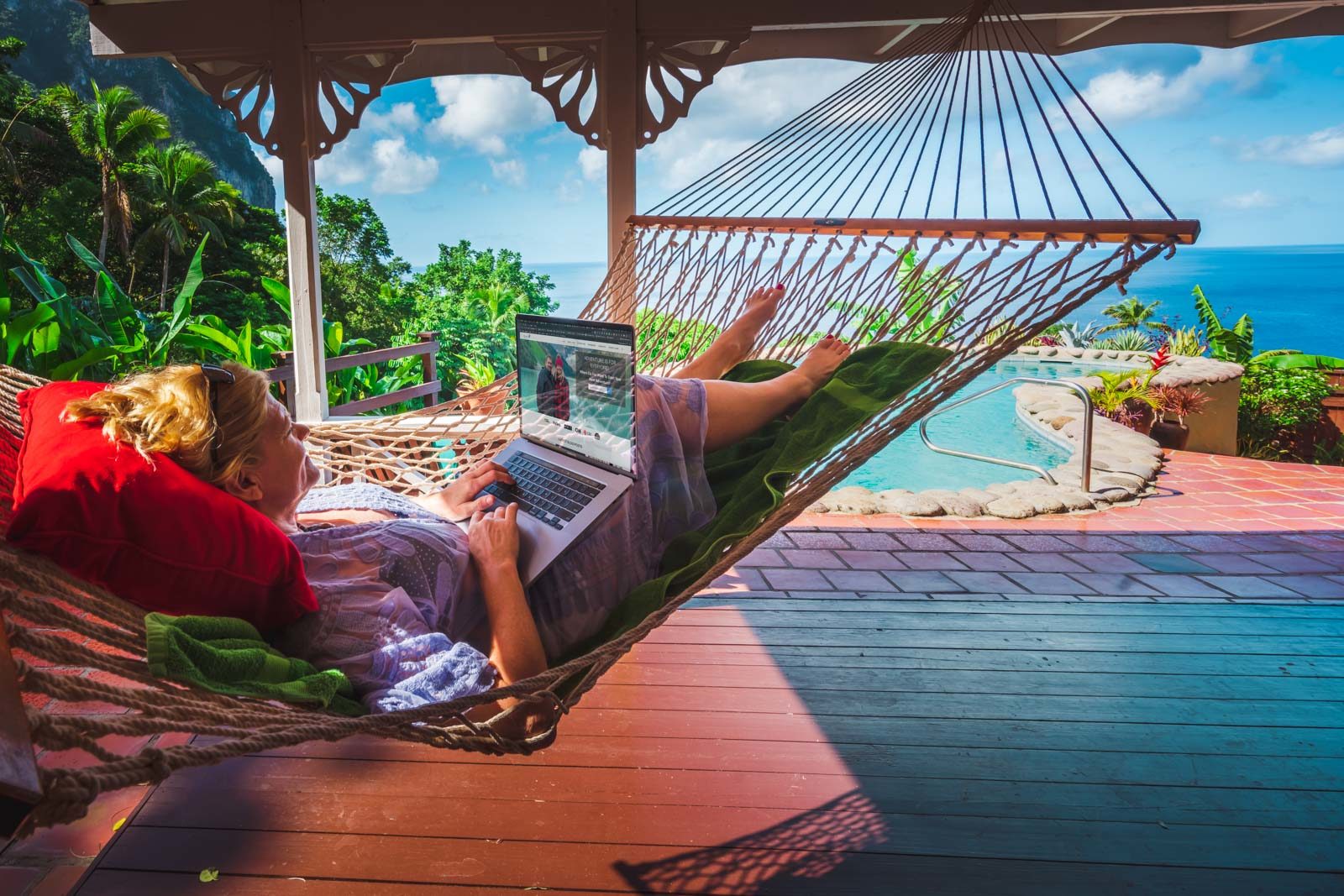 Get Your Free Email Series Now!
5 Secrets to Stress-Free Travel Planning
Stretch your time and money with these tried and tested tips!
If there is anything we have learned from 10 years of full-time travel and visiting over 110 countries on all 7 continents, it is how to plan the perfect trip.
PhotoPills
Photopills is a paid app ($10.99) but worth every penny as it does so many things. If you are into planning your shots like I am for the right light it offers you a planner to do that.
It also shows you the sun and moon phases, gives a night AR that lays over your location so you can visualize and see where the Milky Way will be at a certain time of day. Perfect for awesome night shots.
Other cool features include Nd filter calculation, Star Trails calculator, a time function and a Time-Lapse Calculator.
If you are looking for an all in one planning and in-camera assistance app, then Photopills is an app you are going to want to install right away.
Pro Camera
One of the disadvantages of the iPhone in general, in my opinion, is that they do not give you the option to shoot RAW images or an uncompressed format natively.
Pro Camera is an app that allows me to shoot my photos in RAW.
This is a picture taking app that I just started using with my new iPhone 11 Pro and I love it.
For me, I like my image to have as much information as possible when taken and let me put my own look to it without pushing it through an algorithm.
The Adobe Lightroom app allows you to do this as well, but I like that Pro Camera was the first that updated for the wide-angle and telephoto lenses on the iPhone 11 Pro.
The controls and screen layout are super easy to use.
This is also a paid app, but I have found if you are looking for great control and editing tools you have to fork out a little cash.
If you want to get the most out of your iPhone, I feel that this is the best app for taking pictures that will give you what you need.
Camera+ 2
I used the earlier version of this app for years before switching to Pro Camera.
It does everything that Pro Camera does, but I found it a bit clunker and it didn't have support for the iPhone 11 Pro when I went to update it.
I might switch back to this in the future as I do like that they have added Focus Peaking and Siri shortcuts making it even more detailed and easy to use.
The price is right as well. For just a couple of bucks, this app turns your iPhone camera into a pro-style camera pretty fast.
Touch Retouch
This is an app I have used for years. I am not one for altering images often but if I need to get rid of a spot or a blemish or something that really distracts from the composition this is the app I use.
I find its algorithm, brushes and control work better than any of the other apps that have this "feature" included.
By using a dedicated app you just get more control and in the end better results.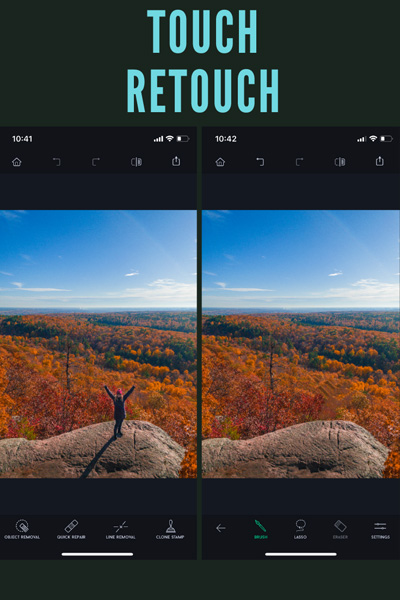 Enlight Quickshot
I started using Quickshot about a year ago and have seen the app improve significantly. In my opinion, the filters and looks are creative and easy to use and are combined with great editing tools as well.
This app I think is a step above VSCO in that it includes a few more tools and produces a more polished look.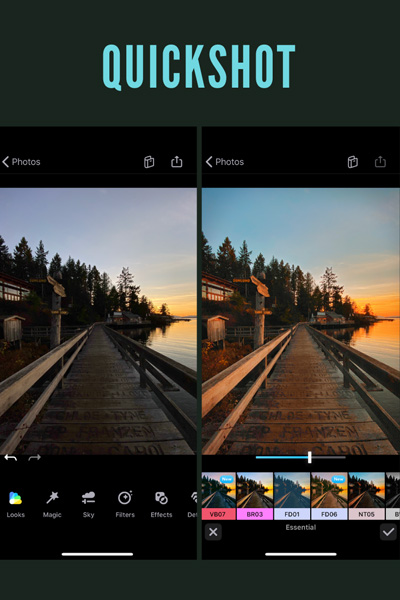 Adobe Photoshop Express
I feel that Photoshop Express is still one of the best photography apps on the market.
They have really stepped up the features for this app and it shows. The filters are more advanced and they have added more control with HSL and Vignette tools.
Still, our favorite part of PS Express is the healing brush and the noise reduction. We find that iPhones can sometimes create a lot of noise in the image when taking photos and PS Express helps us take that away.
Dark clouds have always been tricky on the iPhone, but with PS Express, we smooth the pixels and dots away.
The healing brush also allows you to take dust spots or any unwanted items out of the image. PS Express also gives you great control over highlights and shadows.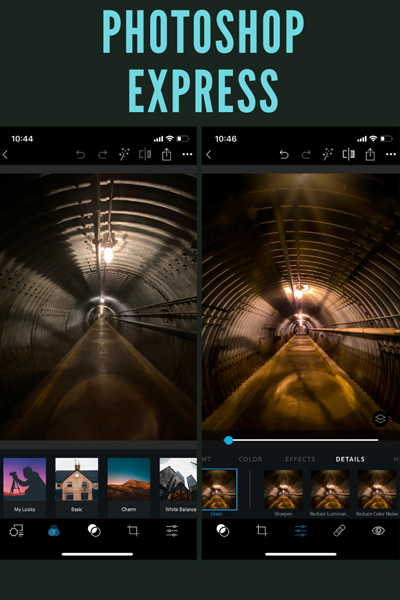 SkySafari
I used this app a lot before I started using PhotoPills. It is the ultimate night sky app.
If you are into astrophotography and want detailed layouts on where everything will be in the sky at your particular location then this is the app to get.
It is a paid app and comes in 3 different versions depending on how technical you want to get.
I have a few friends that do a ton of night sky photography and they swear by this app.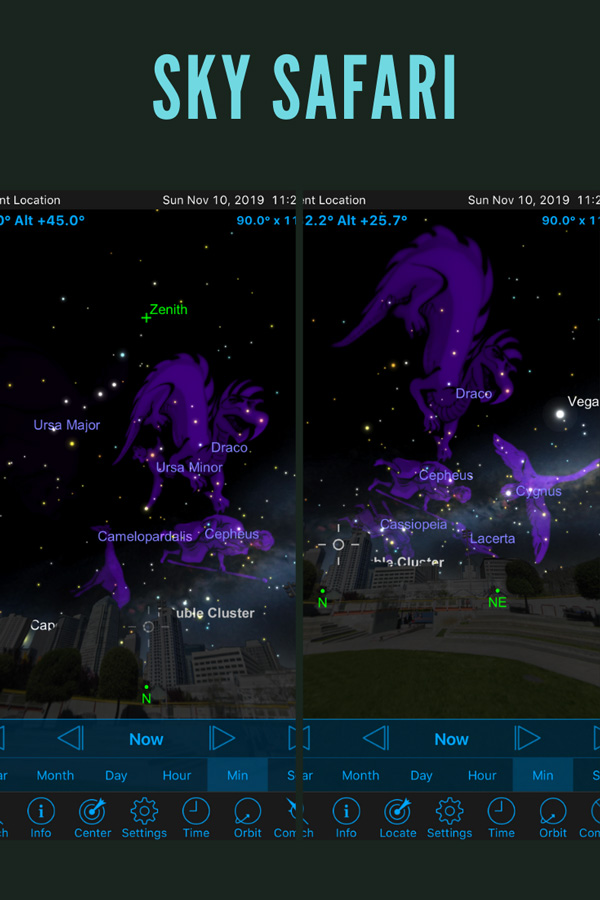 Sun Seeker
Sunseeker shows you where the sun will be at any time of day.
It has a 3D augmented reality that shows you how shadows will fall and where the sun will be.
So if you want to come back for a sunset shot of the Taj Mahal, Sun Seeker will help you decide on the perfect time to achieve your desired look.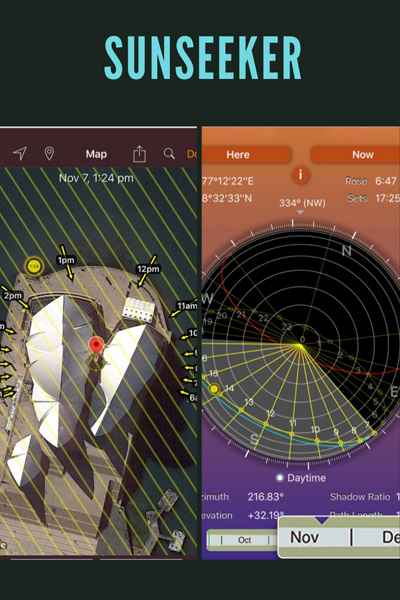 Free Camera Apps for iPhone
Snapseed
Snapseed is another app that we use quite regularly. It is the best free camera app for iPhone and probably the most widely used.
It is an excellent all-around photo editing tool that is easy to navigate and use. It has several editing features making it my go-to photo editor app.
Snapseed includes some powerful tools that can sharpen and tune images, straighten and crop photos, create drama and texture.
One of the reasons I love it so much is it gives you control via brushes that a lot of other apps don't.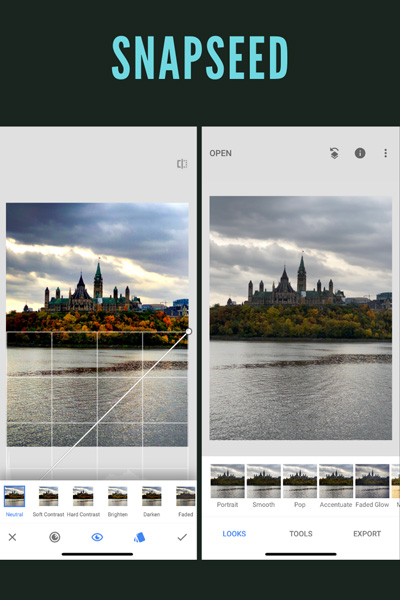 It's the perfect place to start when looking for a tool to edit iPhone images.
Hyperlapse from Instagram
Not so much a photography app per se, Hyperlapse is a perfect app to get the fast-moving effect for posting on Instagram or other social platforms. Although we do use it for Hyperlapses in our Youtube videos as well.
This is one of the best IOS photo apps to help you capture all the action then lets you choose what speed you want to export it at. It does support stabilization if your phone is compatible. So far, it doesn't support Stabilization for the iPhone 11, but hopefully it will update soon.
Deb still carries her iPhone XS Max for Hyperlapse.
Make sure to check that out before using it as the stabilization really make the difference.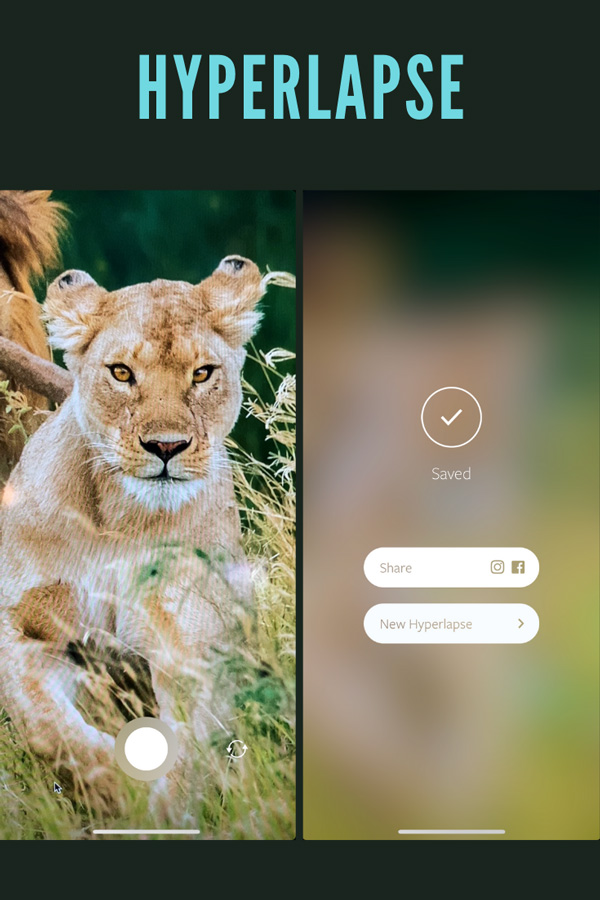 Canva Stories
Canva Stories is one of the best free photo apps to help you with social media shares.
If you are using Instagram stories, TikTok or Facebook Stories then you are going to want to install Canva Stories. I use it all the time.
It comes with pre-sized layouts and lets you customize the look of your stories so that they stand out from the rest of the crowd.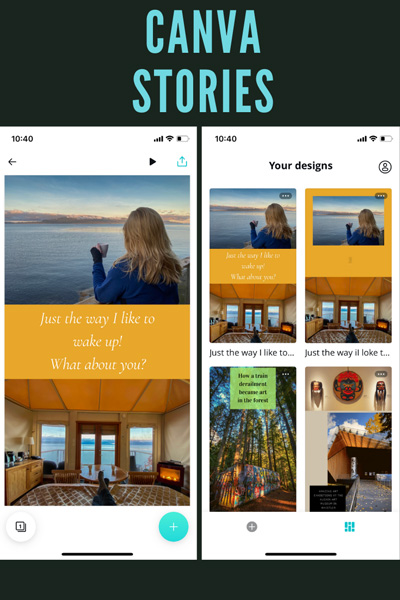 VSCO
This app has been popular for a long time, not just as a photo editing app but as a bit of a social network as well.
It was the first to really use filters in an interesting way while you great control over the final product.
Although it doesn't have all the bells and whistles of the paid apps above, it is perfect if you want to edit fast, on the go by just using filters.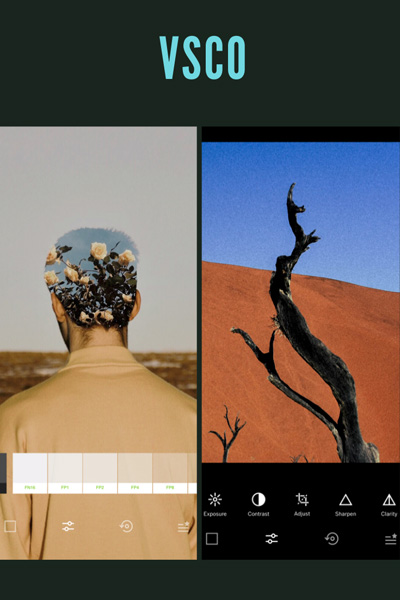 Long Expo
We cannot believe how well this iPhone app works. Long expo allows you to slow down your shutter speed on the iPhone to take long exposures.
If you have a small tripod, like the Gorillapod, you can set up your iPhone and use the timer to take a shot.
Then set the desired exposure time to capture things like that velvety water cascading over waterfalls.
It works it really works!
Timelapse Helper
If you like taking timelapse photography, Timelapse helper is a great tool.
For example: If you want to finish with 30 seconds of time-lapse video, it calculates how far apart your shots need to be taken (the intervals) and how many shots it will take to achieve that length of time-lapse.
You can punch in your numbers and it does the math for you!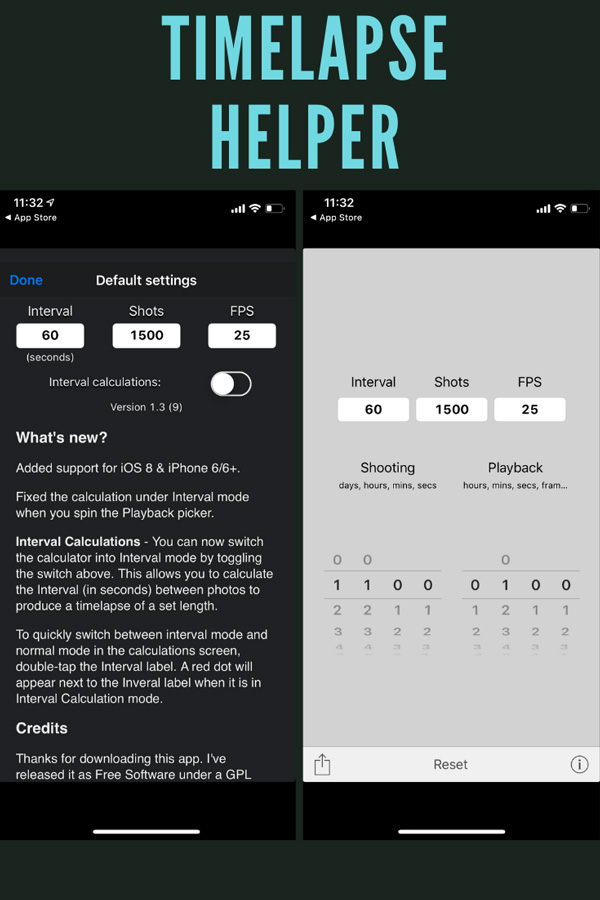 Most of these apps are free or very reasonable, so get them now! Do you have any app suggestions that you can't live without for your iPhone?
So make sure to follow us on Instagram!
Say hello to let us know you're there so we can see your photos too!
Read More