The year started off in Antarctica. Not only did we sail to the 7thcontinent with Quark Expeditions, we had the chance to take part in amazing adventures like camp in bivy sacs on the continent and take the polar plunge.
However, the most memorable moments came when we were kayaking on the Antarctic Peninsula.
Amazing Adventures
Kayaking in Antarctica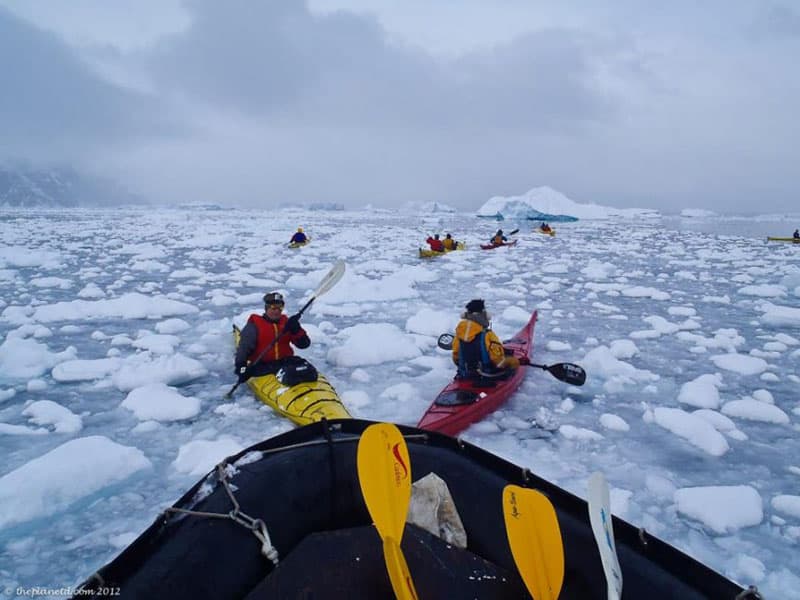 We spent four days out on the water, paddling through brash ice, gliding up to leopard seals sleeping on ice flows and having minke whales surface right behind our boats. There is nothing like paddling in Antarctica and is our number 1 moment in 2012 for adventure.
Taking the Polar Plunge
Imagine docking in the middle of an icy bay in Antarctica to take in the view of the surrounding glaciers. Now imagine jumping into those icy waters with nothing but your swim suit on, The Polar plunge is a right of passage when going to Antarctica and on each cruise to the continent, a few brave (or crazy) souls decide to jump into the Antarctica Peninsula. It's the best bragging rights ever.
On Safari in Kenya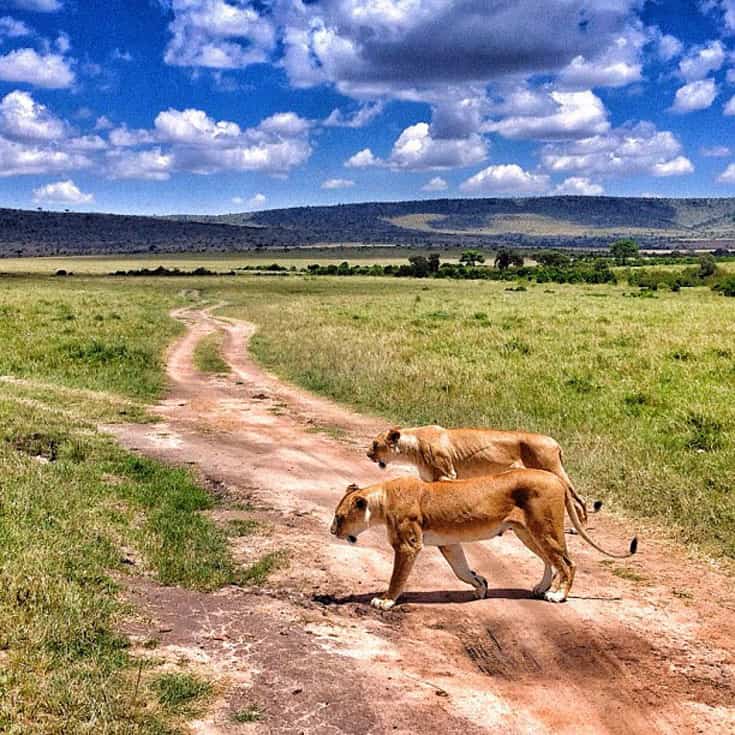 We've cycled the continent of Africa and spent 5 months doing so, but in that time, we never saw a lion, a cheetah, a giraffe or even a zebra. It wasn't until this that we finally witnessed the big 5 in person while on safari in Kenya.
We've only been back a week from our  Kenyan Aventure and we've barely had a chance to share the experience with anyone, but it goes on the list as one of the most memorable travel moments of our life. Stay tuned for more on Kenya.
Running with the Bulls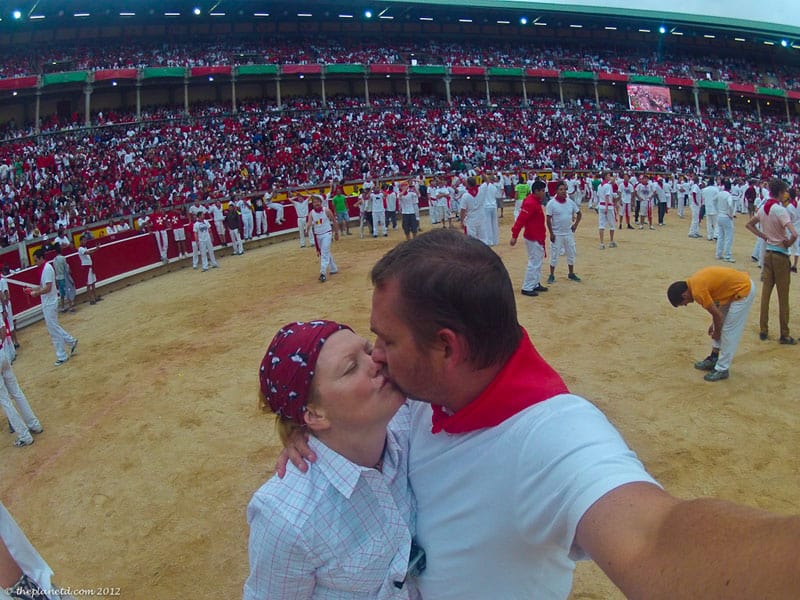 We had wanted to run with the bulls since seeing Billy Crystal and gang started off the movie City Slickers in Pamplona, Spain.  Since we are an "adventure couple" we thought that it is something that we should do at least once in our life. When Expedia.com told us that they'd be willing to send us on an adventure somewhere in the world, Pamplona was a natural choice.
Little did we know what we were getting in to. It was one of the most terrifying moments of our lives as we stood on the street waiting for the bulls to be let loose. Would we be trampled or gored? We wouldn't know until the time came.
When the cannon went off, the adrenaline pumped through our veins and gave us the courage to run down the narrow streets through a sea of thousands of people dressed in red and white.
Swimming with Sea Lions
The Galapagos Islands have always been high on our list to visit, and in March we had the opportunity to travel there with Intrepid Travel. Seeing the wildlife was exciting enough, but being able to swim with them was extraordinary.
Playing with the Sea Lions while snorkelling was an incredible adventure. They were so curious and inquisitive. Sea lions would swim right up to you and nip at your camera or flip right in front of you. They were more excited to see us than we were to see them. And that's saying something!
Swimming with Sharks
As if playing with sea lions wasn't enough, we also had the chance to jump in the water with a bunch of Galapagos Sharks.
One would think that you would be worried about swimming with sharks, but when you get in the water and have them circle around you, it is a spectacular feeling. They are interested in checking you out, but that is as far as it goes. After the sharks swim past to have a look, they move on their merry way looking for more interesting food. Read more about our top adventure travel moment of us swimming with sharks.
Hot Air Ballooning Kenya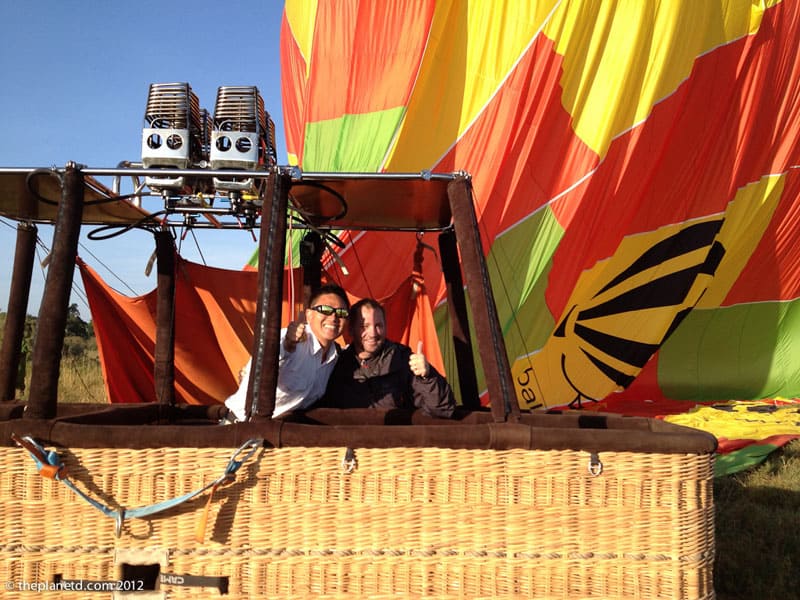 As if being on safari wasn't enough, we had the chance to fly on a hot air balloon in Kenya.  It was in 1994 that we watched Africa the Serengeti and have fantasized about flying over the African Savanna ever since. 18 Years later and we finally got our wish. It was our first time ever in a hot air balloon. The experience lived up to the hype.
There is nothing like the feeling of floating through the air spotting elephants, buffalos, gazelles and hyenas go about their day. We drifted through the air for an hour and landed in Tanzania. The park rangers weren't too happy with us, but after a stern warning we were on our way to our champagne breakfast in the middle of the Masai Mara. It was a dream.
Kayaking Croatia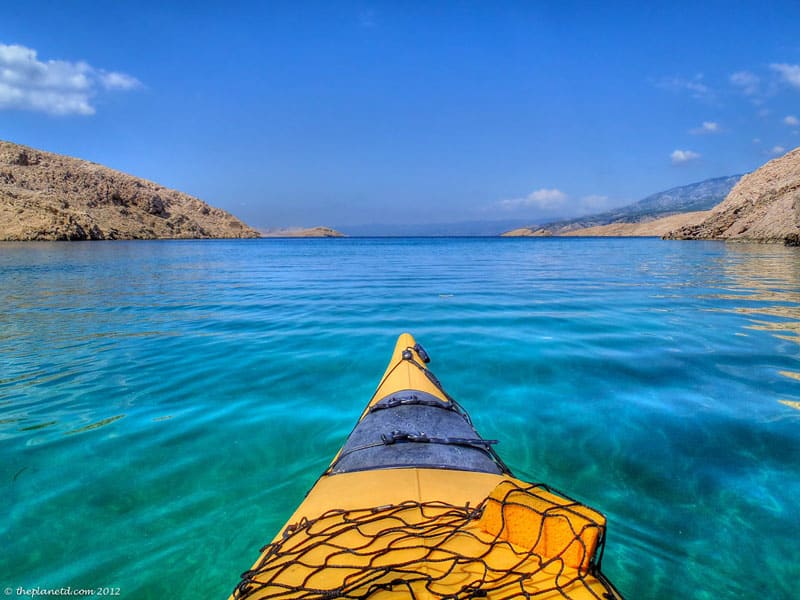 We had 300,000 rewards points given to us by American Express Gold Rewards to spend anywhere in the world. So, we had our readers decide on the next adventure.  People were extremely interested in Croatia so that is where we went. We spent 10 days paddling through its beautiful islands on the Adriatic Sea.
We camped on the shore of the bluest waters we've ever witnessed, watched vultures peer over the high cliffs from their nests and paddled through some very windy conditions and strong waves. Bafo and Jogi of Sea Kayak Croatia took good care of us and it turned out to be one of our favourite adventures of 2012.
Kite Surfing, Maui
We've always wanted to try kite surfing. In 2003, we saw kite surfing for the first time in Mui Ne, Vietnam. It looked like the coolest thing ever, but we never tried it until this past summer while exploring Maui and Lanai. Surfing may be the big thing to do there but we've never been the best at catching a wave.
So we tried our hand at kite surfing instead. Our amazing instructors had us out on the water in a couple of hours and we were shadowing them through the surf in no time. It was the most amazing feeling to have the wind catch the kite and pull you along. It is fascinating to feel how even the slightest movement of the wrist can whip you out to sea. Read more about our kite surfing adventure
Trotti Bike in Switzerland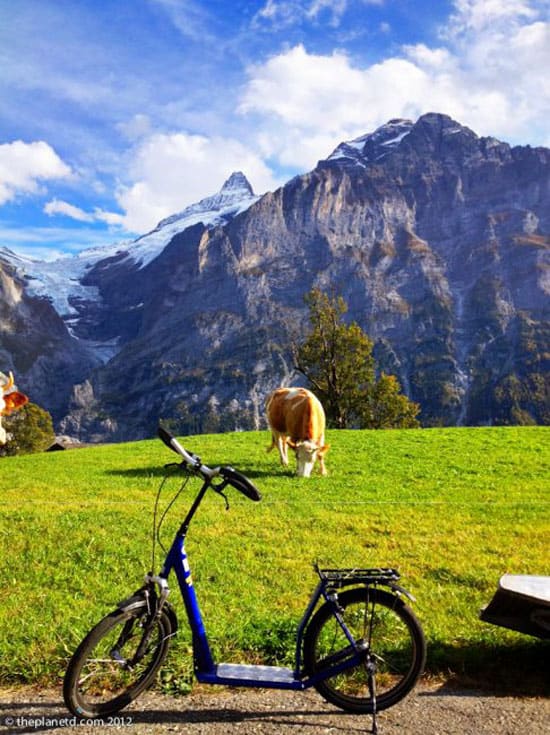 When we saw trotti biking on our itinerary in Switzerland we had no idea what to expect. It's just a fancy name for a scooter. However in Interlaken, they take the scooter to a whole new level. Imagine standing on one of those little foot propelled scooters that the kids ride and barreling down a mountain full tilt boogie.
We picked up our scooter err Trottie Bike at an elevation of 2000 metres and road it down the Swiss Alps all the way to the town of Grindelwald. We dodged cows, tractors, pot holes and people, but we survived and it was a blast. Read more and see the video about our adventures in Switzerland on the Trotti Bike 
High Ropes, Spain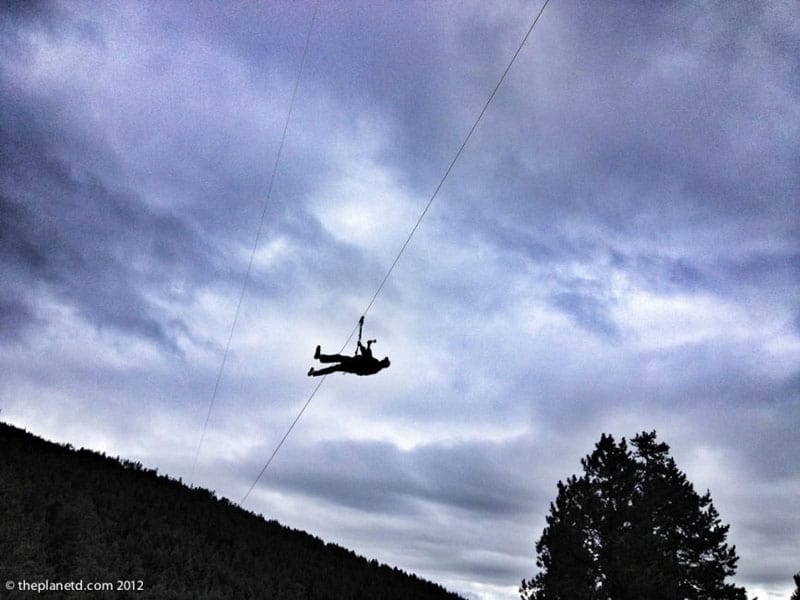 We love climbing and a good obstacle course is always a challenge. It was our first time tackling the a high ropes course in the Pyrenees region of Spain, and we loved every minute of it. It's one of those adventures where you feel like a kid again. Climbing trees, swinging like tarzan and teetering over balance beams while suspended in midair is both fun and exciting.
The best part of the high ropes part was at the end of each course, we got to zipline down from the forest canopy. It was at the end of our high ropes adventure that we tackled the longest zip line in Spain after climbing up a narrow and precarious hydro pole. Find out more about our  high rope adventures
Shooting a Commercial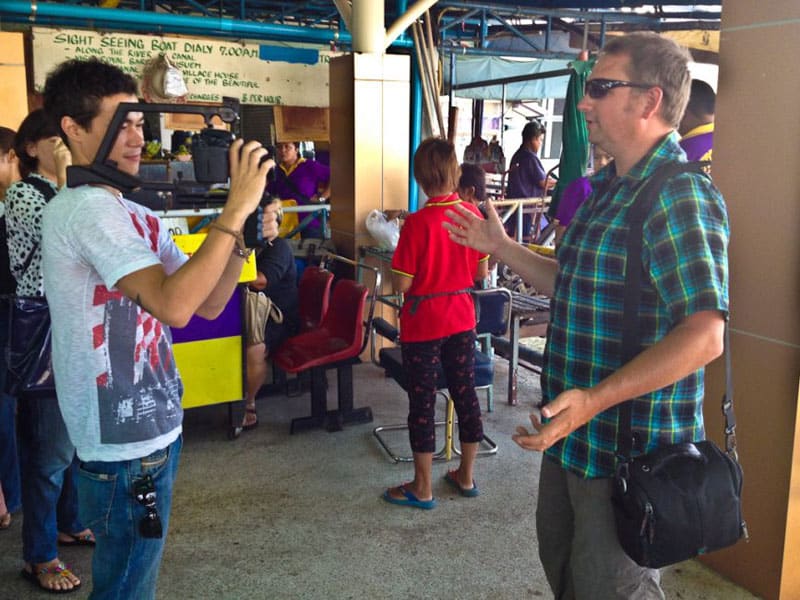 It may not be an adventure in the traditional sense, but shooting an ad campaign in Thailand was a week to remember. It was for Expedia and their innovative Find Yours Campaign. We told our story of how travel changed our lives and saved our marriage. It was by adding an element of adventure into our lives that we made our dreams come true.
For seven days we had a film crew follow us around as we recreated that first trip to the country that completely changed our lives. We went rock climbing in Krabi, took a long tail boat through the waterways of Bangkok, sea kayaked through a mangrove forest and road motorcycles through the Thai countryside. Read more about our video shoot in Thailand
A Vespa tour of Rome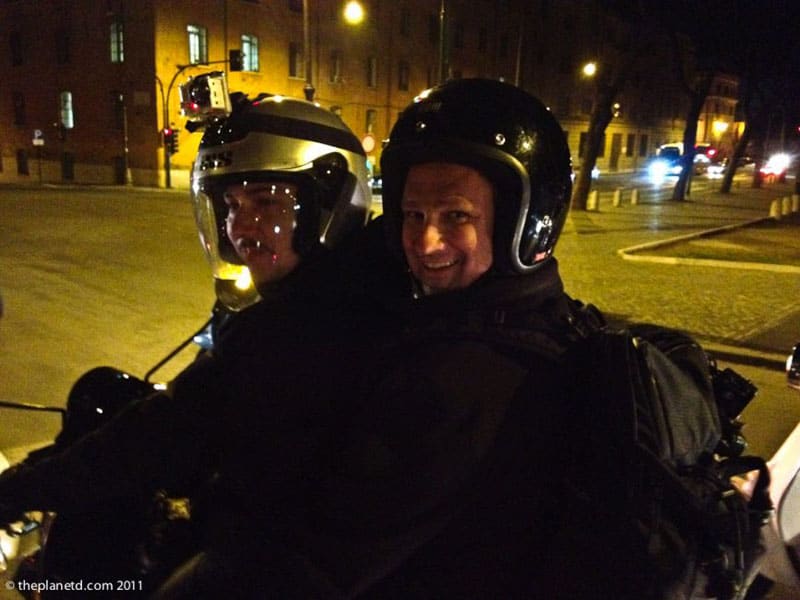 How cool is it to tour Rome? How much cooler is it to do it in the evening on the back of a Vespa? When we spent a few days in the city with HouseTrip, they came up with some of the coolest activities and the coolest was driving through the streets of Rome on a Vespa. Want more, read about all the details of our Vespa Tour of Rome We had a lot of memorable adventures in 2012 and it was difficult to choose just 12.
But the above list, definitely puts a smile on our face whenever we think of each moment and we hope that it can make you smile a bit today too. Enjoy this once in a lifetime experience of being a part of 12/12/12. How cool is that?
---
Read More
Incredible Kenya Photos, A Visual Journey
Flying High, A Hot Air Balloon Adventure on the Gold Coast
Hot Air Balloon Masai Mara: Champagne and Flying High in Africa
SaveSave
You Might Also Enjoy