If there is one place in the world where you are guaranteed to see elephants it would be Chobe National Park. Home to the largest concentration of elephants in Africa. I have read different sources claiming anywhere from 50,000 to 120,000 elephants inhabit Chobe National Park.  Whatever the actual population may be,  you will see them everywhere.
One of the best ways to view wildlife is to take a river cruise on the Chobe River.  It is a real bargain, we booked a cruise for less than $50 from our camp and we were off on a great sunset cruise catching site of hippos, crocodiles, elephants and birds.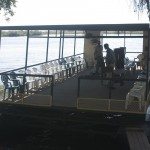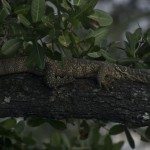 Make sure to stop at the store and bring some wine and snacks and water with you if you go with the bare bones tour that we took.  We weren't supplied anything, but we got to see the exact same wildlife as other tours for a fraction of the price.
The lazy trip along the river is a perfect way to view wildlife on the banks and in the water and it is finished off with a spectacular sunset.
Many times Chobe is combined as a tour with the Okavanga Delta or as a day trip from Victoria Falls Zambia. We were cycling through the country, so we booked our own upon arrival.  But many camps and hotels take bookings. It wouldn't surprise me if you could walk down to the river and book a boat right on the spot at the dock.
Chobe wasn't very busy at all and it was different from so many other safaris in the fact that we weren't involved in a circus of tours chasing after wildlife.  During our tour, we actually only saw two other boats on the river!
So if you happen to find yourself in Zambia checking out Victoria Falls, take a day trip to Chobe and see the extraordinary wildlife. We didn't manage to see any lions, but we know that they are there and if you are lucky, you just may view some yourself life a person on our tour saw the year earlier. An entire family relaxing on the riverbank at sunset.